Be gone dull t-shirts for 9 Fountains is here!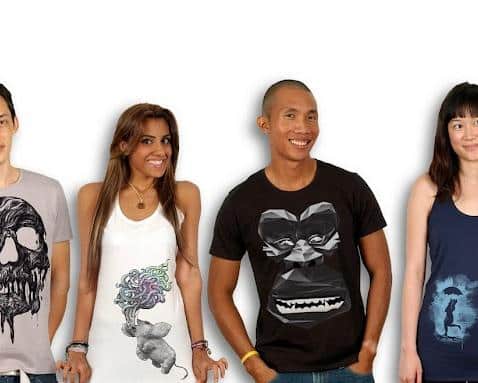 PUBLISHED May 13th, 2012 12:14 pm | UPDATED May 18th, 2020 04:44 pm
Let's face it – mass production sucks. Who wants to be wearing something that thousands – perhaps millions –  of other people are wearing. After all isn't fashion supposed to be an extension of our individual personalities? And as far as I'm concerned, the more simple the item, the more that rule applies. Prime example being the humble t-shirt.
Why opt for a tee whose design was knocked out along with a series of others, as part of a world-swallowing corporate brand machine, in an anonymous factory churning churning churning? Yes why have all that when you can have a tee whose print has been individually designed with thought, intelligence, humour and emotion, and carefully and lovingly hand printed tee by tee especially for you – cue Kylie and Jason crooning at each other. No scratch that last part – I'm being serious here. The aforementioned are truly my sentiments and that's why I am a huge fan of an outfit called 9 Fountains.
So many of you might be consumers and fans of Threadless tees and that's all very well but if that's the case, why on earth are you not supporting our very own home grown 9 Fountains, Singapore's online t-shirt and design community which brings together  like-minded individuals aspiring to elevate  design in Singapore and the rest of South-East Asia? Trust me, if you're sick of all those dull, uninspiring tees then if you don't know these guys already then wake up people because they sell some wicked cool t-shirts!
And here's a little flavour for you….
Drawing on the raw talent within its community, 9 Fountains entices designers to submit artwork to their monthly online t-shirt competitions. I love the consumer-knows-best approach here because all t-shirt lovers are invited to participate in the community and vote on designs – and if a design receives enough votes, their design gets printed on the tees and sold right there with a handsome cash reward for their efforts. The guys at 9 Fountains pride themselves on bringing t-shirts for the people, by the people – something we rather dig over at City Nomads.
But it's not just the designs made with their community in mind, but also the tees themselves. Forget about those cheap, card-board-like rags made in China – these tees are keepers made with 100% premium cotton, with a double-hemmed, thin-style collar, and fitted designer cut. They look good and feel even better.
And there are so many awesome designs to chose from, if you don't find something you like, well you probably need to get your head checked. To be quite honest, there are so many ones that I thought were just way too cool that when I bought mine, I found it rather challenging putting my stick in the sand next to one design – thank goodness in that case that they only come with a price tag of $49!
Particular favourites of mine for the fellas included The Record Breaker….
Chef Guevara – a must for our foodie readers out there….
And Wash When Dirty – something for those who like a cheeky statement….
While finding a decent tee is a particular conundrum for the gents out there, thankfully 9 Fountains has recognised that girls can also get t-shirt angst and so the fairer sex can also be pleased with their new women's life of racer back tees.. These are just a couple of the sassy tees I was rather feeling….
Ampersand – because there are so many ways to rock this simple yet bold design and happily this one is now in my own personal collection ….
Or Singing at the Moon – if something more whimsical is the order of the day…
Now if all of that hasn't convinced you of your need to be wearing 9 Fountains, then perhaps this will. I was lucky enough to be in a position to see the t-shirt I bought actually being made and can promise you this is a very personal thing. Once you select your design and place you order online, a rather nice chap at 9 Fountains will do the business for you from getting your design all nice and ready to be printed and prepping your t-shirt for printing just like so…
to printing the design and pressing your tee once the design is on comme ça….
and folding it lovingly then popping it in a 9 Fountains to be whisked away on the wings of t-shirt love to your doorstep. Happy non-mass consumerism days indeed.
Want to acquire a 9 Fountains tee for yourself? If you're willing to hold out we will be giving away t-shirts soon over on our Facebook page so keep your eyes peeled to there to find out to win.
Otherwise boldly step into no longer being just a t-shirt number and scoop up your t-shirts at the 9 Fountains online shop here.
---
Written by Ms Demeanor