Best Babi Guling in Bali, Indonesia: Where to Go for Pork on Your Fork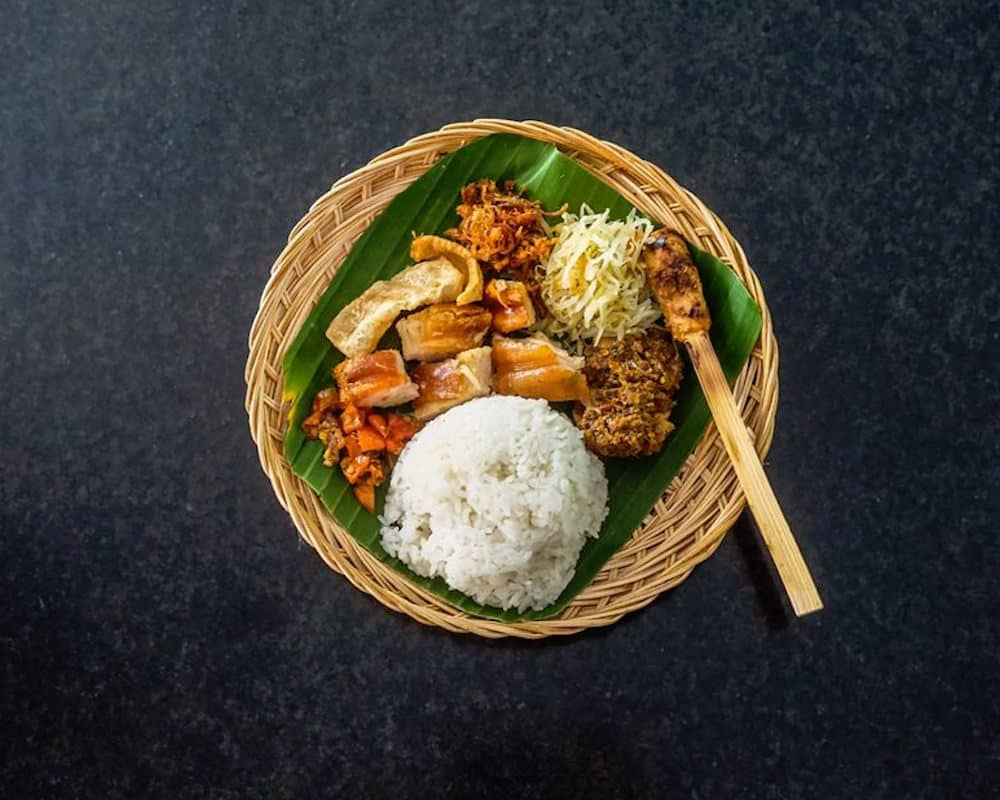 PUBLISHED June 11th, 2018 04:00 pm | UPDATED May 18th, 2020 05:35 pm
baThe most iconic dish of the Balinese culinary repertoire is probably babi guling. Traditionally a special food, served only at religious events like house blessings, weddings, and birthday ceremonies, it's become an everyday food (we're not complaining) due to its popularity amongst foreign visitors. The star of this dish is the suckling pig stuffed with seasoned cassava leaves before being grilled whole over a fire, and the slow cooking process results in tender and juicy meat and a crispy pork rind.
Most of the time, each serving of babi guling comes with steamed rice, lawar (made from chopped green beans and boiled young jack fruit mixed with grated coconut and spices), and a bowl of chicken or pork soup. There are two types of lawar: lawar merah (red) where pig blood is added to the dish and lawar putih (white), which is without pig's blood. Some stalls also offer urutan (Balinese style pork sausage) and pork satay along with the babi guling and rice.
From warung-style to restaurants, the dish can be found easily in most parts of Bali, almost in every part of Bali from warung style (Indonesian traditional stall) to restaurants, and are priced between Rp. 40k to Rp. 70k on average. And we're rounded our  favourites below: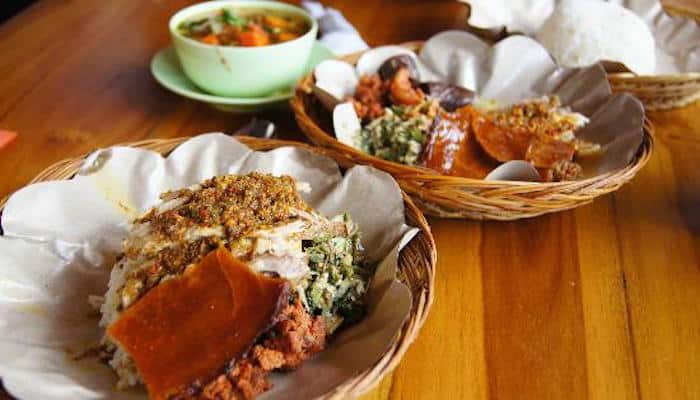 With its strategic location in the heart of Ubud Village, just a stone's throw away on the opposite side of Ubud Royal Palace on Sweta road, this traditional restaurant draws both locals and food lovers from around the world alike. The restaurant opens at around 11am and get pretty crowded quickly. With five or six pigs served daily, they close when they run out, which is usually by 3pm, so it's best to get in early to have a taste at this popular stall.
Babi Guling Ibu Oka is located Jalan Suweta, Tegal Sari #2, Ubud.
Babi Guling Gung Cung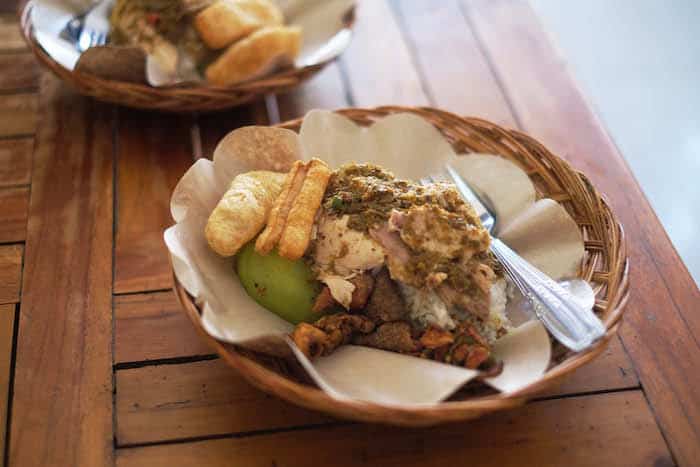 Just up the street from Babi Guling Bu Oka in the heart of Ubud town, this tiny humble warung's authentic suckling pork taste is cheaper and ridiculously tasty.  Definitely a go-to if you want something more 'down to earth' and local-friendly. Their lean meat pairs well with the thick spice paste as well as a side of chayote and a fair amount of pork gorengan. We recommend eating everything with their 'all green chilies' sambal bawang, and a word of warning, the pork crackling usually runs out by noon, so head down early if you want in on the action!
Babi Guling Gung Cung is located at Jl. Suweta No.23, Ubud, Kabupaten Gianyar, Bali 80571, Indonesia.
Babi Guling Bu Ari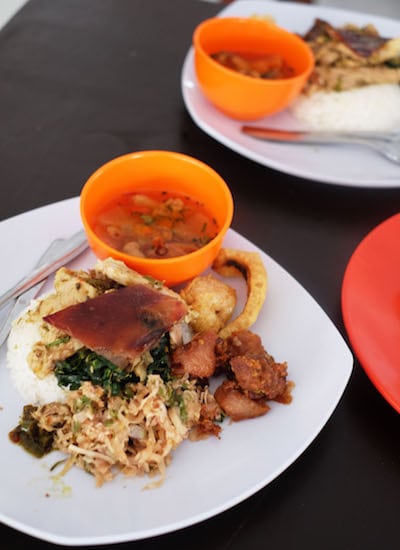 Make your way north from the infamous Arjuna statue towards Tegalalang, and in about 200 meters, you'll find Babi Guling Bu Ari on the right side of the road. Not only is Bu Ari famous for its delicious babi guling dish, they're known for their special version of lawar.
The secret lies in blending just a small amount of pig's blood, making the colour rather yellow-ish than either white or red, tasting fairly herbaceous but not overwhelming on the palate. Bu Ari's gorengan (crispy fried pork mix) is considerably clean cut and best enjoyed fresh. If you're eating in a large group and want other options, other dishes like rawon, soto, and chicken rice stall are available next door.
Babi Guling Payangan Bu Ari is located at Jl. Raya Teges, Peliatan, Ubud, Kabupaten Gianyar, Bali 80571, Indonesia.
One of the oldest babi guling restaurants in Denpasar, Babi Guling Chandra is well known among Asian tourists. This mid-sized restaurant offers two versions of the pork dish – babi guling special and regular ol' babi guling, though the only tangible difference between the two is the portion of meat. Babi Guling here is served with soup and sate lilit. Their sate lilit (made from minced chicken and fish) and sate babi merah (reddish pork satay) are well seasoned, tender, and tasty. Best part? They open at 9am!
Babi Guling Chandra is located at Jl. Teuku Umar #140, Denpasar – Bali.
Established in the early 80's, Babi Guling Bundaran Renon is quite popular and has their own loyal fan base of customers. The homey cooking is not too spicy; and while the pork is slightly tough, it is still juicy and heavily flavoured with herbs and salt. We also suggest trying the sate lilit here, but skip the comparatively bland tum ayam (chicken in Balinese spices and shredded coconut steamed in banana leaf). The accompanying soup is clear, mild, and comes with pork meatballs. Lawar at this restaurant is milder and sweeter compared to other restaurants on the list.
Warung Bundaran Renon is located at Jl. Raya Puputan #212, Renon – Denpasar.
Located near the intersection of Seminyak and Sunset Road (you can see Burger King and Pizza Hut signs right across the stall). Babi Guling Pak Malen is your typical roadside warung, which means its consistently packed when they open at 11am everyday.  Comprising of spicy lawar, chili seasoned pork, urutan (sausages), pork satay, sambal matah (Bali style raw sambal) crunchy pork skin and a bowl of pork broth soup, babi guling is a must try if you're looking for a spicier rendition of the dish.
Babi Guling Pak Malen is located at Jl. Sunset Road No. 5, Seminyak.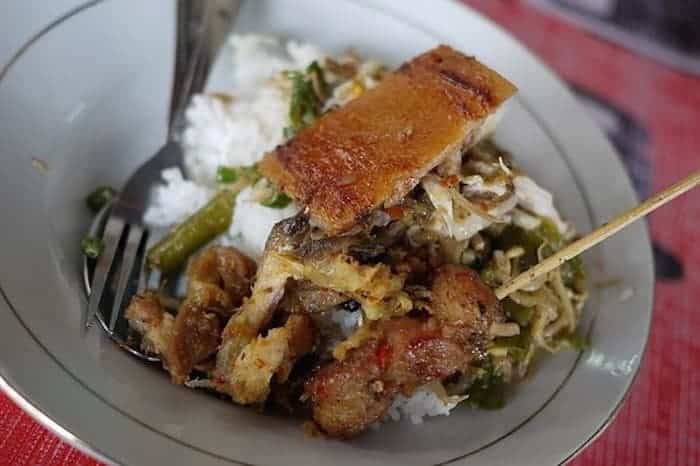 Another well-known babi guling stall worth trying out is warung Pak Dobil. Here, well marinated tender and juicy slices pork are topped with a tasty crispy skin. The sauce is not overly spicy but the sambal mbeh (fried garlic chili) is rather kickass, so consider yourself warned. Compared to other babi guling eateries, Pak Dobil serves large portions of jukut ares (soup made from young banana tree) with generous chunks of pork ribs. The flavourful sate babi (pork satay) is lightly spiced compared to the other stalls.
Warung Babi Guling Sari Dewi Bp. Dobiel is located at Jl. Srikandi #9, Nusa Dua.
Babi Guling Men Gareng
Early risers, this one's for you! Located 20 minutes from Ubud town, Babi Guling Men Gareng's opening hours vary daily, depending on how fast the suckling pork runs out, though they're usually open from 7am-11am. It's best to go before 9am so for the best cut of pork and the freshest flavours of lawar. Some babi guling dishes come with a bowl of soup with vegetables and minced pork in it, but Men Gareng's pours the broth over rice, which is accompanied by cassava leaves on the side. The meat is cut into smaller chunks here with a good ratio of fat, making them not too heavy for a breakfast food.
Babi Guling Men Gareng is located at Jalan Raya Payangan, Gianyar, Bali. 
Babi Bagus, Umalas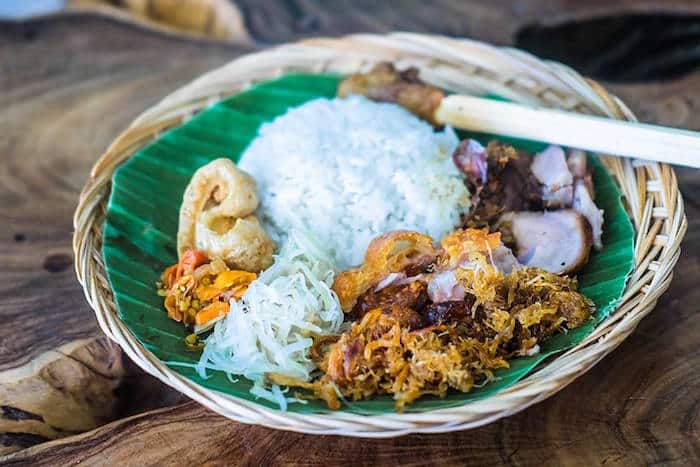 Unlike other spots on this list, Babi Bagus is the most approachable venue  for those new to authentic Balinese or Southeast Asian flavours. There are only two options on the menu, the regular, and the special, which includes additional sate lilit (Balinese-style satay), sausage and pork skin crackers (kerupuk kulit). They cut the suckling pork into small cubes along with its ultra crispy skin, paired with a couple slices of lean, smoked pork meat and white lawar. Their spice mix is said to be sourced from Gianyar, which is supposedly where babi guling originates from. Having owned by a few of the island's hottest local DJs, the small warung is typically blasting house music as they serve babi guling all afternoon.
Babi Bagus is located at Jalan Bumbak 113A Umalas, Kerobokan, Badung, Bali, Indonesia.
Babi Guling Bu Desak Raka
If your tolerance for spice is up for a challenge, Babi Guling Bu Desak is the way to go. Aside from its tender meat and extraordinarily crackling pork skin, Bu Desak's sambal bawang (fried shallots sambal) is the ultimate sweat-jerker. It combines both red and green chilies with an enormous amount of fried shallots that blend oh so well with the spiced oil. The spiciness sure hits hard but the savoury flavor kick at the end of it always leaves you wanting for more ( yes, you can ask for more sambal). The gorengan is fried in bigger chunks and balances out the moist meat and cassava mix on your plate. Make sure you go to Bu Desak in the early because they usually run out and close by 4pm.
Babi Guling Bu Desak Raka is located at Jl. Raya Raya Tebongkang No.99.
Babi Guling Ardiani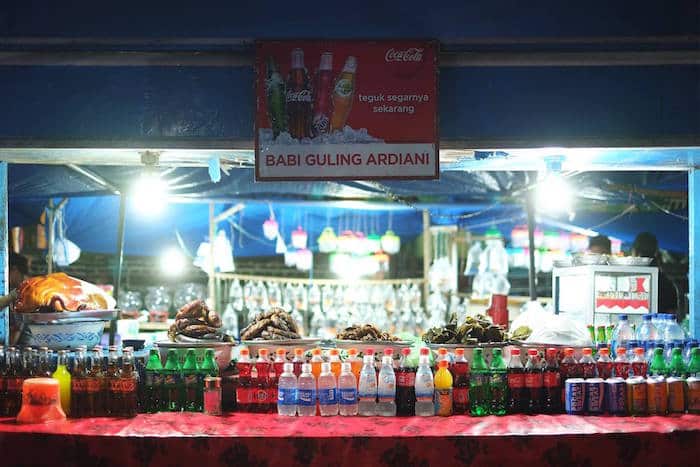 Babi Guling Ardiani is located amongst many other babi guling stalls in the heart of Pasar Gianyar. Open only in the evening, they run out especially quick on the nights of Balinese ceremonies when locals head to the market to grab supper after. The portion is considerably small, but makes up for size in rich flavours and a heavily spiced broth. It might be a little overwhelming for some, but if you're looking for a true babi guling meal, this is the place to be with all the sights and sounds of a wet market to accentuate the experience too!
Babi Guling Ardiani is located at Pasar Gianyar, Jl. Ngurah Rai, Gianyar, Kec. Gianyar, Kabupaten Gianyar, Bali 80511, Indonesia.
Top image: Babi Bagus