Best Restaurants for Yakitori, Kushiyaki, and Kushikatsu in Singapore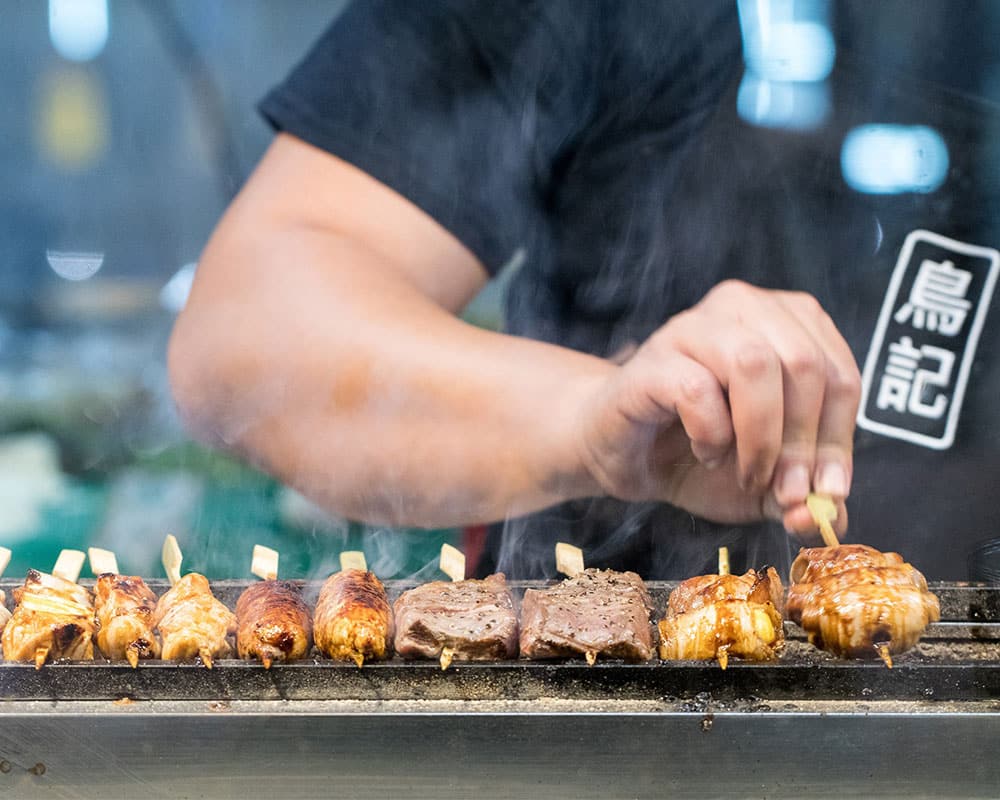 PUBLISHED March 15th, 2018 06:00 am | UPDATED October 22nd, 2019 09:30 pm
Imagine wrapping your lips around juicy, slightly charred meat on a kushi stick, fresh from the grill and still smoking as it arrives to your plate. It's a familiar sight for fans of Japanese yakitori and other variations of skewered meat, known together as kushiyaki. Utterly delicious if you don't mind smoke in your clothes, kushiyaki has been steadily gaining popularity in Singapore, and here are our recommendations on finding the very best!
Bincho

Transformed from a 70-year-old traditional kopitiam in Tiong Bahru, Bincho looks just like any other yakitori-ya in Osaka, and their offerings are just as promising. Here, the affable Chef Asai Masashi skillfully dishes out plate after plate of the restaurant's star: bincho-grilled chicken parts like Liver, Neck, Heart, Soft Bone, and Tail. Order them from the a la carte menu or as part of two dinner sets starting from $68.
Bincho is located at 78 Moh Guan Terrace #01-19, Singapore 162078, p. +65 6438 4567. Open Tue-Sun 12pm – 3pm, 6pm – 12am. Closed Mon.
Birders

Traditional yakitori spots might see grilled meat served with nothing more than a bit of salt and pepper, which may not be the most appealing thing ever. At Birder's, Head Chef Makoto Deguchi opts for more unconventional 'toppings' instead – think negi (scallion) puree, genovese, and black sesame. Order the classic Chicken Thigh, Breast, and Wings from $3.50 a stick, with the most premium being $6.50 for a Beef Skirt. And to round it all off: some 180ml Cup Sake for easy drinking. Check out our review here.
Birders is located at 55 Tras St, Singapore 078994, p. +65 8748 4585. Open Mon-Thu 6pm – 12am, Fri-Sat 6pm – 1am.
Yakitori Yatagarasu
Everything and anything can go with pork belly kushiyaki. At least, that is what the folks over at Yakitori Yatagarasu believe. With 10 types of pork belly wraps up for the choosing, including usual suspects Lettuce and Asparagus and the more unorthodox Curry Rice ($6) and Yakisoba (fried noodles), those not so fond of pork can pick from an equally varied chicken spread.
Yakitori Yatagarasu is located at 72 Circular Rd, #01-01, Singapore 049426. Open Mon-Sat 11.30am (serving Oyako-don) until sold out, 6pm – 12am (yakitori).
Panko

The energetic Panko, as its name suggests, is the place for crispy kushikatsu. Meat, seafood, and vegetables are coated in a special egg batter, dipped in fine panko breadcrumbs, and surely, fried to a beautiful golden crunch. If you're not sure what to order, we say go for Assorted Seasonal Kushikatsu Moriawase ($23), which sees everything from prawns and stuffed chicken wing to unagi gobo and sawara fish.
Panko is located at 33 Arab St, Singapore 199732, p. +65 6291 3323. Open Mon-Sat 12pm – 12am, Sun 12pm – 3pm, 6pm – 12am.
Ginza Rokukakutei

A well-known name amongst Japanese foodies since 1980, Rokukakutei's flagship outlet has been flying the Michelin flag for nearly a decade thanks to their excellent kushiage. As you might expect, every skewer is excellently battered and deep-fried without being too oily. The highlights? Edamame Croquettes, Sangen Pork with Onion, Angel Prawn, and Chicken with Shiso and Mountain Caviar – starting at just $58 for a course lunch. Read our review here.
Ginza Rokukakutei is located at 331 North Bridge Rd #01-04 Odeon Towers, Singapore 188720, p. +65 6266 1077. Open Mon-Fri 12pm – 2pm, 5pm – 11pm, Sat 5pm – 11pm.  Closed Sun.
Toriki
The marriage of chargrilled bites and strong brews has never gone wrong before, which is why Toriki over at JCube uses it to great advantage with their bincho-fired kushiyaki and craft beer. Feast on freshly-grilled yakitori from $2.50 a stick, as well as premium A4 Wagyu Striploin ($8.90) and Ribeye ($9.90), best paired with your pick of over 20 labels of craft beer – think Tuatara Aotearoa Pale Ale ($15) and Koshihikari Rice Lager ($18). Read our review here.
Toriki is located at 2 Jurong East Central 1,#04-12 JCube, Singapore 609731, p. +65 8183 8121. Open daily 12pm – 12am.
CHIKIN

Yakitori takes on an eccentric twist at this hip neon-clad joint. For one, every skewer is coated in a housemade Sichuan peppercorn mala sauce, providing a fine amount of addictive spice to their sticks. Take your pick from the many chicken parts available, along with more unusual cuts such as the Saezuri (windpipe, $4) and Kubikawa (neck skin, $4), which are also available in platters of 10 for $30 and 15 for $40. And let's not forget the array of decent cocktails to go along. Read our review here.
CHIKIN is located at 6 Bukit Pasoh Rd, Singapore 089820, p. +65 6221 3670. Open Mon-Fri 5pm – 1am, Sat 6pm – 1am. Closed Sun.
Sumire Yakitori House

Hailing from Tokyo with over 70 outlets countrywide, Sumire Yakitori House has made its Singapore home in Bugis Junction. Taking their name from the Japanese pronunciation of smile, they certainly makes us smile with signature kushiyaki like the Foie Gras, Aged Beef Tongue, Beef Striploin and Nasu Nikumiso (eggplant with chicken miso paste) – just a few of their numerous offerings.

Sumire Yakitori House is located at 80 Middle Rd #01-88/89, Singapore 188966, p. +65 6338 9963. Open Sun-Thu 11.30am – 10.30pm, Fri-Sat 11.30am – 11pm. 
Mikawa Yakitori Bar
In the heart of Siglap, go for the glorious skewers at Mikawa Yakitori Bar. With more than 50 kinds of kushiyaki to pick from, we say try the tasty Shiitake Pork Belly Maki with Cheese ($2.90), lightly charred on the outside and soft and oozy on the inside, or humble Karatsuki Ginnan ($8, Japanese ginkgo nuts).
Mikawa Yakitori Bar is located at 53 Upper East Coast Rd, Singapore 455214, p. +65 6444 8484. Open Mon-Thu 11.45am – 2.30pm, 6pm – 10.30pm, Fri-Sun 11.45am – 2.30pm, 6pm – 12am.
Nanbantei
Can't get enough of chicken on a stick? A full course yakitori dinner has been meticulously put together at Nanbantei, another of the older yakitori restaurants in Singapore. The first Yakitori Course A costs just $39 and sees a whopping 12 kinds of skewers from nanbanyaki (beef with bean paste sauce) and shiitake mushrooms to leeks and tsukune (chicken meatballs), while another one (Yakitori Course B, also $39) comes with both sashimi and yakitori if you'd like a mix.
Nanbantei is located at 14 Scotts Rd, #05-132 Far East Plaza, Singapore 228213, p. +65 6733 5666 and 133 New Bridge Rd #02-40, Chinatown Point, Singapore 059413, p. +65 6443 5659. See here for opening hours.
IZA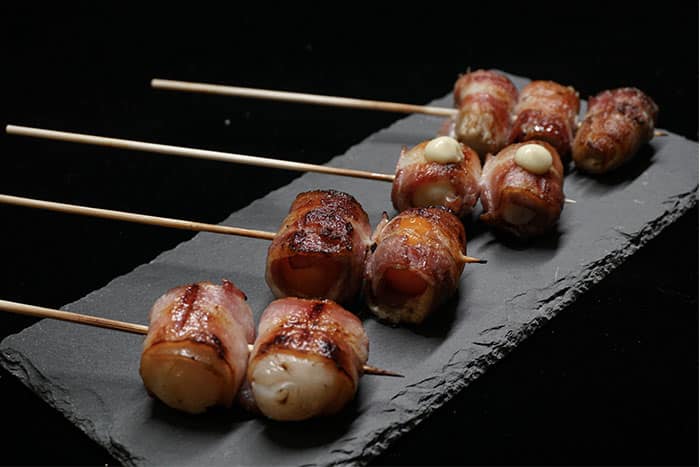 With IZA, east siders no longer have to travel into town for their skewers fix. With wallet-friendly prices and a good selection of beverages, the offerings from yakitori specialist The Skewer Bar (collaborating with IZA outside their Geylang home) are great for after-work drinks and bar bites. Try the Chicken Heart ($1.90), Lamb ($1.90), as well as the unusual Bacon-wrapped Lychee ($2.80) and fascinating Stuffed Taupok Special ($3) when you're in the area.
IZA is located at 695 East Coast Rd, Singapore 459059, p. +65 6385 2883. Open 6pm – 1am daily.
Shin Kushiya
One of the first kushiyaki concepts in Singapore, Shin Kushiya in VivoCity boasts over 50 varieties of grilled-to-order skewers fired over imported bincho charcoal, making for a particularly crisp exterior and savoury smokiness. Their menu is separated into a five sections according to the type of meat (chicken, pork, beef) and vegetables, as well as platters like the Mixed Kushiyaki Platter ($13), Yakitori Platter ($12.40), and Seafood Platter ($18.40).
Shin Kushiya is located at 1 Harbourfront Walk, #02-120 VivoCity, Singapore 098585, p. +65 6275 8766. Open Mon-Thu 11.30am – 10pm, Fri-Sun 11.30am – 10.30pm.
Top Image: Toriki