Bitters & Love – Bitter. Better. Love.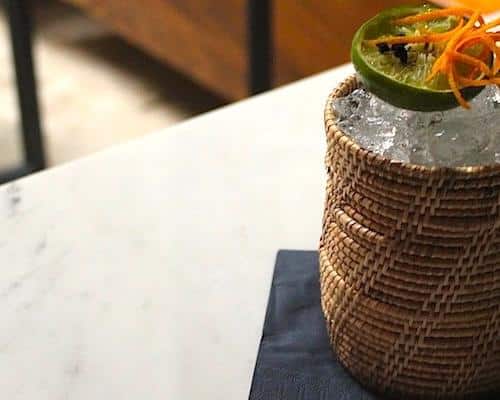 PUBLISHED January 17th, 2013 02:27 am | UPDATED May 18th, 2020 04:34 pm
There's something I just love about the name of the place…I think it's how it rolls of the tongue…Luuurvv. The fact that I first came here with a friend called Bita (British pronunciation bit-ter) was even better. Bitter. Better. Love.
So, one of the great trends happening over the past couple of years are cool new cocktail bars opening up..and not just your run-of-the-mill martinis, gin and tonics etc..We're talking bespoke, unique creations to satisfy the five senses. The sound of the cocktail shaker, the smell of the fresh herbs, the feel of the cold glass, and of course the sight and taste of what is placed before you.
Back to Bitters and Love…Located at 36 North Canal Road, you wouldn't really know about it unless you'd heard from a friend or read about it… No signage and only open at night, it's located just behind its co-establishment Shoebox Canteen. It's a pretty small venue, but somehow quite spacious inside. The interior is simple, minimalistic…whitewashed walls with some wooden seatings. Somewhere for a small group of friends to catch up over a few drinks.
Speaking of which, the drinks here are very, very good . Price-wise cocktails here are going to cost you around $19-25 (nett) which is pretty standard these days. What is very cool is the whole routine and effort that goes into each drink. Basically, say what spirit you would like and what sort of flavours, and let the Bitters & Love boys do the rest…
A stellar example shown below was my Ginger Mojito… Zacapa 23yr rum, a dash on contreau, fresh mint, ginger and a barrage of other ingredients too. Honestly, I'm not much of a mojito lover but even I had to admit that it was good.
Later on, the boys made me an excellent bespoke cocktail composed of Diplomatico rum, chili, ginger, cinnamon infused sugar and much more… just what the doctor ordered.
Oh and before I forget, don't worry about arriving on an empty stomach. To my astonishment, Bitters & Love not only have some food items on the menu, but they're pretty damn tasty as well, and cheeeeaaappp. 200g worth of Wagyu ribeye cubes for $24… hell yes!
And be sure to get the 'love chips', hand cut fries covered with some chipotle and mayonaise. If you're getting a rum cocktail, these will work a treat.
Oh, and you can also get a half-dozen freshly shucked Canadian oysters for $20. Not too shabby my friends.
Be warned however, the food menu is quite whimsical and apparently changes every 3-4 weeks. Though if what I had on my visit here is something to go by, I'm confident next month's items will be worth a good munch to go with your fine cocktails.
---
Written by The City Nomad
On this occasion, drinks were compliments of Bitters & Love