Bottomless Brunch in Singapore: The Best of East and West with Free Flow Champagne at Tea Lounge, Regent Singapore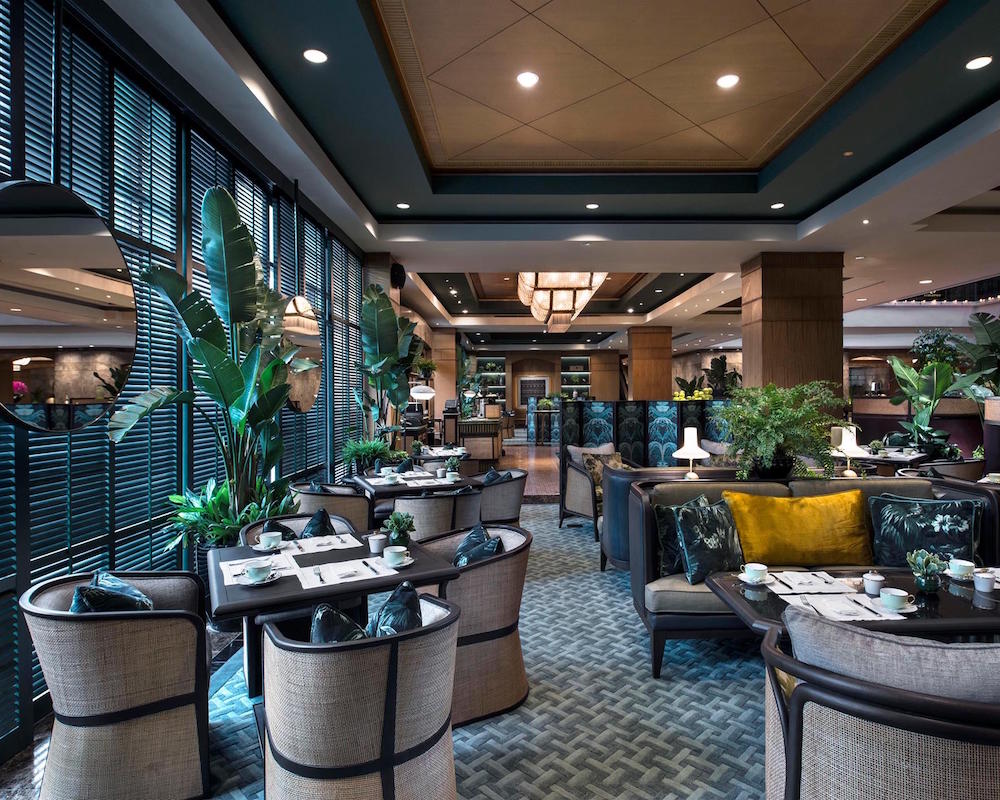 PUBLISHED January 27th, 2018 06:00 am | UPDATED February 7th, 2020 05:40 pm

Best known for being home to Manhattan (aka one of the best bars in Asia) and Italian restaurant Basilico, Regent Singapore is quite the food and drink destination on the fringes of Orchard Road. This month, we headed back to the five star hotel to brunch at the newly refurbished Tea Lounge, which reopened mid-August last year. Boasting a colonial garden vibe, the elegant tea room features a soothing palette of green and brown with plush lounge seating, accented by natural daylight coming in through the floor-to-ceiling windows, strategically placed potted plants and pretty printed folding screens.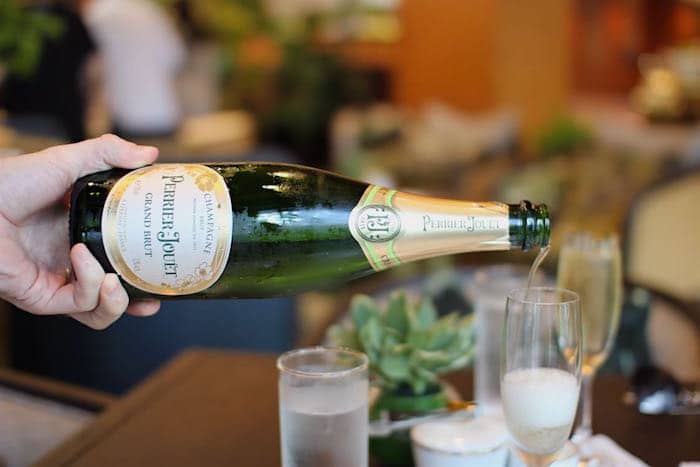 If you're thinking, afternoon tea for brunch? Well, you might not get eggs and toast at Tea Lounge, but their popular Weekend High Tea Buffet is definitely a crowd pleaser with their wide selection of local and Western dishes, and an extensive display of desserts (which is probably the first thing that catches your eye step up to the establishment). Priced at $65++ per person with free-flow coffee and tea, diners can top up $40++ for free-flow prosecco and $60++ for free-flow Perrier-Jouët Grand Brut champagne.
Beverages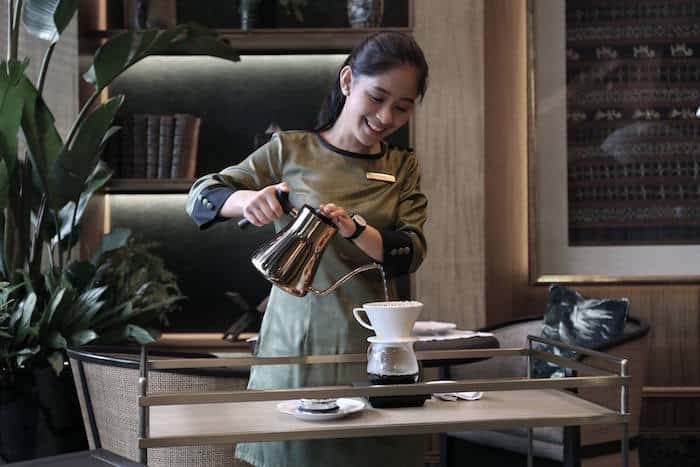 While we naturally started with a glass of bubbly, those who can't do with their caffeine fix can try something from Tea Lounge's coffee programme, a collaboration with Common Man Coffee Roasters. The signature Pourover Coffee ($12 a la carte) features single origin roasts from the likes of Ethiopia, Columbia, and Sumatra that rotate monthly while their espresso-based coffee is made with Common Man's full-bodied 22 Martin blend. Tea lovers can also look forward to a carefully curated repertoire, each with precisely prescribed water temperatures and steeping times for the best tea experience.
East
The local dishes were well executed, in particular the Chef Chong's Signature Lobster Laksa and the Seafood Congee with Goji Berries. The gravy of the former – the most important part of the beloved dish – was lemak (rich and creamy) without being overly oily. The congee was more watery than the usual Cantonese-style rice porridge but that means you get to savour the umami broth (infused with a delicate sweetness from the prawns) it's cooked in.
The shell and the stewed turnip at the DIY Kueh Pie Tee station were on point, but we wished the chili was of a thicker consistency. There's also a Dim Sum section with quintessential items like the siew mai (pork and shrimp dumpling), which managed to retained its textures as if in a dim sum restaurant. We were pleasantly surprised by the arrival of char siew via a chef from the kitchen. We prefer our sweet barbecued pork to be of a fattier cut but the slightly sticky, caramelised coating is lovely.
West
Before you make your way to the carving station, head to the caviar bar, equipped with everything you need for a blini. We stuck with good ol' Sevruga – supposedly one of the highest priced varieties in the world – but there's also tobiko (flying fish roe) and ikura (salmon roe) to indulge in. We're not usually fans of fish at buffets because they tend to be dry and overdone, but Tea Lounge's Norway Salmon Confit, served with crème fraiche and chives, was moist and flavourful.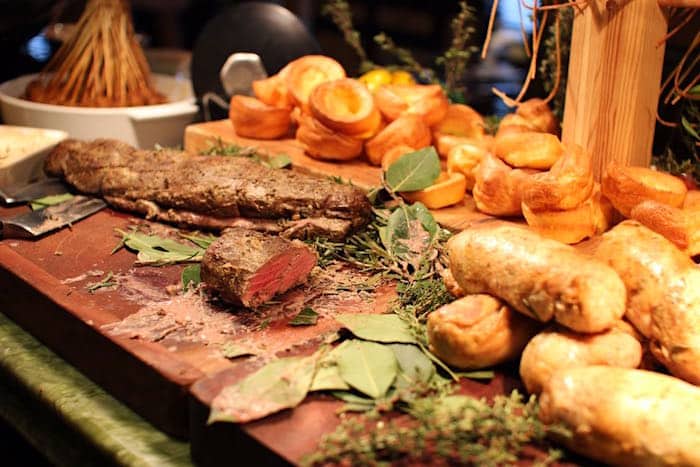 The roast Angus Boeuf was excellent; medium rare and juicy, each slice is served with a smear of foie gras and morel mushroom mustard-like paste and tastes amazing with a dab of the perigord truffle sauce you'll find on the side. To refresh the palate between robust flavours, there's also an array of salads with like the Korean Dashi-poached Prawns and Kimchi and the Barbecued Duck Salad with Cucumber and Sour Plum.
Dessert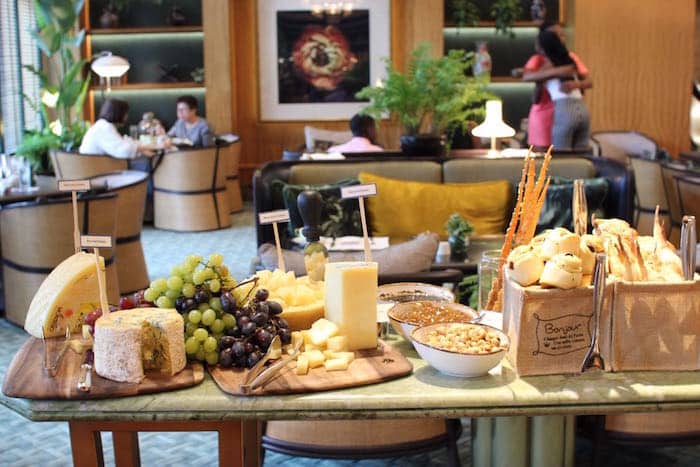 Thanks to Tea Lounge's Gold culinary Olympian Pastry Chef Alex Chong and his team, the impressive dessert display wasn't all just about the looks. There are almost too many of these sweet treats to count but highlights for us include the Tahitian Vanilla Caramelised Pecan Éclair – the choux pastry was light and not at all soggy – and the Caramel Apple Yuzu Tarte Tatin. Besides the small table of Peranakan kueh, there's also a small cheese counter on the side laden with European cheeses and condiments like truffle honey, fig jam, and dried fruit and nuts.
One last thing, it is meant to be afternoon, so be sure to treat yourself to one of their butter scones with Devonshire clotted cream and house-made strawberry preserves. It's one of the best in Singapore.

Tea Lounge is located at Lobby Level, Regent Singapore, 1 Cuscaden Road, Singapore 249715, p. +65 6725 3245, e. tealounge.rsn@fourseasons.com. The Weekend High Tea Buffet is available Saturday and Sunday 12pm-2.30pm (first seating) and 3pm-5.30pm (second seating).