Bar Review: Manhattan At Regent Singapore's New Turn Of The Millennium Menu
PUBLISHED August 21st, 2019 07:00 am | UPDATED May 18th, 2020 06:52 pm

Despite a slight tumble from the top spot of Asia's 50 Best Bars and the World's 50 Best Bars this year, Manhattan is the winner of 2019's Tales of the Cocktail Award for Best International Hotel Bar and took home the award for Best Hospitality Team at The Bar Awards Singapore in September. These are testaments to the bar's dedication in offering the best drinks, service, and ambience, so we returned with great pleasure to welcome Manhattan's new Bar Manager David Nguyen-Luu and to try his new menu.
A seasoned veteran in the industry whose last stint was Group General Manager of the Barrelhouse Group – they run award winning gin bar The Barber Shop in Sydney – Nguyen-Luu's collection of artisanal concoctions pays homage to the global cocktail renaissance at the turn of the new century, taking inspiration from social and cultural influences around New York City. Each unique creation reflects the vibrant entertainment scene in the Big Apple.
We kick off with Bada Bing Bada Boom (S$27++), a tribute to The Sopranos, the television phenomenon that rocked the screens of countless New Yorkers. A delicate concoction featuring Glenlivet 12 Years, Ruffino Chianti red wine, spice syrup and cherry tobacco bitters, accompanied with an aromatic chocolate cigar. The balance of spice and smokiness plays perfectly well with the sweetness of the aromatic chocolate cigar, resulting in a cocktail that's deep, flavourful, and packs a punch. Fun fact: both the Glenlivet 12 and Ruffino Chianti are favourites of mob boss Tony Soprano.
As a throwback to the bottle service era in New York City's hottest nightclub and the Martini, No Vacancy (S$25++) – named after the constant lit-up signs of the era's hotels and motels – features a blend of Fords Gin, Macino Secco Vermouth, peach liqueur, and orange bitters gracefully presented in its own little bottle resting in a small tub of ice. Accompanying this cocktail are three different condiments: Lemon twist, fresh apple slices, and the quintessential olives. While perfect on its own, each condiment unlocks a new flavour profile for this wonderful drink. No Vacancy looks, and tastes, like four different martinis in one package.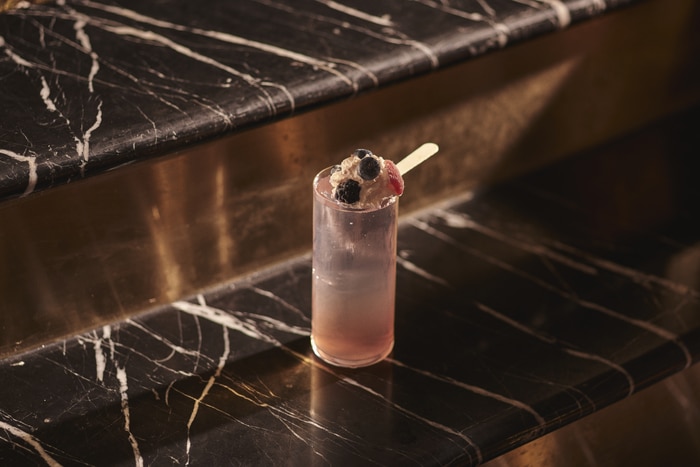 Last, but certainly not the least, we have the Meyer's Fizz (S$24++), a refreshing, fizzy treat that features a mix of Michter's Sour Mash, vanilla yogurt milk punch, strawberry-infused Macino Bianco vermouth, clarified lemon juice, and soda, served with frozen cream and yogurt. It is named after David Meyer, the New York City restaurateur who has fed countless people around the world with his cult burger chain, Shake Shack. This cocktail is a perfect pick-me-up after the heavy hitters mentioned above, and it's also a great starting drink to cool down from the year-round tropical climate in sunny Singapore.

Manhattan is located at Level 2, Regent Singapore, 1 Cuscaden Road, Singapore 249715, p. +65 6725 3377. Open Mon-Thu 5pm – 1am, Fri-Sat 5pm – 2am, Sun 12pm – 3pm, 5pm – 1am.