Restaurant Review: Caffe Fernet Singapore at Fullerton's Customs House is The Jigger & Pony Group's Most Ambitious Venue Yet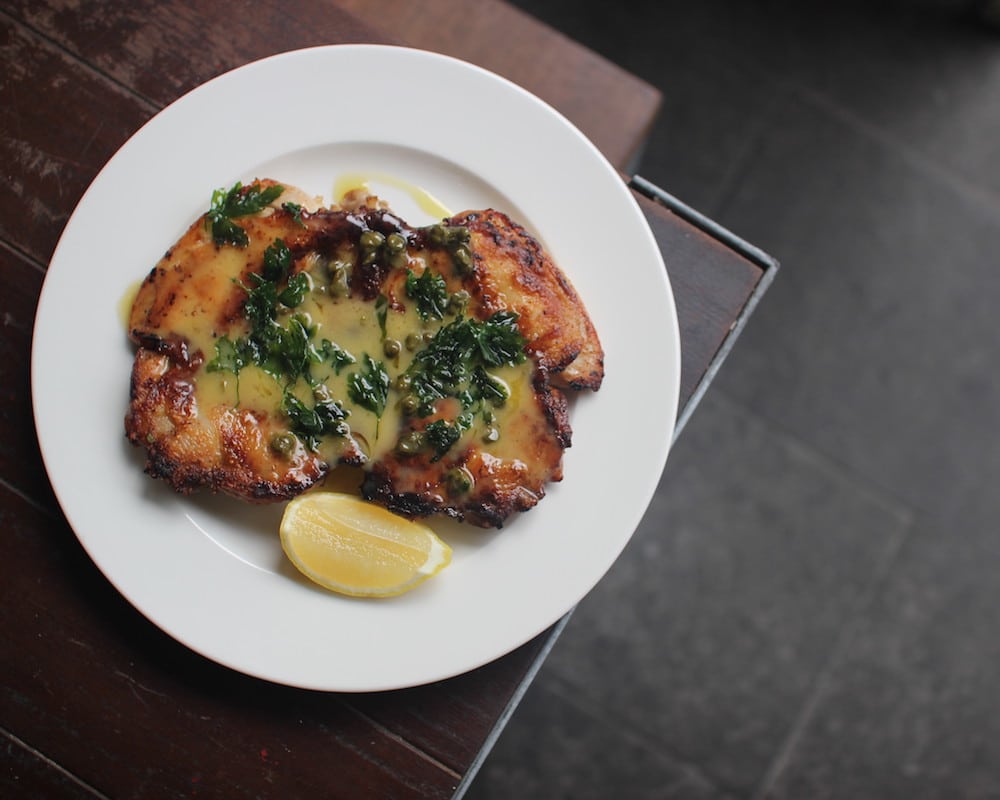 PUBLISHED February 14th, 2018 12:20 am | UPDATED May 18th, 2020 11:45 pm

Known for their five successful bars and restaurants – including grill & rumhaus Sugarhall on Amoy Street and award-winning Bukit Pasoh cocktail bar Gibson – The Jigger & Pony Group is adding yet another member to its stable next month. Located at Customs House on the Fullerton waterfront, 130-seater Caffe Fernet is not just an ambitious undertaking because of the capacity, it's also the first time the group has adopted a particular cuisine for the food and drink menu.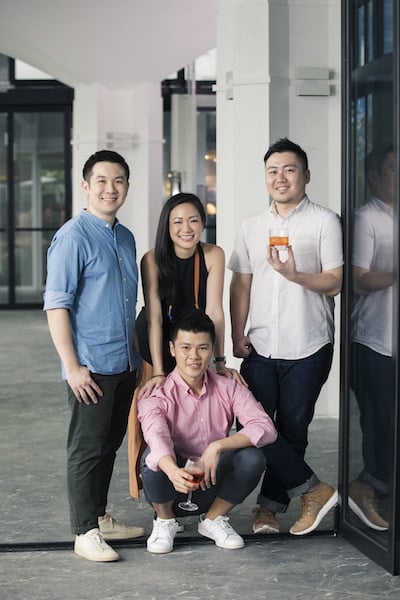 "We have always strived to present inventive concepts in the F&B industry and when we first opened with Sugarhall and Humpback, we wanted to create exciting spaces where guests can experience a convivial style of "fun-dining" with great food and cocktails in one venue," said Indra Kantono, Co-Founder of the Jigger & Pony Group. In an attempt to take this concept further with Caffe Fernet, the team sought inspiration in New York City. And if you're wondering why the Big Apple instead of good ol' Italy, Indra further explains "Known for being a vibrant culinary hotbed with restaurateurs and chefs that constantly push boundaries, as well as inventive interpretations of traditional dishes and presentations. Caffe Fernet is our ambition to jazz up the traditional Italian dining experience on the Little Red Dot by adopting that same spirit of creativity and cosmopolitan outlook from our trip."
And after a little sneak preview a few hours ago, we're inclined to share Indra's confidence that Caffe Fernet will add something new to the dining scene, Italian or otherwise. The best part? Consumers will also get a sneak preview of Caffe Fernet today (Wednesday, 14 February 2018, 6pm onwards) at Sugarhall as they put up signature spritzs, cocktails, and bar grub from their menu for one night only.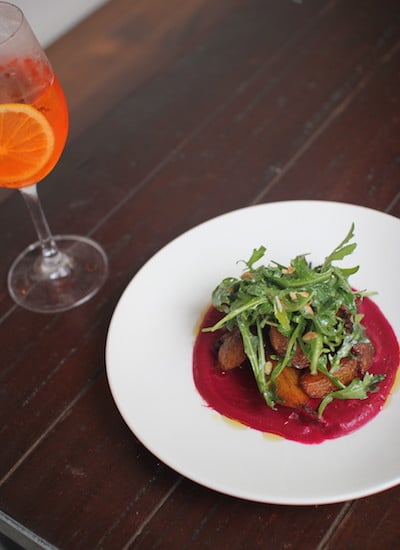 As opposed to the hearty, grandma's kitchen fare, Executive Chef Polo dishes out lighter and more contemporary dishes on Caffe Fernet's menu, like the Golden Beetroot ($21). Chef Polo always had a way with vegetables; this time, think roasted golden beetroot that sees a stint in the deep fryer before being seasoned with salt, which plays well with the earthy beetroot mole it sits on and the rocket salad drizzled with shallot vinaigrette. The skin and texture of the golden beetroot was reminiscent of roasted potatoes (with less calories).
No self-respecting Italian restaurant will omit pasta from its offerings, and while Caffe Fernet is no exception, their Mafaldine Cacio e Pepe ($25), an Italian cheese and pepper classic that Anthony Bourdain calls the world's greatest pasta dish. Instead of using bucatini, spaghetti or tagliolini, Chef uses high quality mafaldine, a flat, wide ribbon-shaped pasta that holds the thick pecorino cheese sauce well. Cooked perfectly al dente, it has an even more captivating fragrance from the addition of green, white, and pink peppercorns to the typical black pepper.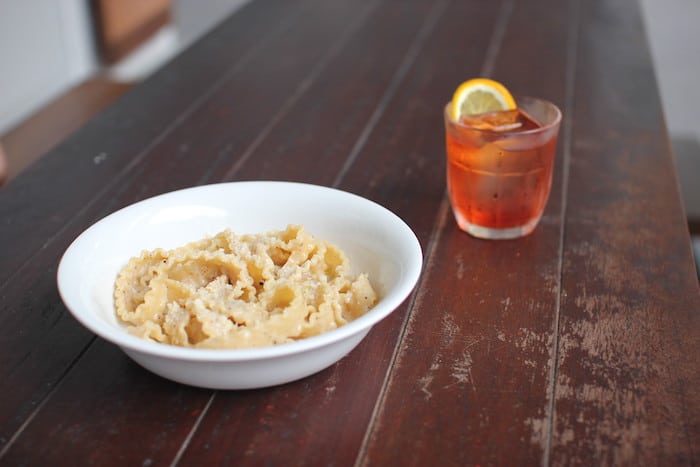 The Chicken Picatta ($36) is also excellent. Though the scattering of capers on the fowl could be punchier, the whole Malaysian deboned spring chicken is cooked beautifully in a saffron-infused stock for a subtle flavour enhanced with a final sear with butter and lemon for acidity. The skin is crispy too, making the chicken a joy to eat, which is not something I often say about this poultry meat. We ended off with a rustic, but no less delicious Olive Oil Cake ($14) baked with orange, pine nuts, and rosemary on top. The cherry on top here is the mix of crème fraiche and mascarpone cheese in which the accompanying olive oil sits.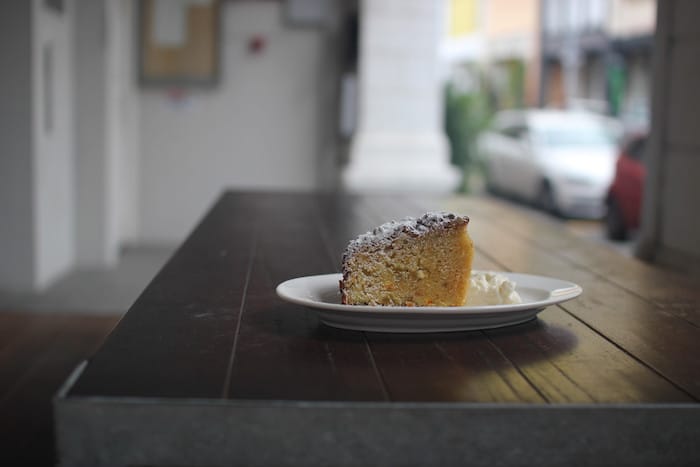 As for drinks, one can always expect crafted cocktails at a Jigger & Pony establishment, and there are plenty of them. Indra adds that "…with the Group's genesis as a pioneering cocktail bar starting with Jigger & Pony in 2012, our aim has always been to support the growth of the cocktail culture and be at the forefront in positioning Singapore as one of the world's best cocktail destinations." Well, nothing quite shouts Italian like the aperitif Campari, and Executive Bar Programme Director Aki Eguchi makes good use of its bitterness. Besides the well-executed staples like Campari Spritz (Campari, prosecco, and soda water) or a Classic Negroni of gin, Campari and vermouth russo, you'll also find Garibaldi on the menu.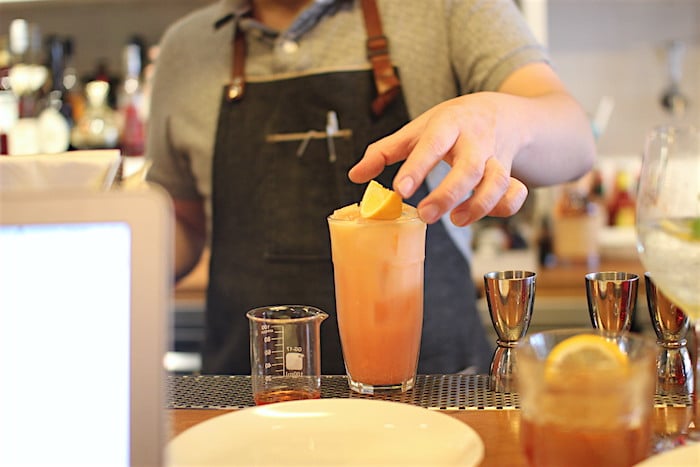 Essentially Campari and orange juice (the juicer aerates the juice in a way such that it comes out velvety and "fluffier" than the norm), the cocktail is so named because the liquor was invented in Novara in northwest Italy and oranges are replete in the country's south. Giuseppe Garibaldi was the name of the man who unified the country, so you do the math. Alternatively, non-Campari fans can opt for the refreshing Amalfi Spritz, which features limoncello alongside gin, prosecco, vermouth, and soda water, instead.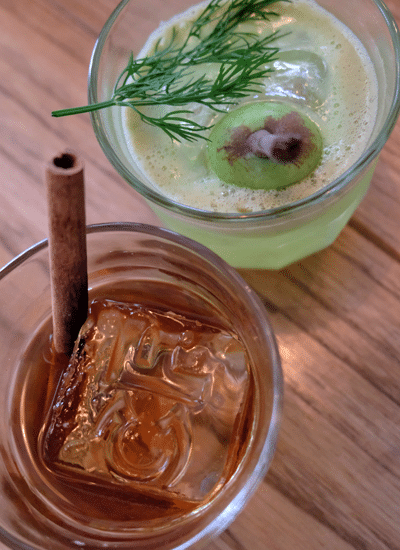 Clearly, the use of fruits is indispensable in Aki's concoctions. An invigorating Watermelon Riesling sees Ketel One Vodka mixed with aromatic Riesling, almond, soda, and yes, watermelon. There is a banana-infused Monkey Shoulder in his complex Banana Negroni, which sees whisky with Nardini Rabarbaro (a Chinese rhubarb-heavy aperitivo), and Antica Formula, a premium vermouth prized for its distinct vanilla notes.
Another, the San Marino, employs green pear, verjus, dill, and Ketel One Vodka in what you can imagine to be a fairly sour drink, and its taste? Fresh and bright with a strong acidity, as expected.
When you're not looking for a complete meal, you can order some excellent finger bites off Caffe Fernet's bar snacks menu. The seemingly ordinary Marinated Olives are elevated by Chef Polo's use of four Italian olive varieties – Black Pitted, Cerigmola, Black Leccino, and Gaeta – marinated in herb oil, chilli pods, rosemary, and orange peels for maximum flavour.
He does some impressive frittis, like the perfectly-fried Calamari served with housemade black garlic aioli, and beautiful Cherry Tomato Poppers with delicate truffle honey cheese on top that quite literally pops when you take a bite.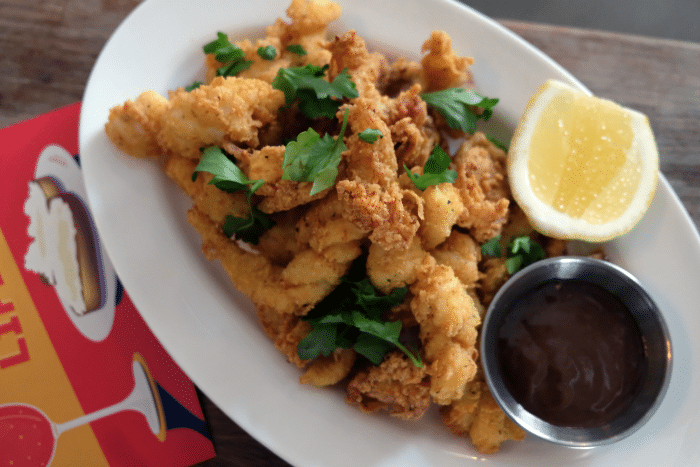 As we were leaving, we asked Indra what made the Jigger & Pony Group so successful in a fickle dining scene like Singapore. He willingly shared that their venues "share the same DNA, which has proven to be popular with our track record" and that DNA is "underpinned by the showcase of the craft of cocktail and cuisine, and presented by a convivial hospitality that is approachable." And since we've never left a Jigger & Pony establishment hungry or dissatisfied, we have to agree.

Caffe Fernet is opening in March 2018 at #01-05 Customs House, 70 Collyer Quay, Singapore 049232. A preview of their bar snacks and cocktails will be happening from 6pm, Wednesday 14 February 2018, at Sugarhall, 102 Amoy St, Singapore 069922. More details here.
Rome wasn't built in a day, and neither were any great restaurant-bars in Singapore. This is a developing story – stay tuned for updates on Caffe Fernet.
Top Image: Chicken Picatta. All food images courtesy of Sylvester Fedor.