Cook & Brew: Matching Beer with Comfort Food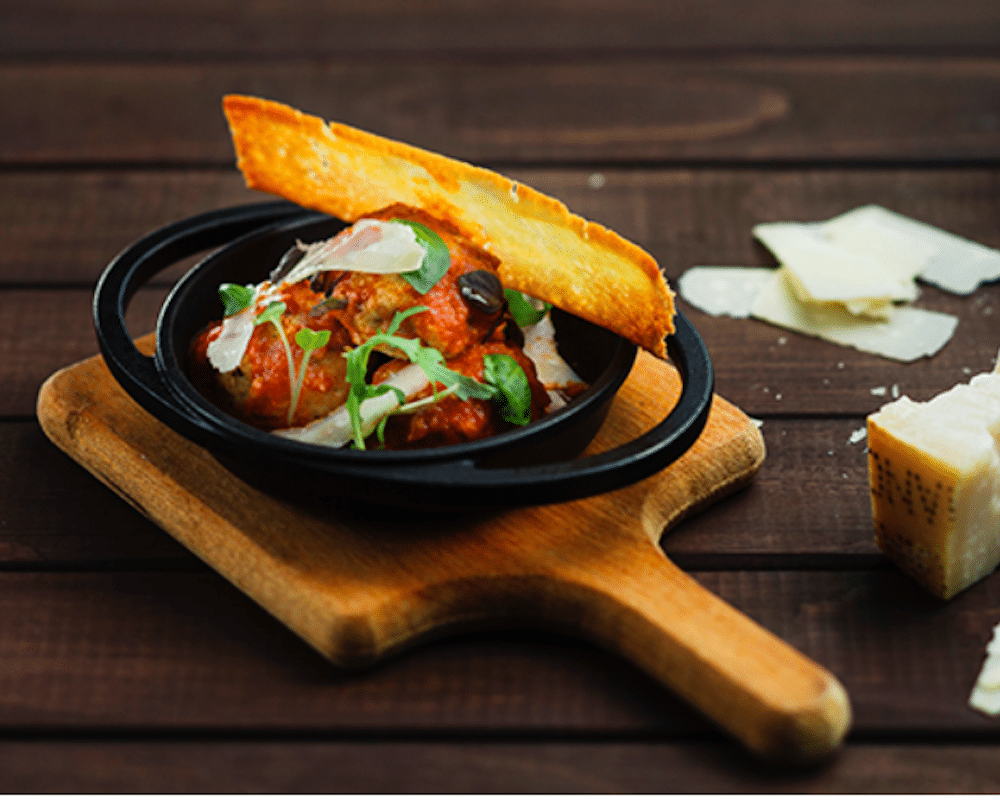 PUBLISHED February 4th, 2015 04:00 pm | UPDATED May 18th, 2020 04:31 pm
Sitting comfortably on the 33rd floor of The Westin Singapore, Cook & Brew is the property's signature gastro-bar and in our opinion, one of the best hotel bars on our little red dot. Boasting quite an impressive view of Marina Bay, the bar is sleek and comfortable at the same time, much like the offerings on its revamped menu by new Executive Chef Aaron Foster.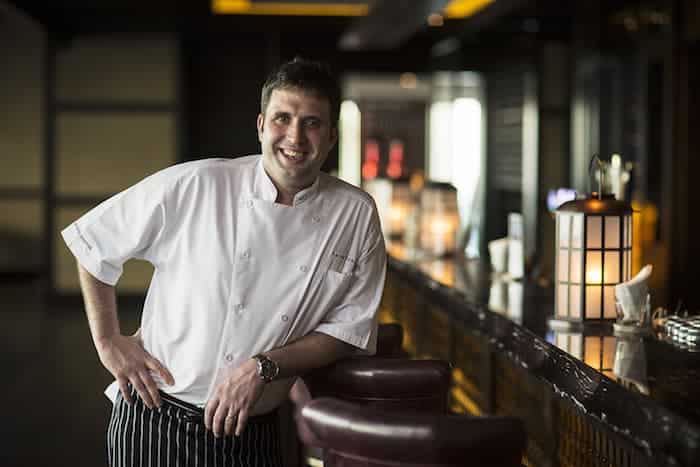 Chef Aaron Foster
Having spent years in some of the best kitchens across Toronto, Montreal, New York and Bangkok, Chef Foster has managed keep the new menu true to Cook & Brew's original concept – modern interpretations of classic bar grub – while adding his own personal flair.
Here's the really cool part – not only does everything on the menu (save dessert) come with a recommended beer pairing, they've also added more beers to their already extensive collection, bringing the total to 112 craft beers from 22 countries. Beer geeks, rejoice!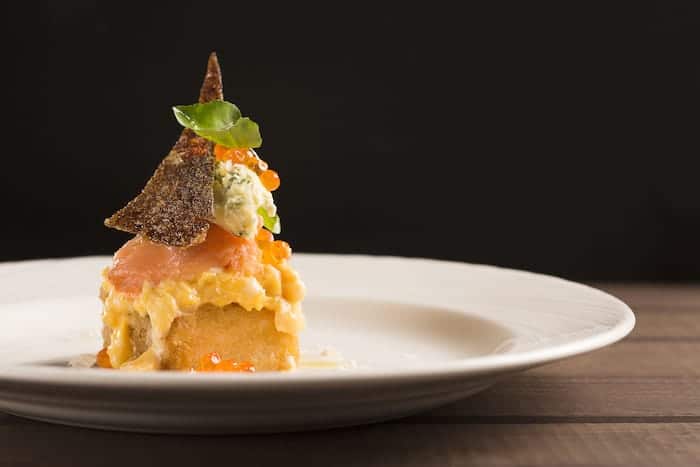 Train Car Breakfast
One example where his Ontario roots are evident is the Train Car Breakfast ($16). A brunch-y starter of fluffy butter-fried brioche, creamy scrambled eggs (it's so yummy because it's 60% cream and 40% egg), house-smoked salmon, and salmon caviar, it's reminiscent of a classic breakfast served on train dining cars across Canada.
Our favourite, though, is the rather uncommon Turkey Meatball ($15). Think juicy but not overly tender meatballs topped with chunky tomato sauce and thin shavings of pecorino cheese. We think it's great that we have the option of adding spaghetti to make it a main course.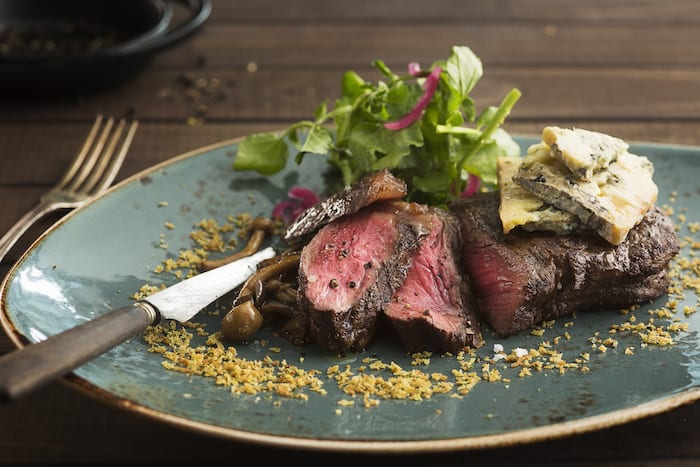 USDA Angus Striploin Steak
For the meat lovers, your meal at Cook & Brew won't be complete without the House-Made Smoked Sausage New Orleans Style ($22), a twist on the usual bangers-and-mash combination, or the USDA Angus Striploin Steak ($54). We're not usually fans of sausages, but the former won us over with its subtle smoky flavour. The latter, served with Stilton blue cheese, roasted mushrooms, watercress, and crispy breadcrumbs, was grilled to perfection.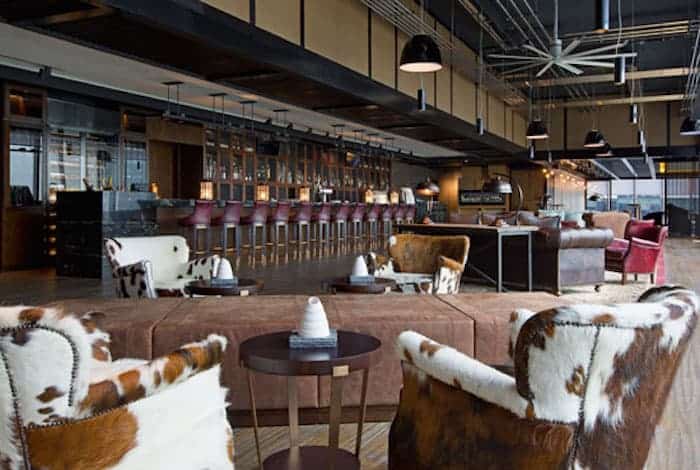 Cook & Brew
Everything we've tried so far is available on both the lunch and dinner menu, but there are a couple of East-meets-West lunch exclusives like the Open Face Bulgogi Cheese Steak Philadelphia Style ($19). On top of fancier courses like Fancy Fish & Chips ($46), where butter-poached, beer-battered Nova Scotia lobster is served with duck fat-braised potatoes, the dinner offerings include heartier, communal platters like the Whole Roasted Suckling Pig ($85 per person).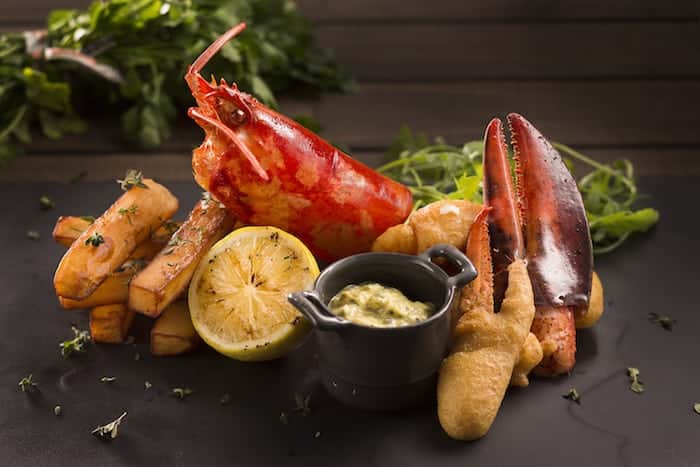 Fancy Fish & Chips
If you believe that everything is better with bacon, you'll love the Smoked Bacon Caramel Chocolate Bar ($13), 'cause we did! A chocolate covered bar of dates, nuts, bacon bits and caramel, topped with maple candied bacon, this dessert is, sad to say, too decadent (and too good) to finish on your own. However, we'd also like to try the Molten Sticky Toffee Pudding ($11) when we go back next.
Last but not least, we have to mention that Cook & Brew satisfies even if you're not looking for a huge, hearty meal. Their new bar bites menu features options like Poutine 'Eh' ($16), a satisfying and very Canadian dish of fries, cheese curds, pulled pork, apple, and gravy, as well as King Crab and Chicken Liver on Toast ($14), which is great with that Erdinger, period.
This article is sponsored by The Westin Singapore.
Top Image: Turkey Meatballs
Check out our other reviews Bincho X Iconic Wines' Sherry Pairing Dinner – A Feast In The Heart Of Tiong Bahru and Morsels Singapore: Fusion Sharing Plates on Dempsey Hill