Dim sum a plenty at Mouth Restaurant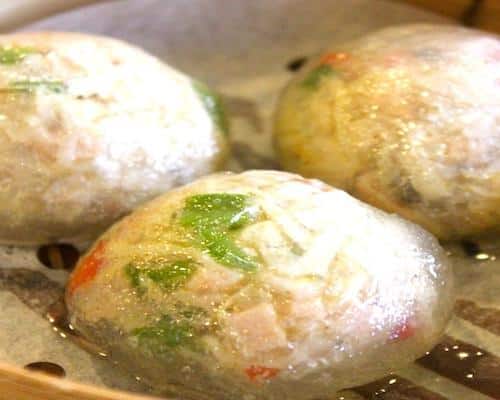 PUBLISHED July 15th, 2012 09:21 pm | UPDATED March 28th, 2016 05:56 pm
It had been some time since my last dim sum expedition, and so felt I was definitely owed some credits on the dim sum front. On arriving at Mouth Restaurant and seeing their super duper long list of dim sum, I had a feeling that this was going to be right place to use them. And of course, an extensive list means that as well as seeing all your favourite long lost friends, you get a nice bit of variety in there too.
What's also nice about Mouth Restaurant is apart from being conveniently located in China Town, the decor in there whilst taking inspiration from the traditional, also pulls off a contemporary feel making for a fresh and pleasant dim sum dining environment.
There are two things that are more or less my standard bench mark when it comes to dim sum. The first is Cheong Fun (or steamed rice rolls) and the second is pan fried carrot cake…and I thin perhaps that's got something to do with how many I've tried in my time.
So true to form, let's start with those two players. The Steamed Rice Roll with Fresh Prawn ($5) were an excellent start. They were light and super silky, enveloping a juicy prawn filling. Great stuff and obviously I wolfed all three of them down myself.
Indications from the Pan Fried Carrot Cake ($5) at initial prodding were also good. Springy to touch, they were light yet with a good texture, a spot on flavour and just the right amount of browning on each side. Thumbs up!
The Steamed Crystal Dumplings with Wild Fungus ($3.50) had a good, soft, bouncy texture and more-ish savoury taste thanks to its veggie and chicken filling…
Feeling like something a bit different, we opted for the Fried Cabbage Seafood Wrap ($5). Resembling sort of a mini tempura sandwich, we busied away at dipping the triangles in the chili sauce. I have to also add that the salad of dragonfruit and melon with which it was garnished thoughtfully balanced out the dish.
We were stuck on deciding between Mouth's Yellow Skin Scallion Chicken ($16 for half a bird), or the Smoked Black Pepper Duck Meat ($13 for 8 pcs). In the end we opted for the latter and we were not disappointed (although we'll be trying the chicken next time!).
The duck was succulent and tender, with perfect flavouring, and sitting on a bed of mango salad which was a refreshing player amidst the rest of the dim sum.
We also ordered the Claypot Braised Tofu off the main menu which was a very mouth-watering dish indeed! Almost meaty in texture, the springy tofu had a  slight tang to its taste and combined with big juicy mushrooms…well..I could have finished off this dish all to myself it was that good!
The only dish I was not a fan of at Mouth Restaurant was the Chicken Glutinous Rice Ball ($4.20), which we chose over the Steamed Stuffed Glutinous Rice in Lotus Leaf Wrap ($4.20), because we thought we'd try a departure from the usual. Sadly though we regretted this though because the deep fried rice ball while  good in texture with its light casing around a chicken filling ended up being somewhat bland in taste. Ho hum.
I have to say, with such delectable dim sum, at such decent prices, and with such variety, I was actually kicking myself that I hadn't been to Mouth Restaurant before. It's a must on any dim sum lovers list for good quality dim sum at reasonable prices and next time someone asks me where to go for dim sum….I'll be gesturing towards my mouth! 😉