Falling in love with The Market Grill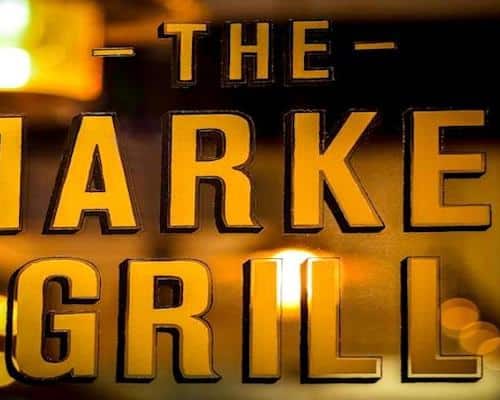 PUBLISHED August 14th, 2013 03:00 am | UPDATED April 14th, 2016 04:36 pm
On Telok Ayer Street, packed tight with customers and serving up everything from Lobster to Apple Crumble lies The Market Grill. It has slowly become my fail-safe, back-up restaurant. And that isn't a bad thing. It's the place I go to when I'm in need of a damn good feed and the reason I love it so much is simple – it ticks the three C's: Consistency, Convenience and Can't Eat Another Bite.
If you like meat and seafood then pretty much all orders are a safe bet, here are my recommendations..
If you're seriously hungry I'd recommend the Charcuterie Connoisseur Board ($28) as a starter to share. This selection of cured meats served with sourdough bread is the perfect amount for two people. Also a good choice if you aren't too hungry and are just here to drink – although The Market Grill isn't really that kind of place. It's ALL about the food. Whether you're grabbing a burger at the bar or here for a sit down meal they've got all bases covered, but if you can't manage a starter and a massive main.. well I don't really blame you! On to the best bit..
The first thing noticeable when you walk in are the tanks of lobsters. It took me a while to try one whilst I was having my way with a different burger every week, but eventually I got stuck into one of their Chargrilled Whole Lobsters ($45). The good quality meat needs very little manipulation or seasoning and is kept in it's naturally flavoursome state with a smokey, charred tinge, served with a creamy mash puree which is a beautifully contrasting texture to the meaty lobster.
If seafood isn't your bag, well there's plenty of red meat to go round and the Beef Angus, Beef Bavette ($39) fits the bill perfectly as a middle priced steak in its tender and well portioned form. It's not really in need of sauce. We opted for a side of the Peppercorn Sauce which wasn't very tasty in any case. The beef is served with a side of goose fat fried potatoes which is basically potato in it's finest form.
My favourite section of any menu – burgers! The burgers here are mighty good, so much so that they even made the cut in our feature of Sinagpore's best burgers. Burgers should always be beef really shouldn't they? There's something about chunky-beef-meets-bun that sets all wrongs right. My two favourites are the CW Portebello ($24) and the CW Blue Cheese ($24) both with decent sized patties and packed high with filling, served with super-straight cut fries and a side of something green, epitomising all that is burger.
Aside from the beef, the most popular burger on the menu is the CW Cod Fish ($26) and I have to admit, it's pretty damn good. For me the texture is a little strange, since both bun and filling are so soft and light it's practically non-existent, but it's delicious in any case and perfect if you're looking for a burger that leaves you less bloated.
If you have any room left you ought to grab some Apple Crumble A La Mode ($14) – a a big old portion served with ice cream and it tastes like Christmas.
If you're as big on meat and seafood as these guys are, then head down to The Market Grill for a big old feed!
---
Written by Superpat