Hyatt Regency Danang: Well Designed Rooms and a Pristine White Sand Beach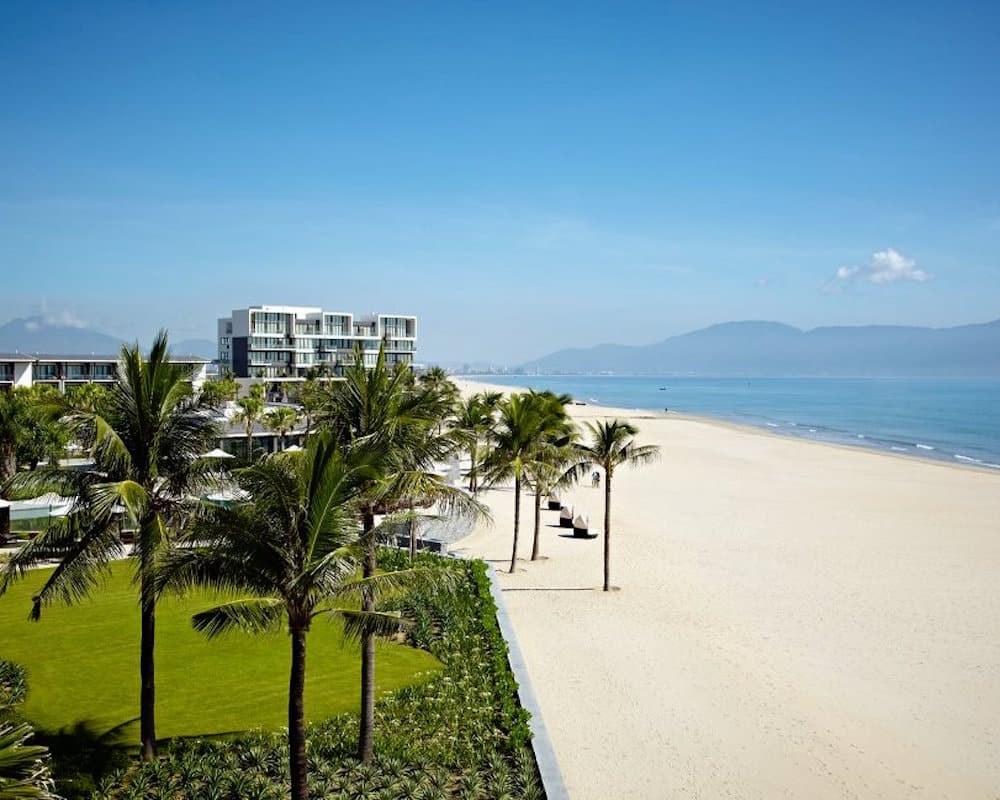 PUBLISHED July 6th, 2017 12:17 pm | UPDATED March 26th, 2019 12:54 pm
It's neither cheap nor easy to get to Danang. I only had Silkair (Jetstar only has 3 flights a week so you need to be flexible with your dates for a cheaper direct flight) as a direct flight option and a seat on the flight is easily double the cost of one that requires you to transit in Ho Chi Minh City, be it on Vietjet Air or Vietnam Airlines. In HCMC, you have to collect your luggage and walk from the international to the domestic terminal, which isn't fun when you're rushing for a connecting flight. Unfortunately (or fortunately), my flight to Danang was delayed by almost an hour, so the time I arrived and got a rideshare to Hyatt Regency Danang, I was ready to strangle someone. Thank the gods I was just in time for happy hour at the Regency Club lounge.
Besides wines (red, white, and sparkling) and the cocktail of the day (the espresso martini is delicious since they use Vietnamese coffee!), a mini buffet pops up from 5 to 7pm daily to celebrate the apertivo tradition before dinner. Think salads, cold cuts, cheeses, and miniature desserts; they also have a hot item, such as minced beef-lemongrass skewers, that the staff circulate as soon as the kitchen puts them out. After we were fed and watered, we headed straight to our Ocean View Club Room.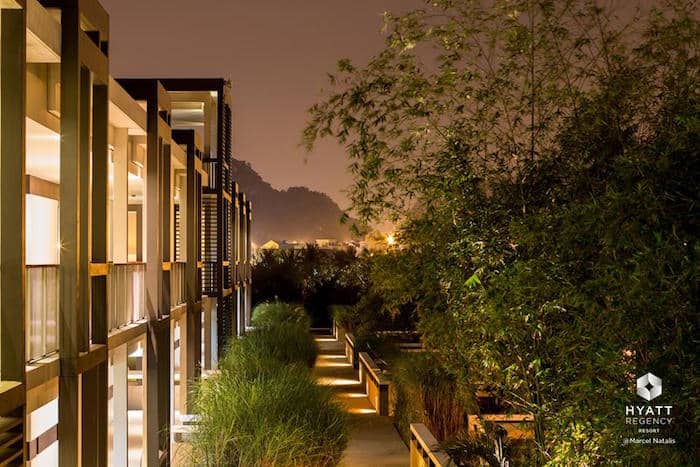 As you stroll across the property, you might think that buildings housing the 194 guestrooms and suites are not the most inspiring or aesthetically pleasing. But the layout and the building structure mean that the majority of the rooms have a gorgeous view of the East Vietnam Sea, and who can say no to that? The generosity of the 42 square-metre (452 square feet) space was played up further by clever design; for instance, the television is mounted on the panel that separated the bedroom from the bathroom and the usual minibar and beverage making facilities is backed by a small walk-in closet so you don't have to see your suitcase clutter if you don't want to.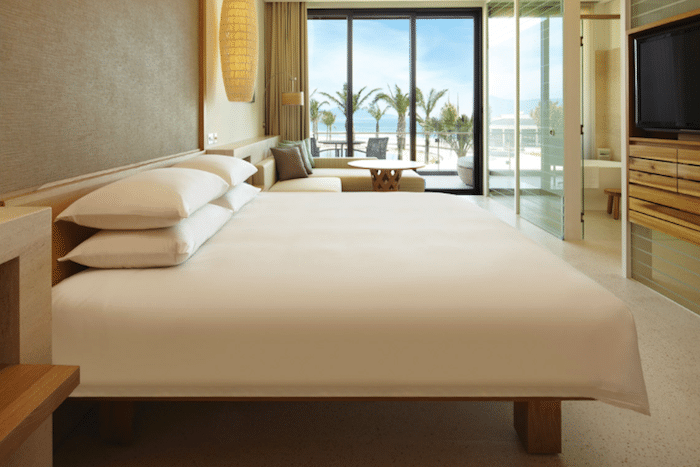 Something that'll probably catch your eye when you're setting into in would be the list of amenities available – like hair curlers, hair straighteners, shavers, and so on – if you forgot to bring it from home. As I was attending a wedding at the hotel as well, this service came in really handy, all you need to do is just give the house keeping staff a buzz!
In terms of layout, I have to say it's one of the best hotel rooms I've ever lived out of, and my favourite part is the balcony. Lovely daytime view aside, curling up on the rattan loveseat at night and listening to the waves crash on the beach over a glass of wine pretty much became a pre-sleep ritual during my stay.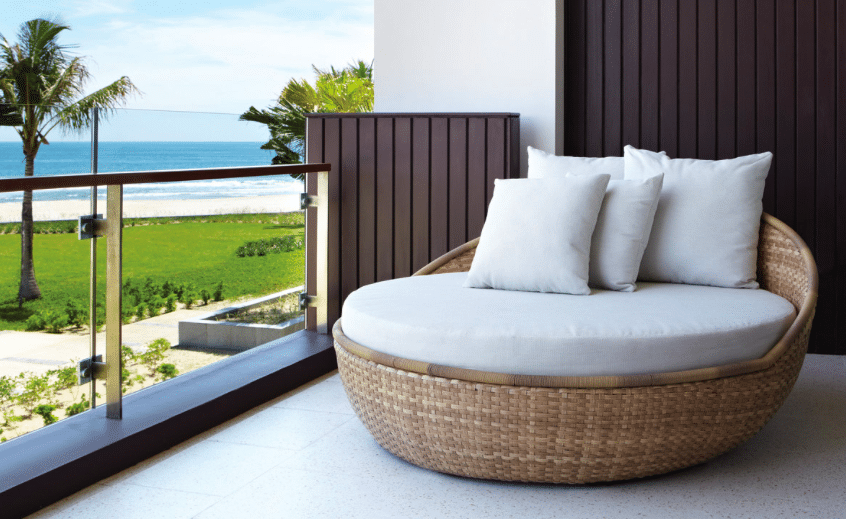 There wasn't anything fancy about the double-vanity bathroom but I appreciated that they combined the shower and the bathtub close enough to each other that you don't even get cold when switching from one to the other. I've also never been a fan of bar soaps until Hyatt Regency Danang, where they're also an exfoliator. It's great to get rid of all that dead skin after spending hours on the beach or by the pool under the scorching sun.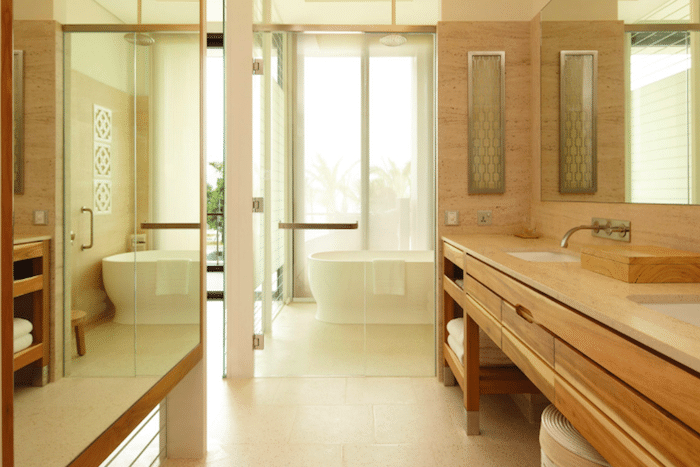 Speaking of pools, the hotel has five in total (yes you read that right). The main labyrinthine pool is not dissimilar to that of a water park, affording spacious swimming areas, narrow shallow waters for splashing around and even a water slide. A part of the pool is even bordered by white sand, effectively creative a mini beach for kids to play on. There's also Camp Hyatt that caters for activities for the littlies so if you're a parent you can read more here.
An additional perk of booking a room or suite is club lounge access is also access to the Regency Club pool, complete with daybeds and a quiet, mostly adults-only crowd. Alternatively, the tranquil Fitness Pool located at VIE Spa also makes for a great place to swim laps or relax with a book under the umbrella.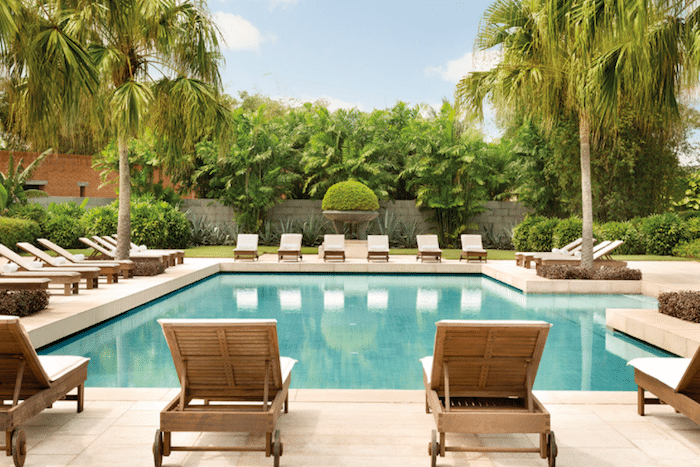 It will not surprise you then, that Hyatt Regency Danang also has five different dining concepts on site. As Club room guests, we had the option of having a smaller breakfast at the club lounge or the larger buffet spread at Green House, which serves an Italian influenced menu during lunch and dinner. What we really wanted though, was local food so we tried the Pool House. Located next to the main pool, the restaurant also offers a wide selection of Western comfort food and familiar Asian plates.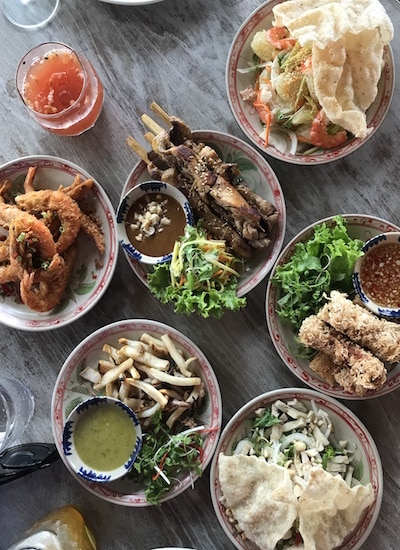 A must order is the Crispy Seafood Spring Rolls (155k VND, US$7). Think fresh seafood rolled in weaved rice paper for a great texture; served with fresh herb salad and a sweet chili fish sauce that you'll keep dipping into. Another delicious sauce can be found in the kumquat salt dip accompanying the Grilled Sun Dried Squid (195k VND, US$9). The flavour combination is excellent, though we're not really used to the texture of the squid.
If you're feeling adventurous, try the Steamed Jackfruit, Pork, Peanut, Laksa Leaf (145k VND, US$7), which is apparently a classic Northern Vietnamese dish. I've never tasted this flavour profile before, with the robust pork belly contrasting with the tart pickled green chilis, slightly sweet jackfruit, crunchy peanuts, and the occasional burst from the laksa leaf. Alternatively, the Pomelo Salad (165k VND, US$8) makes a refreshing alternative. Served with addictive rice paper crackers, tiger prawns, sesame and mint leaves, we were surprised by how much sweeter the pomelo is here as compared to what we get in Singapore.
You might also be interested in the Hoi An Style Shredded Chicken and Rice (195k VND, US$9), which tastes quite different to our famous Hainanese chicken rice. Here, the rice is fried before being cooked in chicken stock, resulting in flavourful, albeit a less oily rice. For dessert, you can't go wrong with the Coconut and Mango Crumble Tart (100k VND, US$5). Using fresh and preserved mangos, the flavours are absolutely sublime. Cap off your meal with a delicious, frappe-like Coconut Coffee (70k VND, US$3) made with Vietnamese coffee, milk, ice, and coconut flesh. It's really a gift that keeps on giving till the last sip.
Situated 15 minutes from Danang International Airport, half an hour from Hoi An, and two hours from Hue, Hyatt Regency Danang is a great home base for exploring this part of Vietnam, especially if it's your maiden trip to the area.
Hyatt Regency Danang Resort & Spa is located at 5 Truong Sa Street, Hoa Hai Ward, Ngu Hanh Son District, Danang, Vietnam, p. +84 236 398 1234.