Ruth's Chris Steak House: The Sizzling Hot New Orleans Export at Marina Mandarin, Singapore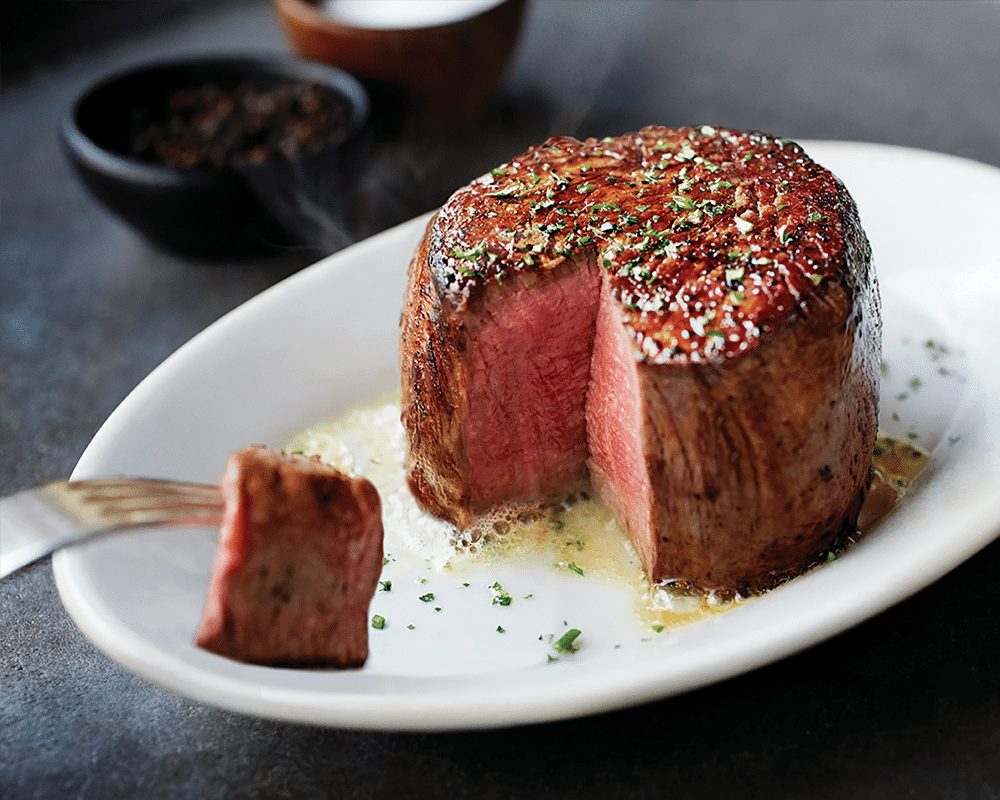 PUBLISHED July 6th, 2017 01:52 pm | UPDATED May 8th, 2018 12:02 pm

"Don't move steak when cooking it", "let it rest", and "know your timings" are things we hear all the time from professionals when it comes to cooking steak at home. Well, if only it were that easy. Those of us with sub-par culinary skills would remember the times we got our hands on a decent piece of meat, only to end up cooking it too well done or even burning the thing – which is why we go to proper chophouses for our share of the stuff. There's also the fact that good steak restaurants have access to the top-tier cuts that mere mortals wouldn't ever dream of acquiring.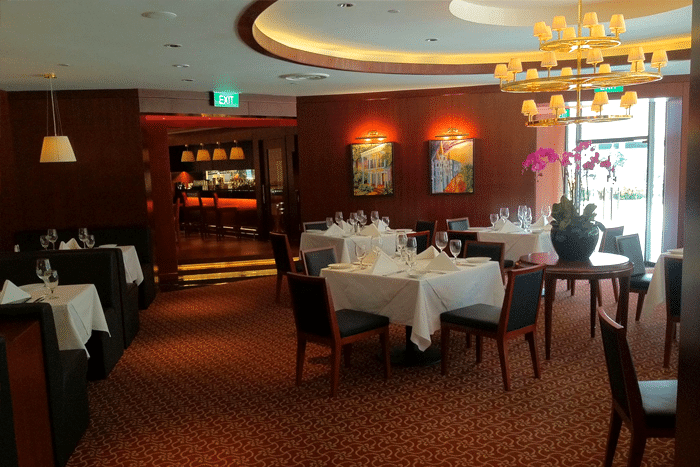 Take Ruth's Chris Steak House at the Marina Mandarin Singapore, for one. Specialising in fine custom-aged corn-fed beef from the Midwest, its USDA Prime selection is the top 2% of all US beef, which are graded based on the quality of their marbling, colour, and tenderness. There are some 145 outlets of the New Orleans brand worldwide, making Ruth's Chris' 2012 entry into the Singapore market a highly-anticipated one back then. We might be slow to the party, but better late than never, right?
The restaurant is everything an upscale American steakhouse should be: dark wood panels, soft carpets, classy chandeliers with cosy warm lighting, and polished leather chairs that do a little squeak when we sit. Instrumental jazz covers stream in the background as we're promptly served the restaurant's two most popular appetisers.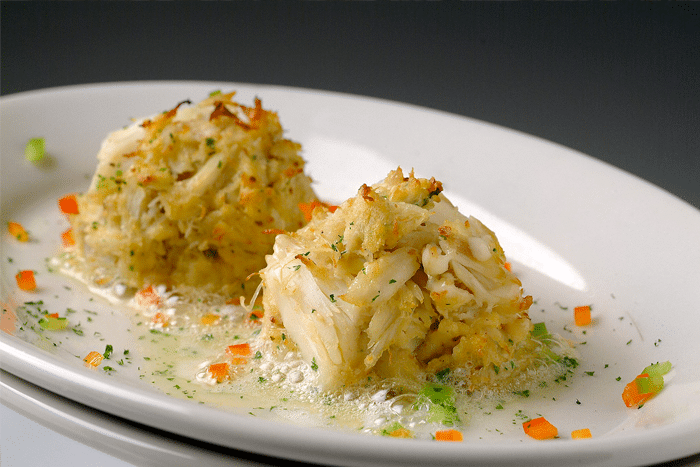 The Sizzlin' Blue Crab Cakes ($35) is aptly named – not because the crab cakes are blue, but because they are served crazy hot at a sizzling 250 degrees celsius. The two juicy hemispheres of blue crab meat (and a little breadcrumbs for binding) are delicious with the heated lemon butter, along with pieces of chopped bell peppers that add texture to the dish. You're given half a lemon for squeezing as well – use it.
There's also the Barbecued Shrimps ($35) that are sautéed Creole-style with reduced white wine, butter, garlic and spices like cayenne pepper. A classic but brilliant combination, if I must say so myself. The quartet of buttery shrimps, which are satisfyingly huge, are executed to a tee. And unless you're on some kind of misguided diet, be sure to sop up the creamy sauce with the accompanying slice of toasted garlic bread.
And then comes the steaks, broiled just the way you like it in Ruth's Chris' trademark 980 degrees celsius oven to lock in the flavour. A good steak is seasoned with nothing more than a bit of salt and pepper, and that's exactly what you'll get here. At this point, we're offered a hot plate with some butter and parsley to keep our meat warm. We started with the 170-gram US Petite Filet ($65), a spectacular cut from the centre of the tenderloin. It's certainly a more waist-line friendly option given its size, but it's tonnes more tender to the bite and no less tasty than it's more marbled counterparts, such as the honkin' USDA Prime Ribeye ($100).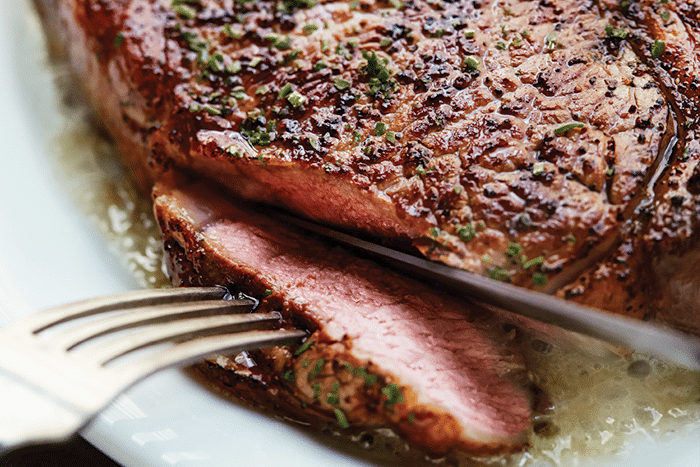 At 450 grammes, the latter is premium meat that's at the peak of beefiness and marbling. The fats, while aplenty, are evenly distributed through the cut, making for a deliciously juicy steak that's a joy to indulge in. That's all you need: gorgeous pieces of well-seasoned meat without any fancy trimmings, just a tantalising char. If you need sides to go along, some classic Pan-Roasted Wild Mushrooms ($20) and Fire Roasted Corn ($18) will make splendid accompaniments.
Save room for dessert (they're not stingy with the portions, being an American joint and all), for you must order the creamy housemade Cheesecake ($24) – five-inches of luscious cake with a thick crumb crust that extends to the sides, large enough to feed three. Copious amounts of light sour cream are spread on top to provide a refreshing tanginess. It's served with fresh strawberries, raspberries, and blueberries, though the cheesecake on its own is just already plenty fine.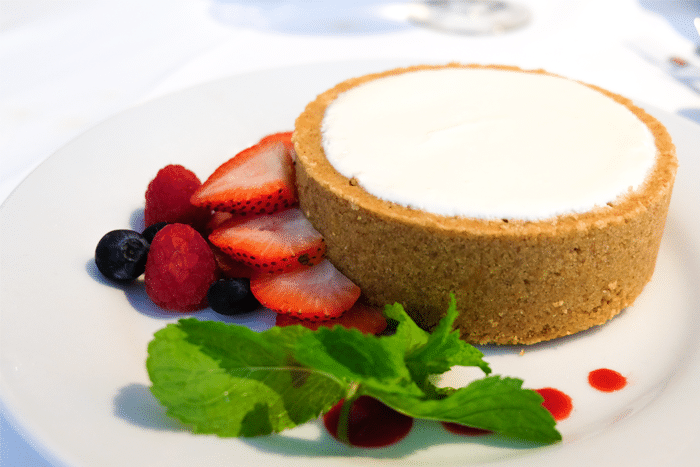 Elsewhere on the menu, you'll find a curated repertoire of classic New Orleans seafood and poultry dishes, and an array of steaks from T-bones and porterhouses to New York strips – arguably some of the best you'll find in Singapore. Plus, a new all-day Classics Menu offers you your choice of starters (asparagus salad, crab and corn chowder, or carpaccio), a steak entree (ribeye, New York, or petite filet), a side (mashed potatoes, creamed spinach, or wild mushrooms), and a strawberry cheesecake dessert, starting from $125.
Against the many steakhouses around the island, the restaurant has a particular draw that we'd attribute to the stellar service and jazzy vibes. The steaks are surely not cheap, but they are worth every dollar for the Ruth's Chris experience – the same experience millions of steak lovers worldwide have enjoyed.
From 1 July till 31 December 2017 , all HSBC cardholders will enjoy 15% discount off their total bill. Terms and conditions apply.
Ruth's Chris Steak House is located at L4, Marina Mandarin Singapore, 6 Raffles Blvd, Singapore 039594, p. +65 6336 9093. Open Mon-Sun 11.30am – 3pm, 5.30pm – 11pm.

This post is sponsored by Ruth Chris Steak House.