In the Kitchen with City Nomads Chief Alex: Shakshuka Recipe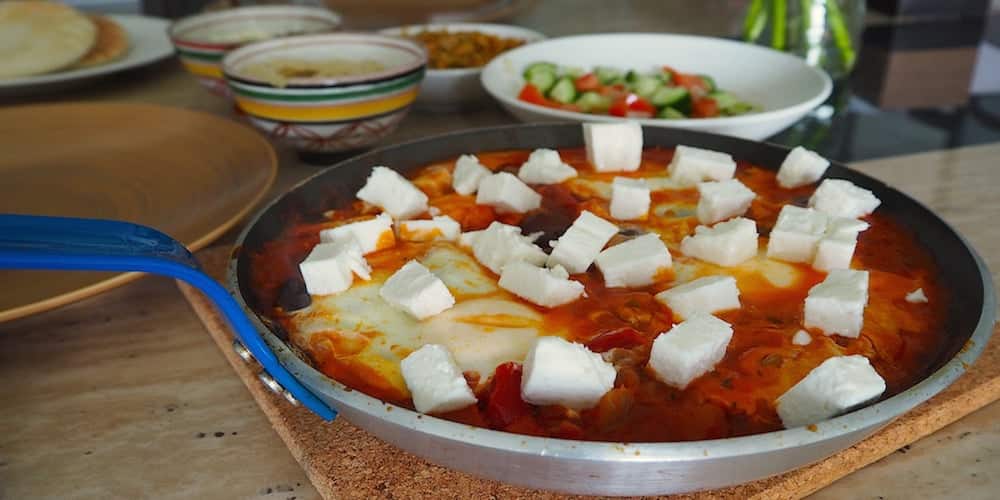 PUBLISHED March 9th, 2015 04:00 pm | UPDATED June 18th, 2020 06:28 pm
Shakshuka is one of those awesome 'alternative' brunch dishes which is slowly creeping its way on to menus in Singapore. There's three places in particular which do a pretty good rendition; Wild Honey, Pita Pan & Suprette.
Popular across various countries in the Middle East – particularly in Israel, Syria and Tunisia, Shakshuka is considering something of a 'blue collar' breakfast. The Nasi Lemak of the Middle East, if you will. It's wholesome, filling and delicious. What's more, it's super easy to make. In fact, it's a dish design for 'aggaration'. As long as you have eggs and tomato puree, everything else is pretty much optional. You can add in sausages, sun-dried tomatoes, mushrooms, courgettes, spinach etc – anything you like really, if you think it will work.
So let's get it on. This is my standard shakshuka recipe.
The below portions will make enough for 2 hungry or hungover people 🙂
Ingredients
1 Red onion, chopped
2 Cloves of garlic, minced
2 red peppers, chopped (use chilli peppers to make it extra spicy)
1 capsicum pepper
1 tin/jar of tomato puree
Crushed red pepper and sea salt to taste
Wild thyme – 1 tspn
Mint – 1 tspn
Turkish spices (optional)
4-5 eggs
Feta cheese (100 gm)
Kalamata Olives, pitted (50gm)
Method
Step 1: Heat the olive oil in the skillet and sweat the onion, red peppers, capsicum and garlic on a low/medium flame.
Step 2: Add in the seasoning (red pepper, thyme, mint, salt, spices) and stir for 2 minutes.
Step 3: Add the tomato puree and kalamata olives. Stir through so all the ingredients mix. Now leave to simmer on a low flame (ideally with the skillet covered as well) for about 10-15mins.
Step 4: Now your tomato mixture is thoroughly cooked, you're ready to add the eggs. Using a spoon, make slight 'wells' in the tomato mixture and crack the eggs directly onto it. Once complete, replace the lid and wait for the eggs to poach. This should take about 5 – 10 minutes.
Serve
Once the eggs have succesfully poached in the stew, scatter the chunks of feta cheese on top and serve. Traditionally the skillet itself is brought to the table so that the dish keeps its form and remains hot. Just be careful. It's hot, hot, hot.
Now, take out our fresh, warm pita bread and dive in. The perfect hangover cure.
Think we should add anything to this shakshuka recipe? Let us know!