Intrepid Gastro Bar: Hearty Melbourne-inspired nosh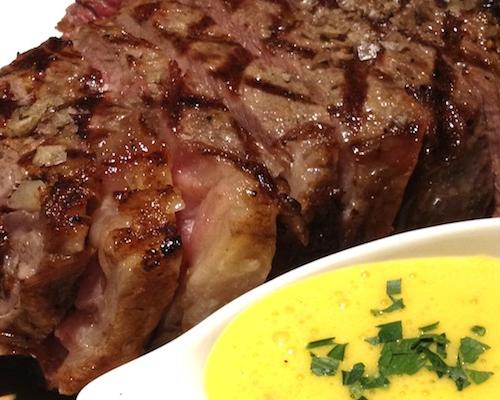 PUBLISHED November 12th, 2013 12:19 am | UPDATED April 14th, 2016 05:51 pm
Balmy Australian-style brunches seem to be all the rage these days – to live vicariously by the dining table. More than just offering the usual artisanal coffee and gluten-free sandwiches, Intrepid Gastrobar at Far East Square serves up an eclectic lineup of Melbourne-inspired cuisine.
Like the world's most liveable city, the food in this nine-month old restaurant bears a cosmopolitan vibe, borrowing flavours from a melting pot of cultures – Middle-Eastern, Indian, Greek and Italian across its around 50 dishes, for brekkie, lunch and dinner.
An eye-popping meal opener is the Tandoor-style Crocs Skewers ($12) which could very well pass off as chicken – except that the meat is much leaner and drier. The piquant spicy flavours of the bright orange meat gels well with the side of yogurt sauce – reminiscent of Indian cuisine.
However, another entree did not fare too well – Salad of Ancient Grains ($15). The wholesome assemblage of grains such as freekah, barley, mixed with zingy pomegranate bits and mint is not as flavourful as it sounds. The dollop of beetroot ricotta is a much-needed perk-up to the meal. The house-smoked Norwegian salmon silvers could do with a stronger charred taste.
The Feral Smoked Beer Ribs ($35) emanate a zingy, tipple-full aroma – a sure sign of being simmered with the porter-styled beer. The barbequed rack is chargrilled to a gorgeous brown and packs a smoky flavour. Served on a bed of addictively crispy onion strips, the ribs are equal parts peppery, sweet and savoury, topped with cherry tomatoes and glazed with bush pepper.
The Aussie Angus Rib Eye ($120) is a carnivore (of four)'s dream come true. The 1.2kg hulking slab of broiled bone-in rib eye is chockfull of full-bodied meatiness. The medium rare still-maroon slices, which have been preserved in controlled conditions for 200 days, are impeccably marbled – its glistening juicy core is offset by the crispy and salt-rubbed exterior.  Served with grilled buttery potatoes and carrots, corn salsa and Dijon mustard and Bearnaise sauce.
Desserts came in the form of a rose-infused hill of Pavlova ($8) – a meringue-based mound with a crackling exterior that blankets a chewy and fragrant core. Baked in-house for eight hours to get the contrast of textures right, the pavlova is crowned with whipped cream, lychees and tart pomegranate and pistachio for an ethereal tapestry of flavours.
If you are game for newfangled pairings that borrow from cultures spanning the globe, this eatery is worth a shot, and a good introduction of the culinary haven that is Melbourne.
---
Written by Kenney Lornie
On this occasion the meal was compliments of Intrepid Gastro Bar