Lauren Jasmine – Food, fashion and fabulous!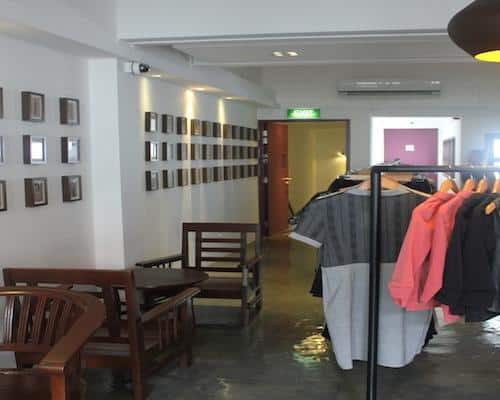 PUBLISHED July 18th, 2012 10:42 am | UPDATED March 28th, 2016 05:53 pm
You may have noticed that over here at City Nomads, we like good food, great drinks, a cool vibe and plenty of shopping. So when we found a place where refreshment and fashion unite, a place where all nomads can come together and prosper, a place from where we can plot world domination…cue evil genius laugh, mwah ha ha ha ha!…as you can imagine, we were pretty chuffed!
Part cafe, part boutique Made by Lauren Jasmine is a successful fusion of our favourite things and for that, we have to thank Hazel Chang and Liyana Johan.
Let's focus on the fashion first (as you would in real life, because who eats cake and then tries clothes on? no, no, no!)
Lauren Jasmine was conceptualized and co-designed by Singaporeans Hazel and Liyana who were inspired to design chic, work-appropriate pieces that didn't abandon style in favour of a corporate look. Proving that office wear doesn't have to be dull, their collection has a playful irreverence and eclecticism which is mirrored by their choice of muse, Hazel's niece Lauren Jasmine. At four years old, this dynamic little lady (and budding fashionista for sure!) inspired the creation of the brand and its first season. Beautiful, precocious and confident, she has already begun to invent her own sense of style by specifying what she wants to wear and how she wants to wear it, and lucky thing! Now she has her own label for when she is a bit bigger and can fit into it!
Lauren Jasmine's fifth collection is named "World of Pure Imagination' and their pieces are all named after literary heroines or characters who have charmed and inspired the designers. Departing from the neutral workwear color palette, World of Pure Imagination is appropriately filled with brilliant prints, lively colours and clever tricks, for example, the reversible bodycon dress. Simple black for day, then turn it inside out and voila! Gold sparkles for night. Whether you're heading out to party straight from work, or heading in to work straight from a naughty night out (don't worry, we won't tell!) no-one will ever have to know.
They have also played with necklines, a Peter pan collar on the front and a simpler scoop or V-neck at the back, making the dress completely reversible – it's two outfits for the price of one! But on top of, or in spite of this trickery, Lauren Jasmine have designed a beautiful, elegant and whimsical collection that will carry you effortlessly from day to night, and from work to play.
Prices range from $109 for tops to $215 for jackets.
Once you have worked up an appetite browsing the collections, of course what is required is some much needed sustenance. Thank goodness then that super satisfying gourmet sandwiches, simple yet well executed salads, decadent desserts and top notch coffee is at hand!
On the sandwich front (ranging from $6.90 up) our favourites included the Portabello Patty – wonderfully herby and rather like a posh burger, this meaty sandwich is anything but your boring vegetarian option; and the old school Roast Beef – layers upon layers of finely sliced roast beef finished off with horseradish sauce and juicy tomatoes. Mmmmmm.
Wash all this down with an Italian soda ($3.50) in watermelon, green apple and passionfruit (we tried all three flavours and they were all delish!) or a rich and smooth coffee.
When we eventually left, there was no way we could pass the patisserie counter without a final indulgence…
and so we sneaked off with a slice of their Chocolate Hazelnut Cake ($7.90 for a set of two) and all we have to say on that matter is a resounding MM-MM-MMMMMM! Mousey-choco-heaven!