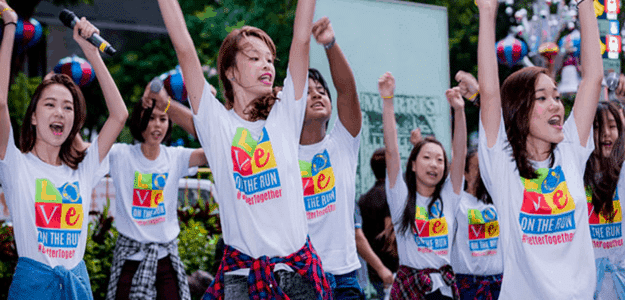 PUBLISHED January 16th, 2016 01:19 am | UPDATED June 18th, 2020 07:50 pm
A new run is set to take place in town early next year in a fun celebration of love. Love On The Run aims to inspire participants to appreciate and acknowledge this emotion that is present in everyday life – between friends, family members, couples and more. An exciting opportunity to spend quality time and engage with loved ones, runners are encouraged to take part as a pair to be #bettertogether and jointly experience fun elements along the 5km route at the scenic Gardens by the Bay.
Expect to be entertained on this day throughout the route with various themed zones littered along the way. Starting off the run with energetic music to pump up the mood, runners will get the opportunity to showcase their flexibility as they limbo rock their way through poles of varying heights. The evening will then be capped off with a fun time of mingling and dancing at the post-race after party.
On top of the surprise gift at the finishing line, each registration comes with a premium goodie bag! The deluxe entry allows you to enjoy a free cocktail from the event partners, an extra $50 worth of goodies in your race pack and a dip in the lucky draw with up to S$2,000 worth of prizes to be won. The first 300 participants to purchase the deluxe tickets will also be entitled to a free entry in Zouk!
Love On The Run is happening on Saturday, 13 February 2015 at Gardens by the Bay from 6pm to 9.30pm. Tickets are priced at $63 (early bird normal), $89 (early bird deluxe), $70 (normal), and $98 (deluxe). To register, please click here.