Restaurant Review: Kai Duck Takes Portion-Friendly Peking Duck to Ngee Ann City, Singapore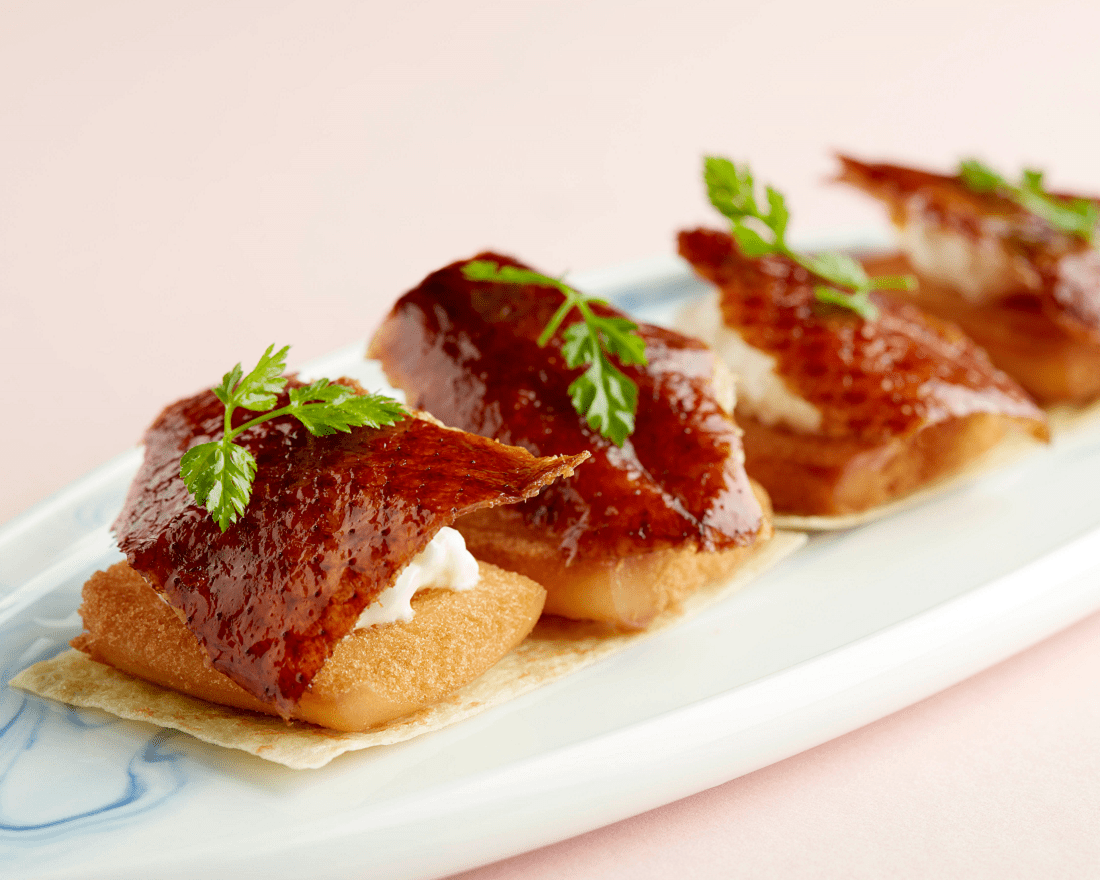 PUBLISHED November 9th, 2019 05:00 am
Peking duck isn't what we'd usually consider a lunch-friendly option – the banquet dish is usually more appropriate as a part of ten-course dinners and special occasions, so we stifle our cravings till a suitable reason calls for it. But with the recent opening of Kai Duck, the ingenious brainchild of Paradise Group Executive Chef Fung Chi Keung, you can now have crackling skin and gloriously slow-roasted duck any time of the year.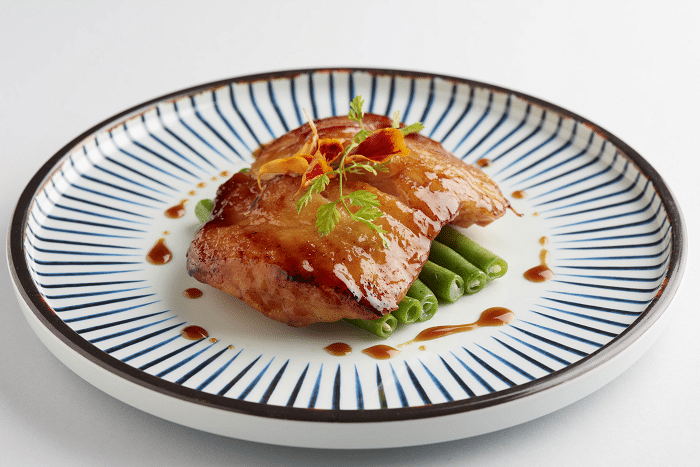 Located in Ngee Ann City, the concept looks straight out of a 60s cha chaan teng, with elements of modern architecture and a refreshing colour palette to match. Kai Duck uses Irish duck from Monaghan, that delivers a more succulent and intense flavour than their Malaysian counterparts – we also hear it's one the few places that serve it in Singapore.
Unlike the traditional Peking style of finishing the duck with fire, the duck skin is drizzled with oil after baking. This Cantonese method helps draw out the juices and flavours of the skin, and adds an extra dimension of texture.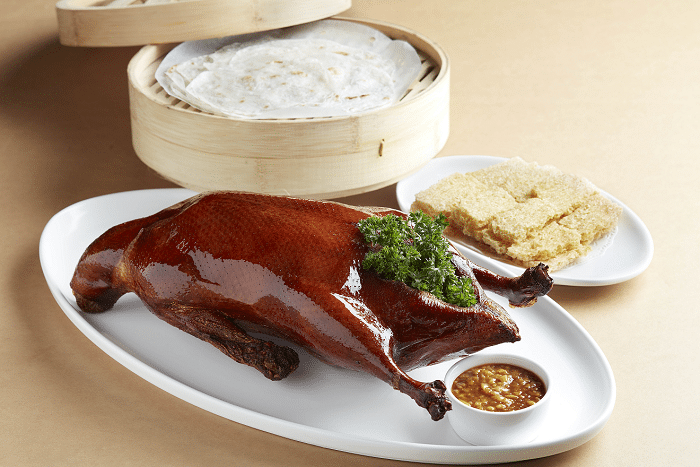 While you can still order it whole (it's S$68++ for a Signature Peking Duck), the eponymous Cantonese dish is also transformed to cater to being more affordable and flexible, without compromising on taste. You get all the flavour of traditional Hong Kong-style roast duck and Cantonese-style Peking duck without the hassle of wrangling together large parties of diners, and we're also happy to report that the elements of crispy skin and mouthwatering duck fat stayed consistent throughout)
There's the Sliced Peking Duck with Crackers (S$4.80++ each, minimum four per order) and Mini Burger with Peking Duck Salad (S$4.80++ each, minimum four per order). Both deliver bite-sized portions of duck skin, but going carb-heavy on buns in the latter makes for a lower ratio of duck to other ingredient, so we definitely preferred the former.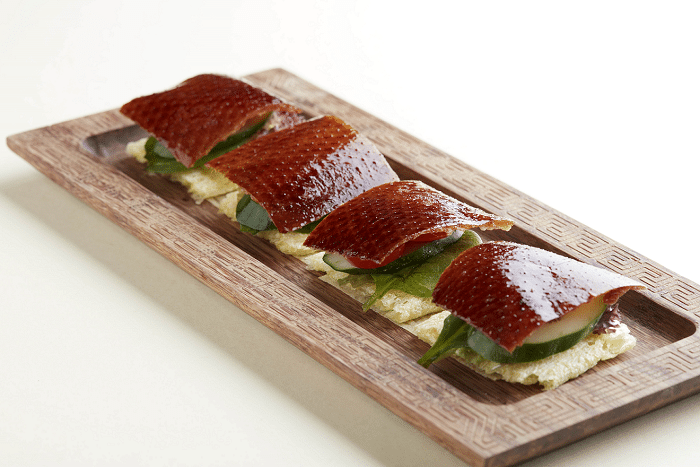 And if you love your char siew, try Chef Fung's high-end take on it with the BBQ Spain Kurobuta Pork in Homemade Sauce (S$18.80++); it's tender and mildy sweet, and much, much juicer than regular char siew. His Sauteed Diced Duck Meat with Sweet Corn and Pine Nuts (S$16.80++) is nothing to sneeze at, either – if you like wok hei you'll have to try it out at least once.
While we didn't get a taste of the Marinated Duck Wing, Duck Tongue, and Duck Web with Ginger (S$10.80++), but it seems a great combination of the lean (from the wing) and fatty (from the tongue) for those looking to mix things up.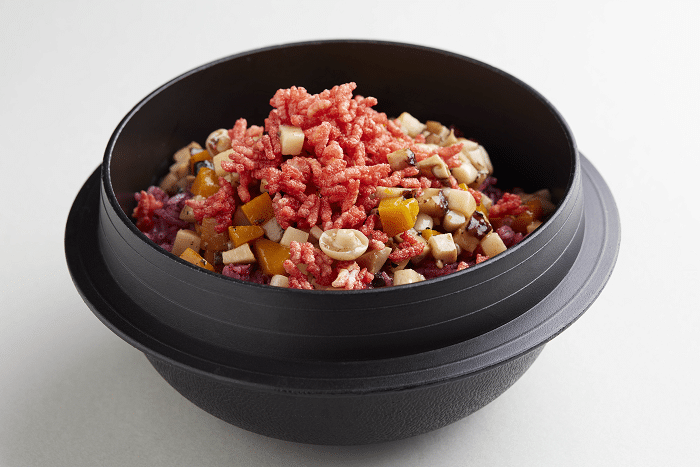 Of the many (many) things on their 15-page menu, there's also plenty of duck-less soups, dim sum, mains, and appetisers. But the Signature Fried Rice with Black Truffle Mushroom and Beetroot (S$16.80++) comes in as the unprecedented hero of the meal. The medley of fried rice, mushrooms, corn, pumpkin is good enough on it's own (Chef Fung really has a knack for imbuing his stir fry's with an awfully terrifying amount of wok hei), adding a touch of truffle boosts the savoury factor ten-fold, and the use of beetroot instead of eggs keeps the dish fragrant and more importantly, entirely vegan.
Kai Duck is located at Ngee Ann City, 391 Orchard Road, #05-10/11, Singapore 238873, p. +65 6235 5419. Opens Mon-Fri 11.30am-4.30pm and 5pm-10.30pm; Sat-Sun 10am-4.30pm and 5pm-10.30pm.