PerBacco Review: Home-Spun Italian on Craig Road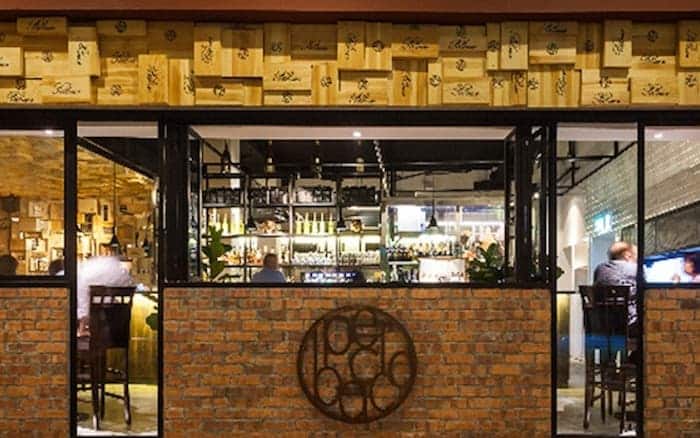 PUBLISHED May 26th, 2015 08:00 am | UPDATED June 18th, 2020 08:02 pm

I chanced upon the newly opened Perbacco when I was exploring the Tanjong Pagar area for a new lunch spot, and after tasting the authentic Italian flavours from their a la carte menu, I was curious to know more about the place and people. After a flurry of emails, I snuck in for a chat (and another taste, of course) with PerBacco's head chef and owner, Marco Violano.
Having travelled the world cooking for the Four Seasons Hotel Group, Chef Marco decided to settle into cosmopolitan Singapore with a focus on serving authentic, heartfelt Italian fare inspired by his hometown of Puglia in Italy. His style? A mix of his mother's traditional Italian flavours and high street presentation that's popular with Singaporeans.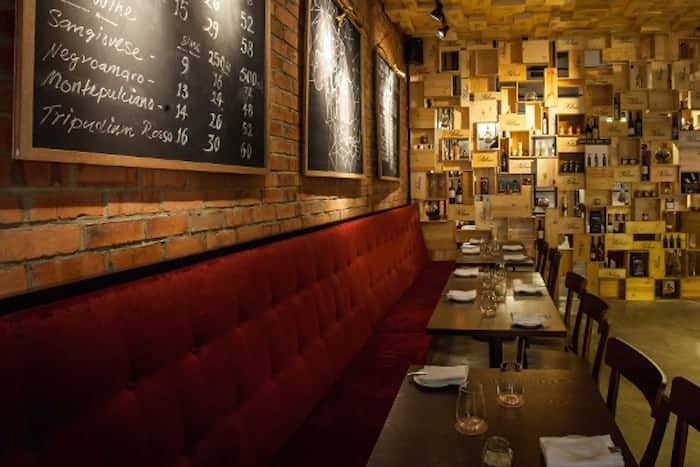 Split into two distinct sections, the front half of the restaurant hosts their bar, perfect for a pre-dinner gathering over Cicchetti (Italian small plates) and wine (starts from $9 a glass) while the back half is a full service dining area.
The a la carte menu is classic Southern Italian – think pastas, risottos, raviolis, and some very scrumptious seafood. However, if you really want to take your taste buds for a ride, ask for Chef Marco's degustation menu (prices on request). Chef Marco takes pride in making sure his food suits the individual palate and will personally discuss dietary restrictions and taste preferences with you before coming up with a tailor-made meal. So, not a problem for vegetarians and vegans at PerBacco!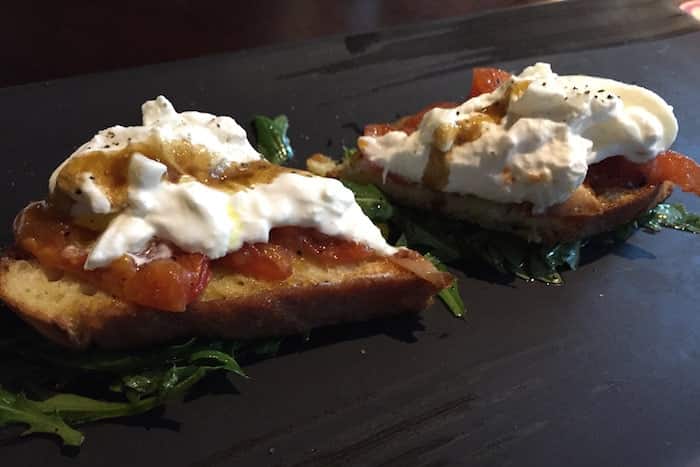 We started with a great twist to the classic Bruschetta; Chef Marco's mouthwatering version features soft Burrata cheese with sun-dried tomatoes on crunchy focaccia ($9). The bruschetta was accompanied by a separate dish of whole Portobello Mushroom topped with salad and a slice of egg, which serves as a great opening dish to whet appetites and to prep the tastebuds for more flavourful dishes.
I also fell in love with the next plate to arrive at my table: savoury Pork Sausage with Veal Jus. I thought that the veal jus would have lent a gamey aspect to the sausage, but the jus was executed perfectly, providing just the right amount of extra flavour to the sausage.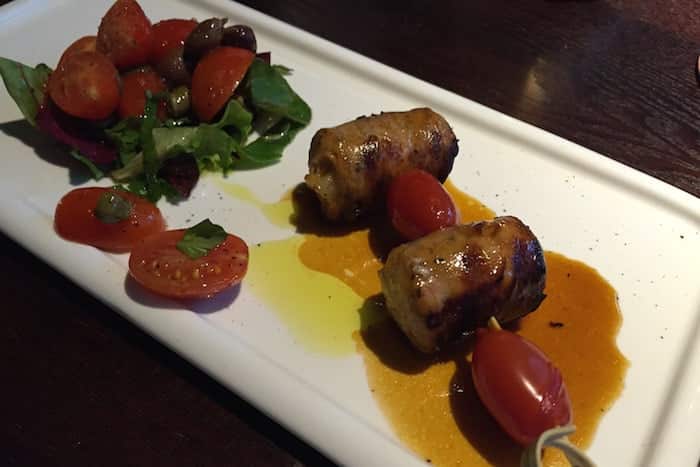 Next up on my degustation menu was Chef Marco's Seafood Risotto. Cooked in a hearty, seafood stock with plenty of care, the risotto was topped off with a giant prawn, sort of like the icing on top of my savoury cake! It never felt too heavy and the seafood never threatened to overwhelm the dish.
Finally, I had the opportunity to taste the handmade Clam Ravioli – imagine scrumptious cheese and vegetable stuff encased in handmade dough, then cooked and served in clam stock with a generous serving of clams. Tasty!
Food aside, the drinks at Perbacco are delicious and reasonably-priced. While they have a wide selection of wines, I really enjoyed the bartender's Italian repertoire of cocktails and aperitifs like Negronis and Tacchi Rossi.
If you're looking for truly authentic, heartfelt Italian cuisine served with panache, PerBacco should be your next go-to spot. It's great for a gathering among friends or a dinner date but remember to call ahead as it fills up on the weekends during meal times.