Secondhand Bookstores in Singapore Every Book Lover Should Know About
PUBLISHED August 29th, 2017 09:29 am
They say to never judge a book by its cover, and certainly, this rule-of-thumb comes in particularly handy when ploughing through mountainous stacks of books in a dingy used-book store. Known more for their dust-coated and claustrophobic spaces rather than for their contents, secondhand bookstores have never been the most exciting places to visit. But what if you could find first-editions of Dickens and Blake here for dirt-cheap prices? Despite appearances, these places have always been treasure mines for collectors – and so, here are seven of the best secondhand bookstores in Singapore.
---
Local fiction is catching on in Singapore! See our list of fascinating Singaporean literature to check out, as well as the best indie bookstores for literary nomads.
---
Ana Bookstore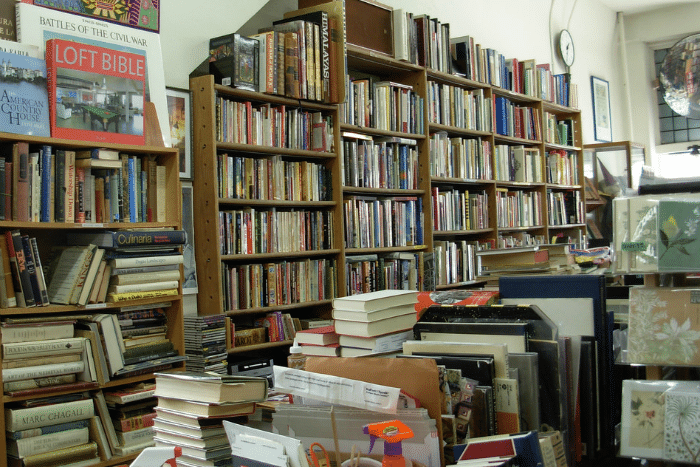 The only surviving bookstore at Far East Plaza amongst those that once populated the mall, Ana Bookstore is a relic of its times. However, this one is particularly clean, well-lit, and well-organised. With a plethora of popular fiction stocked on its shelves, this spot is perhaps most friendly to the first-time collector or the casual reader looking for a good bargain. But should comics and graphic novels interest you, know that the store also carries a considerable range of vintage comics from the 80s and 90s. Who knows? You might just be lucky enough to unearth a limited collectible edition here.
Ana Bookstore is located at Far East Plaza #05-01, 14 Scotts Rd, Singapore 228213. Open Mon-Sat 12pm  – 8pm, Sun 1pm – 6pm.
Evernew Book Store
One of the many bookstores clustered in Bras Basah Complex, Evernew is easily missed if not for the various vintage communist posters plastered across the storefront. The shop itself is packed to the brim with secondhand books, among which you'll be able to find literature of the most obscure sorts – from political biographies to guides on ancient archaeology. Don't worry about not being able to find what you're looking for, as the store's massive collection has been categorized meticulously according to genres, so you'll still be able to get your fill of cheap pulp fiction if you wish.
Evernew Book Store is located at Bras Basah Complex, 231 Bain St, #01-07, Singapore 180231. Open Mon-Sat 11am – 7.30pm, Sun 11am – 6.30pm.
Book Point
In the same building lies another richly-stocked secondhand bookstore, as rows upon rows of shelves teem with used books. Do not be put off by the stacks of trauma-inducing past-year exam papers, and proceed right in. There you'll discover, alongside special first-edition titles and rare books, boxed sets of Harry Potter and other beloved series being sold at a fraction of their original price. Boasting a remarkable collection of over two million titles – most of which are held in a Malaysian warehouse and available upon request – this secondhand bookstore is perfect for collectors in search of prized gems.
Bookpoint is located at Bras Basah Complex, 231 Bain St, #03-17, Singapore 180231. Open Mon-Sat 11am – 7.30pm, Sun 11am – 6.30pm.
Basheer Graphic Books
If you're not as much a fan of words as you are a fan of images, why not check out Basheer Graphic Books for an extensive range of magazines, as well as books on art and design? Here, backdated issues of Vogue, Wallpaper, and Monocle are sold for half their newsstand prices, whilst even older vintage issues of other publications go at less than $10 from the bargain rack. Hence, if you're a creative and searching for visual inspiration, this place is utterly ideal for you.
Basheer Graphic Books is located at Bras Basah Complex, 231 Bain St, #04-19, Singapore 180231. Open Mon-Sat 10am – 8pm, Sun 11am – 6.30pm.
Book Treasure
A short walk away from Bras Basah is a relatively unknown bookstore -if it can even be called that. Book Treasure takes the minimalist form of a book-fair that spans the atrium of Parklane Shopping Mall. Its rotating collection is hardly organised in any order, save for one corner where the worn orange covers of old Penguin classics are prominent, and another where you'll find old issues of National Geographic magazines. Other books are simply displayed haphazardly, which means you'll have to trawl through inane books on diets and parenting before you find that treasured title.
Book Treasure is located at Level 1 Atrium, 35 Selegie Rd, Parklane Shopping Mall, Singapore 188307. Open daily 11am – 8pm.
BooksActually
In the past few years, BooksActually has rapidly grown to become known for their unprecedented support for Singaporean literature. Yet, a lesser-known fact is that the Yong Siak Street joint has always doubled as a used-book store, and now continues to stock a significant collection of secondhand books besides other new local and international releases. Thus, whilst the range of used-books available here may be considerably smaller than at other stores on this list, you're always guaranteed to find good literature at BooksActually, regardless of whether they are sold first or secondhand.
BooksActually is located at 9 Yong Siak St, Tiong Bahru, Singapore 168645. Open 11am – 6pm, Tue-Fri 11am – 9pm, Sat 10am – 9pm, Sun 10am – 6pm.
GOHD Books
Tucked away in a corner of Burlington Square is this precious find. You're less likely to come across tattered copies of Twilight than you are to discover well-preserved, centuries-old editions of literary classics. Less your run-off-the-mill secondhand bookstore and more an antiquarian, GODH Books specialises in rare vintage books, so you'll be able to get your hands on the most exquisite, leather-bound copies of Kafka or Dostoyevsky here. It must be mentioned that prices are similarly elevated though, thus you can expect to pay at least $70 for the aforementioned Kafka, and up to $2000 for a pristine, first-edition copy of Cicero from 1620.
GOHD Books is located at Burlington Square, 175 Bencoolen St, #01-37, Singapore 189649. Open Fri-Sun 1.30pm – 7pm. Closed Mon-Thu.
Top Image: Ana Bookstore