Bottomless Brunch of the Month: Senso Ristorante & Bar's Winter Black Truffle Brunch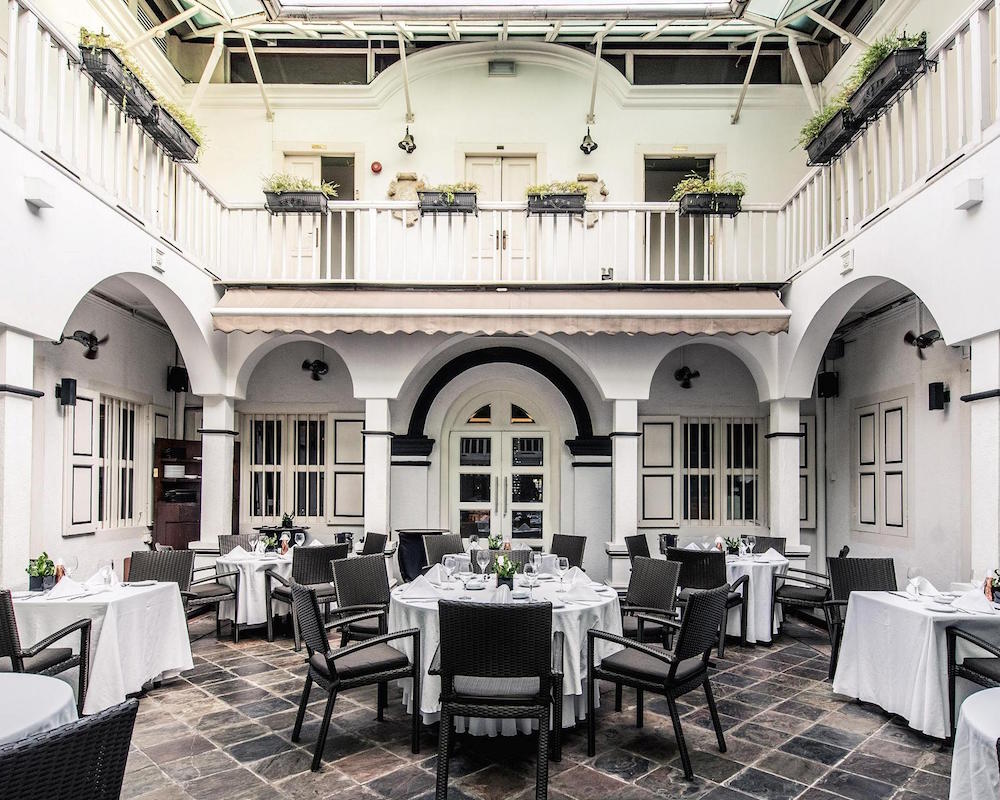 PUBLISHED February 28th, 2017 06:00 am | UPDATED August 7th, 2019 03:41 pm
Known for its Italian fine-dining cuisine and impeccable service, Senso Ristorante & Bar pretty much qualifies as a contemporary heritage culinary institution in Singapore, having put down its roots on 21 Club Street a good 17 years ago (a lifetime in this day and age of fickle diners).
Aside from their sophisticated lunch and dinners, Senso's Sunday semi-buffet brunch ($98++) with free-flowing prosecco, wines, beers, and soft beverages is also incredibly popular. However, once a month, they do either a themed brunch or one featuring a seasonal produce. Case in point: their annual Winter Black Truffle Brunch featuring the prized fungi from Piedmonte, Italy. Priced at $128++ per person, this edition also counts itself amongst the restaurant's monthly themed brunch that usually centres around a premium ingredient. The next themed brunch happens 26 March 2017, when diners can look forward to a White Asparagus Brunch.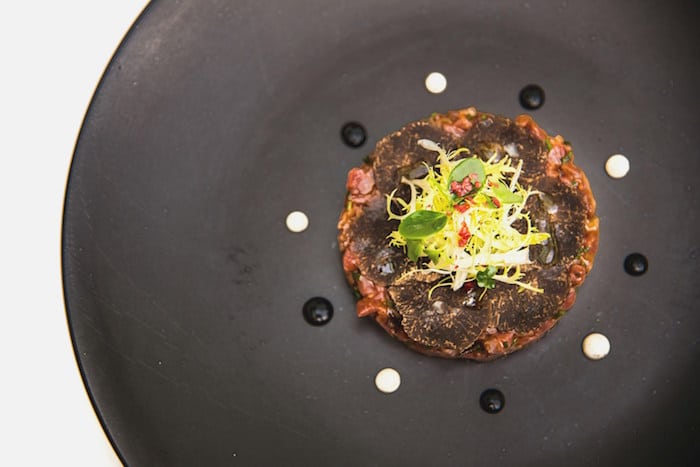 When you settle at your table, take a moment to appreciate the neo-classical sensibilities of colonial architecture amidst ornate paintings and sculptures while sipping on the first glass of Guerrieri Rizzardi Prosecco Extra Dry. Refreshing and soft on the palate, the crisp citrus flavours and orchard aromas make a good palate cleanser with the amount of rich, flavourful dishes you're about to consume.
Thereafter, we headed to the antipasti tables, which were groaning from their loads of fresh seafood, cold cuts, salads, and more. Shellfish lovers will do well by starting with the Fin de Claire oysters as well as cold tiger prawns and half shelled mussels; personally, I went straight for the beef carpaccio and vitello tonatto, a Piedmontese dish of chilled, sliced veal in a mayo-like tuna sauce not commonly found in Singapore. While you're trying to imagine that combination in your head, I can assure you that it's a though-provoking flavour profile, even if you decide not to like it in the end.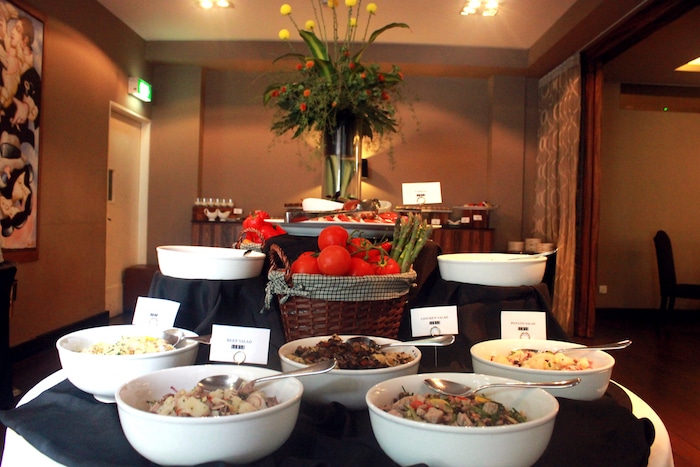 You can also expect to find salami, speck, mortadella, bresaola, and aged Parma ham. Complete your self-assembled charcuterie platter with Italian farmhouse cheeses like Taleggio, Scamoza, and Gorgonzola dolce.
Salads might come as an afterthought for me, but not for the folks at Senso. That particular section holds delightful offerings like Sicilian Caponata (a cold eggplant & zucchini stew), traditional Caprese, Mesclun salad, and Mediterranean cous cous.
Next, on to the main event: the hot dishes, which are prepared a la minute and served in smallish portions so you can actually attempt to try everything.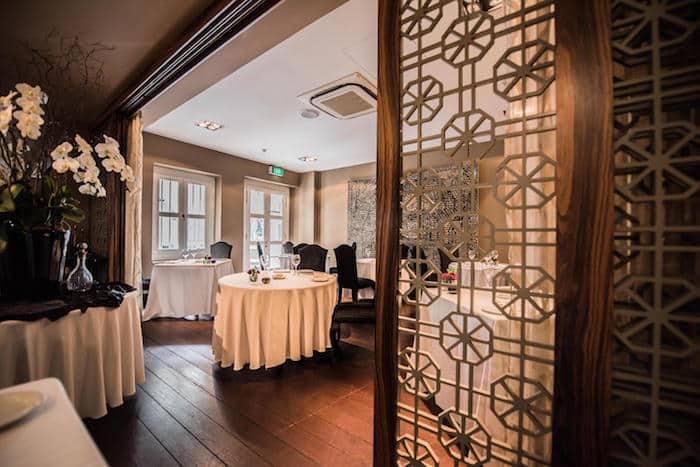 After all the cold cuts, it made sense to start with a warm and well-textured Cream of Cauliflower Soup topped with shaved black truffles. Also, for an additional $8++ each, we had the option of adding two more entrees to our brunch – the Pan-Seared Duck Liver with glazed chestnuts, balsamic vinegar, pistachio crumble and the Foie Gras Terrine with mango chutney and homemade brioche. The former was let down by the over-subtlety of balsamic vinegar and saved by the textures (especially the addition of chestnut cream) while the hero of the latter was the mango raisin chutney. Though creamy enough, the terrine could afford to be more fatty.
Homemade Gnocchi with forest mushrooms were overcooked, practically disintegrating in my mouth. The Fresh Taglierini had a good bite and texture, but it needed something else other than butter and truffles to make it a great dish. Funnily enough, the best one of the lot was the Penne Pasta with Cabonara and shaved black truffles.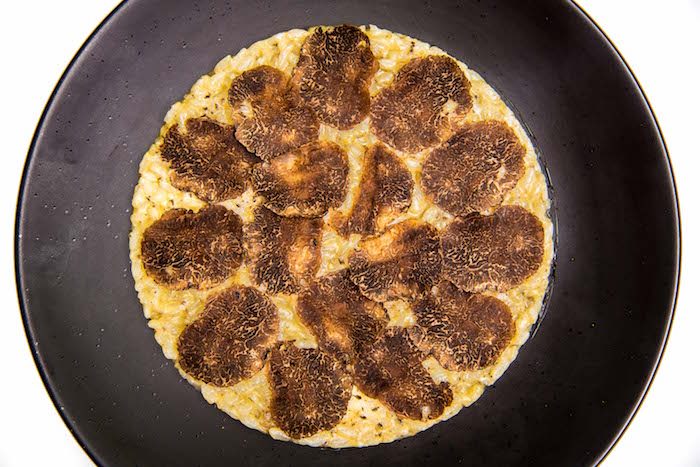 The brunch also features a singular live station of Black Truffle Risotto; simply top it off with some black pepper and you're good to go. It's cooked well and the stock is not overly flavourful, successfully showcasing the black truffle.
The proteins fared better in our book. Think plump Scallop Skewers sitting on a butternut pumpkin mousse with gremolata sauce and shaved black truffle, where the mousse actually enhances the sweetness of the scallops, and an excellent black truffle sauce paired with Beef Tagliata and rucola. The Cod Fillet was firm and the flavours of its accompanying sautéed artichokes and chive sauce were on point – we just wished the chef had waited for the oil to heat up more for a really crisp skin.
Besides a delicious Tiramisu and a scoop of excellent Pistachio gelato (which unfortunately also comes at extra charge), most of the desserts we tried were serviceable but unmemorable.
Despite execution flaws now and then, the Senso brunch experience is definitely enjoyable – especially since the service staff are really attentive when it comes to keeping your prosecco glass filled. The regular brunch at $98++ is one of the more affordable ones around so you might want to hit that up instead of the themed brunches.
P.S If you're interested in trying Senso's winter truffle creations, their seasonal menu will be on till 2 April 2017. See the menu here.

Senso is located at 21 Club Street, Singapore 069410, p. +65 6224 3534. Brunch is available Sunday 11.30am-3pm.
Images courtesy of Senso Ristorante & Bar.