Singapore's best boutique Pilates classes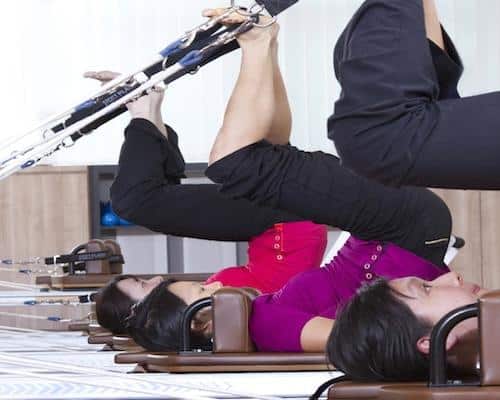 PUBLISHED February 14th, 2013 02:51 am | UPDATED March 27th, 2016 02:02 pm
As graceful and satisfying as Pilates is, I have trouble getting into my 'zone' when brushed up against some woman, who's mat I've managed to slide mine into, whilst trying to watch myself operating backwards in a mirror. The 20 other women staring back at me are a bit distracting too. So I planked and stretched my way across Singapore to try and find some of the best, smaller Pilates studios, in which I might have stood more of a chance. I might be out of shape and feeling it badly, but here are my top Pilates classes in Singapore!
The Pilates Flow: Reformer Class
When booking my session with The Pilates Flow they absolutely insisted that before joining a group class session I had a private class with one of their instructors, regardless of any private classes I had taken before.. and I can totally see why! To put it bluntly, this is probably the best class I've taken anywhere. It entirely restructured my posture and body alignment, making me more aware of my body positioning not just for that class, but ever since. The Pilates Flow operates in a very intense, personal manner, which homes in on the traditional method of Pilates. The focus is on correcting the muscle use and ensuring all movements originate from the powerhouse, that is to say your core. If you go to a Pilates class that doesn't talk about your powerhouse, ribs or lower back, I'd be seriously worried. Although this Bukit Timah gem might be a trek for most of us, I thoroughly recommend going down for a session, especially if you feel other Pilates classes you've tried may not be working for you. Similarly, if you find Pilates too easy it might be that you're using the wrong parts of your body – The Pilates Flow will sort that out!
The Pilates Flow is located at 2nd Avenue Junction, 733 Bukit Timah Road #02-06. Individual Pilates Sessions are $140 however there are also trial classes at a reduced rate which can be requested. Packages and group classes are also available. For more information see their website here.
Upside Motion: Reformer and Mat class
Located in the middle of horse fields, the peaceful environment makes Upside Motion the perfect place for a Pilates session. The Reformer Pilates class is half machine and half mat work. Challenging and well taught, the class will leave you feeling well stretched and quite relaxed. If you find a whole Pilates class a little long, then this class is perfect for you. With the switch from machines to mat half way through, you'll stay engaged for the whole hour. With just three to a class you can't hide at the back for this one! It's worth a mention that among the range of classes Upside Motion offer, is YogaFly which incorporates hammocks. A lot of this class involves you either being in the air or upside down. My heaving sound effects and lack of grace confirmed this wasn't the choice for me. Although it's a hell of a lot of fun, I'd recommend it if you've done Yoga or Pilates before as some of the moves can be quite tricky for first-timers. Definitely an experience and worth a try! Again, classes are small. I was in a class of just 2 people, but depending on what time you book, classes might fill up slightly more.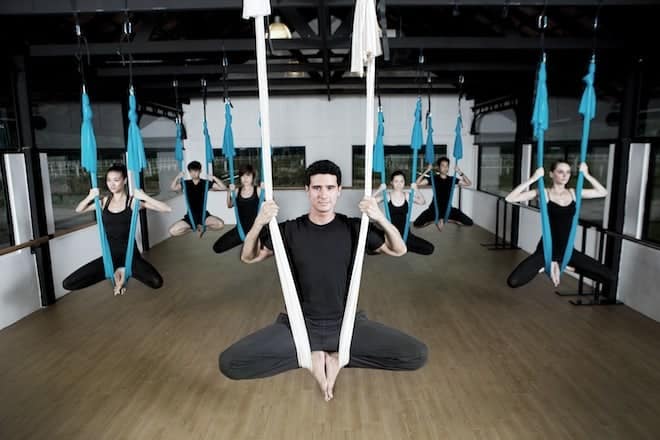 Upside Motion is located at 100 Turf Club Road. Yogafly sessions are $35, Reformer/Mat Sessions are $55. Packages are also available. For more information see their website here.
My Fitness – East Coast: Reformer Class
This is a quaint little studio which only holds a maximum of 6 people for a Pilates mat class. The very experienced owner and strict instructors take no wimps. If you're taken in by the quaint and airy studio looking for a relaxing light stretch to open you up a little…you've come to the wrong studio! After attending an evening reformer class I felt half dead and gladly received that next day burn which leaves you feeling nothing but proud! This studio stays true to the original spirit in which Pilates was founded yet gives you a real full body work out. An easy and convenient location for those living in the East Coast area, located right near 112 Katong.
My Fitness is located at 452A Joo Chiat Road. Reformer classes are $40 for a trial and $60 per session. Packages are available. For more information see their website here.
Pilates Inc and The Moving body: Reformer Classes
Located in Amoy street, this is the perfect place for some lunch time Pilates for those of you working in the CBD! I'd recommend one of their one-on-one reformer classes, particularly for those of you who have injuries and want help regaining full mobility. With an in-house physiotherapist this really is the place for homing in on those aches and pains. They also hold lunchtime group sessions for those of you keen to get involved with a class. However, if the lunch time gig isn't for you don't worry because as part of The Moving Body group they have several locations across Singapore. I also visited their Robertson Walk branch The Moving Body for a reformer class which was excellent! The small class was set at a good pace and really targeted the whole of the body. Again, very considerate and accommodating for injuries. A fantastic location and an easy hassle-free experience.
Pilates Inc is at 82 Amoy St, Level 1. One-to-one classes are $133, group classes are $53.50. Packages are also available. For more information see their website here. The Moving Body is located at 11 Unity Street 01-23/24 Robertson Walk. Reformer classses are $53.50. Packages are also available. For more information see their website here.
PowerMoves: Mat Class
PowerMoves is situated in the green glory of Dempsey. Not just for keen fitness beans, the class accommodates beginners with varied strengths and ability. Classes are a little bigger here, but that doesn't mean they shy away from individual focus. In a clean and modern studio, the evening mat class was a testing work out. Perfect for an after work session followed by something scrummy and guiltless in Dempsey. Other locations are available.
PowerMoves is located at 6 Dempsey Road. Classes are $55 per session. Packages are also available. For more information see their website here.
Canvass Yoga – Mat Class
This small little Yoga and Art studio located in Bukit Timah offers a lighter Pilates work out. Perfect for beginners who are new to Pilates but have tried a one-on-one class before. A very chilled out, casual vibe leaving you feeling very relaxed and newly in tune with your body. The studio also offers a range of art classes both in and out of studio. There will be more to come on the art side of Canvass, so keep posted on this!
Canvass is located at 5A Binjai Park. Mat classes are $35 per session. Packages are also available. For more information please see their website here.