Specialty Juice Bars in Singapore for Guiltless Drinking: Where to Find Cold Press, Organic Juices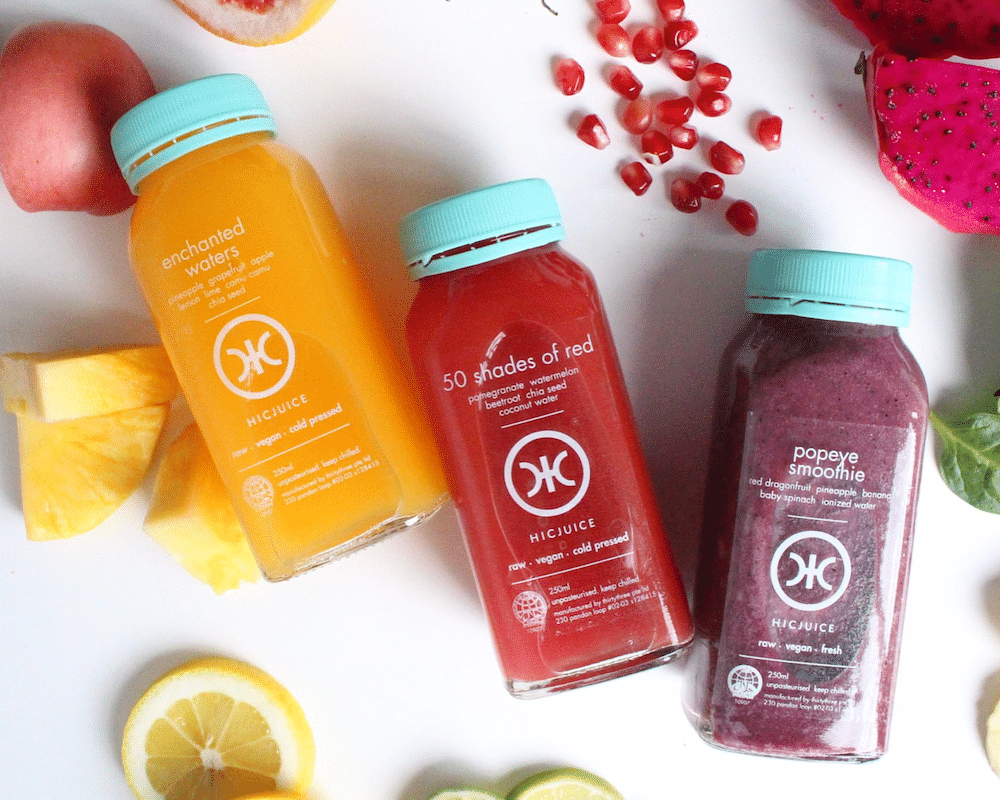 PUBLISHED August 7th, 2017 06:30 am | UPDATED March 26th, 2019 05:30 pm
Health food trends have come and gone, and a few of them have managed to carve a niche in the food and beverage scene in Singapore, such as acai bowls, poké bowls, and juice bars. While juice has always been recognised as a healthier option to a lot of things (say, alcohol), it wasn't until cold-pressed and organic juices came along that people realised that there were actual benefits. So, banish dehydration, dark eye circles, and beer bellies with these cold press juices you won't regret chugging (unlike the 8th glass of whatever you had last night).
Seed & Soil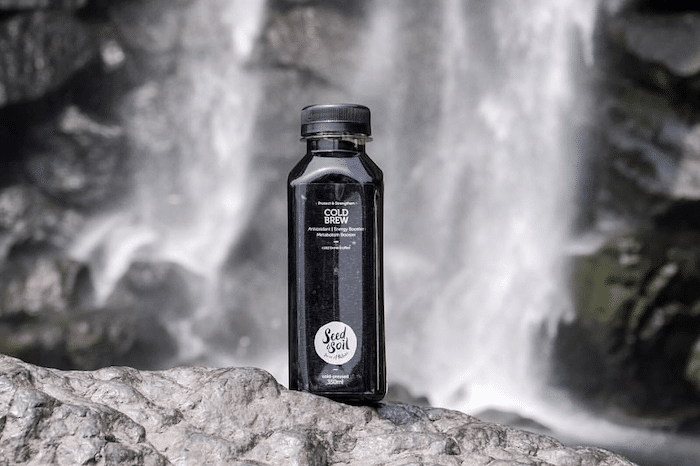 From Care & Preserve to Protect & Strengthen, Seed & Soil has a juice blend for every need. Break out the Urban Orchard (orange, blueberry, strawberry, banana, coconut water) for an early morning pick-me-up, or unwind with the chocolatey Down To Earth (cashew, cacao, medjool dates, chai spice, pink himalayan salt) as a nutrient packed nightcap. Apart from single juices and juice cleanses, Seed & Soil also fixes up smoothie bowls such as the Green Glow (pineapple, coconut, kiwi, spinach, grape, blueberry) and Açaí Bowl (açaí, banana, walnut, strawberry, dragonfruit, cacao nibs).
Seed & Soil is located at 1 Tanjong Pagar Plaza, Singapore 082001, p +65  9644 075. Opening Hours: Monday – Friday 8am – 8pm, Saturdays 10am – 5pm.
HIC Juice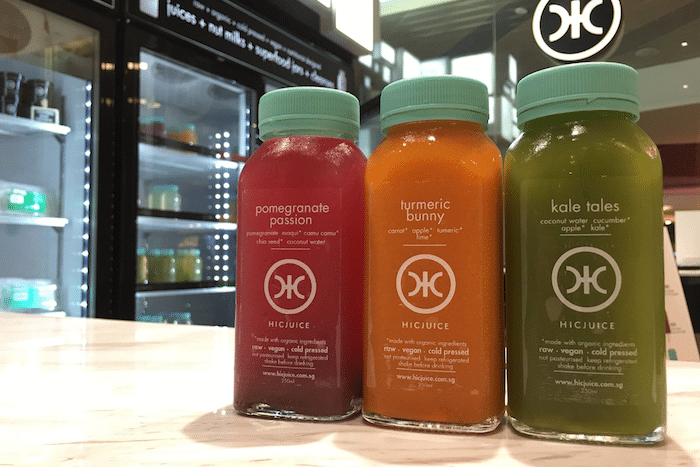 Balance out those toxins with 4 Carats (carrot, cucumber, apple, celery), a multivitamin blend of some of the most familiar fruits and veggies around. Looking for something a little more unique? Fuchsia Nut Milk (beetroot, almond, medjool date, cashew, himalayan salt) will brighten up your day with its cheery bright pink hue. If you prefer going back to basics, Cococharcoal (activated charcoal, coconut water) will take care of any intoxicated digestive system with just two simple, yet powerful ingredients. HIC Juice also launched a range of soups blended at low heat to retain natural fibre and nutritional goodness.
HIC Juice is located at #01-104 The Centrepoint, #02-470 Suntec City North Wing, and #B1-K09 Raffles City Mall, p +65 8223 6766. Visit their website for opening hours.
Daily Juice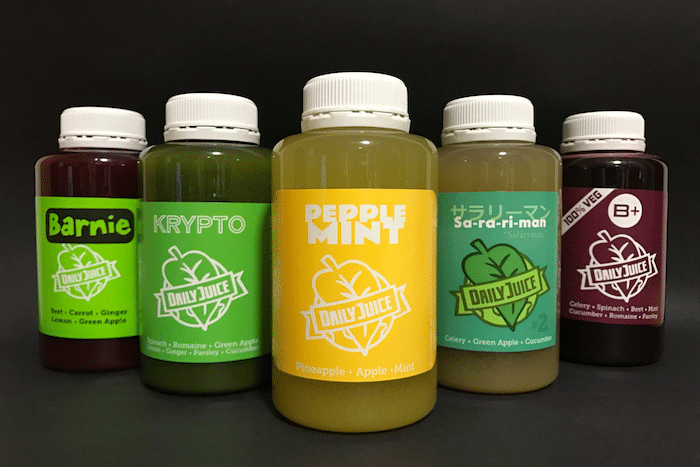 With a sole focus on juices, Daily Juice carries a modest range of creatively-named juice blends. Check out the fresh looking Salaryman (celery, cucumber, green apple), B. Smooth (mixed berries, banana, natural yoghurt, apple, chia seeds) and maybe end off with a Hot Shower (lemon, raw honey, cayenne pepper, alkaline water) for maximum satisfaction. Juice cleanses are also available, from 1-, 3-, to 5-day cleanse packs featuring a curated list of Daily Juice's beverages being sold both online and in store.
Daily Juice is located at 20 Lorong Telok, Singapore 049032, p +65 9721 1321. Opening Hours: Monday – Friday 9am – 4pm. 
Mission Juice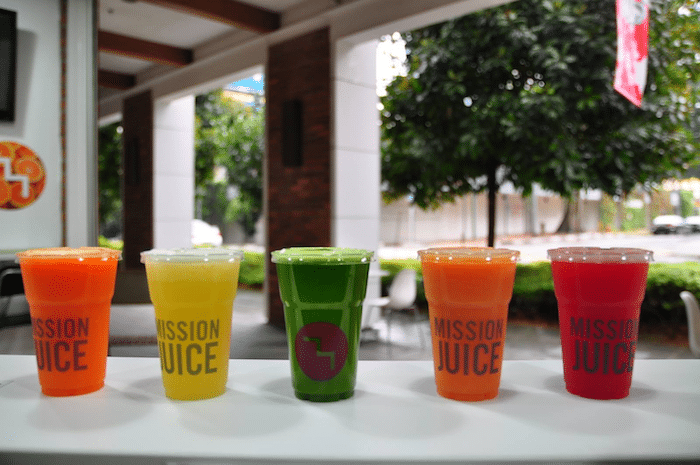 Get acquainted with Mission Juice with their Fabulous Four series, featuring four juices from different ranges in their collection: Simply Seeds (green apple, cucumber, lime, chia seeds), Breakfast Surprise (red apple, orange, passionfruit, pineapple, protein powder), Mean Green (celery, spinach, kale, green pepper, cucumber, green apple), and Cinnamon Nut Milk (almond, cinnamon, banana, honey). Can't get rid of the sweet tooth? Find a healthier alternative to sinful ice cream with their frozen yoghurt – subject to frequent in-store promotions, it's good for your health and your wallet!
Mission Juice is located at 12 Gopeng Street, Icon Village #01-29, Singapore 078877, p +65 8202 1355. Opening Hours: Monday – Friday 8am – 7pm, Saturdays 12pm – 5pm. 
Antidote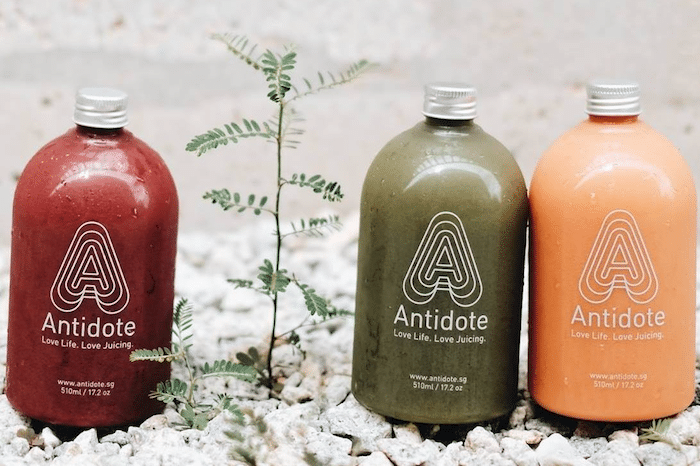 Antidote's juices stands out by virtue of their beautifully designed bottles. Appearances aside though, the juice bar serves up location-inspired juice blends such as Crater Lake (coconut water, japanese cucumber, green apple, romaine, parsley, mint, lemon) and Swiss Alps (tomato, orange, carrot, lemon, turmeric), as well as a healthy range of nut milk. Choose from different flavours like Chocolate Liqueur (raw cacao, maca, vanilla, coconut, cashew, medjool dates, alkaline water) and Sesame Milk (raw sesame seeds, raw cashew, medjool dates, alkaline water).
Antidote operates from an online store, www.antidote.sg. Find them on Facebook or contact them at p +65 8571 6420. 
Gorilla Press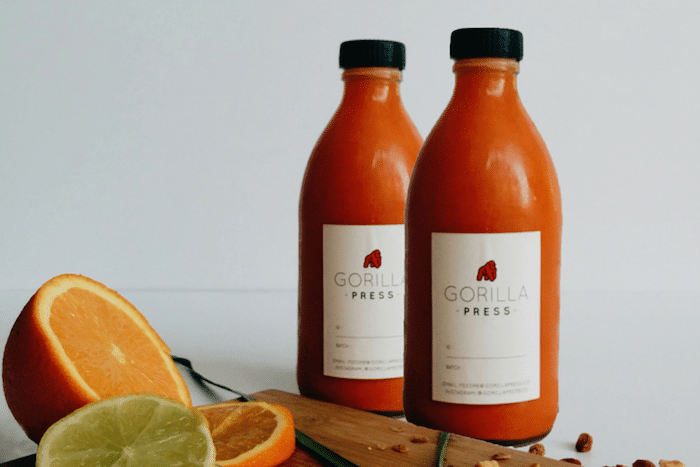 Operating solely from their Instagram profile, this juice bar is frustratingly elusive for those who aren't social media savvy. Once you get past the technological barriers, however, a wide array of juice blends await, ranging from the refreshing Cº6 (apple, bak choy, green pepper, celery, lemongrass, green chilli, spirulina) to the heavier Mº2 (coconut meat, almond, cashew, medjool dates, himalayan salt). They specialise in customised juice cleanses, offering a menu of juices and nut milks tailored to your preferences and health requirements.
Gorilla Press operates on Instagram. Contact them at [email protected] or call +65 97221091. 🙂
FP Juice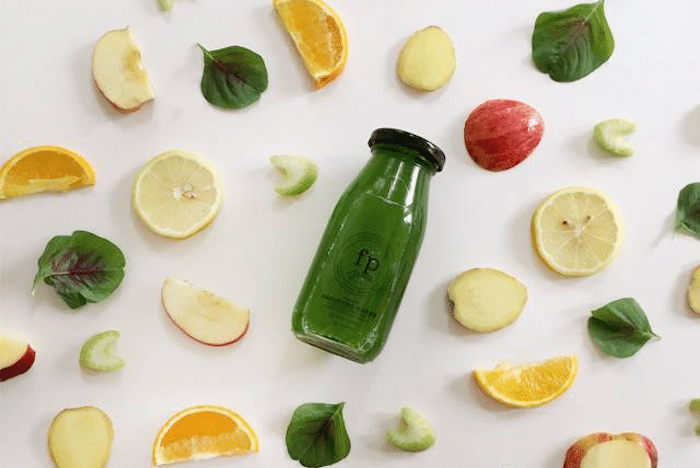 An acronym for Fresh Pressed Juice, FP Juice features drinks that are pretty self-explanatory. Reach for Hydration (celery, apple, kale, cucumber) to replenish lost moisture, or get some Smooth Skin (organic carrot, celery, apple, cucumber) with the blend of nutrient-packed skin food. The Liver Scrub (organic apple, beet leaf, beet root, carrot, celery, ginger) is particularly handy for heavy drinkers, so show some love to your overworked organ with this detoxifying beverage. If you want to go the extra mile, sign up for a cleanse, which comes in beginner, rejuvenation, and deep cleanse packages to address your specific health concerns and needs.
FP Juice is located at 8 Biomedical Grove #01-06, Singapore 138665, p +65 6314 1601. Opening Hours: daily, 9am – 7pm.