Hotel Review: Hotel Jen Beijing is the Newest 5-Star Hotel in Beijing's Guomao Central Business District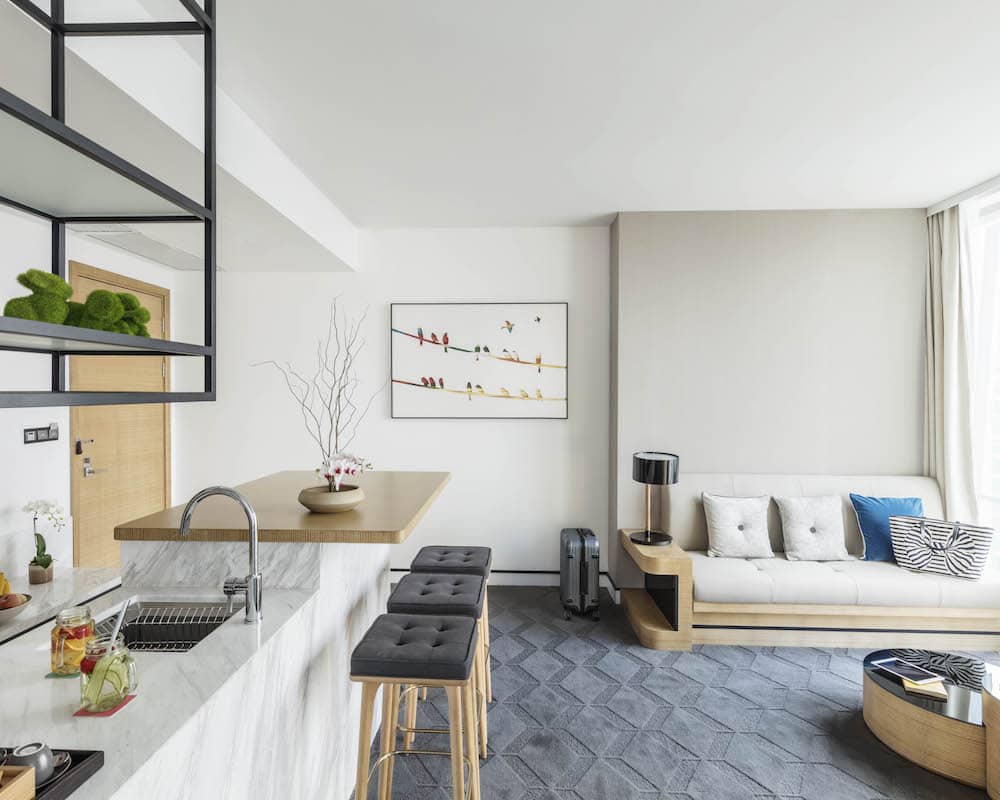 PUBLISHED August 7th, 2017 07:49 pm | UPDATED March 26th, 2019 12:59 pm
In a bid to #leaveboringbehind, the Hotel Jen brand under the Shangri-La Group was founded upon the persona of a virtual female hotelier named Jen that loves life, travel, travel, and exploration. This dame is definitely classy, as evident from Hotel Jen Orchardgateway and Hotel Jen Tanglin here in Singapore, but in all honesty, they can't compare to their cousin in China's capital city. Hotel Jen Beijing is the only five-star property in the brand's portfolio, complete with their own microbrewery churning out craft beer, and a whopping XXL gym where I did my first ever boot camp (more about that later)!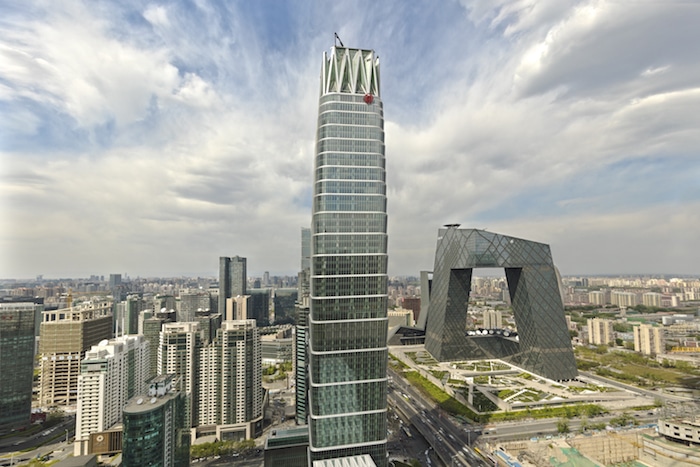 Located in the Guomao (国贸) neighbourhood, the centre of Beijing's central business district, Hotel Jen Beijing presents an inspiring environment for someone like myself, who's looking to holiday, eat, play, and work – all at the same time. For one, they're the only hotel I've heard of with a co-working space Prototype situated on the third floor, rather than a business centre. Open to hotel guests (those who are booked in a suite room can use the space for free) and the public, they've mounted a summer promotion – until 31 August 2017 – at RMB 50 for four hours on weekdays and complimentary access on weekends! The comfortable yet quirky co-working lounge also includes complimentary cookies, coffee, tea, and water for users.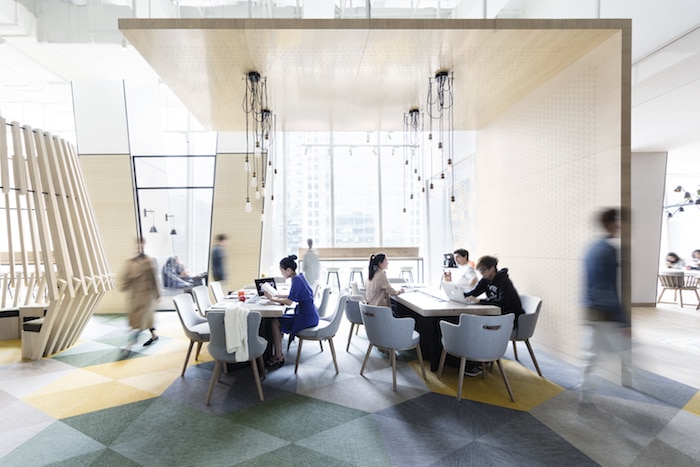 Although Prototype also has boardrooms that you can rent for meetings, we rather enjoy the flexible layout at the open working area. Need to have some alone time? No problems, the individual coves will work. Need to have a discussion with the team? No issues either, there are long communal tables you could use. Wifi connection at Prototype and across the property was relatively strong and stable, just note that you need to set up your VPN in your home country in order to get past the great China firewall for access to Gmail, Facebook, and Instagram.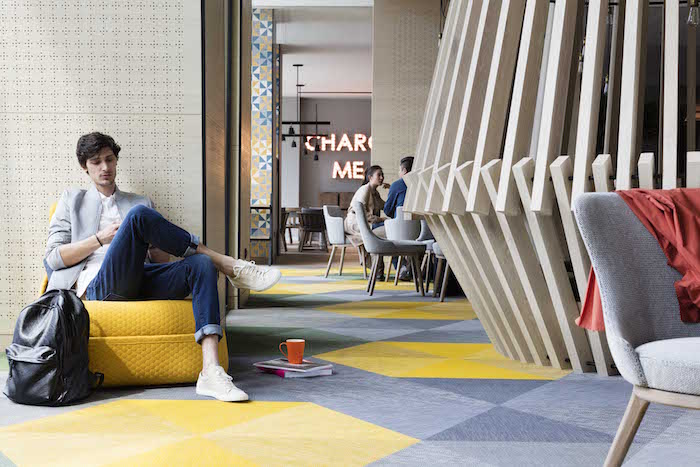 From the lovely centerpiece tree sculpture with suspended porcelain leaves to books composing the floor number in the lift lobby, as well as fun and playful prints on the walls that I admire every time I walk to my room, art in hotels make them so much more livable, and Hotel Jen Beijing is testament to that. As with the rest of the property, the Jen Skyline room on Level 20 (the highest floor is the 22nd) I stayed in was designed by international interior design consultancy Stickman Tribe Dubai. The layout is the same as the lead-in room category, Jen 40, so named for its size of 40 square metres (430 square feet).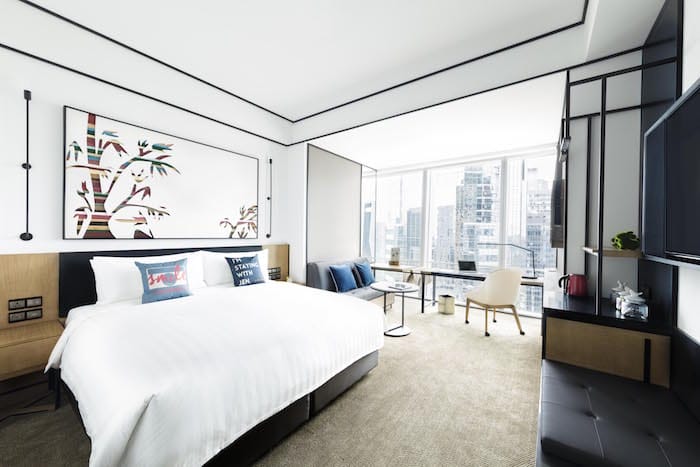 Being amongst the top few levels of the hotel means I got a spectacular view of the Guomao CBD and the architectural wonder that is the CCTV Headquarters, framed in a floor to ceiling window that's 3.8-metre tall. The light-filled room is complemented by a full-size writing desk next to the window, a small living area equipped with a sofa or a day bed, a coffee table, and a LCD TV mounted on an adjustable TV bracket so you can watch telly in bed.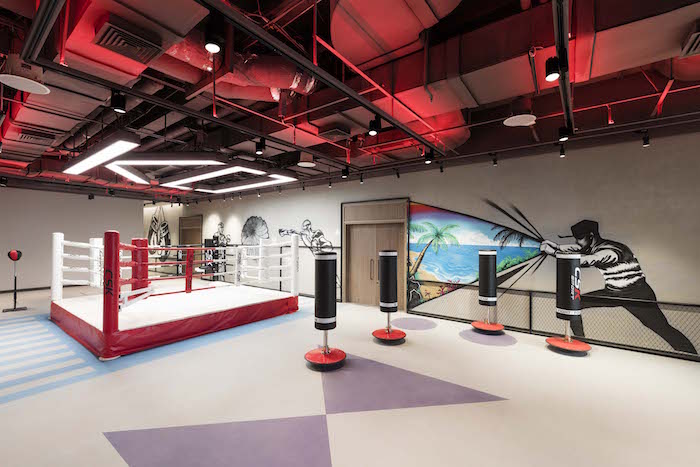 You know what else you can do in bed? Charge your electronics, of course! As a working traveler with plenty of electronics to charge daily (MacBook Air, power bank, and cell phone are the bare minimum), I was appreciative of the international socket and two USB ports on each side of the bed, and more scattered throughout the room. The bathroom was minimalist – think white tiles, marble, and black-framed mirrors – and large enough, with double vanities, a large shower area, and a toilet with a TOTO washlet system, complete with seat warmer for the brutal Beijing winter. This might be better for two people (saves a lot of time in the morning) but if you're staying alone, you might prefer a Jen Skyline room with just one sink with a bathtub instead.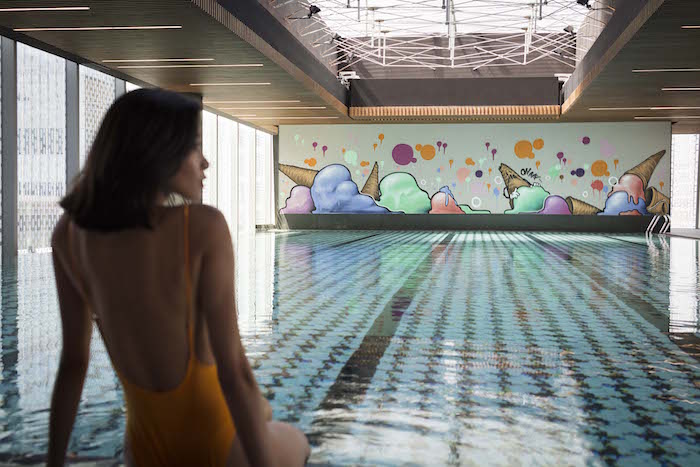 The crowning jewel at Hotel Jen Beijing, however, is definitely their two-storied, 3,500-square-metre Trainyard Gym. Bold and brash with loads of graffiti, it might be incongruous with the rest of the hotel, but from what we hear, it's a hit with the busy execs working in the Guomao area (annual membership starts from RMB12, 888) since the gym is open 24/7. Aside from the usual workout equipment – though the treadmill room is a sight to behold – there's a boxing ring, spinning studio, personal training studios, and a 25-metre indoor pool with a lovely skylight. Just note that if you want to swim, a swim cap is mandatory.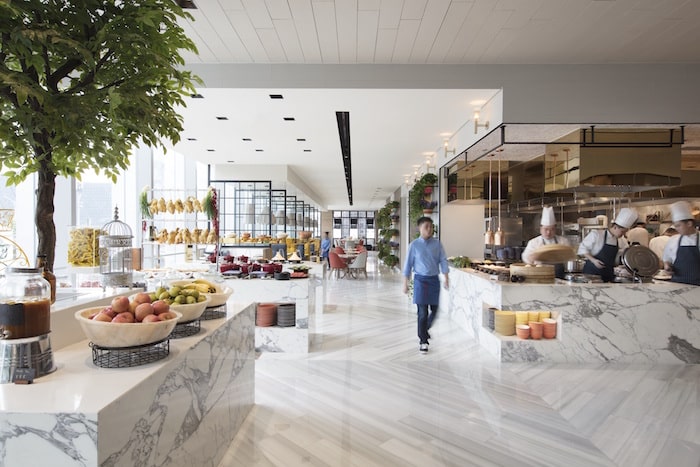 Besides usage of the facilities, hotel guests also have access to the group classes like yoga, pilates, and boot camps. The one-hour boot camp that I went for included core training, HIIT, kickboxing, weightlifting, and more in a circuit training style. The point, according to our trainer Alex, was to get our heart rate high enough such that we keep burning fat 48 hours after the boot camp – I love the idea but I did not love hobbling up and down steps while exploring Beijing.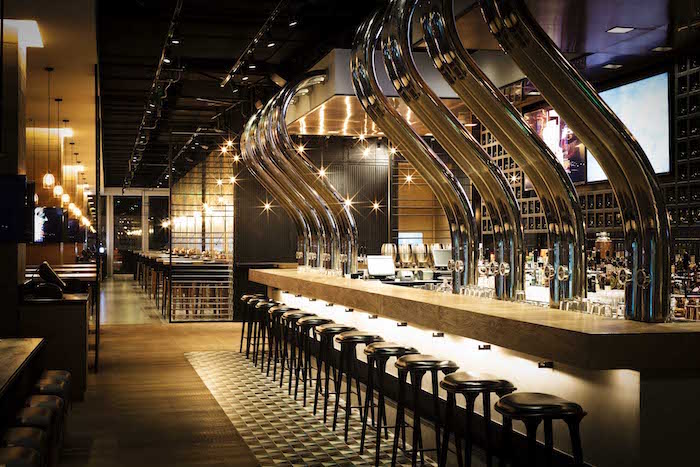 Breakfast at Hotel Jen Beijing can be found at San Wu Tang, which serves a hearty international buffet – be sure to try their signature Jian Bing. Surprisingly, their Chicken Rice and Prawn Noodles served at lunch are also pretty good. I much preferred spending time at Beersmith Gastropub, which houses eight fermentation tanks. The beer is started in the microbrewery in the basement; after fermentation, its pumped downstairs for filtration before being pumped back up into the lines of the taps.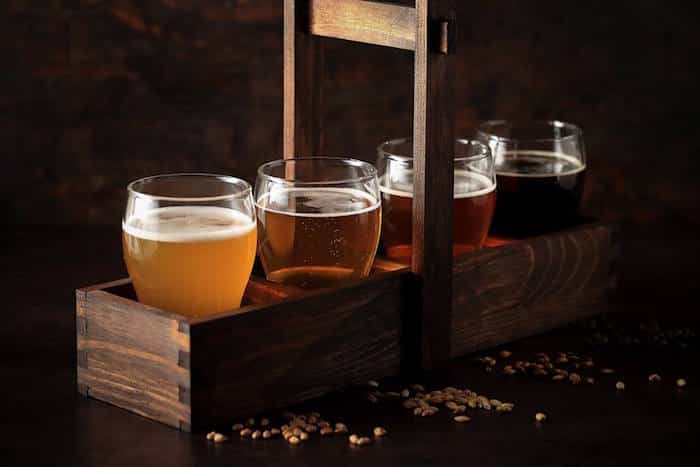 They currently have 10 beers on tap, nine core and one seasonal. It was a summery pineapple beer when I was there, but we heard from Brewmaster Tom Ashton – a Kiwi previously at Great Leap Forward Brewery – that a mooncake-inspired beer would be on tap for the next seasonal rotation. From the core range (ranging RMB 45-55 per serve), I really enjoyed the Saison, the IPA, and the hopped apple cider. For bar grub, you won't go wrong with the beer battered fries and spicy popcorn chicken. Those looking for something more substantial would be happy with any of the few burgers on the menu.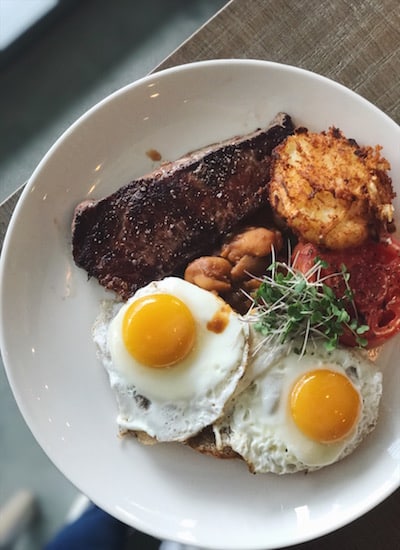 The folks at Beersmith also recently launched weekend brunch with a boozy package at RMB138 per person for free-flow beers, house wine, and soft beverages. I went for Breakfast Steak (RMB148), which comprised of a 220g sirloin steak, eggs, hashbrowns, grilled tomatoes, and baked beans. I wasn't a fan of the baked beans but everything else was well executed, despite the fact that most of the Chinese eat their beef beyond medium rare. It took me a couple of minutes to convince the server that yes, I wanted my breakfast to be less done than medium.
All things considered, it's hard to find fault with Hotel Jen Beijing. The nearest subway station of Guomao is an interchange with two of the major lines, 1 and 10, and there's a shopping mall right next to it with decent dining options and a supermarket. The massive bike sharing culture in Beijing means that you can always go out and get around on the bicycle if you don't care to be stuck in a car or shoving people in the subway…if you dare (and please bring a face mask).
Hotel Jen Beijing is located at No.1 Jianguomenwai Avenue, Beijing, 100004, China, p. +86 10 6505 2277, e. [email protected]. From now till 31 August 2017, Hotel Jen Beijing is also offering room packages started from RMB 1, 199 nett per night for a stay in Jen 40, breakfast at San Wu Tang for one, and access to group classes at Trainyard Gym.
Top Image: Jen 75 Living Room