Brunch: Currently Cooking at SPRMRKT Kitchen & Bar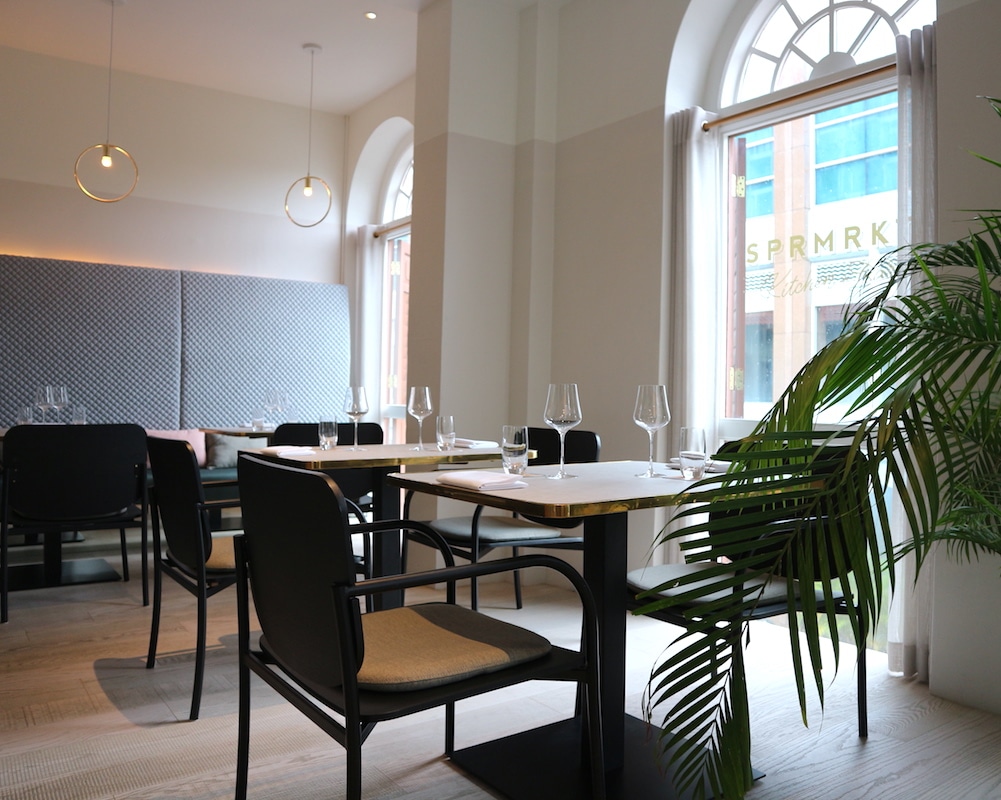 PUBLISHED May 19th, 2017 12:37 pm | UPDATED March 26th, 2019 05:40 pm

It was by night that I first chanced upon this Kinfolk-esque restaurant. How do you pronounce this? Oh, it's supermarket but without the vowels. Though Intrigued by SPRMRKT Daily's unique marketplace-within-a-cafe concept, I neglected to explore the rest of the compound of its sister restaurant. Nevertheless, I discovered soon after that there was indeed more to this place that I was already in consonant with. Right above that tiny café was a hidden gem, that Chef-Owner, Joseph Yeo, thought fit to craft a new European bistro-style menu for, adding the much needed dining component to the arts and retail space.
Brewed with love (and coffee beans from Brother Basil & Co.), brunch was kicked off with a smooth and creamy cup of Flat White ($5) á la down under. However, it didn't take long before we were transported across continents to a quaint countryside town of Europe, all within a bite of their Chicken Pot Pie ($18). Comfort food at its best, the dish consisted of a layer of crisp and golden brown pastry hardened atop a porcelain bowl. Cut open, and be enveloped by the aromatic, warm scent of potatoes, celery, carrots and poultry. Perhaps one of France's most iconic dishes, the croque-monsieur turned Croque-Madame ($20) is a delightful brunch alternative. Simple but savoury, the Béchamel sauce and breaded poached egg, kicks it up a notch from your run-of-the-mill ham and cheese sandwich. Incroyable!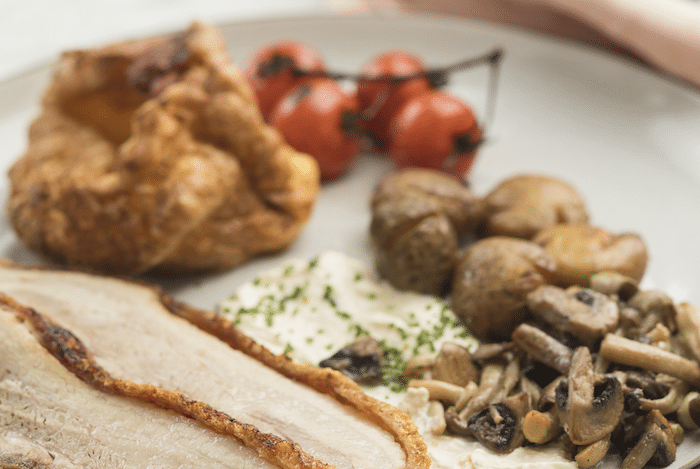 Perfect for sharing on a possible date, is The Weekend Roast ($34++). Featuring a choice of wagyu rump or roasted pork belly, the meaty dish is accompanied with freshly baked Yorkshire pudding and generous portion of roasted rosemary potatoes, complete with vine-­ripened tomatoes, sautéed mixed mushrooms and house-made ricotta cream. Much like this dish, the food at Kitchen & Bar evoked a strong sense of home, even though it was all plated to perfection and had foreign backgrounds. Partially responsible for the restaurant's hearty flavours are Chef Joseph's grandmother, from whom he picked up the craft. Time passed, as did years of training with the Les Amis Group and eventually, he found a way to incorporate his fine-dining skills to the food at SPRMRKT, transforming the ordinary, dish by dish.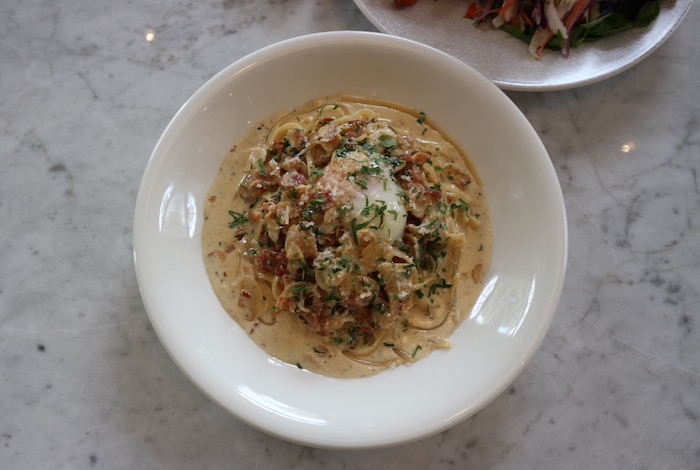 If you're not partial to beef, why not give their Carbonara ($20) a try. In most instances, I tend to get a little queasy due to the nature of most carbonara with their usually rich and too-thick sauces. Somehow, the saltiness of the garnishing in this signature dish from SPRMRKT Daily, manages to cut through the rich consistency of the cream, making it harder to get caught and cloyed. That said, it doesn't hurt to have the Apple & Feijoa Sparkling water ($7), also from Daily's beverage selection, to cleanse the palate occasionally.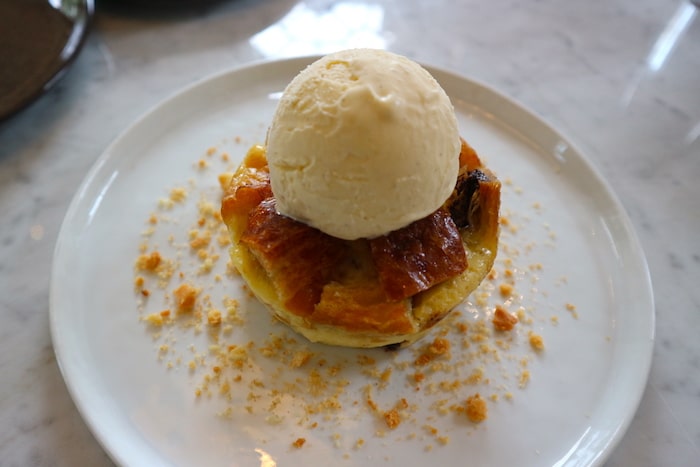 Topped with a generous dollop of vanilla ice cream, the Bread & Butter pudding ($10) served as the ideal ending to our brunch. Balancing between textures and taste, the smooth, sugary ice cream complemented the chunks of buttery crusts, melting into what I can only describe as an orgasmic mouthful. If you're done with dessert but reluctant to leave, we suggest starting on happy hour that begins promptly at 5pm. While we didn't get to sample any alcohol, we've been assured that there is indeed a wine list available for your perusal. Also available all day are craft beers ($45 for a bucket of five) and cocktails (starting from $12) from SPRMRKT Daily.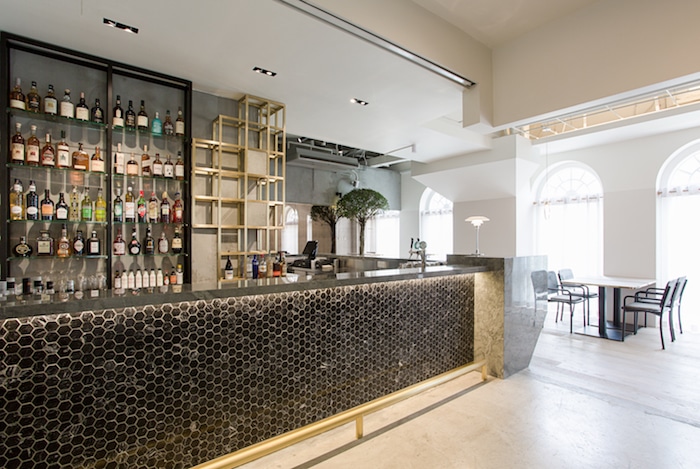 SPRMRKT Kitchen & Bar is located at 41 Robertson Quay, #02-01, Singapore 238236, +65 9736 4170. Open for lunch from Tue–Fri, 11.30am–3pm, and for dinner from Tue–Thu, 6pm–10pm and Fri & Sat, 6pm–12am. SPRMRKT Daily is located at #01-01, 41 Robertson Quay, Singapore 238236. Open from Mon–Thu, Sun, 8am–11pm, Fri – Sat: 8am–12am. For more information, call +65 9736 4032 or email.