Spruce Up Your Home With a Day in Thomson & Serangoon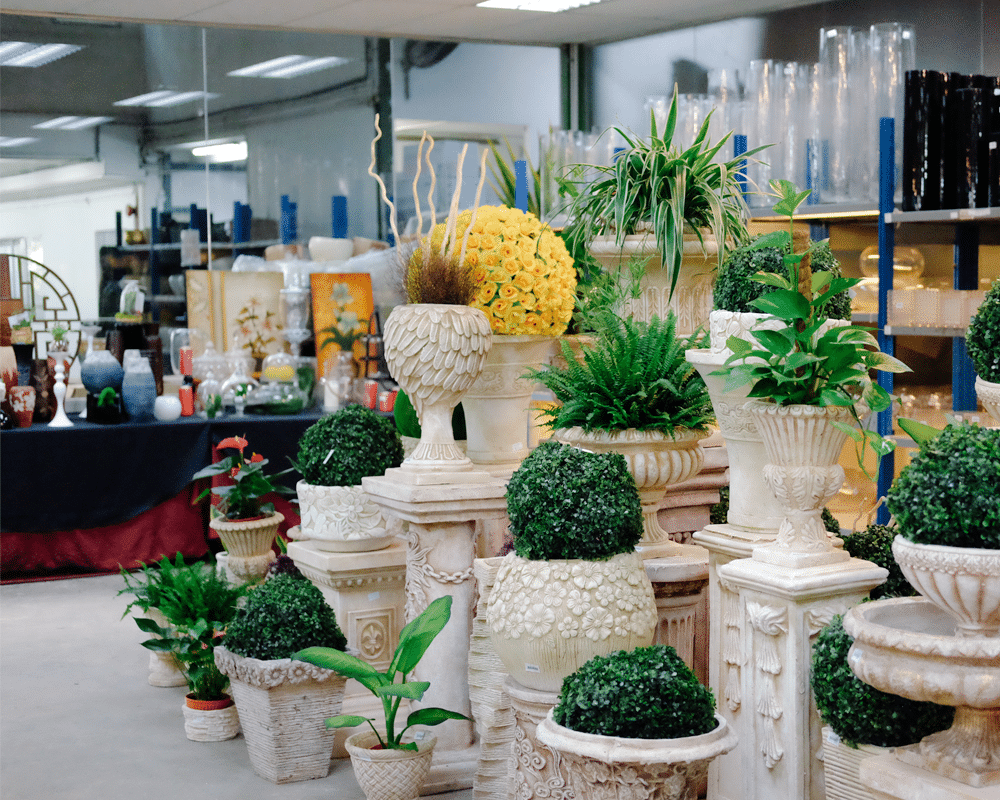 PUBLISHED November 9th, 2016 02:59 pm
In this era of Pinterest, Instagram, and all the picture-perfect homes you see online, it's certainly tempting to want to constantly decorate our own. Looking to give your house a makeover or some sprucing up? We collaborate with the American Express Member Favourite programme to explore Thomson and Serangoon, where we find the best flower nurseries and furniture stores in the neighbourhood.
Just Anthony
If you're a lover of all things oriental, you'll likely fall in love with Just Anthony, a long-time purveyor of Chinese antique furniture and accessories. Founded way back in the 1970s, the family-run shop focuses on finding the old and unusual, with new shipments once a month or so. That means plenty of originals and one-offs, with the original patina still intact. The oldest piece around: a delicate 300-year old table that's seen a lot of history.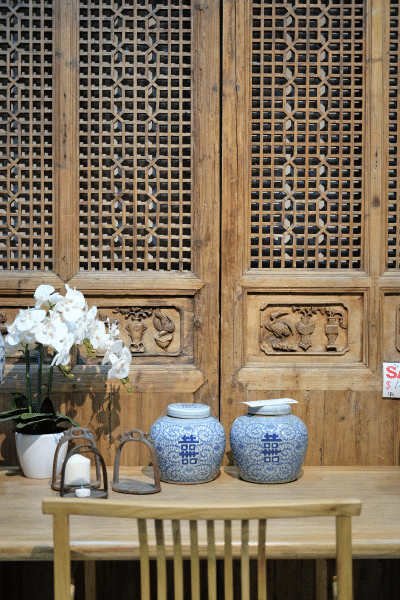 While some of the items here are modern reproductions and replicas – think Ming-era book shelfs and consoles – majority of the pieces you'll find are antiques, from ancient door panels and bed headboards to old ceramic pots in a variety of sizes. Prices start from as low as $5 for a small ceramic ball up to $25,000 for a century-old horse carriage. In addition, how about some exquisite Chinese screens and cool hand-painted silk wall coverings? We were told that some hotels, F&B outlets, and offices obtain their furniture from here as well.
Just Anthony has a skilled team of craftsmen, including an in-house painter and carpenter ready to do repairs (one-year warranty), touch-ups, and modifications of pieces purchased at the store. Customised pieces, made in China, are available as well, cut and combined to fit your style, colour, and size needs; but be prepared to wait two to three months.
Just Anthony is located at 379 Upper Paya Lebar Rd, Singapore 534972, p. +65 6283 4782. Open daily 9.30am – 6.30pm.
Island Landscape & Nursery

Have a home garden, office, or open space that needs some greening up? Island Landscape & Nursery might have just what you're looking for. After all, they've been providing one-stop solutions to major shopping malls, organisations, and schools since 1976, including rental or regular maintenance of plants. Once a small nursery, Island has long been a leader in hydroculture system, the soil-less way of growing plants with less maintenance.
Take a walk through the vast retail display garden and choose from a huge catalogue of plants and sculptures, many of which are unique to Singapore. You'll also find a whole water feature section and another for planters and pots in various looks and feels, be it contemporary, tropical, and even oriental. If you're not sure what to get for your home or office, an in-house landscape designer will come over to see your space and help you out, no obligations!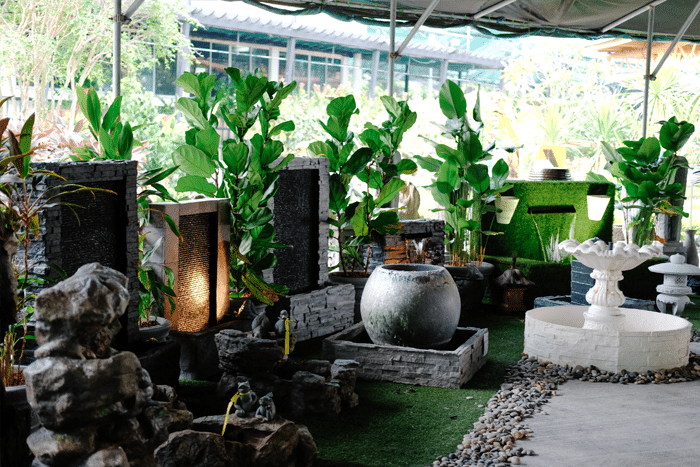 Island Landscape & Nursery is located at 3 Joan Road (off Thomson Road), Singapore 298897, p. +65 6254 9867. Open Mon-Sat 9am – 7pm, Sun 9am – 6pm.
Ji Mei Flower

Right next door is Ji Mei Flower, one of Singapore's largest wholesalers for flowers and potted plants. In fact, if you've ever visited the Istana or Gardens by the Bay, chances are you've seen Ji Mei's flowers around. Whilst Island Landscape caters more to corporate businesses and events, this is the go-to-place for smaller items, including gardening essentials and floral accessories.
Ji Mei imports its flowers from all over, including Kenya, Japan, Netherlands, Ecuador, Colombia, Australia, and Taiwan, meaning that they are as fresh as it gets. Stored in a massive cold room, you'll find everything from rainbow roses to heliconias and phalaenopsis orchids, all carefully packed and ready to go at stunningly attractive prices.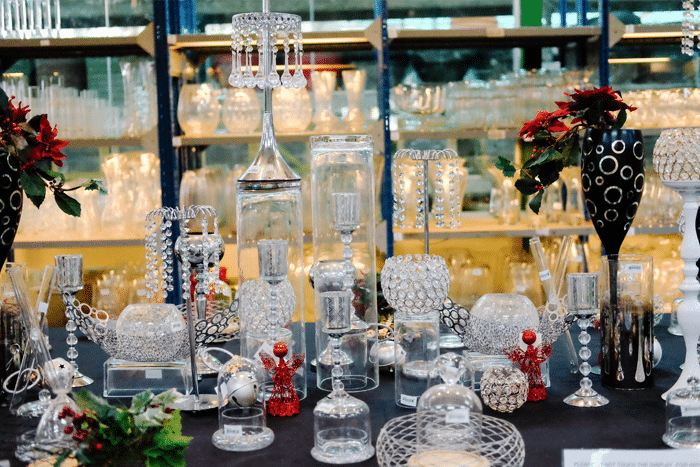 The spectrum of services available here is pretty extensive, including gardening, landscaping, and home floral setups (there's a whole section dedicated to bowls, vases, and plates). Planning an event sometime soon? Aside from wholesale, Ji Mei also has a creative arm called JM Floral Creation that conceptualises weddings, family gatherings, corporate dinners, and more. Two designers are available on-site at any given time for consults, providing elaborate customisations for your event down to the last detail.
Ji Mei Flower is located at 5 Joan Rd, Singapore 298898, p. +65 6285 0017. Open Mon-Sat 8am – 9pm, Sun 8am – 7pm.
Sim Siang Choon Hardware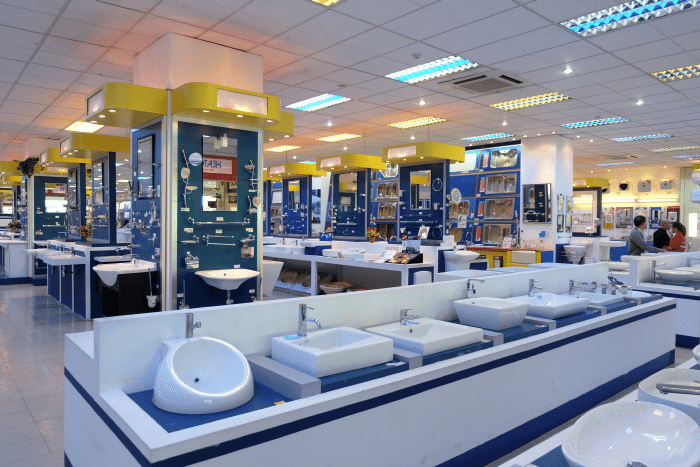 Choosing new bathroom, kitchen, and home-improvement fittings for your house can be a lot of fun, even more so when the selection numbers more than a 1000 items across 42 brands. Sim Siang Choon Hardware, which has been around since 1986, specialises in everything from sanitary ware, taps, showers, vanity tops, sinks, and cooker hoods to shower screens, bathroom accessories, and even jacuzzis big enough for 10 people. Brands available (many of which are exclusive distributorships) are imported from places like Australia and the UK, including Novelli tapware, Keuco bathroom fittings, Leisure sinks, and Bellavista toilets.
For something cheaper and no less reliable, check out the impressive line of Sim Siang Choon's own house brand items, starting from as low as $15. Available in a myriad of styles, there's an item to suit every design of home out there – there are also trendy materials like granite and copper. Drilling and hacking is never easy (not to mention very noisy), so when you're ready to brighten up the house, take advantages of their handy installation services at very reasonable rates.
Sim Siang Choon Hardware is located at 551 Balestier Rd, Singapore 329868, p. +65 6254 8122. Open daily 10.30am – 8.30pm. Sim Siang Choon also has showrooms in Jurong East (2 Jurong East Street 21), Sembawang (30 Sembawang Drive), and Changi (42 Changi South Street).
Chong Hoe Chinese Medical Store

Need a one-stop location to stock up on both Eastern and Western-style medicinal products? Chong Hoe Chinese Medical Store, the oldest such hall in Serangoon Gardens, has been selling a wide variety of health products, herbs, supplements, and even food stuff like apple cider vinegar and Nature's Wonders nuts since 1957.
The family-run business even has their own house brand that includes self-packaged soup ingredients (everything from a healthier version of bak kut teh to si shen tang and ba zheng tang that remedies all sorts of ailments) and an assortment of health tonics.
Besides peddling medicine and other products, Chong Hoe also functions as a registered Traditional Chinese Medicine clinic. Several physicians and acupuncturists are on hand at any given time, though it's recommended that you make an appointment first. Consultations – which take into account the health of your skin, internal organs, and bodily balance – last around 30 minutes each, after which you'll be dispensed an assortment of herbs and medicine.
Chong Hoe Chinese Medical Store is located at  61 Serangoon Garden Way, Singapore 555957, p. +65 6288 4652. Open Mon-Sat 8am – 8pm, Sun 9am – 1pm. Consultation hours Mon-Sat 9.30am – 7pm, Sun 9.30am – 12pm.
Whampoa Keng Fish Head Steamboat Restaurant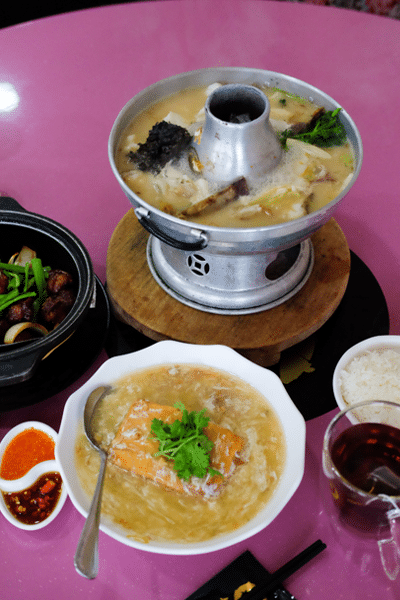 After a day of shopping, it's time to fill the tummy. Situated along the quiet Rangoon Road, Whampoa Keng Fish Head Steamboat Restaurant is excellent for family gatherings and casual catch-up with friends alike – just make sure you bring enough people in order to sample more from the wide variety of delectable dishes.
As its name suggests, the highlight here is the fish head steamboat, starting from $35 (two-person portion) up to a $65 pot that feeds more than eight. The price also varies according to the type of fish you choose: Bucket Promfret, Red Garoupa, or Sliced Bandan. Fresh quality fish aside, the steamboat wouldn't be as delicious without the amazing Teochew-style soup –intensely flavourful without being overwhelming – that's made from over 30 herbs and other (secret) ingredients like sour plum.
Enjoy the steamboat with rice and perhaps a side dish or two. We recommend the Signature Food Street Tofu ($10) – soft silken tofu mixed with eggs before being steamed and topped with a luscious seafood sauce, and the Claypot Indonesian Style Chicken ($13), deep-fried chunks of juicy chicken that's coated with sweet-sour spicy prawn paste. Other favourites include the har cheong gai, or Prawn Paste Chicken Wings ($10) and Salted Egg Yolk Prawns ($20).
Whampoa Keng Fish Head Steamboat Restaurant is located at 116 Rangoon Rd, Singapore 218394, p. +65 6296 8843. Open Mon-Fri 11.30am – 3pm, 5pm – 11pm, Sat-Sun 11am – 11pm.
---
From July to December 2016, City Nomads will be partnering with American Express to release a series of neighbourhood guides on the best places to shop, dine, and play for AMEX Card Members – basically, what's good in the neighbourhood.
The American Express Member Favourite programme recognises select small merchants that are the most popular – identified through spending patterns by AMEX Card Members. Find other popular merchants by looking out for the American Express Member Favourite decal on shop windows, or by clicking here.