Restaurant Review: One-Michelin Starred Summer Pavilion's New Tasting Menu at The Ritz-Carlton, Millenia Singapore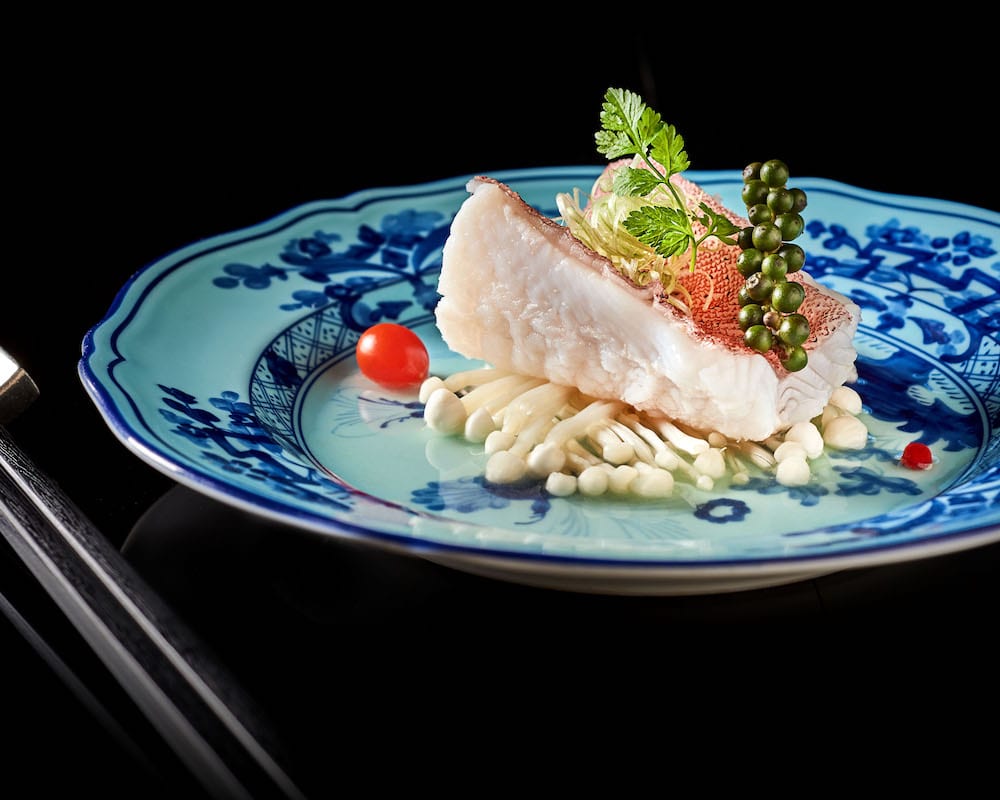 PUBLISHED October 8th, 2018 06:00 am | UPDATED February 7th, 2020 01:36 pm
One of the first Chinese restaurants in Singapore to receive a one-star rating from the Michelin Guide and to keep it for the third year running, Summer Pavilion has reliably served up exquisite Cantonese fare for years. The man chiefly responsible for propelling Summer Pavilion to new heights is Executive Chef Cheung Siu Kong, who's been with the restaurant since 2003 and in his current position for the last four years, so there's no way we'd pass over the opportunity to try his new tasting menu.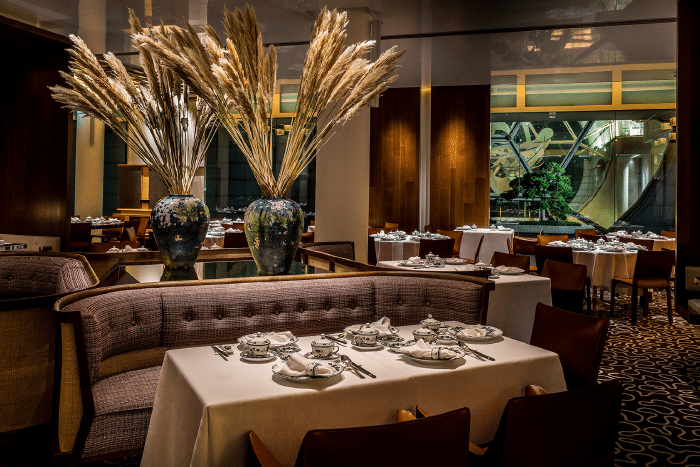 Located on the third floor of The Ritz-Carlton, Millenia Singapore, the restaurant, with its six intimate dining rooms, possesses a soft elegant beauty. Walk up the black marble steps to find an intimate and sophisticated space; there are no huge chandeliers here, but plenty of oriental objects, opulent furnishings, and exquisite tableware. On the other side, a garden entrance sets the stage for a lovely summertime experience.
Priced at $168++ per person and available during lunch and dinner, the six-course meal starts with a lovely pair of snacks – Alaskan crab dumplings with crab roe and caviar and a scrambled egg dish with what appears to be vegetarian shark's fin – and a fragrant pot of Lychee Oolong tea. Those in the mood to indulge can also opt for the wine pairing at an additional $88++ per person four a flute of Dom Pérignon Brut 2009 and three glasses of wine.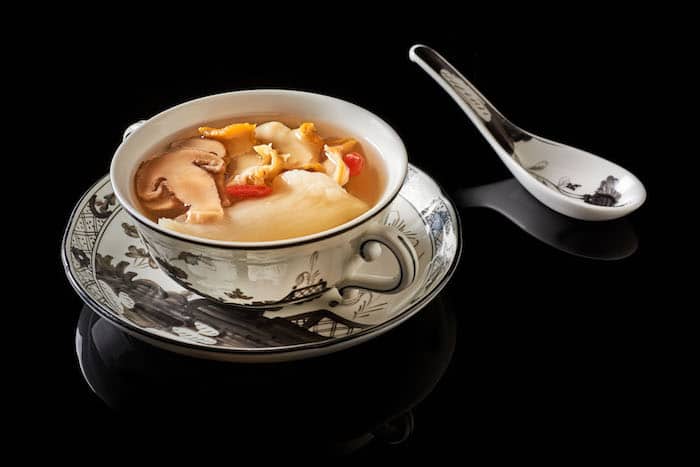 A dish of Smoked Duck with Crispy Beancurd Skinfollows, garnished with a colourful array of pomegranate seeds, pickled radish, blueberries, and micro greens. Smoked with applewood for 40 minutes, the tender duck goes excellently with the well-flavoured hoisin sauce, such that the flat pancakes served alongside weren't really necessary. One can't eat at Summer Pavilion without a bowl of soup; this time, it's a Double-boiled Chicken and Sea Whelk Soup with Fish Maw and Matsutake Mushroom. Cooked slowly for six hours, the traditional combination of premium ingredients result in a collagen rich broth that almost sooths the soul.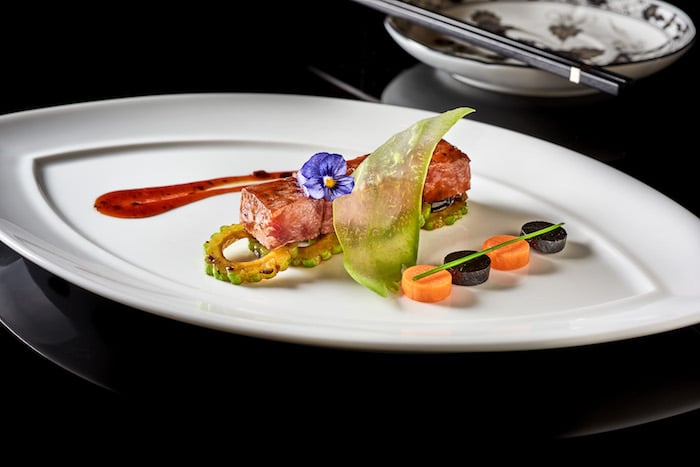 Rather than serving a version of the traditional Cantonese fish steamed with soya sauce, we get a portion of Steamed Dong Xing Grouper Fillet with Green Pepper and Plum. We learn that Chef Cheung prefers this type of fish for its superior meat quality; and we have to admit the firm flesh flakes off beautifully and holds up well against the mild spiciness of the peppercorn. The next main course, however, is one familiar to most. Sautéed beef in black bean sauce is elevated by the use of Japanese Miyazaki wagyu, while the bitter gourd helps with the fattiness of the diced meat. For texture, there are discs of black garlic and carrot, as well as cold bitter gourd for crunch.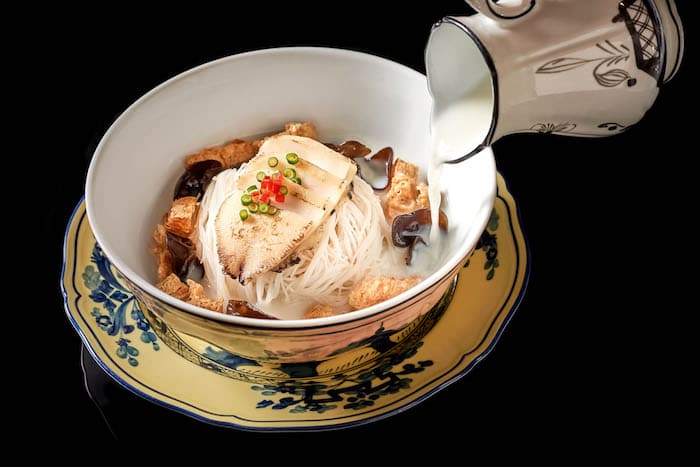 We always love the last savoury course because it's always carbs. At Summer Pavilion, it's all the better since it comes with another masterful broth, which is cooked on high heat with pan fried fish bones. The Poached Vermicelli and Abalone in Fish Brothcomes topped with a good-sized abalone bearing a lovely char. For dessert, Chef Cheung presents yet another duo: Chilled Purple Sweet Potato and Ginger Pudding, Deep-fried Sweet Potato Glutinous Rice Ball. I was quite surprised by the strength of the warmth of the ginger pudding, but it was welcome after such a gut-busting dinner. The chilled purple sweet potato, which is used due to its health benefits, helps to break it up with its subtle sweetness.
Summer Pavilion has showed us yet again why its deserving of the accolades it has earned so far. And if you don't have enough time to properly enjoy the tasting menu, head back for luscious morsels of dim sum or check out their set lunches priced from $58++ per person (minimum two to dine).
Summer Pavilion is located at The Ritz-Carlton Millenia, 7 Raffles Ave, Singapore 039799, p. +65 6434 5286. Open 11.30am-2.30pm, 6.30pm-10.30pm daily.