Artist Interview: Malaysia's Kide Baharudin Talks Partnership With Vans For '2018 House of Vans Asia Tour'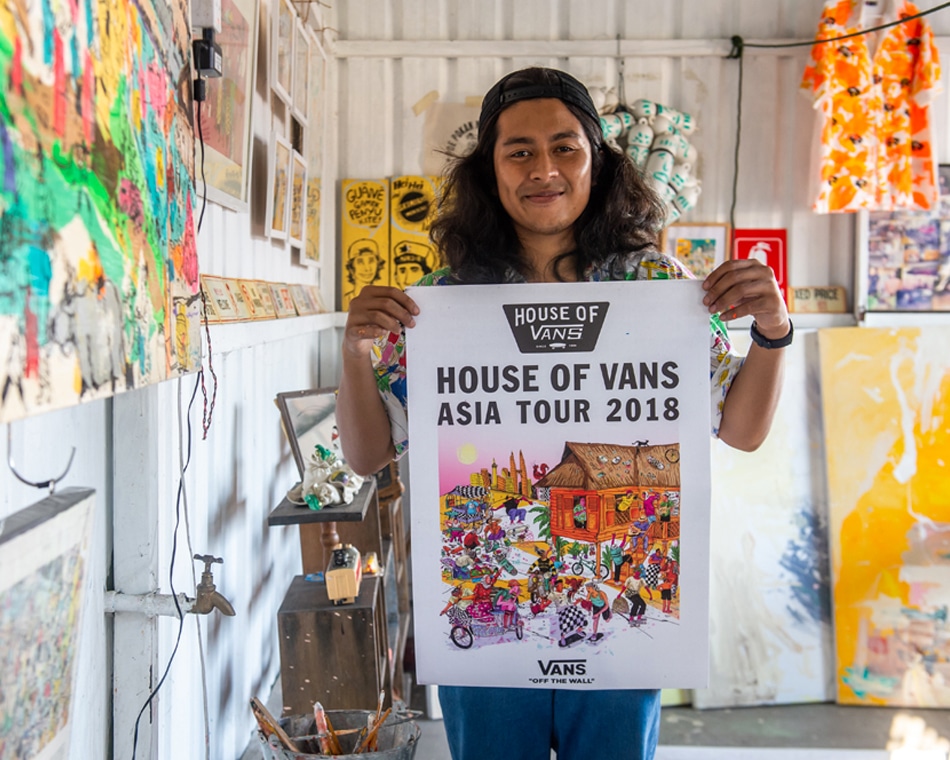 PUBLISHED October 8th, 2018 06:00 am | UPDATED May 18th, 2020 04:57 pm
With ambitions to push the spotlight onto his local culture, Kide Baharudin represented Malaysia at the 2017 Vans Asia Custom Culture Competition, eventually emerging as one of the finalists. The 28-year-old, who has been drawing since he was 7, hails from a small town in Negeri Sembilan, an hour's drive away from Kuala Lumpur. And as fate would have it, he was later commissioned to create a series of colourful illustrations for this year's much-lauded House of Vans Asia Tour.
We speak to the artist to find out about his works and experiences working with the renowned skate brand.
Hi Kide! Tell us more about your artistic practice and speciality.
My style is inspired by comics, illustrations, and books. I love looking at children's books illustrations from other countries, and I'll go to the book store and learn about the differences from the traditional Malaysian art style. In other places, the colours are more contemporary, and that's what I do with my works. The strokes are still traditional, but the colours I use are more modern and Pop Art.
My medium is acrylic ink and acrylic paint. When I do digital works, I use a pen and paper first, then scan it in and colour in Photoshop. But I still prefer doing things analogue.
How did your collaboration with Vans come about?
I've loved Vans since I was in school. My brother was a skater. He introduced me to the brand, and we've been wearing their shoes since. Then I entered the Vans Custom Culture competition. Now, he's obviously very happy because I'm collaborating with them.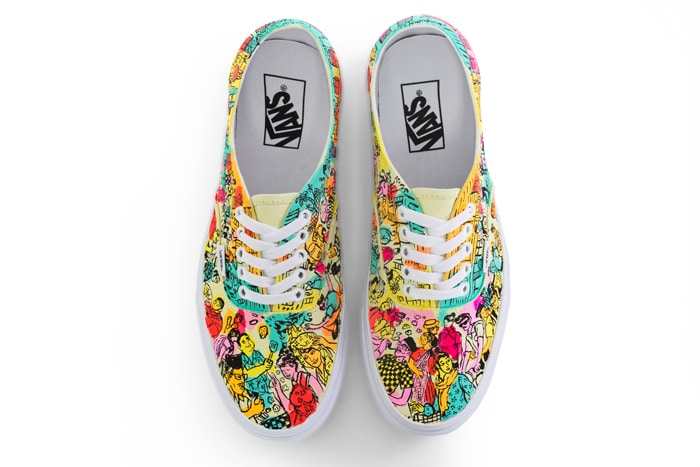 Your entry for the Custom Culture competition in 2017 was amazing. What was the experience like since then?
Awesome! In the beginning, I didn't think I could win and become Malaysia's representative. For the competition itself, my design was about transportation. The original authentic Vans was about getting to places, and the elements were about that, illustrations based on the 60s and 70s.
It's not just about work itself, but about connecting with other creative people around the world. I met so many creative people during the process, and I went to Singapore and now Guangzhou. I'm just waiting to see what's next.
It's been about a year since the partnership first started? What did you get to work on?
Earlier this year, I received an email from the Creative Director of Vans APAC Justin Lee about submitting a proposal for my art works. I didn't expect it, but in the end I did eight murals for eight cities and countries: Seoul, Malaysia, Singapore, Guangzhou, Hong Kong, Australia, New Zealand, and Jakarta.
Any interesting stories and anecdotes in particular?
My artworks for Vans were about the local culture, so people were appreciative about what I was trying to capture about local regions. When they see a reflection of their surroundings through the works, they thought I managed to capture it well. And that's what I wanted.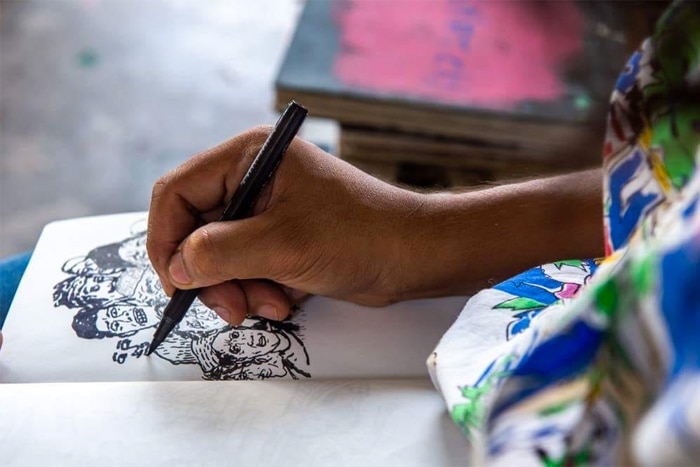 How has 'House of Vans' changed the world of art for you?
Vans has four pillars: street culture, skating, art, and music. And I had to incorporate all those elements into my art now. It was different from what I usually do, which was more about local culture and stories about my hometown. But I'm very thankful to Vans for this great opportunity. I want people around the world to see my art, and this is the first step.
Tell us what you have planned for the future. What's your goal as an artist?
I want to work on bigger scale things: large canvases for galleries and group exhibitions, and more commissions. That's my plan for the immediate future!
What kind of music you like to listen to?
Classic rock and folk! People like Bob Dylan, Donovan, Singaporean rocker Ramli Sarip, and M. Nasir.
What do you do when you're not working on your art?
I cycle around my hometown, Kuala Pilah, with my friends. I love to discover hidden and secret places. Also, my family owns a honey bee farm, so I help with that sometimes.
Any words for aspiring artists who want to follow in your footsteps?
You know, the usual stuff. It's difficult to be in the art world, but follow your passion, have good intentions, and work consistently.