Teppei – Incredible Japanese Omakase. Incredible price.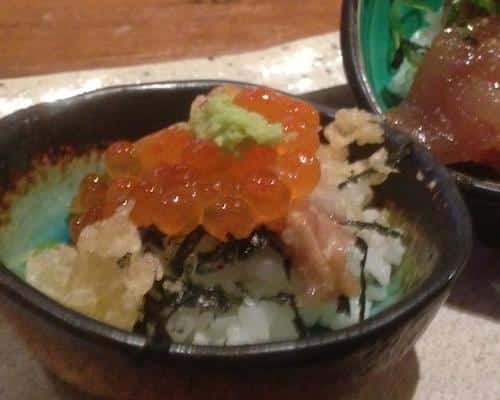 PUBLISHED June 3rd, 2013 01:14 am | UPDATED April 14th, 2016 03:15 pm
I'm probably going to regret writing this review. As it is, just to get a table for myself and three friends I had to book Teppei around a month in advance and after dining there for the third time last week, I think I might just make a regular booking every month.
Teppei is sensational. Japanese food has become progressively more and more popular over the years on this sunny isle, but what I seldom see is a Japanese restaurant that reminds me of my time in old Nippon. Yes, you can go to Tetsuya, Waku Ghin,  Han or Goto. All are amazing, and all are mega-expensive. We're talking $300 per person. Eek! Unless you sleep on a pile of money at night, these are probably not venues you'd go to on a regular basis for dinner.
So how much does a redonkulous 15 course (I counted) Omakase set at Teppei cost? $60.
Ok, just to say that at again. $60! Sixty dollars. This is not a typo and I am not making this up. In fact, you can opt for a $40 or $50 set. But take my advice, just go for the $60, because when everyone else is being served up an extra plate of Wagyu or fatty tuna, you might actually turn wasabi-green with envy.
Apart from just being insanely good value, Teppei is one of the most authentic Japanese dining establishments I've been in. Japanese Chef behind the 22 seat counter, serving up high quality fresh dishes right before your eyes. Although they 'specialise' in tempura, every single item I've eaten there has been excellent. Also, the menu pretty much changes daily depending on what is available and what is fresh, so apart from a few options, you'll never get exactly the same dish twice.
As for the epic omakase, here is a list of what was eaten over the course of the 2-hour culinary orgy.
Stewed vegetables and salad
Chasoba wrapped in fried tempura
Sashimi platter (Salmon, swordfish, chutoro,
Fatty tuna hand-roll
Chawanmushi
Clam soup
Fresh shucked oyster
Yellowtail sperm (apparently very good for your skin)
Giant prawn tempura
Grilled wagyu beef strips
Palate cleanser of fish guts and cream cheese (actually much more delicious that it sounds)
Miso soup with noodles
Fresh sea urchin served on a spoon
Sushi (this time a hamachi with wasabi and a cod roe with tempura flakes (#bestdish)
Black sesame ice cream
Jealous? You should be. It was awesome!
Teppei is also open for lunch (no reservations taken) and has fantastic sets for around $15-20, though be prepared to wait. Or just be smart and take an extra early lunch or go (as I do) for a late one at 2pm to avoid waiting outside like a lemon. More time to enjoy the food after all.
As for dinner, book in advance… well in advance. Waiting list is currently about a month. On a usual basis I would never recommend a restaurant that had this kind of waiting time, but believe it. It is so, so worth it.
---
Written by The City Nomad over four visits.