Restaurant Review: The Summerhouse Launches Romantic Garden Domes and Refreshed Menu in Singapore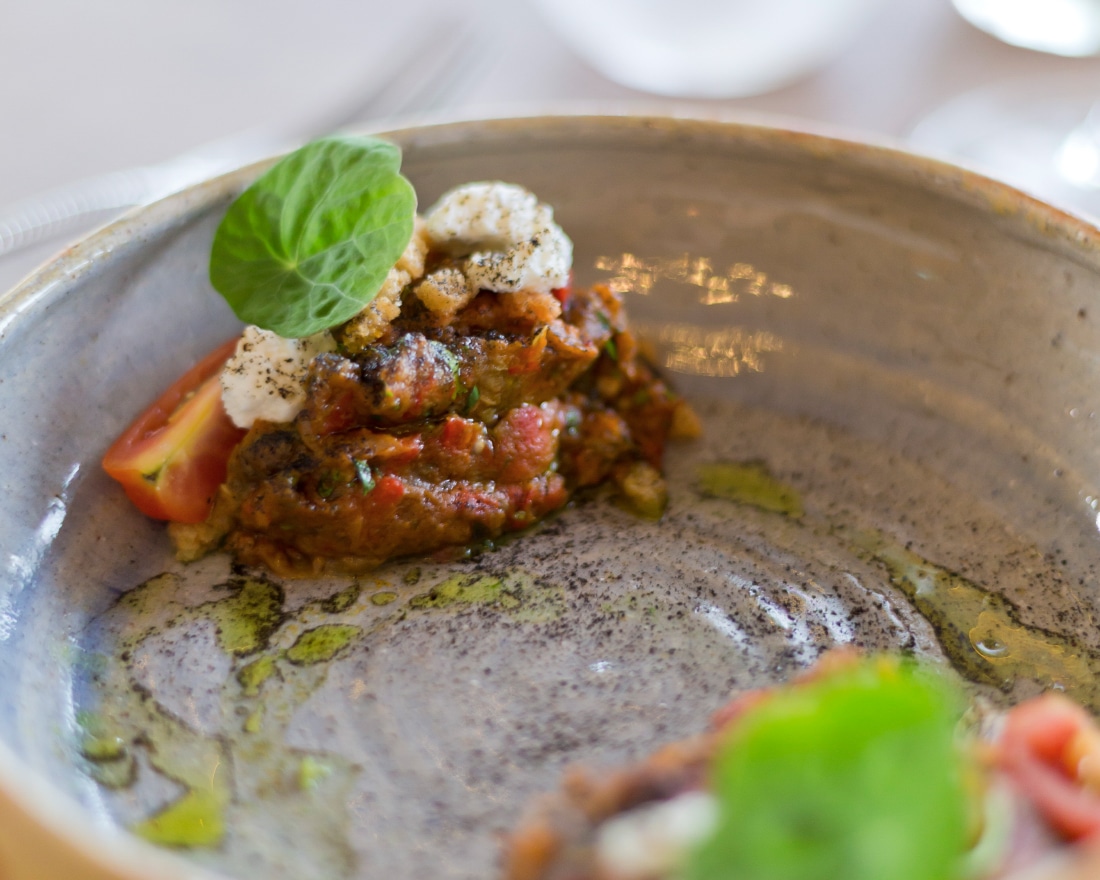 PUBLISHED March 9th, 2018 06:00 am | UPDATED February 6th, 2020 04:51 pm
Ever wondered what it's like to dine in an igloo? Well, you can find out inside one of the three spacious garden domes at The Summerhouse. The same folks behind Spanish restaurant Botanico at the Garage in the Singapore Botanic Gardens and the Italian food and jazzy MONTI on the Fullerton waterfront have brought the trend of eating inside cosy hemispheres – previously seen in cities like London – to Singapore.
Fully air-conditioned and equipped with a dedicated sound system, this is a brand new experience that makes hopping into the Seletar countryside quite bearable in the maddening heat. When it rains, it gets all the more intimate – unless you're in urgent need of a toilet, of course. There is a minimum spending of S$300++ per couple and S$150++ for each additional person, but I say it's worth your money. Plus, the garden domes are decorated in three different styles: Scandinavian, Bohemian, and Lounge – so take your pick.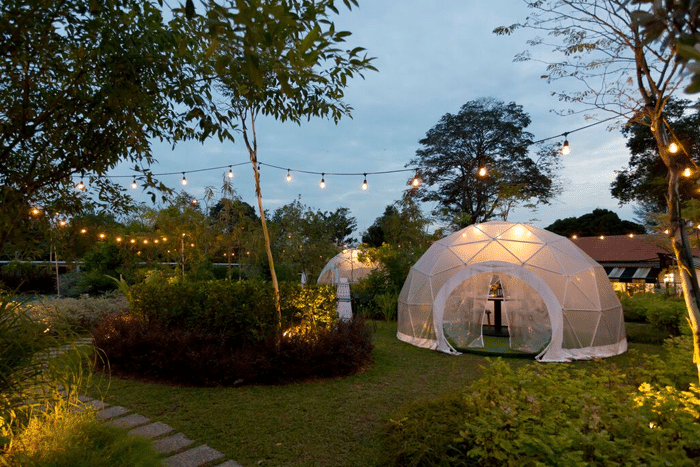 My last visit here was about a year ago, and as it was back then, The Summerhouse fare remains centred around the concept of farm-to-table. There is a small garden beside the colonial bungalow in which the restaurant is housed, where you might come across some wild strawberries, snap peas, blue pea flowers, and even a budding coconut palm – which takes at least four years to flower, by the way. These ingredients are harvested for the kitchen's refreshed menu, and the rest sourced from farms in the region.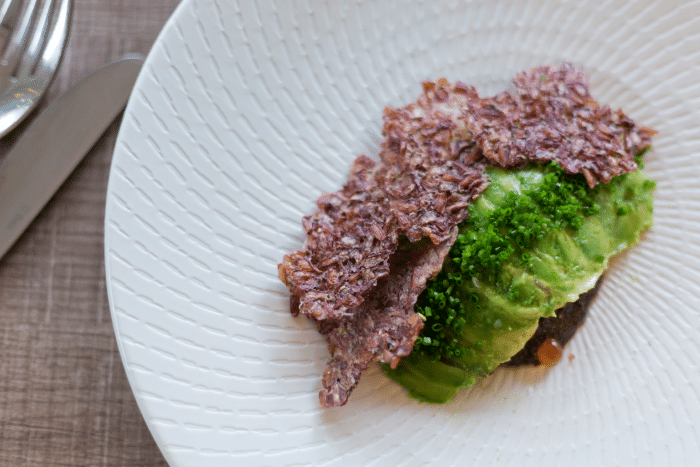 There is a beautiful bounty from Freedom Eggs in Johor, which as you might guess, come from happy and cage-free hens. You see them in a splendid Avocado and Chia Seed Cracker ($14) dish, which is not as ordinary as it sounds. The cracker, made with baked brown rice, chia seeds, and sesame seeds forms a crunchy base for the fresh Australian avocado, which you eat with buried sous vide egg, ikura, and truffle pecorino mixture.
Locally, eggplants from Oh Farm are featured in a panzanella of sorts. Moroccan Eggplant ($14) is baked, scraped, and marinated with the likes of smoked paprika, chilli padi, garlic, and coriander for two days, then cooked with a garlic and tomato reduction till so soft and fragrant. You can have it as it is, or like us, ask for some of the fabulous grilled Rye bread ($5) to go along.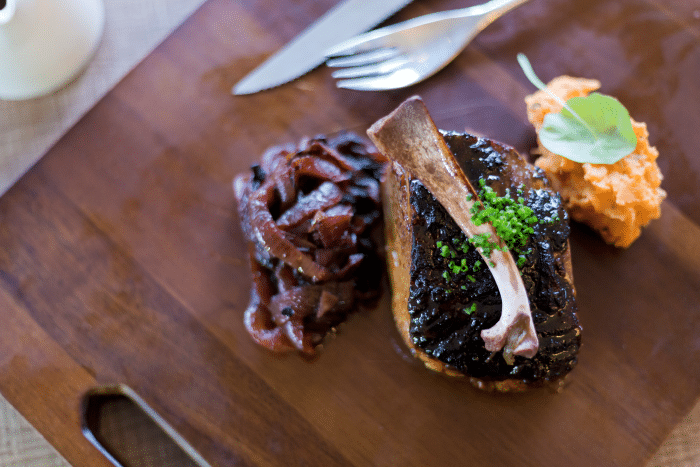 The seafood at The Summerhouse is a force to be reckoned with. Sourced from Seafood Culture, you'll find a Smoked Butter Poached Red Snapper ($42) on a stunning beurre blanc espuma that's chock full of savouriness – light and dark soya sauce, mirin, bonito, and seaweed nori butter. The flesh is flaky and sweet, complemented by spears of charcoal-grilled asparagus. They also do a complicated Slipper Lobster ($15) dish – succulent kelong lobsters that's first sous vide, grilled in the Inka oven, and finished with a splash of tarragon oil, toasted hazelnut butter, herbaceous broccoli pesto, and various aromatics from the garden. For all that goes on, the resulting lobster's flavour is sublime.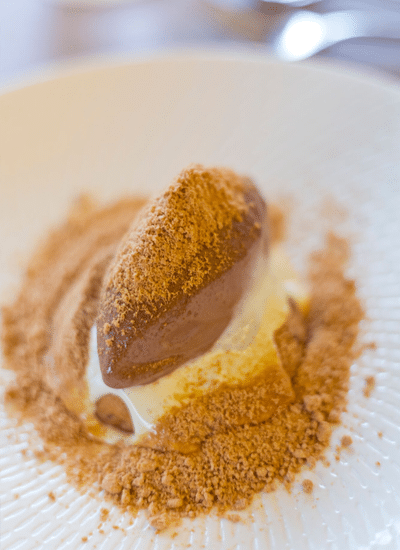 Make an order for the menu's highlight, a Slow-cooked Lamb Shoulder ($34) beautifully brined for a day, then braised for 12 hours with red wine. What you get is intense flavour that's accentuated with an intriguing kumquat chutney, or perhaps the restaurant's wood-fired French Poulet ($28) with pistachio and brioche stuffing.
Special mention must be given to dessert, not because dessert is the best thing ever, but because their Chocolate Ice Cream ($14) is that good. Churned in-house with Valrhona chocolate grown in Bali and dolloped on top of Madagascan vanilla custard and passionfruit-fermented-chocolate hazelnut cookie, it's been a long time since I got this excited about ice cream.
One year in, it's clear that The Summerhouse has evolved, firming up its farm-to-table rhetoric with solid food offerings. If you like a tipple with every meal, be sure to check out their 'cellar door', or wine tasting room, for a curated selection of natural and biodynamic wines as well. And as far as destination dining in Singapore goes, The Summerhouse is ace.
The Summerhouse is located at 3 Park Ln, Singapore 798387, p. +65 6262 1063. Open Wed-Fri 6pm – 10pm, Sat-Sun 12pm – 3pm, 6pm – 10pm.