The surreal world of Salvador Dali comes to Singapore with The Argillet Collection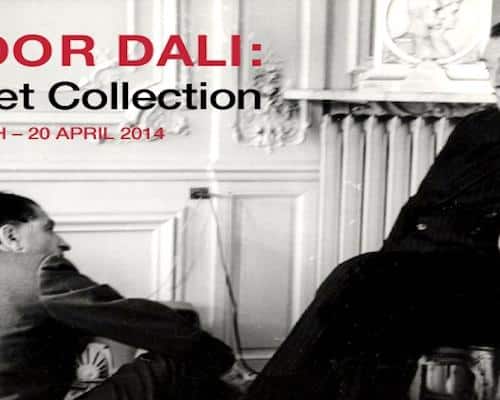 PUBLISHED March 16th, 2014 05:40 am | UPDATED January 20th, 2016 03:07 pm
Salvador Dali was an eminent Surrealist artist that needs no further introduction. But not many of us would know of Pierre Argillet, his long time publisher cum friend. Together as artist and publisher, Dali and Pierre produced over 200 etchings over a 30-year period. These etchings, drawings, and tapestries have been part of the Argillet Collection since their creation and the inspiring exhibition will not only provide a rare opportunity to view these works, but also gain insight into their unique friendship.
To introduce this collection in Singapore will be Pierre Argillet's daughter, Christine Argillet. Having spent much of her childhood in the presence of Dali, Ms Argillet offers first hand accounts and personal insights into the collaboration between her father and Salvador Dali and the works they produced together.
For those not familiar with Surrealism, could you give our readers a brief introduction as to what this art genre is about?
Surrealism is a very free artistic movement, which originated in Europe after the 1st World War. The fantastic creativity linked to the juxtaposition of dream images, apparently not linked together, but linked to our unconscious, gives birth to unprecedented expressions distinctive of Surrealistic art.
Which is your favourite work in the collection, and why?
There are several pieces in the collection that I like very much for their refreshing vision and also for their humour. For instance, the Surrealist Bullfight series speaks to me particularly. Dali didn't like Bullfights and for this reason introduced a humorous touch where the bull is transformed into Dali himself and the audience into animals, with horns, thus showing that the most barbaric characters are not the ones who are usually thinking.
What was it that attracted your father to Surrealist art works, and particularly, Dali's pieces so much?
My father was not only fascinated by the immense talent of Dali as an etcher and a painter, but also by his incredible capacity to envision the world around him in a new way every day. They had long discussions about literature and art, and my father would facilitate Dali's projects, which resulted in a long collaboration with 200 etchings produced. SALVADOR DALI: The Argillet Collection is the largest existing collection of original etchings by Dali.
How have both your father and Dali influenced the way you view and collect art?

The most beautiful and fruitful thing that remains in my mind is that fabulous capacity both Dali and my father had to make things happen, whatever the apparent difficulty. They had total freedom of thoughts, having fun doing things and preparing their publications together. To this day, I love to be surprised by life and to be able to reconsider the world differently as often as possible.
SALVADOR DALI: The Argillet Collection of works will be presented at REDSEA Gallery for the first time in Asia for viewing and acquisition from 22 March to 20 April 2014. All works from the Pierre Argillet Collection have been authenticated and signed by Salvador Dali and have never before left the collection.
All photos credit to: © CHRISTINE ARGILLET ALL RIGHTS RESERVED