A travel guide to Perth, Australia: Our pick of 10 things to do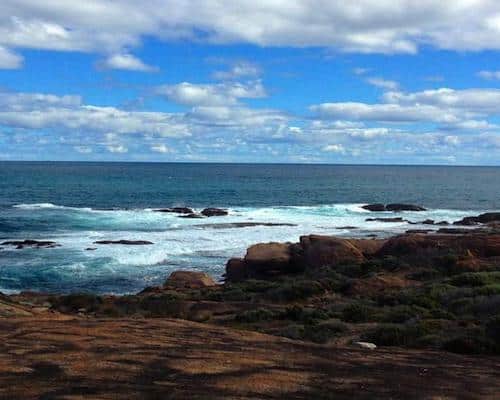 PUBLISHED June 5th, 2014 08:00 am | UPDATED January 19th, 2016 03:45 pm
Perth is one of the most isolated cities in the world, bordered by the expansive Indian Ocean to the west, and an endless sweep of red desert to the east. Despite being the capital of Western Australia, Perth remains a humble city – both in size and in character – known for its pristine beaches, rugged hinterland and laid-back charm.
It's a tourist mecca that caters to every palate – from shopping trips, to culinary wine experiences, to nature explorations and outback adventures. And while Australia may seem like a world away from Singapore, Perth is a mere 5-hour flight – an easily accessible distance for a long-weekend break.
Here are our top 10 things to do in and around Perth:
1. Check out the city's shopping and coffee culture
Perth city nestles between the vast WA coastline and the winding Swan River. The city centre is small and easily accessible, with a free hop-on-hop-off bus to help you get around. The CBD has seen a boost from mining funds recently and new commercial and residential districts are popping up all around the city.
The main shopping precinct is focused around the pedestrian malls of Murray Street and Hay Street, where you'll find Australian department stores Myer and David Jones, as well as local fashion brands like Quiksilver, Witchery and Sass & Bide. While you're there be sure to stop by Wolf Lane – a recent cultural project featuring graffiti street art murals and eclectic shoebox cafes. If you want to break for lunch or a glass of wine, stop by the excellent restaurants and cafes on St George's Terrace and Queen Street.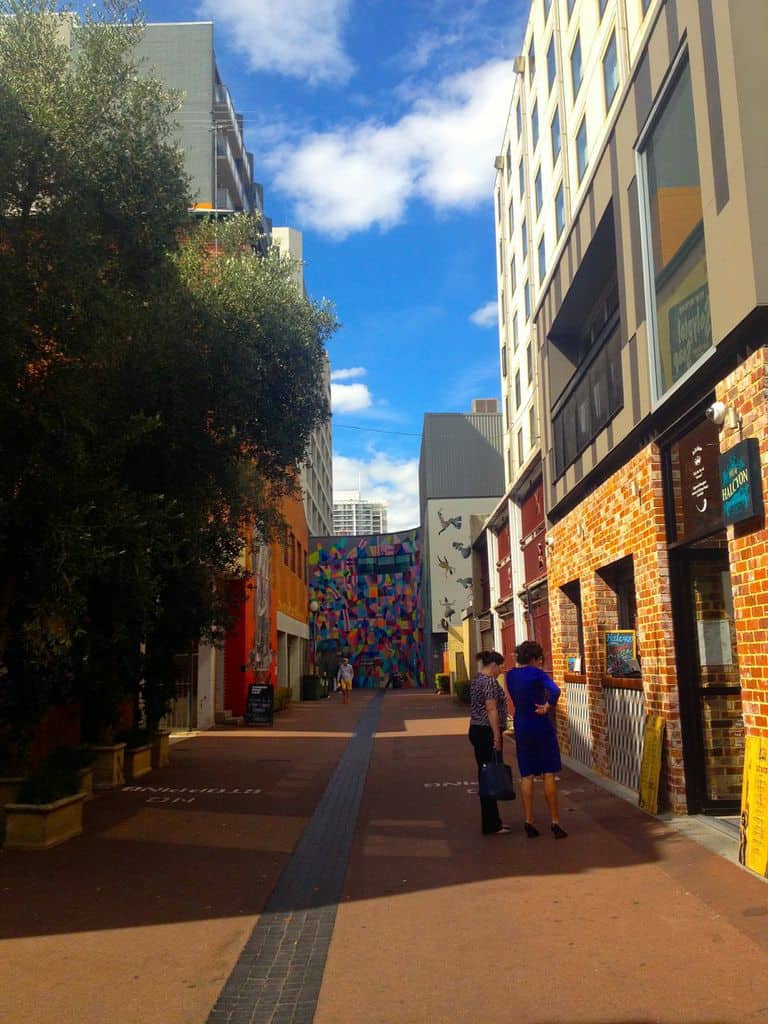 2. Swim, picnic and watch the sun set at Perth's famous beaches
If you remember only one thing from your trip to Perth, I guarantee it will be seeing endless ocean and spectacular sunsets across the horizon every night. And there's nowhere better to watch the sun be awesome than on the beach with a picnic rug and some cheese.
Perth enjoys some of Australia's best beaches and you'll be spoilt for choice. Check out Cottesloe Beach to surf and to see the iconic Cottesloe Surf Lifesaving Club, or head down to City Beach or Sorrento Beach for tranquil waters and quiet paddling. If you're game, there's even a nudie beach at Swanbourne if you prefer to swim in your birthday suit. No matter where you're taking a dip remember to slather up with sunscreen and always 'swim between the flags'.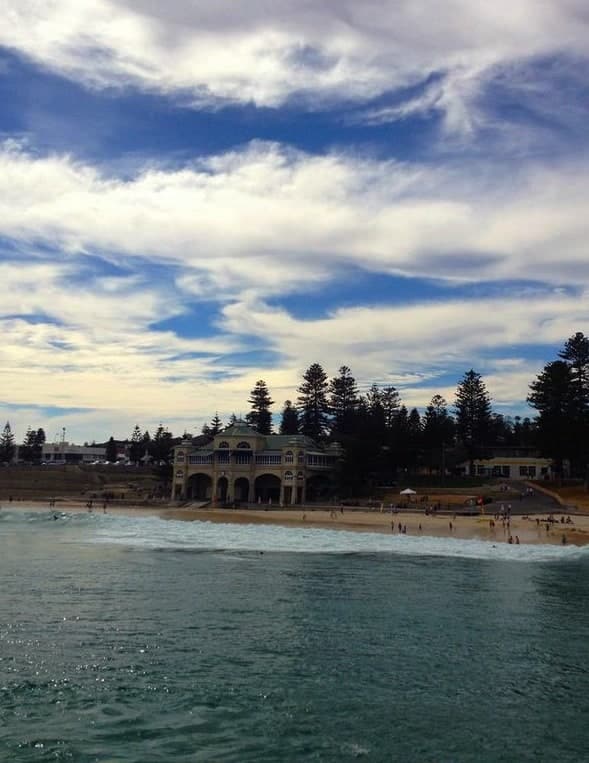 3. Take a road trip north to The Pinnacles
If you have a few days in Perth, it's worth taking a trip up north to see the Pinnacles, an eerie and spectacular collection of ancient rock pillars in the Nambung National Park. Explore the Pinnacles on foot during the day, and stay for sunset to watch the sun slowly set through the rocks in a rainbow of coppers and reds.
The 2-hour road trip north is a treat in itself. The coastal scenery is quintessentially Australian and the colours are vibrant clash of dusty red planes, crystal white sand and bright blue ocean. It's spectacular, to say the least. Along the drive you'll encounter landscapes worthy of any Aussie outback scene you've conjured up in your mind – think sunburnt hills, rugged sweeping planes, tall grass trees and a cloudless blue sky.
To break up the driving, stop at any number of uninterrupted and isolated beaches along the way, and bask in the serenity of having the coastline all to yourself. Pop in to a few country towns en route too – Lancelin and Ledge Point are good options easily accessible from the main highway. Here you can enjoy the Australian tradition of a meat pie from a country bakery and wash it down with a Brownes chocolate milk – it's a WA institution.
4. Explore some of Perth's notable suburbs
Subiaco – or Subi to the locals – is a hip inner city suburb known for its independent fashion boutiques, art galleries and farmers markets. The main shopping streets are Hay Street and Rokeby Road and while you're there you can satisfy your appetite with Perth's best array of international cuisine – from Japanese to Indian to Italian (and everything in between) Subiaco is a foodie's paradise.
The inner Northern suburb of Mount Lawley is an up-and coming melting pot of modern cafes, hipster bars and quirky clothing stores. It's also home to the eye-catching Art Deco style Astor Cinema and The Western Australian Academy of Performing Arts, which has produced famous alumni including Hugh Jackman and Heath Ledger.
The historic suburb of Claremont is where modern affluence meets old Perth charm. You'll find heritage listed buildings nestled amongst high-end shops, florists, and Australian designer boutiques like Zimmerman.
5. Adventure down south to the Margaret River region
One of the first things you'll notice heading south from Perth is how starkly the scenery differs from up north. Instead of dusty planes and rocky outcrops you're treated to green fields, tall forests and lush landscapes. Wide open fields and farming land dotted with tall gum trees, snaking streams and hopping kangaroos.
About 3 hours drive from Perth and you're in the heart of Margaret River – one of Australia's premiere wine regions. There are so many vineyards you'll be spoilt for choice, so begin with some of the famous names – Leeuwin Estate, Evans & Tate, Cullen Wines and Vasse Felix – before heading to some more boutique labels. Most wineries offer free cellar door tastings and it's beautiful to simply wander through the vines. If wine's not your thing there are also breweries, chocolate factories and cheese companies galore.
If you decide to spend a couple of days in Margaret River, there are plenty of accommodation options – from holiday parks and camping grounds to eco lodges and high-end resorts. There are an endless array of cute country towns to make your base, like Cowaramup, Prevelly or Gracetown, and the Margaret River town centre also has all your necessary amenities like supermarkets, banks and rural department stores.
The joy of the Margaret River region is the sheer quantity of things to see and attractions to visit. Don't set a strict itinerary, take a leisurely trip and sight see, allowing yourself to get lost and stumble upon hidden gems. For some ideas to get you started, try visiting Sugarloaf Rock, walking along Busselton Jetty, swimming at the beautiful protected Yallingup beach or taking a tour of the Cape Leeuwin lighthouse at Augusta.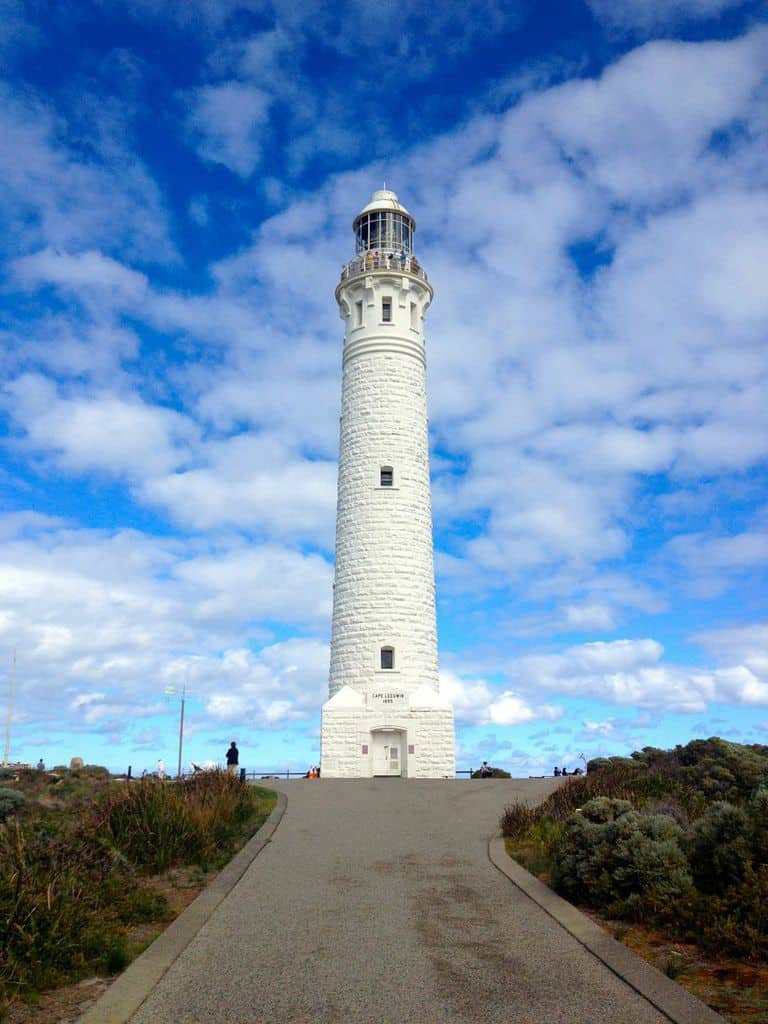 6. Wander the historic suburb of Fremantle
Once home only to the shipyards, Fremantle now attracts a mix of hipsters, families and upwardly mobile professionals. Wander around and you'll stumble upon eclectic cafes and homewares stores, high-end clothing labels and converted warehouse apartments. Don't miss the Kailis pearl boutique – the famous Kailis family have been farming and designing Australian South Sea Peals for decades. If you're feeling peckish, stop at the Little Creatures Brewery for lunch and an ale tasting board while overlooking the shipyards.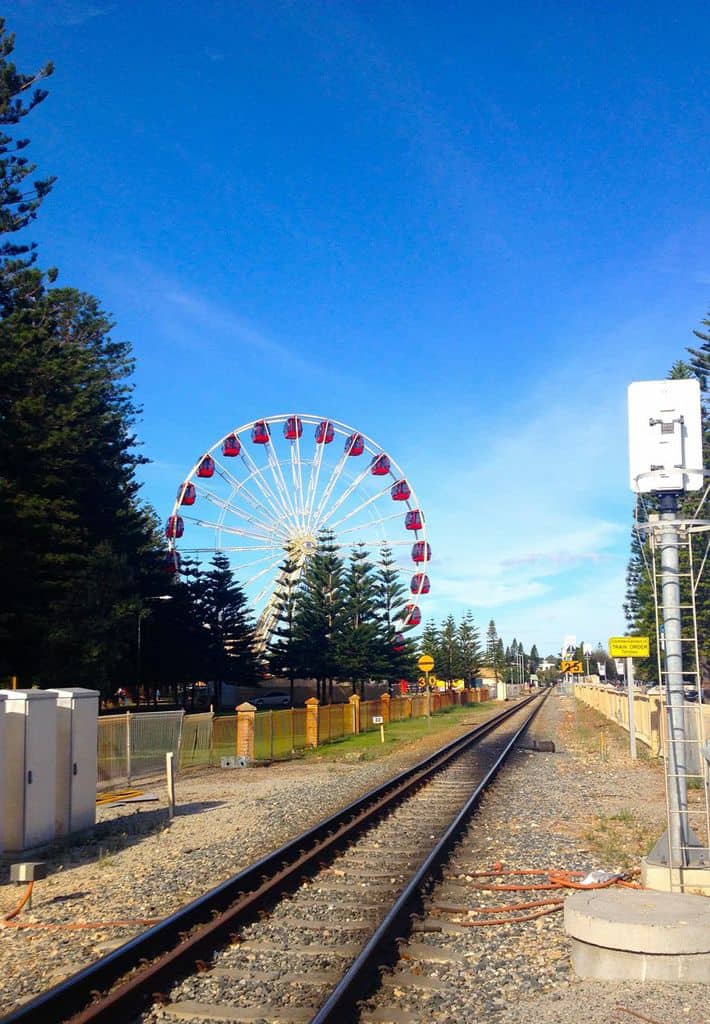 7. Take a day trip to the Swan Valley wineries
Another popular day trip is the Swan Valley – a hinterland region inland from Perth that's home to wineries, micro-breweries and rum distilleries. One of the main drawcards of the Swan Valley is its close proximity to the city, easily accomplished in a day trip. Join a tour or hire a car and get lost in vineyards, homestyle cafes, cellar door restaurants and cheese shops. You'll also stumble across the quaint roadside produce stalls selling fresh fruit and veggies grown throughout the region.
8. Board a ferry to the picture-perfect Rottnest Island
If you want to take the nature exploration up a notch, board a ferry to Rottnest Island off the coast of Fremantle. The 30-minute trip delivers you to a pristine nature reserve teeming with wildlife – get up close and personal with the famous Quokka marsupial, bird watch in the trees, or spot dolphins and fur seals off the coast. The beaches on Rottnest Island are postcard-worthy and offer a good mix of surf spots and protected coastline. Rottnest is a car-free island (which adds to its charm) so either wear your walking shoes or hire a bike when you arrive.
9. Relax and enjoy the views at Kings Park
Don't miss a trip to the famous Kings Park for unbeatable city views and a sweeping outlook across the Swan River and the Darling Ranges to the east. Kings Park is impressively large for its inner city location and is seeped in Aboriginal and European history. It's also a leading centre for Western Australian conservation, research and public education. Take your time to explore Kings Park's extensive grounds – have a picnic, check out the State War Memorial, wander the Botanic Gardens, or cycle through the grounds and along the beautiful Swan River.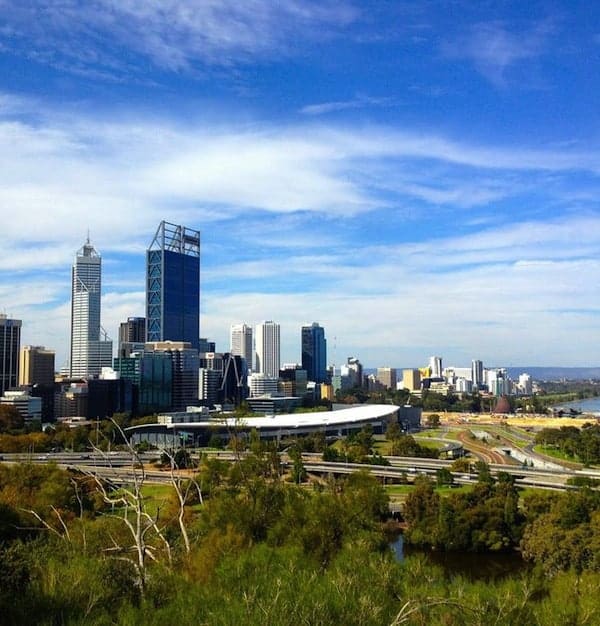 10. Take in some culture or see a performance
The Perth Cultural Centre in the CBD houses the city's arts, cultural and performance institutions, including The Western Australian Museum, Art Gallery of Western Australia, State Theatre Centre of Western Australia, and Perth Institute of Contemporary Arts. There are always new shows and exhibitions – many of which are free – so it's definitely worth investigating the area for a spot of culture. If you love dance, head to the nearby suburb of Maylands for the West Australian Ballet company, which presents a regular season of dance performances in conjunction with the West Australian Symphony Orchestra.
Top Tips
WA is a beautiful state, but being such an isolated region does have its drawbacks. Keep these tips in mind to make the most of your Perth adventure:
–        Perth is a great destination year round, but temperatures can get intense in high summer and low winter. If you're planning your trip in advance, aim for Autumn (March, April, May) or Spring (September, October, November). You'll get beautiful weather and clear days without any extreme temperatures.
–        Flights Singapore to Perth can get expensive, especially during peak periods. If you're willing to sacrifice the comforts of a full-service carrier, check out budget airlines Scoot and Tiger Air for the best deals.
–        Public transport can be patchy (especially on weekends and away from the city centre) either plan your travel well in advance, or take the easier option and hire a car.
–        There's no train from the airport, and a taxi could cost you upwards of $60, so be prepared to take a public bus or organise pick up through your hotel.
–        Taxis can be hard to find (and are certainly not as affordable as Singapore) so if you're planning a night out, order a taxi ahead of time or pick a designated driver.
–        Don't underestimate the harshness of the Australian sun – you can burn in as little as 10 minutes. Bring a hat, sunscreen and sunglasses with you at all times.
–        If you're doing any country driving, be prepared for kangaroos on the road at night – they're most likely at dusk so slow down and keep your eyes open.