[Closed] VXX Co-operative: Quality-Focused Coffee and Hearty Food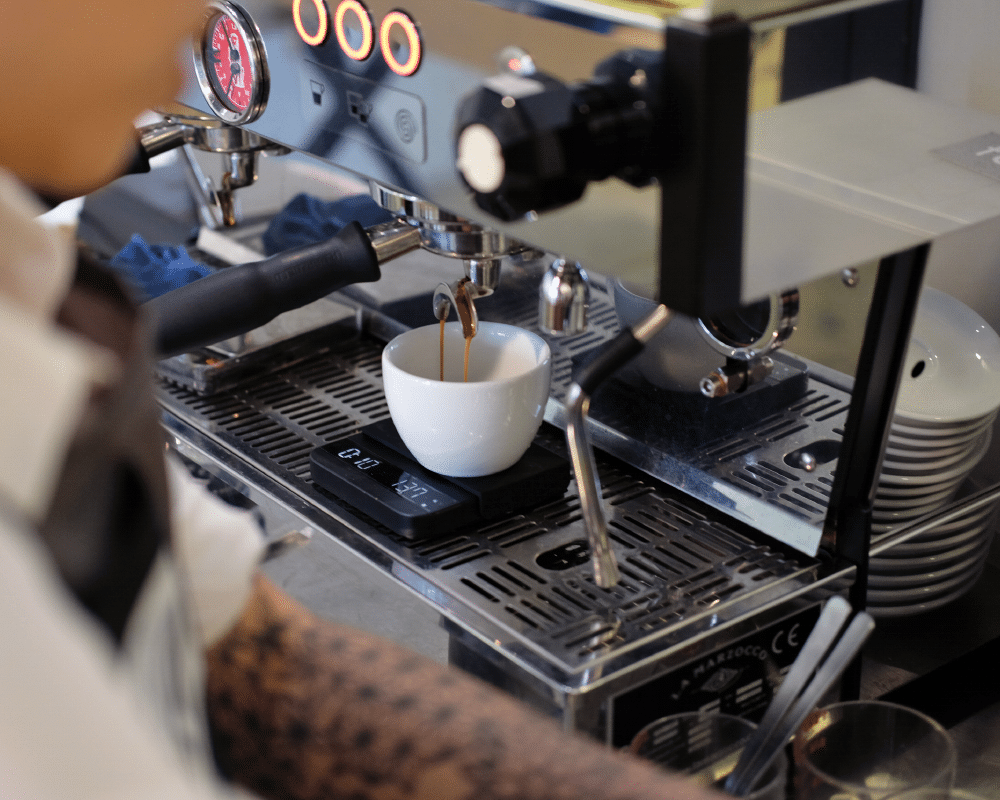 PUBLISHED November 10th, 2016 10:54 am | UPDATED October 18th, 2020 12:27 pm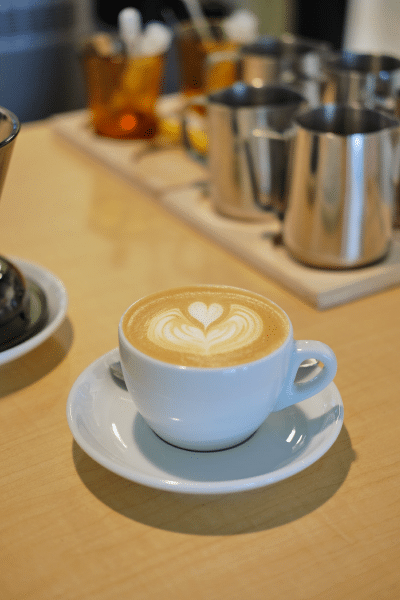 *Update* VXX Co-operative has closed its Foch Road location
The Jalan Besar neighbourhood has long been known for its abundance of quality coffeehouses. And we don't mean the run-of-the-mill cafes that serve up mediocre coffee and unimpressive grub. We're talking coffee-centric establishments that consistently knock out darn good cups of joe – places like Jewel Cafe, Old Hen Coffee Bar, Chye Seng Huat Hardware, and The Bravery; exactly why you'd need a lot of guts to open one in the same vicinity as these heavyweights.
Fortunately for VXX Co-operative, which launched in August, the owners Aslam and Joy have plenty of experience in the coffee industry, including lengthy stints in local stalwarts such as The Plain and Oriole Coffee between them. The latter is where the pair underwent training from two of the world's top coffee experts: Matt Perger and Ben Kaminsky. They consider themselves consumers as much as they are industry insiders, which makes good sense. After all, the cafe is a collective effort of several international industry leaders: coffee, food, and design.
Quality and service are the two cornerstones of VXX – it wants to be less commercial and more personal; the reason why everything is kept to the 40-seater first floor. Step into the conservation shophouse and you'll be greeted by a singular large wooden table that serves as both a counter and a work space – modelled after those used in coffee competitions. Here you can take a sit and watch your coffee being made, as vibey music plays in the background. There's also a cosy dining section with marble-top tables further in, and an al fresco dining area.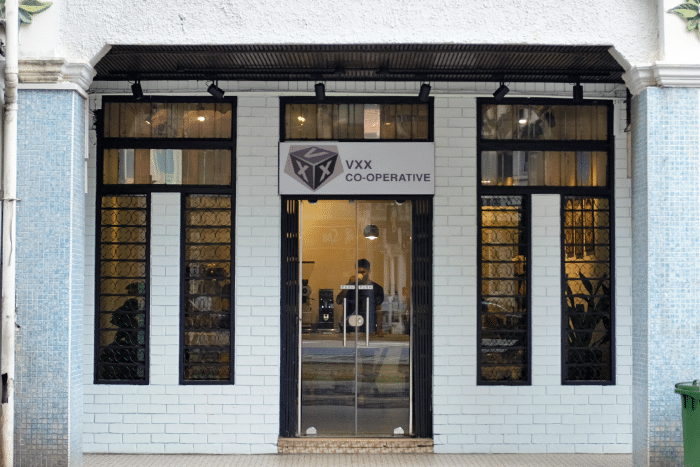 VXX clearly takes its coffee seriously, sourcing its roasts from all over the world. While Nylon Coffee would be familiar with most Singaporeans, other brews include Koppi from Sweden, Tim Wendelbow from Norway, and Malaysia's Cloud Catcher. Those who prefer tea will enjoy the selection from Tea Chapter, a local importer specialising in premium Taiwanese and Chinese blends. The equipment here is nothing too fancy – a secondhand La Marzocco and a Clever Dripper are the main axes.
Prior to opening the coffeeshop, Aslam took trips to Scandinavia for research, where he fell in love with the coffee culture there, particularly in Oslo, the capital of Norway. Top-notch coffee aside, the food in the cafes there is essentially simple and flavourful. Nothing too hard to recreate in your own kitchen, except for the soul of course. VXX attempts to bring that heartiness into its still-evolving menu.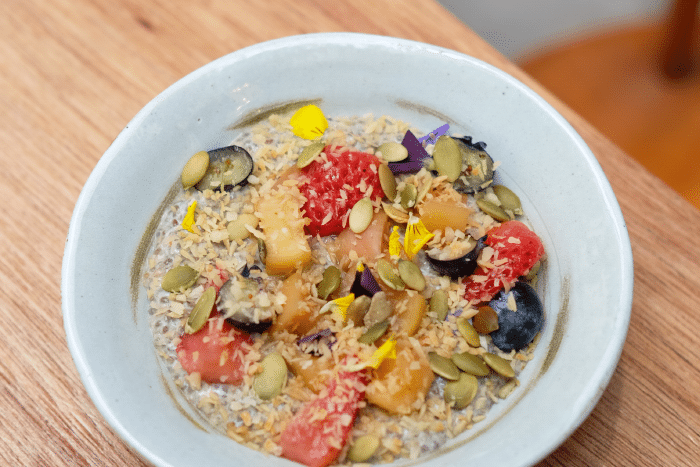 The menu is seasonal, so you can look forward to a fresh experience every three to four months. Currently, they have a larger menu, with a $16 nett set with a dish and a hot espresso-based coffee. When we were there, the Chia Seed Pudding ($8) with fresh berries, sunflower seeds, and toasted coconut flakes was great for something quick and refreshing.
For something more substantial, the Seasonal Asparagus ($15) is a great option. It's tasty beyond fault, lightly glazed in a French butter sauce and served with a sous vide onsen egg before being topped with shaved parmesan and some red radish. To leave it up to the chef, how about going for the Staff Meal option? It's usually cheaper than the rest of the dishes, and goes to show that the staff are well-taken care of. This can be pretty much anything, such as a Grilled Chicken Thigh with Root Vegetable Salad.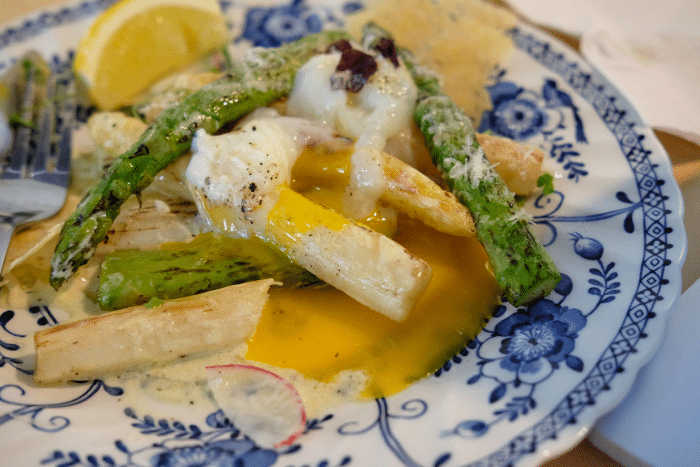 VXX Co-operative is fairly new, but it looks like it already has all the ingredients for a fantastic coffee joint: delicious brews, great food, friendly staff, a quaint heritage building (a personal plus for myself), and all-round good vibes. The shop is pretty barebones for now, and it'll be interesting to see how they make use of the empty second floor, but having seen Aslam and Joy's experimental spirit, we can safely expect a lot from this place.
VXX Co-operative is located at 20 Foch Road, Singapore 209261, p. +65 8720 0093. Open Mon-Fri 10am – 10pm, Sat-Sun 9am – 6pm.
*Update* VXX Co-operative has closed its Foch Road location