Weekend Getaway from Singapore: Rustic Luxe Living at Telunas Private Island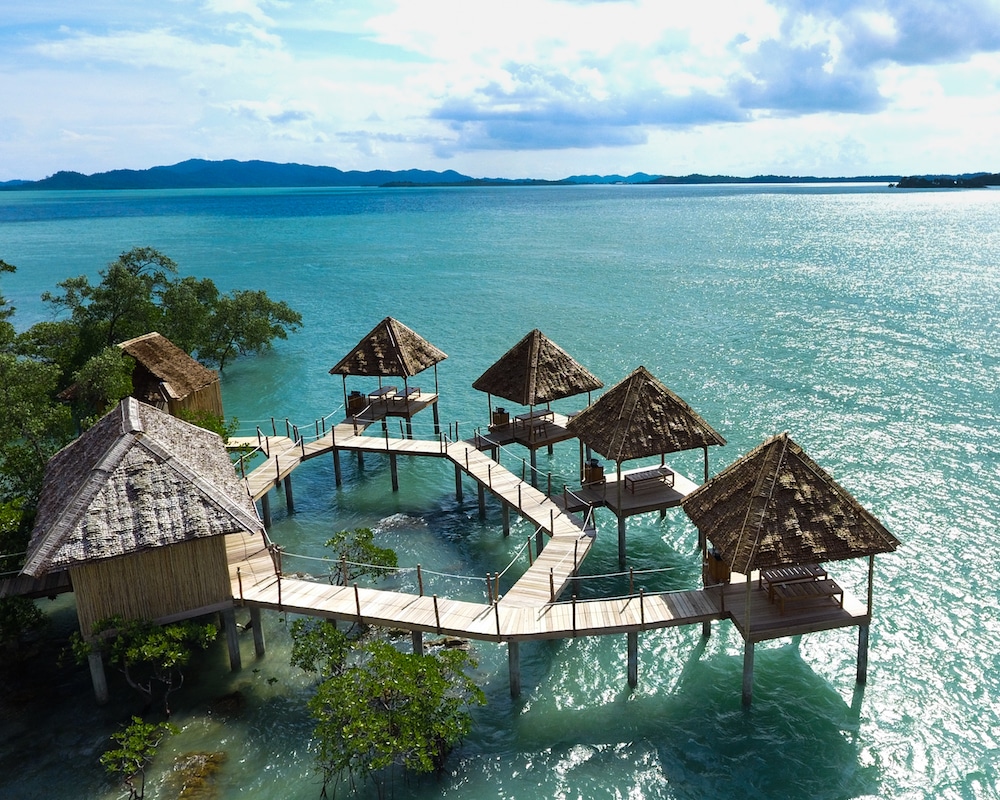 PUBLISHED March 8th, 2018 02:00 pm
The rise of adults-only resorts and private islands in Asia can only mean one thing – an increase in demand by urban folks for quiet (and sometimes exclusive) getaway equipped with the sun, the sea, and great hospitality. If you count yourself amongst those that need to escape the mad, mad world, a place like Telunas Private Island will do the trick.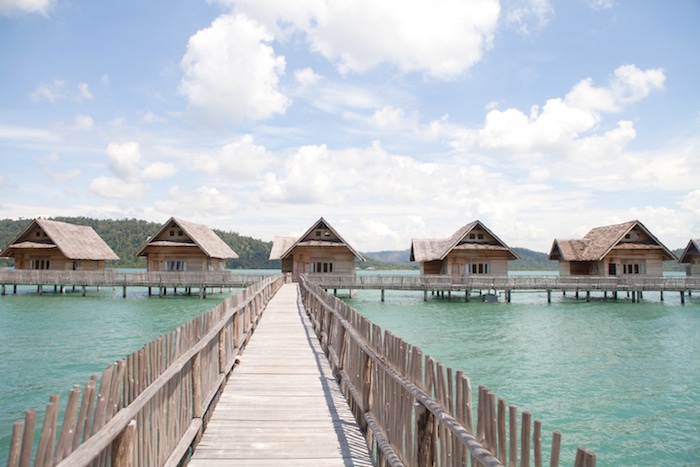 Getting There
Nobody said getting to a private island was easy – but in this case, it's worth it – and the toward the half hour journey to Telunas starts with a ferry ride between Harbourfront Ferry Terminal and Batam's Sekupang Ferry Terminal. There are two timings to choose from ferry operator Batam Fast's daily sailings. As the ferry pulls out of its berth and gains speed past Resorts World Sentosa and Singapore's skyscrapers, one can't help but feel like it's really goodbye, Singapore.
The welcome on the other end by Telunas staff is a cheery one, as those going to the island can expect a 10-minute walk to the jetty next to Sekupang Terminal followed by an hour-long ride at the jetty right . Don't worry though, the staff handed out fruit and refreshments on the boat, so just enjoy the mini expedition through the archipelago.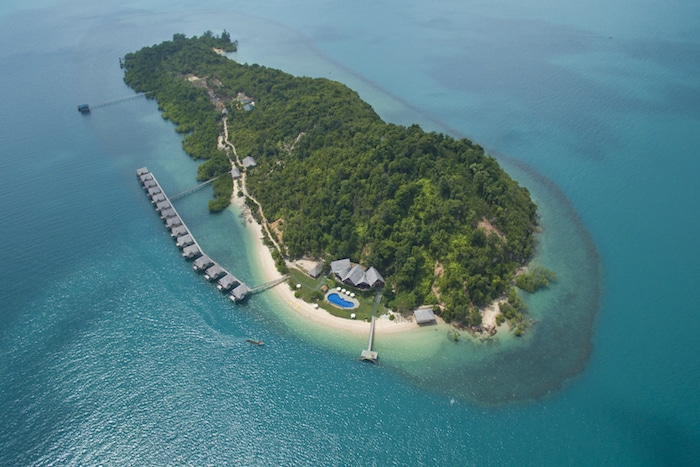 Reception
Indonesia is an hour behind Singapore, so taking the 11.10am ferry (the other is at 3.10pm) means arriving just in time for lunch. After a welcome drink of hot chocolate (aka Milo), we were ushered to the open-air dining room to have the meal first, before completing the standard check-in procedures – very considerate. The reception also has information on the complimentary activity of the day, such as cooking demos, and specific activities for the kiddos, as well as the shuttle schedule to their sister property Telunas Beach Resort across the strait. There's also a refreshment snack corner here, honour-style. So those looking for an ice-cold beer or snacks other than complimentary cookies in the restaurant can simply be paid upon checking out. Do note that they only accept Indonesian rupiah or credit cards on the island.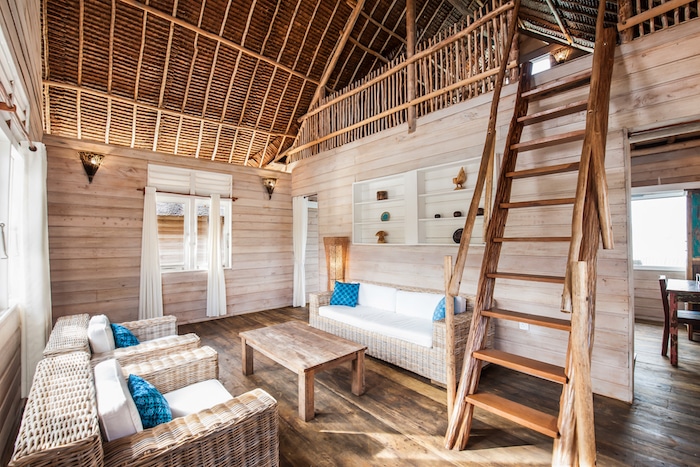 The Sea Villa
With only one accommodation type, Telunas Private Island only has 15 Sea Villas that are generously appointed at 90 square metres (968 square feet), each sleeping  up to two adults and three kids. Of the modern comforts and conveniences, we're used to, there is no wifi and no air conditioning. Frankly, there's no need for the latter or even the ceiling fan installed. Constructed with wood on stilts over water, the villa has a natural self-cooling system and we actually fell asleep with the balcony doors open to the fresh sea breeze. The furnishings are made by upcycling wooden boats adds to the rustic vibes while the curtains and throw cushions add pops of colour to the wood-heavy interiors.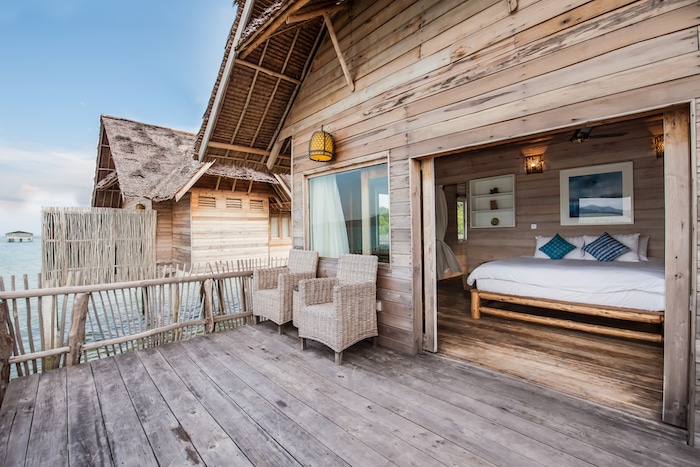 My favourite part of the villa is the private verandah, which sports stunning views of surrounding islands over the water in the day, and lovely star-filled skies at night. The bathroom is modern but basic, with a sink, toilet, and a rain shower, which thankfully delivered on temperature and pressure, at least. We like that the owners of the island are going green with water dispensers in the room instead of plastic-bottled water; and instead of providing a full range of toiletries, guests are encouraged to only ask for what they need. The long list of what's available includes baby shampoo, hair spray, make-up remover wipes, and slippers; short term loans of items like curling irons, free weights, yoga mats, and power adapters are also on offer.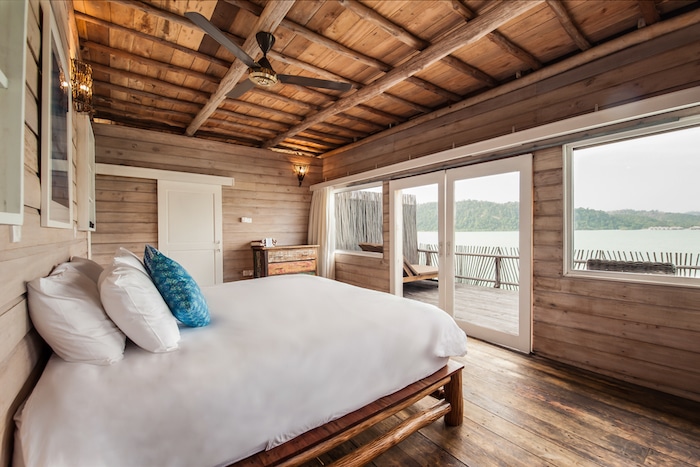 Food & Drink
Like most smaller private islands, all guests at Telunas are required to purchase the additional dining package – at IDR 850k++ per adult per night and IDR 450k++ per child per night – for daily a la carte meals, all of which are served at the restaurant. Served 7-9am, breakfast is a semi-buffet affair with the likes of pastries, cereals, fried bee hoon, and vegetable soup on the buffet line, as well as a la minute mains like waffles, eggs benedict, French toast, and nasi uduk (rice cooked in coconut milk with various side dishes).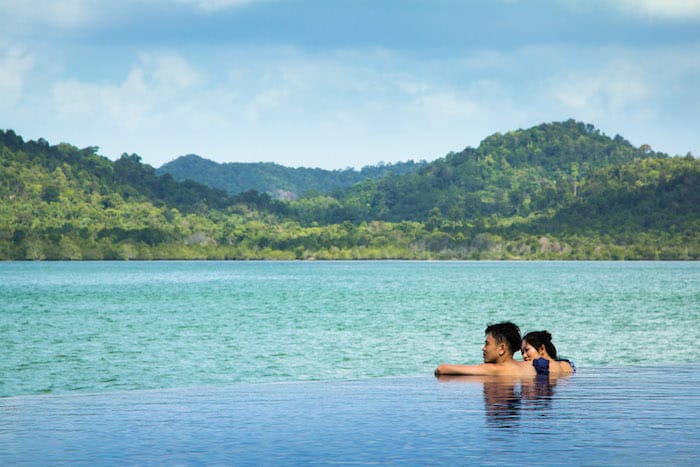 Lunch is a similar concept with a self-serve soup and salad bar, a hot main, and dessert while dinner takes the form of a three-course menu with three options for the main dish. Lunch on both days were excellent – think ayam goreng bumbu lengkuas (galangal marinated fried chicken on steamed rice with stir fried green beans and peanut fritters) and udang bumbu Bali, Balinese-style grilled prawns with vegetables and stir fried egg noodles. Between the Western desserts like cream cheese brownies and tiramisu and local sweets such as the traditional waljie (glutinous rice cooked in coconut milk and palm sugar), we much preferred the latter. So, when in doubt at Telunas, go local.
If you enjoy wining while dining, the restaurant doesn't charge corkage so don't hesitate to grab a couple of bottles on your way out of Singapore. Alternatively, there's a poolside bar, open 11am-9pm, that touts bites and alcoholic beverages near the activities shed.
The weather wasn't ideal for a treatment at the outdoor spa (chargeable) nor for any of the water and land activities (complimentary, includes kayaking, volleyball, and badminton) over the one-night stay. And unfortunately, snorkeling isn't possible here as the island is near the mangrove swamp, making the bottom of the sea too muddy. However, from the experience, Telunas Private Island is a great way to disconnect – we mostly caught up on sleep debt and enjoyed being closer to nature – thanks to the no-wifi policy. And you know what? It might not be a bad thing.
The Sea Villas at Telunas Private Island start at IDR 2.95 million++ a night for two adults, exclusive of dining package. For more information and booking, see website.
Top Image: Overwater Spa