Taipei – Essential Travel Guide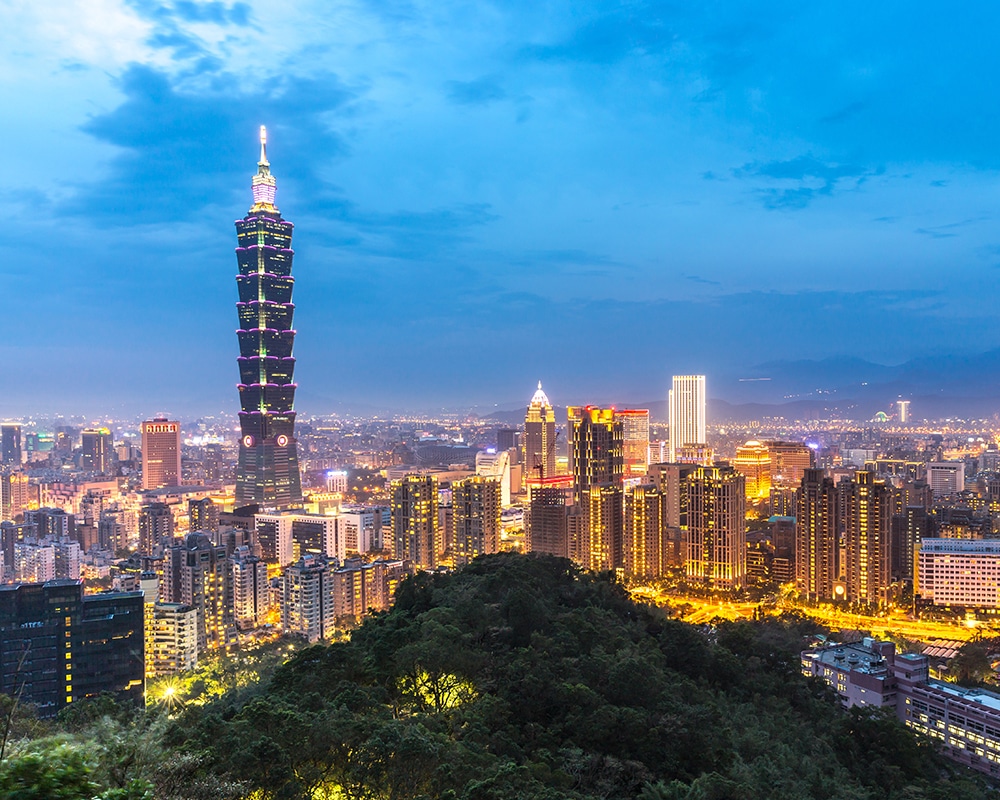 PUBLISHED May 3rd, 2016 11:15 am | UPDATED March 26th, 2019 01:05 pm
Taiwanese people are said to be one of the friendliest in the world, and what better place to experience that than Taiwan's capital, Taipei?
Located in the northern part of the island, in a basin between Yangming Mountains and Central Mountains, the city serves as Taiwan's financial, cultural, and government center.
Home to some 2.6 million inhabitants, the city has several districts filled with different sightseeing, dining, nightlife and accommodation options.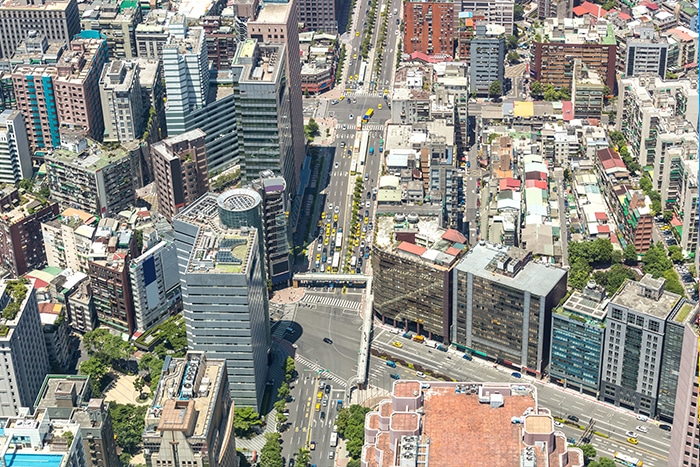 Climate
The semi-tropical climate in Taipei is characterised by hot and humid weather. The best time to visit Taipei is from November to January, where rainfall is at the lowest and the temperature averages at 20°C. The period of February to April is particularly wet with little sunlight and thundery showers. Typhoon season lasts from May to October, with the highest concentration in August and September.
Otherwise, the weather in Taipei is perpetually difficult. A bright morning can quickly turn into a hard and heavy rain, so always be prepared with extra layers and umbrellas, even in the summer.
Getting there and away
Air. Taoyuan International Airport is the main airport serving Taipei, and is also main international hub for China Airlines and EVA Air. The busiest international point of entry to Taiwan.
Closer to the city is the domestic airport Songshan, at the northern end of Dunhua North Road. Numerous flight arrive daily and depart for all major Taiwanese cities, as well as outlying islands. Songshan also serves flights to China and Tokyo's Haneda International airport.
Land. All domestic trains within Taiwan, whether Taiwan High Speed Rail or Taiwan Railway, will arrive and depart from the Taipei Railway Station on Zhongxiao West Road. Ticket counters are on the first floor and platforms on B1.
Likewise, inter-city buses arrive and depart from the Taipei Bus Terminal, just behind the Taipei Main Station. Government-run buses (gong che) are blue and white, and are fitted with lesser facilities as compared to their private counterparts. Buses operated by private companies sport amenities such as tv screens, game monitors, and reclining chairs.
Getting to and from Taoyuan International Airport
Taoyuan International Airport is located about 30 km from the city. There are any number of ways to get to and from the city, from cheapest to most expensive: bus, high speed rail, taxi, or chartered cars. There are plenty of freeway buses outside the airport that take you to Taipei, which take around an hour. From mid-2016, a newly built MRT line will connect the airport to the city.
Getting Around Taipei
On foot. Taipei is a massive city, but walking around is the best way to spot and savour the hidden gems along the streets. Rub shoulders with the locals, bask in the bustle of the city, and save some money at the same time.
Bicycle. Motorised traffic is heavy in Taipei, but bicycles are still a convenient form of transport, with long bike paths running alongside most rivers and cycling is permitted on pavements. With the YouBike bicycle rental programme, citizens and tourists alike can use EasyCard to check out a bike at most metro stations.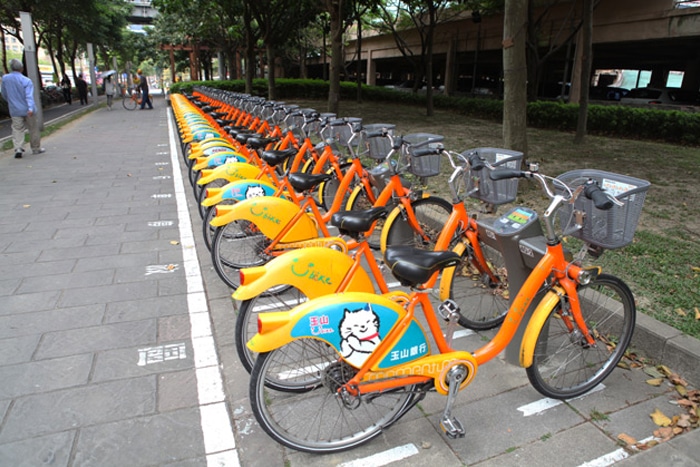 Train. Taipei's Mass Rapid Transit system is known as the MRT, or Metro Taipei, and runs from 6am to 12am. Stations and trains are clearly indicated in English, and stops are announced in Mandarin, Taiwanese, Hakka, and English. If in doubt, most stations have information booths right next to the ticket vending machines (fares costs around NT$20-60). Make sure not to eat or drink in the stations or on trains!
Bus. The bus system is Taipei is extremely efficient, even for tourists, as all buses display route and destination names in English. The tricky part is knowing whether to pay before or when alighting the bus. Above the driver is an electronic red sign – when it displays '上' (up), then you pay when you get on. If the sign displays '下' (down) when you are alighting, you will have to pay a second time. If '下' is lighted when you get on, pay only when alighting. Payment can be made by cash (NT$15 or NT$30) or EasyCard.
Taxi. Taiwanese taxi drivers tend to be friendlier that those in other Asian countries, and taxis are also cheaper with meters starting at NT$70. Note that most taxi drivers are unable to speak English, so it is advisable to have your destination written down in Chinese. Tipping is unnecessary.
Where to stay in Taipei
Budget Hotels (Less than US$25 per night)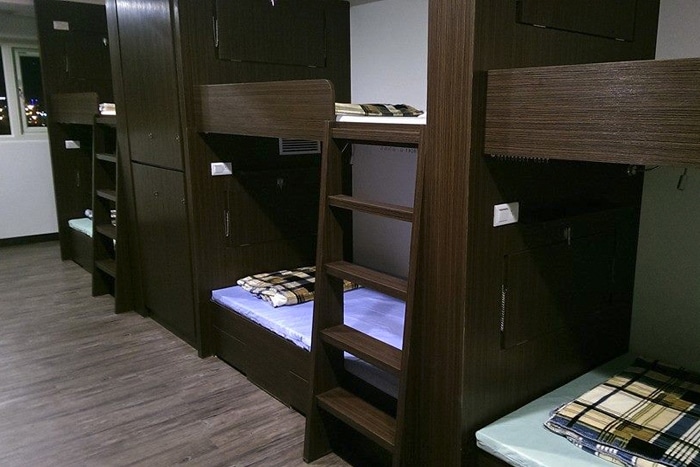 Sleepy Dragon Hostel (US$18 a night) – Owned by a very amiable couple (and their cat) who will help fulfil whatever needs you may have. Near a night market, station, coffee shops and a bike rental shop. Cabin-style beds have a private curtain, lockers, light, and plugs. Located at 7F, No.399, Section 5, Nanjing East Rd.
On My Way Taipei Hostel (US$18 a night) – 5 minutes walk from Beitou Station. Friendly and knowledgable staff, and a short distance from the center of town, public hot springs and the market. Located at No.82 Guangming Rd.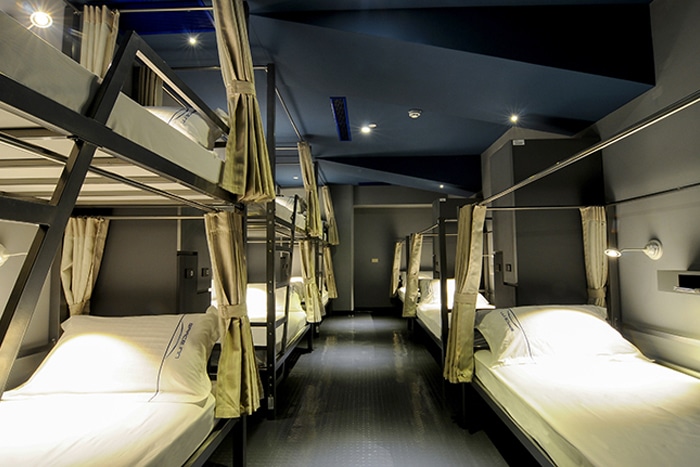 First Hostel (US$19 per night) – Mixed and female-only dorms. The hostel has been around for 40 years and have small but cosy rooms with renovated facilities. There are several restaurant options within the building. Located at MRT Taipower Building station Exit 3.
Space Inn (US$21 a night) – A space-themed hotel (think NASA) with a games and TV area, fully equipped kitchen, large communal bathrooms, and large lockers for the dorm rooms. Located at B1, No.51 Hengyang Rd.
Homey Hostel (US$21 a night) – 3 minutes walk to Taipei Main Station,  McDonald's and a 7-11 for midnight cravings. Fast WiFi, comfortable bed and blanket with an elevator for heavy luggages. Located at 7F, No.180 Chung'an West Rd.
Mid-range Hotels (US$25-100 per night)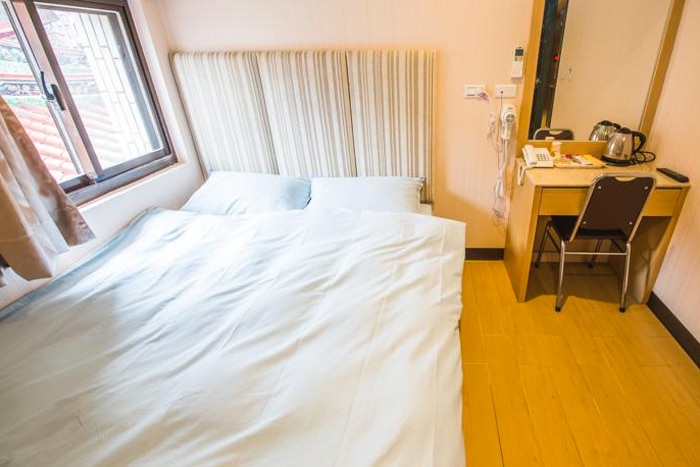 TW1 Hotel (US$62-100) – Situated in Wanhua District, 100 metres from the Ximending Shopping Area and walking distance away from the Presidential Office Building and Taipei Songshan Airport, some rooms in the hotel even include a private hot tub and satellite TV. Features a 24-hour front desk and car hire. Located at 10F., No. 144, Section 1, Zhonghua Road.
Longshan Inn (US$42-85 per night) – A short distance from Longshan Temple MRT Station, Longshan Inn features guest rooms with a private bathroom and a 24-hour front desk. Right next to Huaxi Street Night Market, it is just a 25-minute drive away from Songshan Airport. Daily maid service is provided. Located at No. 13-1, Lane 125,Section 1, Xiyuan Road.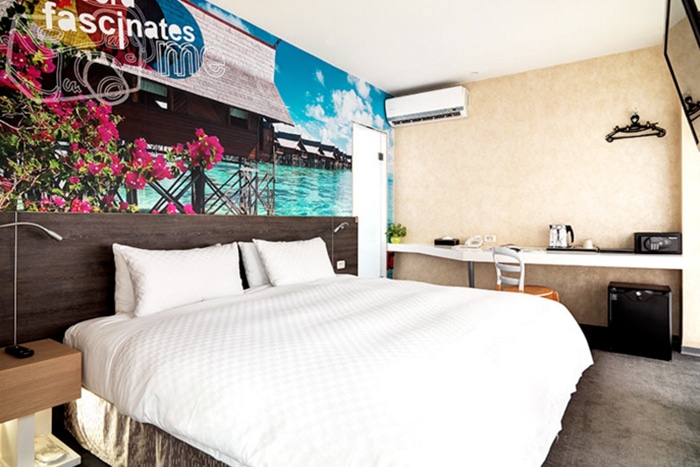 City Inn Taipei Station Branch I (US$80-100 a night) – Just five minutes away from the downtown, with both Taipei Main Station and the railway within walking distance. Also in relatively close proximity to the National Taiwan Museum, 2-28 Peace Park, and Taiwan Storyland. Rooms are sleek and contemporary with an LCD TV and complimentary toiletries. A 24-hour communal kitchenette is also available for use. Located at No.7, Huaining St.
City Inn Plus Ximending (US$80-95 a night) – One of Taipei's best rated hotels on Tripadvisor, with Ximen MRT right at your doorstep. The stylish rooms here are equipped with a fridge, LCD TV and decorated with colourful artwork. Free drinks and coffee available in the lobby. Located at No 81.Chang-An West Rd.
Luxury Hotels (US$100+ per night)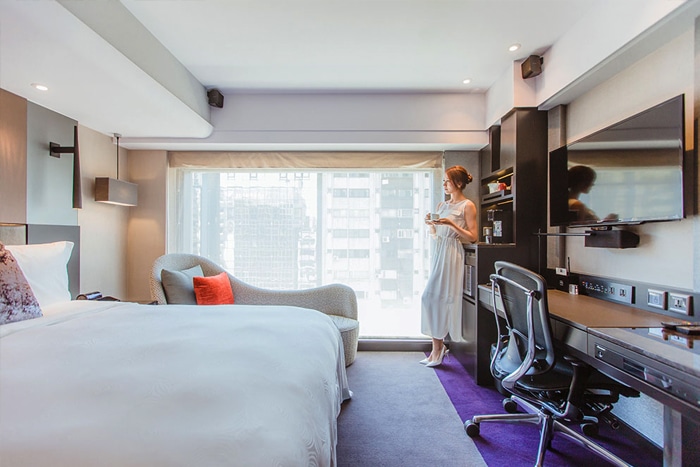 Tango Hotel Taipei LinSen (US$115-280 a night) – Right smack in the middle of Taipei's prime commercial area, Tango has the benefit of being located away from the hustle and bustle of the city while still close enough to the shopping district. Each room comes fitted with a DVD sound system, LCD TV, imported European furniture, and a marble bathroom with a home spa. For those in need of a workout, the hotel also has a Health Club and a massage centre. Located at No. 12 Ching Cheng St.
Les Suites Ching Cheng Hotel (US$220-370 a night) – Located near Taipei's most popular attractions such as the National Palace Museum and Memorial Hall. The surrounding gardens and manicured landscaping make this hotel a natural retreat. Fantastic Thai and Chinese cuisine dining options on-site, with a pool and fitness centre. Located at 12 Ching Cheng St.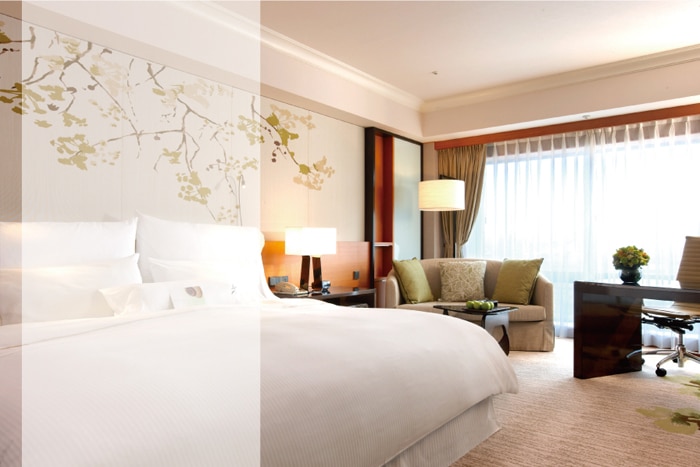 The Westin Taipei (US$480-1100 a night) – Situated between the business and commercial districts on Naking East Road, near Taipei 101 and the local night markets. Wide-ranging facilities such as a cinema and 1200sqm Westin Workout gym. Located at No. 133, Section 3, Nanjing East Rd
Mandarin Oriental (US$900-1300 a night) – As premium as it gets, enjoy a gorgeous city view from your room, a wellness & yoga centre, communal sauna, and a coffee machine in each room. Mandarin Oriental is a five-minute drive from Songshan International Airport and half an hour from Taoyuan International Airport. Located at 158 Dunhua North Rd.
Places to visit in Taipei
Taipei 101

The number one icon in Taipei, and perhaps Taiwan, Tapei 101 is a 101-floor, 508-metre high skyscraper (the second tallest in the world) that boasts of the world's fastest elevators – you can zip up to the 89th floor observation deck in a mere 37 seconds. Designed to resemble a bamboo rising from the earth, the building houses a massive shopping complex below and tons of office space, literally.
Ximending

A popular hangout for youths, Ximending is often called the Harajuku and Shibuya of Taipei. Here you'll find plenty of Taiwan fashion, subculture, and even Japanese culture. One of Taipei's most important consumer districts, clubs and pubs surround the area as well.
National Palace Museum

The world's best collection of Chinese historical artifacts and antiquities. The nearest MRT station is Shilin (士林), with frequent buses from Shilin heading for the Palace Museum. Look for the displays on the buses. Some are written in English. It's a must-see for first time visitors. Admission tickets (Adults NT$ 250) can be combined with the nearby Shung Ye Museum of Formosan Aborigines.
Daan Forest Park
One of Taipei's newest parks, it is colloquially known as Central Park due to its size and location. Bordered by Xinyi Road, Jianguo South Road, Heping East Road, and Xinsheng South Road, the park spans across 26 hectares. Come here for some peace and to experience the a quieter side of modern Taipei.
Lungshan Temple

For the longest time, countless generations of Taiwanese people have come to pray and seek guidance at this temple, such as who to marry or what to name their children. While technically a Buddhist temple (dedicated to Guanyin, the Goddess of Mercy), there are many elements of folk religion imbued into the building. Lining the streets of Wanhua where the temple is situated, you can observe blind masseurs and fortune tellers aplenty.
Tamsui Fisherman's Wharf
Head to the Tamsui, where you'll find plenty of seafood, both fresh and cooked. The fish dishes here are amazing, from fish ball soup, to Agei (fried tofu with fish paste). Look for Zhenli Street, where you can feast on spiced eggs while sipping sour plum juice at Grandma's Tiedan.
Chiang Kai Shek Memorial Hall

A national symbol for both Taipei and the Republic of China, the nation's flag is raised every morning in the huge courtyard in front of the memorial. Inside you'll find a large bronze statue of Chiang Kai-shek being watched over by two honour guards, changing shifts hourly with a rifle twirling ceremony. Out in the grounds, there is a beautiful garden complete with Chinese-style ponds.
Maokong Gondola & Hilltop Tea Gardens
From the Gondola station, you can take the Maokong Gondola (which is really a cable car) up over the city overlooking some scenic tea plantations. The cable car trip lasts 20 minutes as is a real steal at NT$50. From up there, walk around the area and explore the laidback Hilltop Tea Gardens, where you can indulge in some of the island's finest tea blends.
Xinyi Shopping District
Known as the Manhattan of Taipei, the newest area of urban Taipei brings together upscale malls like Neo19 and Breeze Songgao, cinemas and the whole range of international cuisine. Xinyi Eslite Mall is also home to the ever-popular Eslite Bookstore, which operates 24 hours everyday and covers several floors. This is where the annual New Year Party is held.
Bopiliao Old Street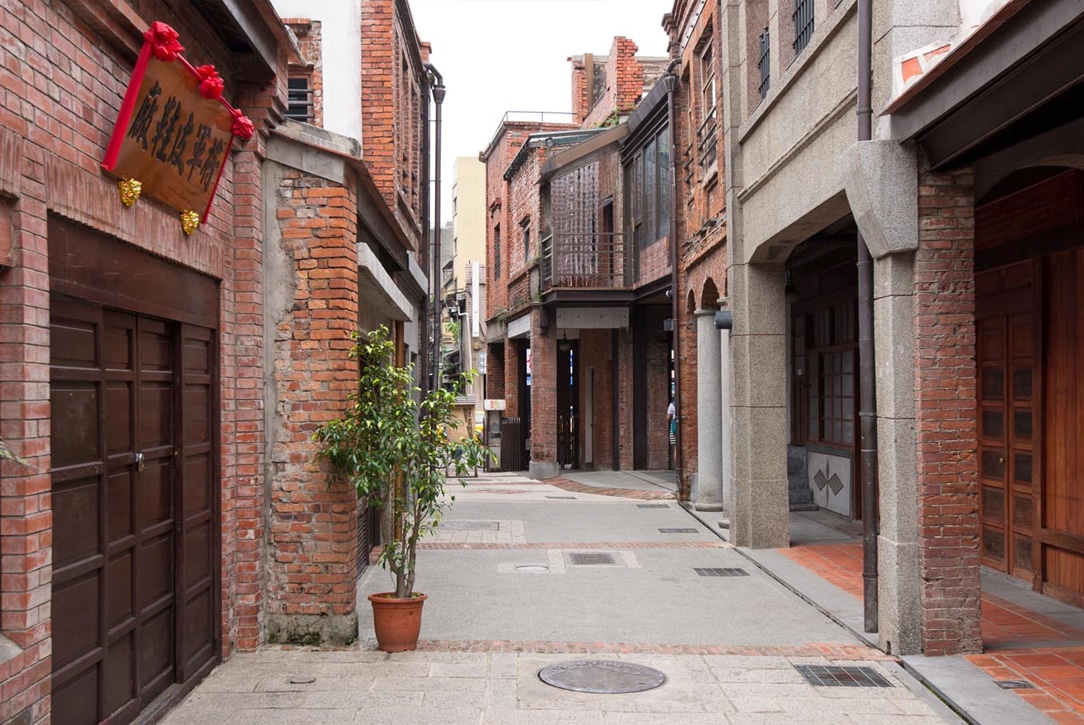 Located near the famous Lungshan Temple, this street is one of Taipei's most popular attractions in recent years. Full of art, crafts and creative wall painting, Bopiliao has been around through different periods of the Qing Dynasty from 1644 to 1911, and till today still retains the same look from 200 years ago. Here you'll find a book printing company, a barbershop, an inn, a knife shop, a tearoom, and even a rice company.
Where to eat and drink
If you come to Taipei and don't eat much, you're not experiencing the best the city has to offer. Think spice-cooked meats, fried chicken, soy pudding, tall ice cream cones, shaved iced, milk teas, bread, fresh fruit, and more.
Local Eateries
Tao Yuan Street Niu Rou Mian – If nothing else, you must eat Beef noodles, the lifeblood of Taiwan. The one here is especially greasy and beefy, with soft chewy noodles and generous portions of thick beef brisket with fatty bits thrown into the salty red broth. Great if you like strong flavours. No. 15, Taoyuan St.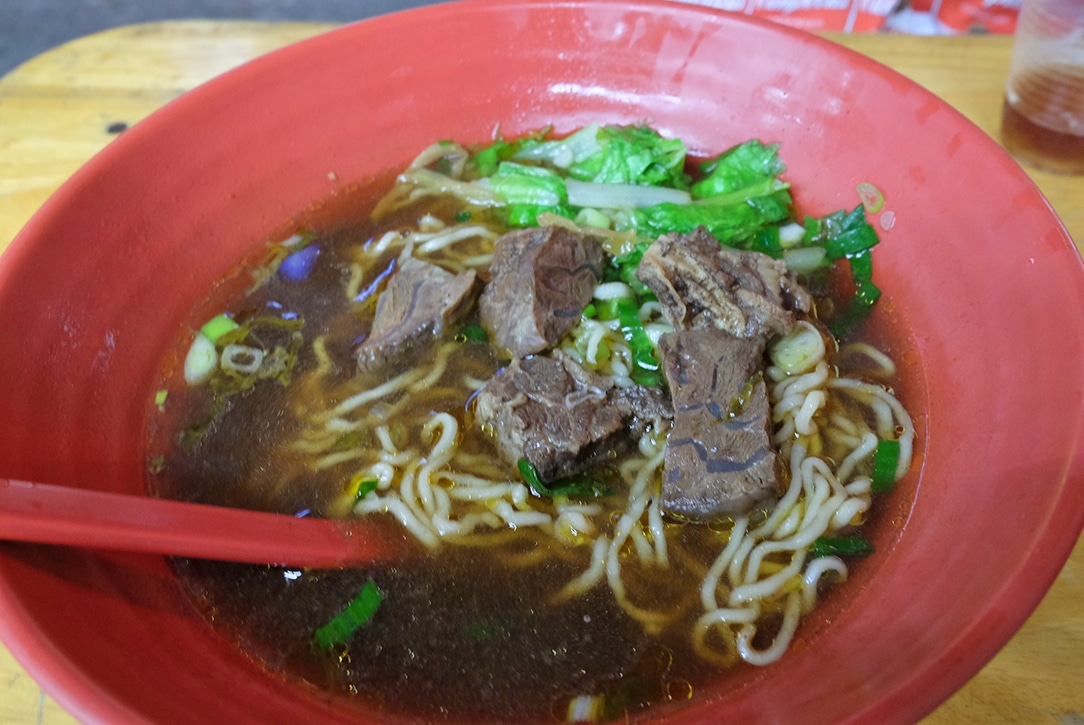 Ah Zong Mian Xian – 40NT for a bowl of salted flour noodles with bits of pork intestines thrown in. Add in vinegar, chili oil, and garlic, and we bet you'll head back for more every day of your trip. 15 Tao Yuan St.
Fu Hang Soy Milk – Fu Hang Soy Milk is an extremely popular breakfast spot in Taipei, with locals and tourists lining up as early as 5.30am each day. Known for their soy milk, shao bing, and dan bing. HuaShan Market Building, 2F No. 108, Section 1, Zhongxiao East Rd. 
Hangzhou Xiaolong Tangbao – Described as the poor man's Din Tai Fung, the xiao long baos here are a great alternative for those on a budget (NT$120 for a basket). The shop sells quality dim sum as well at affordable prices. No. 17 Er Section, Hangzhou South Rd.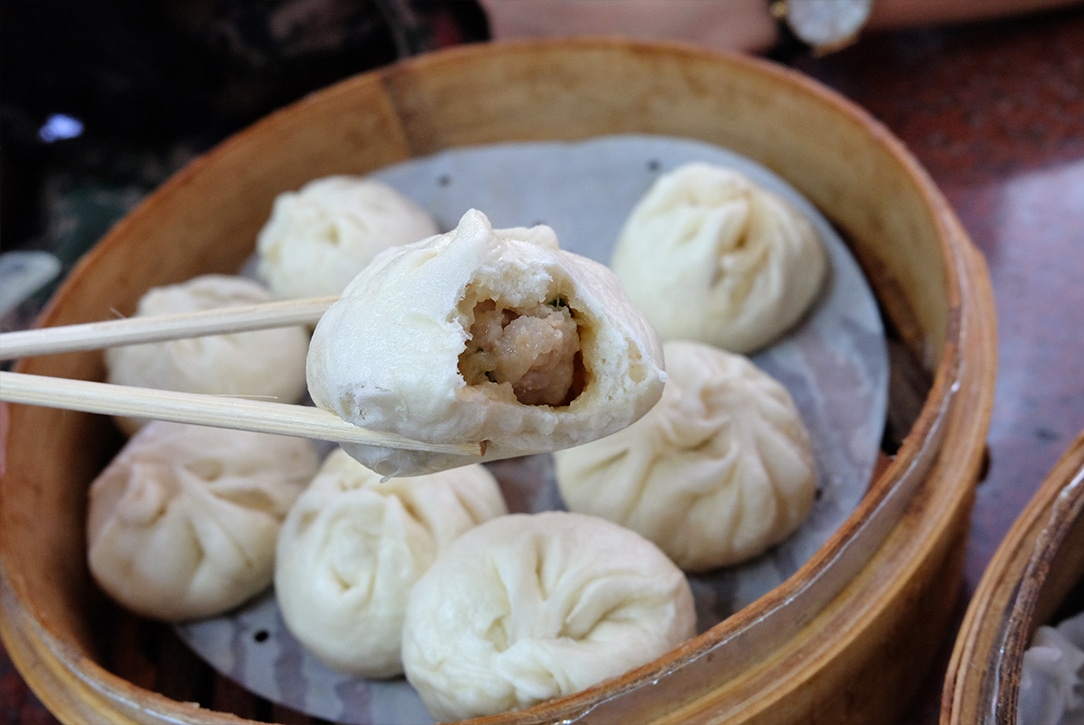 Formosa Chang Lu Rou Fan – Also known as Hu Xu Zhang, come here for the tasty bowls of braised pork rice, which is also a traditional Taiwanese dish. Comes with several side dishes such as veggies and soups. No. 533 Youji Road.
Night Markets

For cheap and good Taiwanese fare, look no further than the night markets that have put the island on the world map. Some are open during daytime, while all are open till around midnight. There's a huge variety of food here with classic items such as Grilled Squid, Cheese Baked Potato, and even fried Oreo. There's a few in every district, so any you find is good bet.
Shilin Night Market – No. 101, Jihe Rd, Shilin District. Open 5pm to 1am daily.
Shida Night Market – Lane 44, Taishun St. Open 11.30am to 11.30pm daily.
Raohe Street Night Market – Raohe St and Sec. 4, Bade Rd and Fuyuan St. Open 5pm to 12am daily.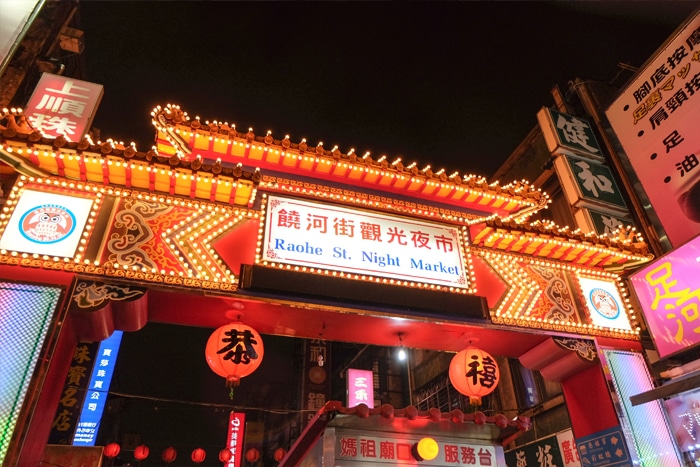 Huaxi Street Night Market – Intersection of Guangzhou St and Huaxi St, Wanhua District. Open 4pm to 12am daily.
Ningxia Night Market – Ningxia Rd, Datong District. Open 6pm to 12am daily.
Lehua Night Market – Yongping Rd, Yonghe District. Open 6pm to 12am daily.
Restaurants
Din Tai Fung – You've probably heard of this worldwide sensation that sells stellar Taiwanese food, and of course, xiao long baos (steamed meat buns with soup). While they have severals outlets in Taipei, we recommend you make a trip to Din Tai Fung's original outlet. No. 194, Section 2, Xinyi Rd.
Wulao Zhongshan – Hotpot restaurant with delicious soup bases like White Soup and Mala Soup filled with fragrant herbs and spices. Meat and seafood platters are highly value-for-money and restaurant has a cosy ambience with fantastic service. No. 36-1, Sec. 2, Zhongshan N. Rd.
Kanpai – Japanese BBQ meat and a casual fun vibe. Play Kanpai's daily game at 8pm, and you may just win a plate of choice-cut meat. Plus, couples get a free plate of meat for a kiss. No. 17 Lane 236 Dunha S. Rd.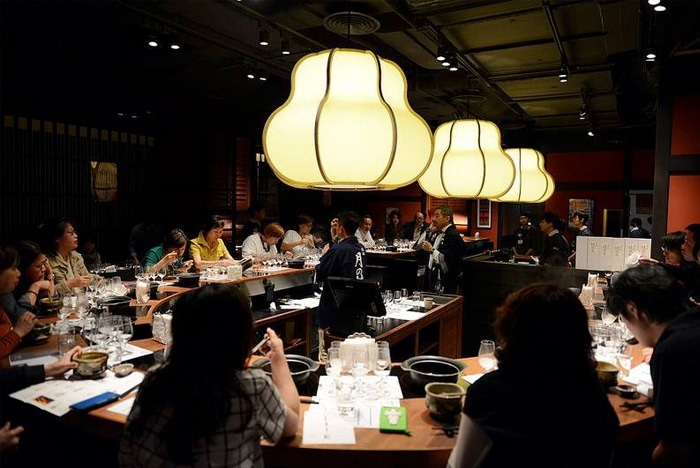 Cafes
For a city that drinks so much tea, the coffee here isn't so shabby. It's easy to find a cuppa that rivals some of the best in Australia or Italy.
Dazzling Cafe – A popular cafe especially for the ladies. Best known for its signature honey toast with flavours like Strawberry, Banana Chocolate, Mont Blanc, and Chocolate Fondue. No 11, Alley 7, Lane 205, Section 4, Zhongxiào East Rd.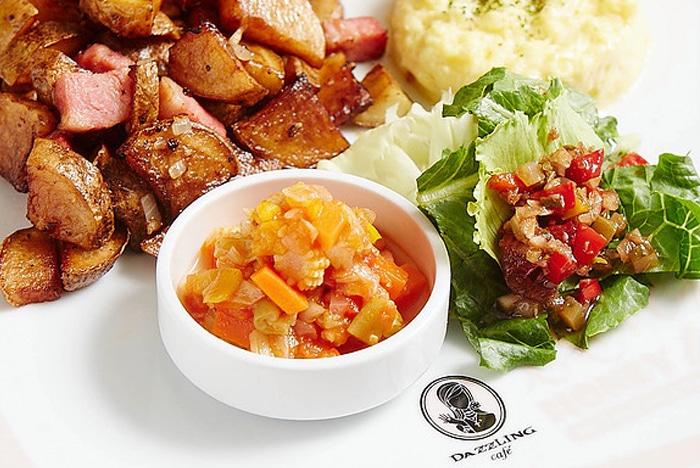 Fong Da – One of Taipei's original coffee houses that dates back to the 1950s, this famous shop was one of the first to offer iced coffee. Now its main draws are retro interior and vintage Japanese siphon equipment that gives your drip coffee a lot of charm. 42 Chengdu Rd.
Luguo Cafe – Situated in a quiet heritage building in the historic Dadaocheng area, you'll find locally grown coffees from the Alishan region, served without milk to fully enjoy the delicate floral scents and roasted character reminiscent of tea. 2F, No.1, Lane 32, Section 1, Dihua St.
Smith & Hsu – A simple and clean space for two things: scones and tea. Buttery, warm, with a light glaze crust, we could spend the whole afternoon here if there weren't so much other food to try. No. 8, Section 5, Zhongxiao East Rd.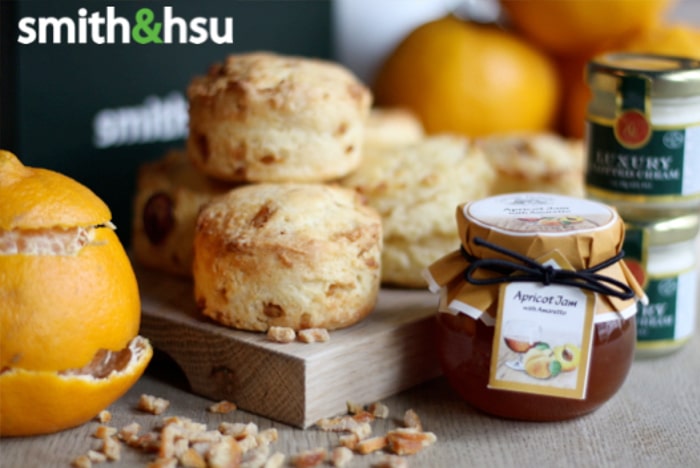 8% Ice Cream Shop – A dope ice cream parlour that looks more like a laboratory than a shop. Serves up the creamiest gelato with classic flavours like matcha, banana and walnut, and pumpkin sesame. No 6 Lane 13 Yong Kang St.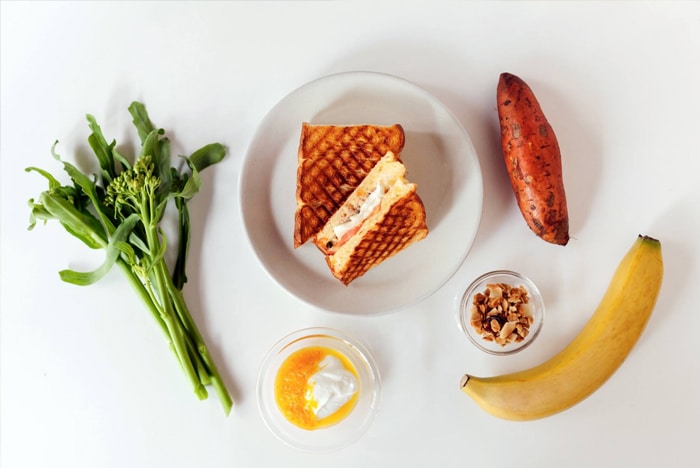 Nightlife
Bars
Alchemy – Step through a secret bookshelf door and go back in to the speakeasy days at Alchemy, one of our favourite bars in Taipei. Serving up innovative cocktails with mostly Asian ingredients such as miso, sake and chrysanthemum, this is the place for nostalgia lovers who enjoy a touch of prohibition era jazz and the like. 2F, No. 16-1, Sec. 5 Xinyi Rd.
Ounce – Hidden at the back of a hipster cafe, Ounce is a nice and cozy speakeasy that has some of the best cocktail concoctions in Taipei, at affordable prices. The space is small, so be prepared to wait a bit for your boozy. But trust us when we say it's worth your time. No. 40, Ln. 63, Sec. 2, Dunhua S. Rd.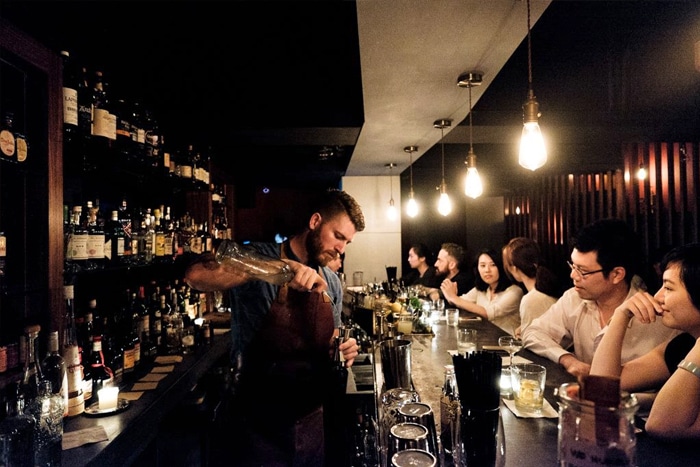 Barcode – Right on the fifth floor of popular shopping mall Neo19, Barcode is trendy with the stars, so don't be surprised if you see (or snag) a celebrity of two. Barcode is sweet because it offers private rooms and balcony seating where you can enjoy overlooking the bustling city below. Otherwise, the plush booths inside are nothing to complain about. Hip spot, expensive drinks. No. 22 Songshou Rd.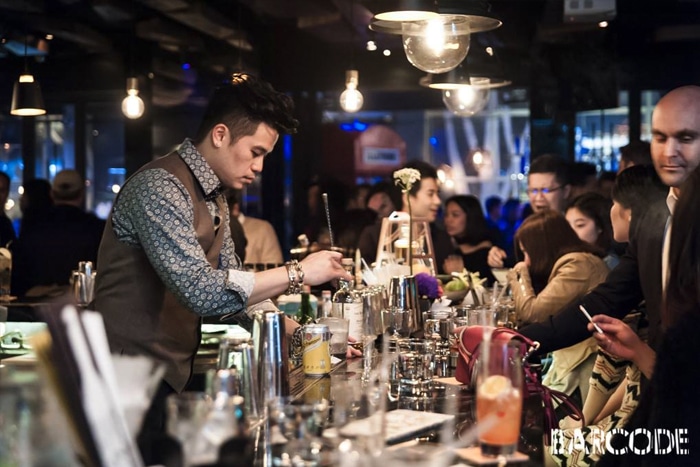 WOOBAR Taipei – The swanky decor here at this hipster spot is much on point, and while the drinks are somewhat expensive, they have a lovely range of fruity mojitos and signature cocktails that will satisfy most. We hear WOOBAR's truffles fries are definitely a must-try. 10F, No. 10, Sec. 5 Zhongxiao E. Rd.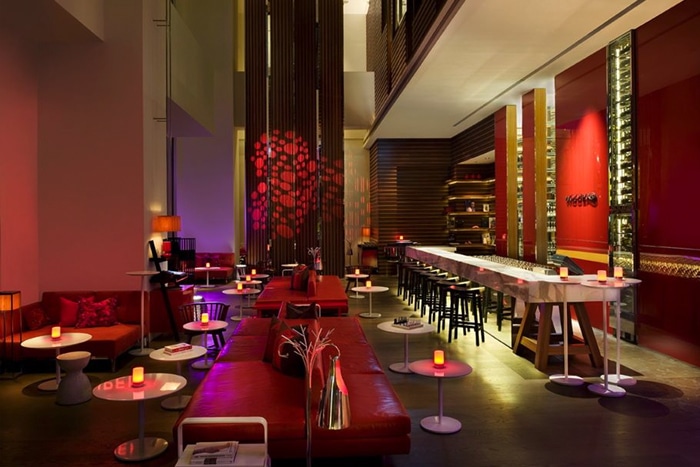 Brown Sugar – Famous for its smooth live jazz performances with a twist from New Orleans's, get your groove on to sultry Latin and Salsa music on certain nights as well, all while indulging in Brown Sugar's specialised Italian fine-dining menu and extensive wine list. No. 101 Songren Rd.
Clubs
Myst – An indoor waterfall and pond, 'nuff said. The high-end club Myst is currently in the lead for the title of Taipei's best club. Above the dance floor is a light feature made of 24 LED screens that changes colour and flash in sync with the club's music. Best part is, the club is open every single day of the week. No. 110 Songshou Rd.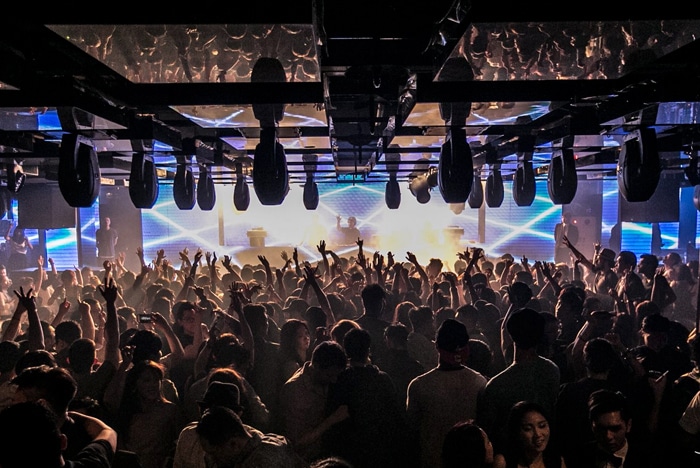 Halo – Lounge club with magnificent view of Taipei 101, especially from the balcony tables out in the open air. The music here varies depending on the night, but we hear the hip hop at Halo is one of the best in the city. 8F, No. 12 Songshou Rd.
Elektro – One of Taipei's larger clubs, the atmosphere is as the name suggests, electric. Take the elevators up to Elektro and you'll find a classy and refined space and perhaps some rich and famous Taiwanese celebrities to rub shoulders with. Here, party to house music as you pop bottles of champagne over their efficient table service. 6F, No. 12 Songshou Rd.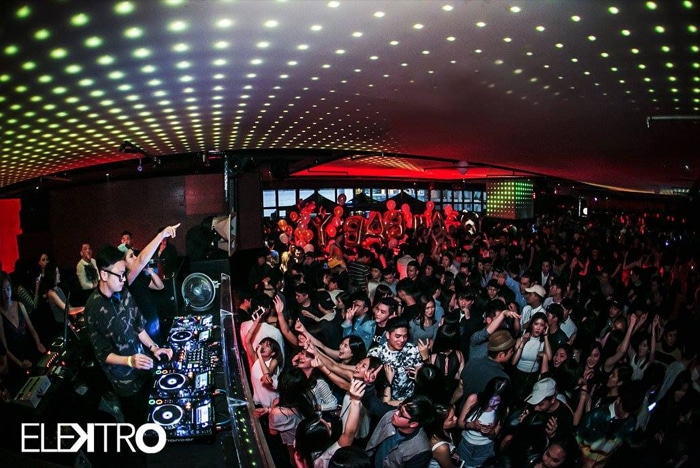 Shopping
Malls
Taipei 101 Mall – Taiwan's tallest skyscraper at 509 meters tall. The shopping center comprises B1 to the 4th floor, and has restaurants from the 86th to 88th floor. The most luxurious shopping venue in Taipei, you'll find world class boutiques and other renowned brands from around the world. Taipei 101 is also home to the world's highest Starbucks outlet on the 35th floor.
Miramar Entertainment Park – A shopping mall in the Dazhi area in Zhongshan District with an IMAX theatre and massive 70 meter ferris wheel (the same one seen in countless Taiwanese TV shows) with stunning views of the city. Houses several international fashion brands and has a huge food court below with decent fare.
Eslite Mall Xinyi – Literally, book heaven. The 24-hour upscale bookstore features a good English selection on the second floor and an ethnic music section in the basement. Don't be surprised if you end up spending hours here.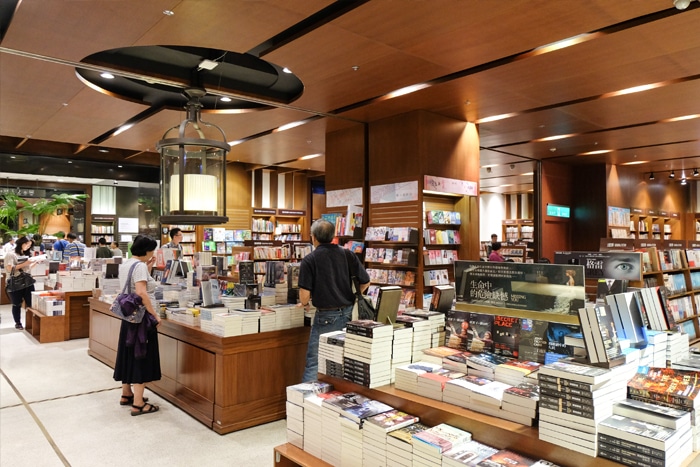 SOGO – One of the largest department store chains in Taipei, which stocks many boutique brands from luxury to beauty to high fashion. Head to the top floors where you'll find good coffee shops and overarching view of the city.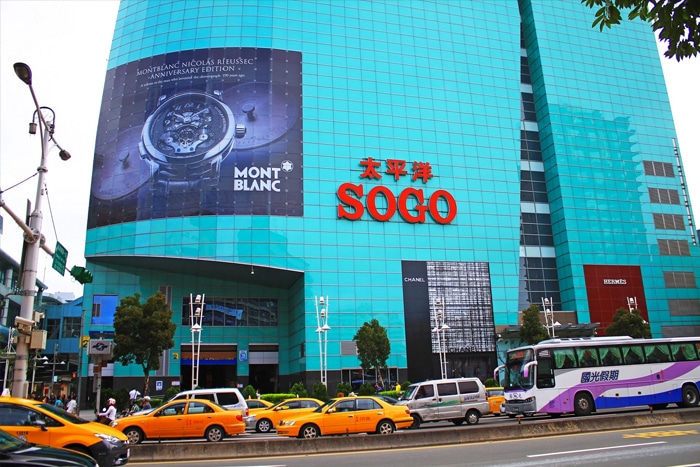 Guanghua Digital Plaza – Like your electronic goods and cameras? Take a trip to this mall, originally Guanghua Market, where you'll find a huge number of stalls selling hardware and software at extremely competitive prices. Also, check out the lanes near Kaifeng Street and Zhonghua Road.
Zhongxiao – Not a mall per se, hipsters rule the streets of Zhongxiao, a popular shopping and entertainment area with several large department stores and shopping malls along the entire stretch. Head towards the back lanes on either side of Zhongxiao road and you'll find plenty of indie boutiques, street brands, restaurants and cafes.
Night Markets
Whether you're on a budget or not, night markets are a must-go for any visitor to Taipei. These are the lifeblood of any Taiwanese city, and the lifestyle is embedded in the culture. Here's you'll find vendors who have been operating for decades, some even up to 50 years, peddling street food, clothing, hand bags, and more. However, most of the merchandise involves imitation of some sort. See above for our list of recommended night markets.
Festivals
Yangminshan Flower Festival – February to March. Most of the flowers in the Yangmingshan National Park bloom during this period. Expect a mesmerising sea of flowers such as sakura (cherry blossom), azalea, camellia, wild peony, peach blossoms and more.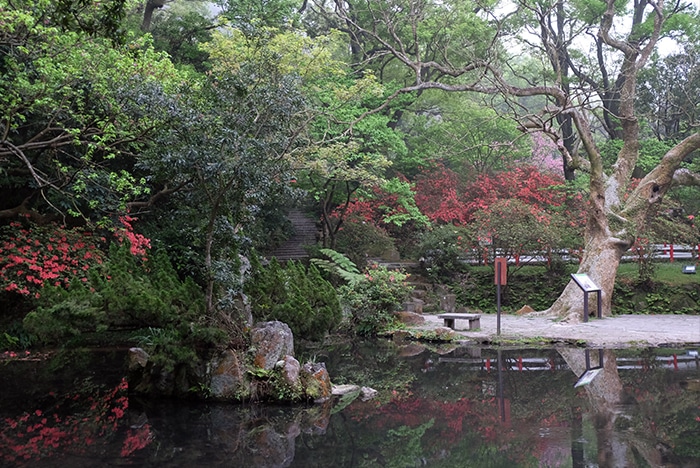 Taiwan Lantern Festival – February to March. Running for several days around the fifteenth day of Chinese New Year, the main event is held at the Sun Yat-San Memorial Hall and Taipei City Hall. Renai Road also features a gorgeous light display, with the tree-line boulevard transformed into a stunning tunnel of light. In Pingxi, huge red lanterns are released across the night sky, carrying dedications from those who release them.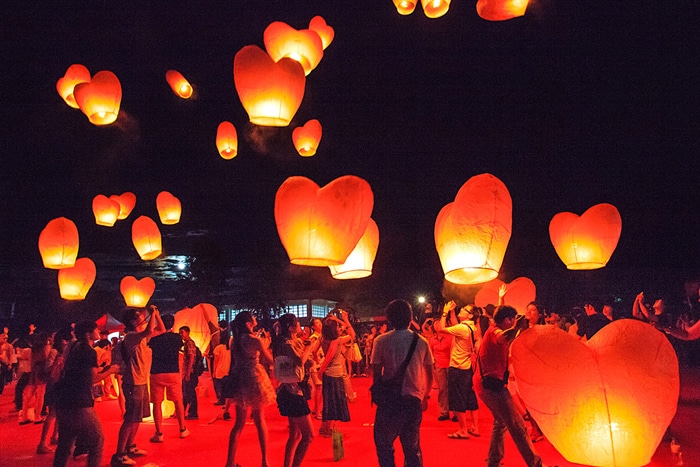 Taiwan International Festival of Arts – February to April. Presenting the works of renowned artists, performers, and musicians from Taiwan and internationally, TIFA aims to highlight the richness, diversity, and creative energy of Taiwan's performing arts sector and beyond.
Taipei Film Festival – March. An annual international event covering film and other film-related activities with screenings about 160 films from over 40 different countries. With approximately 100,000 attendants each year, the festival attracts moviegoers, film professionals, and stars from all over.
Dragon Boat Festival – June. This major Chinese festival commemorates the death of the Chinese patriotic poet Qu Yuan by racing colourful dragon boats at various rivers throughout the island. One of the best places to view a race in Taipei is the Bitan River. Unique sticky rice balls called zong zi are also eaten on this day.
Golden Horse Chinese Language Film Festival –  November. Perhaps the most prestigious film festival in the region, the Golden Horse is often referred to as the Cannes Film Festival of Asia. Featuring Chinese-language films (with English subtitles), submissions come primarily from Taiwan Hong Kong and China and there is also a non-competition foreign language category.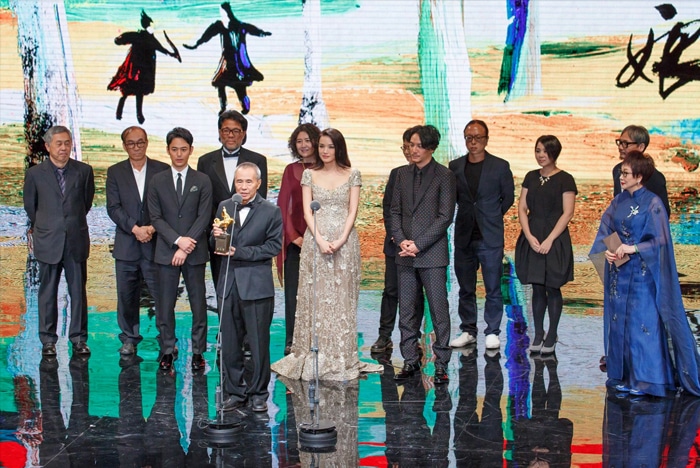 Day Trips From Taipei
Beitou
A 30-minute MRT ride north of Taipei takes you to Beitou, home to the largest number of hot springs and spas in Taiwan. Old stone bridges and wooden houses lends the town a nostalgic vibe, and the smell of sulphuric fumes and steam gives the appearance of a witch's cauldron. You'll find high quality spas, good hotels, and gorgeous accommodation.
Taroko Gorge

Situated near Taiwan's east coast and 15km north of Hualien county is the impressive 18km-long canyon known as Taroko Gorge National Park. Here, the blue-green Liwu River cuts through 3000 feet marble cliffs and picturesque vegetation, and serves as a sanctuary for half of Taiwan's plant and animal species. Taroko is also home to many high mountains, with 27 peaks over 3000m tall.
Alishan

Famous for its production of high mountain tea and wasabi, Alishan is also popular among tourists for its scenic views, sunrises, and mountain climbing. Officially known as Alishan National Scenic Area, the resort and nature reserve hides four villages, waterfalls, and tons of hiking trails.
Sun Moon Lake
Situated at the Nantou county of Taiwan at 760 meters above sea level, this lake is famous for its crystal clear, sparkling blue water and lush mountain backdrop. This is the country's largest lake is a popular spot for newlywed couples to take their photos. During the Mid-Autumn Festival, Sun Moon Lake hosts a mass swim, as more than a hundred swimmers swim 3km across the lake.
Jiufen

Until the 1950s, Jiufen was a prosperous gold mining town due to the discovery of gold during the Japanese occupation. Many of the buildings are unchanged to this day, and now the old town is filled with quaint Chinese and Japanese style cafes, tea houses, and souvenir shops. The beautiful town has provided inspiration for many period movies, including Hou Hsiao-hsien's A City of Sadness and Studio Ghibli's Spiried Away.
Tamsui

An old port town northwest of Taipei, Tamsui was once the center of Northern Taiwan's shipping and commerce industry. The town is still very popular with tourists and boasts many historical attractions and great sunset views. Tamsui is also the location used to film the Taiwanese movie Secret, by Jay Chou.
Yingge
This small town, a 30-minute train ride south of the city, is often known as the "Pottery Capital of Taiwan", great for those interested in pottery and ceramics. If you're heading to Taipei in October, check out the annual Yingge International Ceramics festivals that features exhibitions, demonstrations, classes, tours, and stage performances.
Essential Tips
Food and Drink
Food vendors in Taipei are upheld by strict hygiene rules, but there are still errant vendors all around. Play it safe and stick to stores with lots of local customers, or those which look generally cleaner. The oil is sometimes used plenty of times over, so take caution when eating deep-fried food.
Language
Mandarin is the main language in Taiwan, but you can find a good mix of Chinese dialects, such as Minnan and Hakka in Taipei. English is a compulsory subject in all Taiwanese schools, so most people under age of 35 should be able understand English to some degree, although very few are actually proficient.
Religion & Culture
Taipei has a good mix of people from many different origins, including Chinese migrants and native Taiwanese. The religious environment is dominated by Buddhism and Taoism, although many follow both, sometimes blended with folk beliefs. Christianity makes up a small minority, while adherents of Islam are even fewer in number. Due to its proximity to Japan, some Taiwanese follow Japanese religions such as Shintoism.
Society
Taiwanese people are one of the friendliest in Asia and quite possibly the world, a contrast from stereotypical 'Chinese' behaviour associated with mainland China and Hong Kong. It is in their upbringing to be hospitable towards guests, so don't be too surprised if a local goes out of their way to help you.
Weather Phenomenons
Typhoons are a relatively common occurrence during the period of May to October. Check out the Central Weather Bureau website for detailed maps showing approaching typhoons and live information of earthquake locations and magnitudes.
Safety
Violent crime is extremely rare in Taipei, but as in all large cities, you should still take caution against pickpockets, especially in the night markets. The local police is efficient and most police officers speak at least basic English, so do not be wary of approaching them should you require help.
At subway platforms, women can head towards the Safe Zones – sections that are under heavy surveillance.
Recommended length of stay in Taipei: 4 – 5 days