Where To Find Delicious Pho in Singapore: 8 Restaurants and Eateries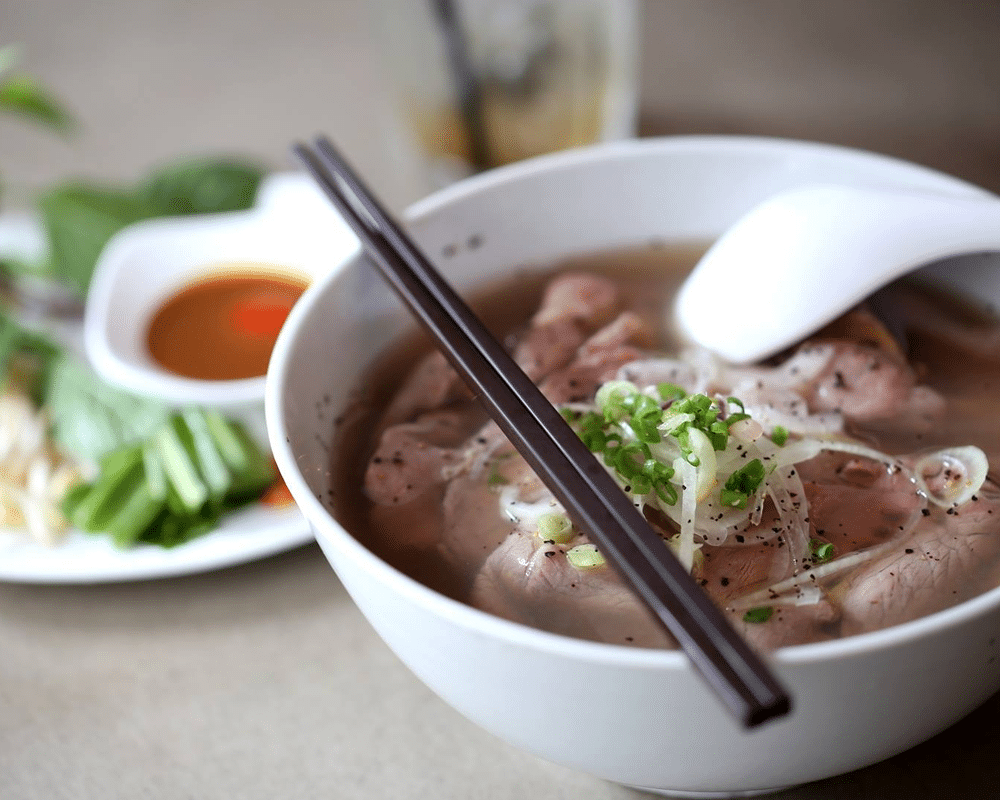 PUBLISHED May 9th, 2017 06:00 am | UPDATED December 22nd, 2017 02:46 pm
Did you know that Vietnamese food is one of the healthiest in the world? Generally low in fat, gluten-free and jam-packed with essential nutrients, this is one cuisine we could eat all the time and still not gain weight. Plus, they're absolutely delicious. And the most iconic Viet dish? That's right, it's pho.
---
Planning to visit Ho Chi Minh sometime soon? Read our guide to the 10 essential experiences that you should experience in the city.
---
Pho Stop

Pho Stop is more modern than most Viet restaurants in Singapore, but the food is satisfactorily authentic. Don't hesitate to fork out $10.50 for the Beef Feast Combo – sliced rib eye, beef brisket, and meatballs tossed into an impressively full-bodied broth filled with wavy noodles. Plus, an accompanying plate of fresh vegetables provides just the right crunch to liven up your meal.
Pho Stop is located at 72 Tanjong Pagar Rd, Singapore 088493, p. +65 6534 8178.
Fat Saigon Boy

Largely popular amongst the CBD crowd, look forward to Vietnamese favourites with a tinge of Australian influence (the chef Cang Lai hails from Melbourne). A hulking bowl of aromatic pho with liberal amounts of beef cuts costs $13 – immensely flavourful and clean, and perfect for a rainy day. Duck pho is available too.
Fat Saigon Boy is located at #01-02, 51 Telok Ayer St, Singapore 048441, p. +65 6221 6784. Open Mon 11am – 3pm, Tue-Thu 11am – 3pm, 6pm – 10pm, Fri-Sat 11am – 3pm, 6pm – 12am. Closed Sun.
Saigon Alley

The hippest of the lot, Saigon Alley presents a pretty yet authentic bowl of pho. Go for the Beef Combination Pho ($14), topped with generous portions of Australian beef collar, beef brisket, and beef balls. The broth is light and tasty, though not as rich as one would expect a beef broth to be, and the noodles firm and flavourful.
Saigon Alley is located at #01-06, 273 Thomson Rd, Novena Gardens, p. +65 6265 7662. Open daily 12pm – 2.30pm, 6pm – 11pm.
Long Phung

Perpetually packed to the brim, Long Phung has a full Vietnamese team and plenty of Vietnamese customers, so you know the food is as genuine as it gets. For the real deal, look no further than the classic Pho Dac Biet ($7), which comes with sliced beef, beef brisket, beef balls, and a raw egg in its spicy-sweet soup. Another variant is Pho Tai ($7), served with generous amounts of beef steak slices cooked rare and springy rice noodles.
Long Phung is located at 159 Joo Chiat Rd, Singapore 427436, p. +65 6440 6959. Open daily 11am – 12am.
Mrs Pho

Conveniently located along Beach Road, a hearty bowl of pho here costs as little as $7.90, but that doesn't mean they skimp on the ingredients. Rather, the Pho Bo Tai comes loaded with tender beef slices and mildly savoury soup filled with fresh cilantro, basil, and mint – the way it should be. For $1 more, opt for the Pho Dac Biet which comes with beef balls (flown in from Vietnam weekly), brisket, and a half cooked egg. If you're not one for beef, there's also the Pho Ga ($7.90) chicken version.
Mrs Pho is located at 349 Beach Rd, Singapore 199570, p. +65 6292 0018.
Viet Pho

Perfect for people working around Chinatown and Clarke Quay, Viet Pho keeps their customers coming back with their value-for-money Beef Noodle Set ($12.90) – your choice of sliced beef, beef brisket, or beef balls, a soft drink, and fried or fresh spring rolls. Expect tender beef and a tasty (albeit slightly fishy) broth.
Viet Pho is located at 18 Circular Rd, Singapore 049374, p. +656536 0045. Open daily 10am – 11pm.
Pho 4 All

As their name suggests, this place serves up a bowl of pho for everyone – it's halal certified too. Though the broth is lighter than the more full-bodied soups at other establishments, it's pretty darn tasty with perfectly seasoned and beef slices (or tender beef flank and beef balls), and a plate of fresh bean sprouts to go along. At just $10, the Pho Bo Tai Nạm can't be beat.
Pho 4 All is currently in the midst of relocation. Stay tuned for updates on its new location.
Mrs Pho House

While Beach Road's Mrs Pho specialises in the classic noodle dish, its sister restaurant Mrs Pho House attempts to bring you more than just that. Aside from three variants of Pho, the main stars here are really the seafood and communal dishes (think Vietnamese-style tze char), including items like Grilled Beef La Lot ($7.90), Mamma's Stewed Pork Belly ($12.90), and Saigon Chilli Prawns ($12.90). What's more, the prices are just as affordable, making for a great introduction to quality Vietnamese cuisine!
Mrs Pho House is located at 221 Rangoon Rd, Singapore 218459, p. +65 9173 1083. Open Wed-Fri 6pm – 10.30pm, Sat-Sun 12pm – 10.30pm.
---
Top Image: Pho Stop