Wholesome Meals and Laid Back Vibes at Bee's Knees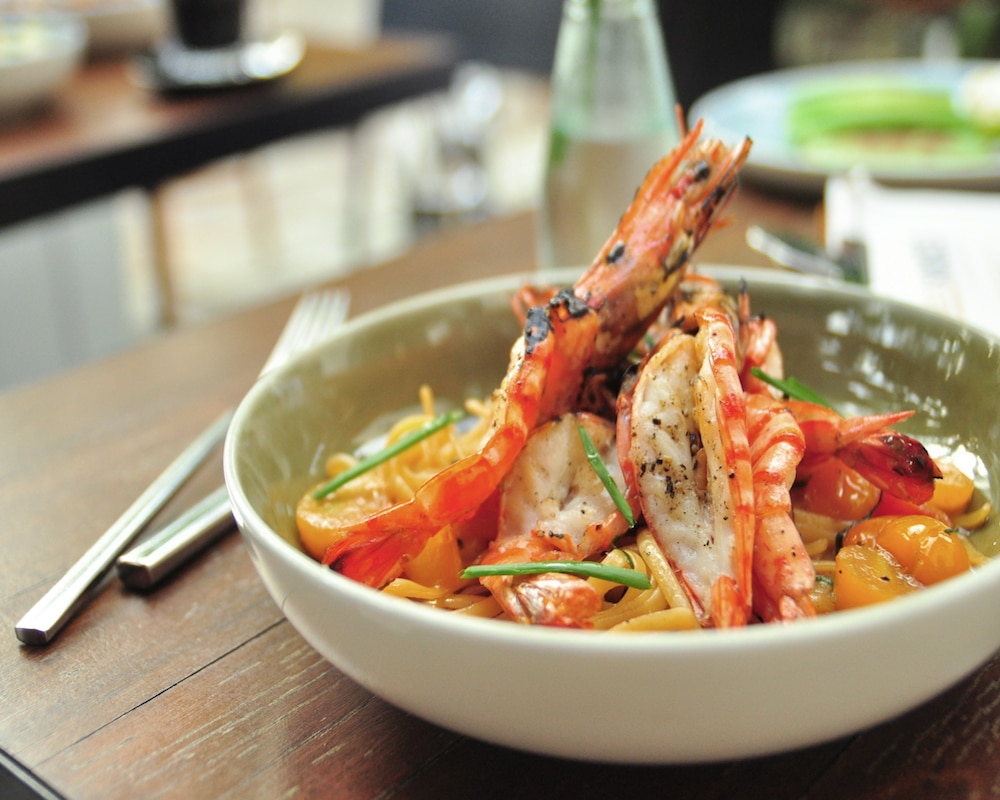 PUBLISHED September 1st, 2017 06:00 am | UPDATED September 4th, 2017 02:48 pm
Nestled in the verdant greenery of Botanic Gardens, the 1920s-styled Art Deco conservation building fondly known as The Garage plays home to 2 dining concepts: contemporary bistro Botanico and laid-back, family-friendly café Bee's Knees. Young ones and pets are welcome here, making families a common sight at the patio while the sun still shines. The café's extensive offerings of nourishing meals, refreshing drinks, and sweet treats also make it an ideal pitstop for joggers who have just completed their mid-morning rounds and for visitors who simply enjoy admiring the gardens' flourishing flora.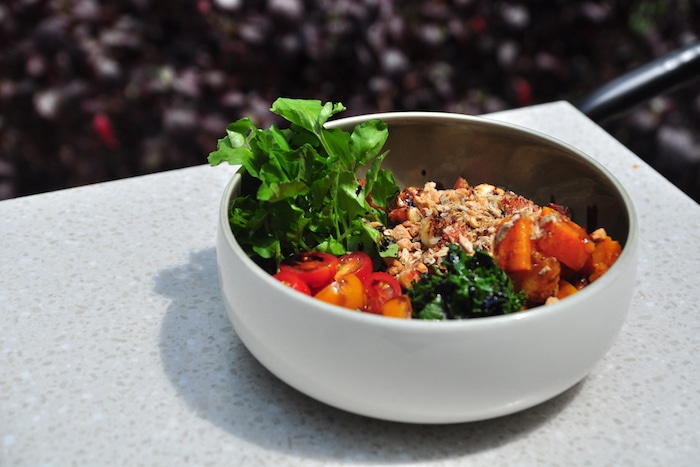 You simply can't visit a garden café without tucking into some fresh greens, and the Veggie Goat Salad ($16) is right up our alley. With chunks of luscious caramelised goat's cheese, roasted pumpkin, Australian fig, watercress, sautéed kale and cherry tomatoes sitting on top of a bed of quinoa, this bountiful dish is every salad-lover's superfood dream. This sweet-smoky cheese touch truly gives the salad a new dimension, with the smokiness complementing the earthy sweetness of the roast pumpkin. Definitely one of the heartier and more exciting salads we've seen in a while.
Truffle enthusiasts will rejoice at the Shrooms Pizza ($25). Button and shiitake mushrooms adorn the pizza's fragrant truffle béchamel base, while rocket leaves and dollops of sweet confit onion prevent each slice from becoming too rich and overwhelming. We're pleased to say that Bee's Knees probably has one of the best pizza dough bases we've savoured; made of high-gluten and regular flour, the mixture is then lovingly slow proofed for 3 days so each slice develops a fluffy texture and crisp edges.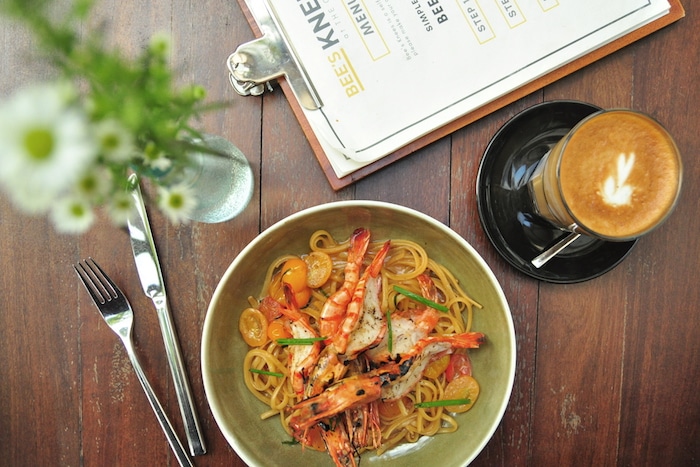 The Tiger Prawns Pasta ($18) is bound to satisfy all seafood lovers. Smoky pan-seared tiger prawns and cherry tomatoes lie atop a bed of fragrant linguine, which owes its sumptuous and briny flavour to being tossed in prawn oil and prawn stock upon order.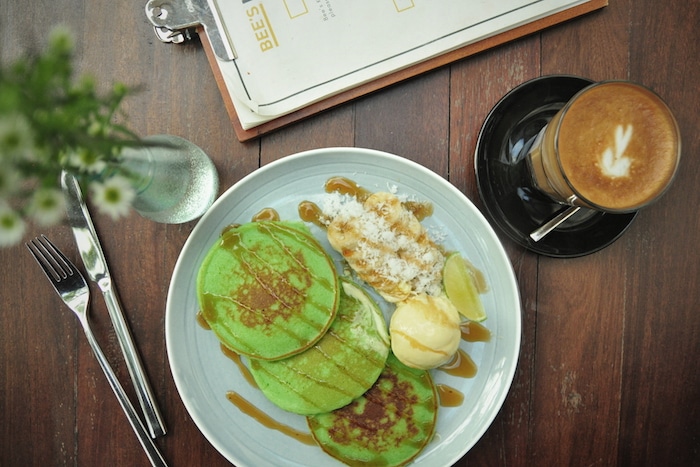 The café doesn't disappoint when it comes to desserts either. The Pandan Pancakes ($14) are bound to excite anyone who's been relishing in the renaissance of local flavours. These vibrant green pancakes make for a pleasant, aromatic treat when eaten together with banana slices, fresh coconut shavings, vanilla ice cream, and a generous drizzle of gula melaka. Praise is also well-deserved for the Churros ($8); the café's iteration of Spanish dough fritters are coated in five spices sugar and never commit the sin of being too starchy, and instead are perfectly crispy and go well with the not-too-sweet chocolate sauce.
If you happen to be around in the evening and have a case of the munchies, then we say opt for some bar bites. The Boxing Chicken ($14) consists of spicy, crunchy chicken drumlets that go well topped with the piquant Siracha mayonnaise, while the Crispy Calamari ($14) is perfectly springy, and especially moreish when dipped in tangy chinchalok, a sauce made with fermented small shrimps that hails from Malacca.
If you're looking for some respite from the unwavering Singaporean sun on an outing at the Singapore Botanic Gardens, you'l be hard-press to find a better spot than Bee's Knees.
Bee's Knees is located at The Garage, Level 1, 50 Cluny Park Road, Singapore Botanic Gardens. +65 9831 1106. Opening Hours: Monday to Tuesday, 8 am – 6 pm (8 am – 10 pm with effect from September), Wednesday to Sunday, 8 am – 10 pm.