10 Bakers in Singapore to Go to For Artisanal Customised Cakes and Baked Goodies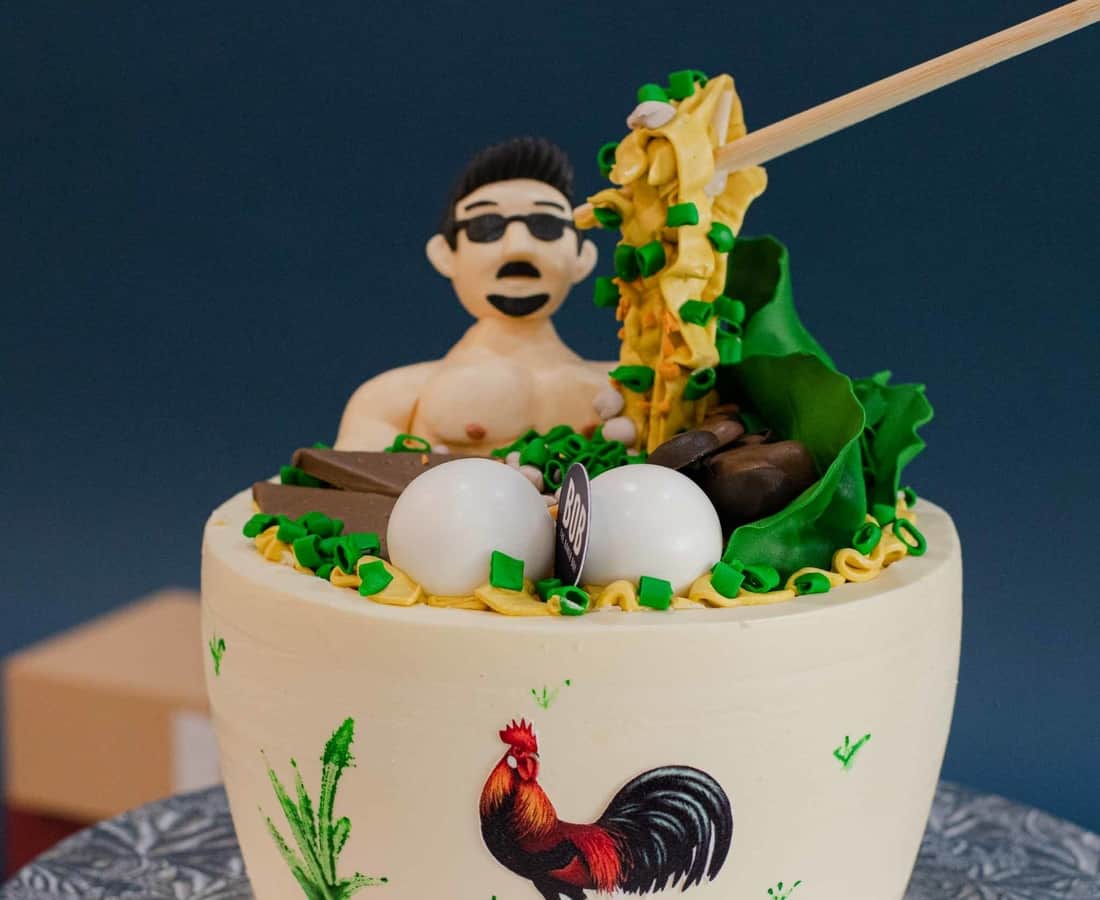 PUBLISHED July 9th, 2020 12:05 am | UPDATED September 28th, 2021 10:54 am
What's a party without a gorgeous cake to go along with it? And we don't mean one of those basic pieces you pick up from a chain bakery – we're talking elaborate tiered cakes with intricate designs that don't just make the perfect dessert, but also the most Instagrammable prop for your photo booth.
Little boy turning one? Or perhaps it's your wedding coming up? Let these ten passionate bakers customise a work of art in every colour and flavour you can dream of.
Prices can range anywhere from $35 for a fairly 'naked' 6-inch cake to over $1000 for one that feeds 200 and is laden with various florals and designer macarons. Either way, you're paying for exactly what you get.
Bob The Baker Boy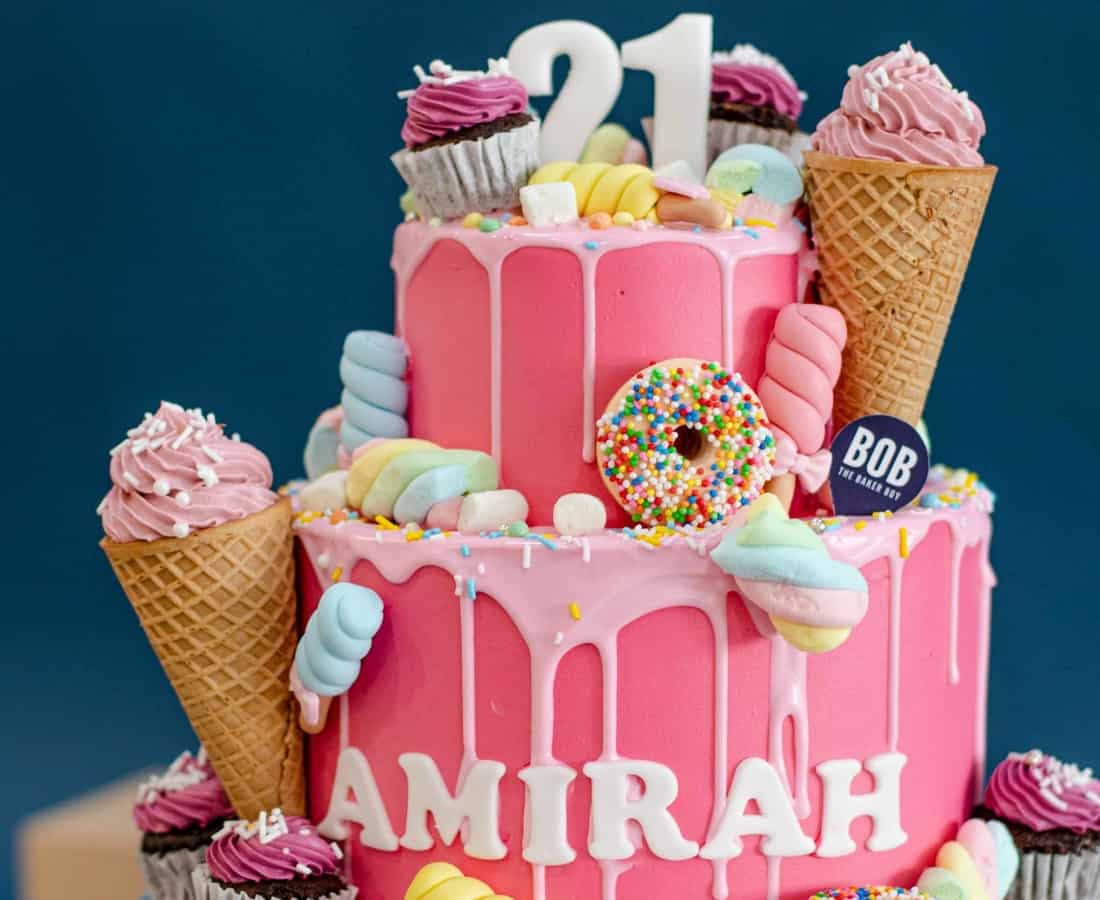 Want to indulge your sweet tooth without the guilt? Look no further than Bob The Baker Boy's pillowy chiffon cakes that are 30-50% lower in sugar but no less delicious than regular cakes. Founded by Mayee, this cake shop whips up highly personalised made-to-order treats – decadent birthday cakes, lavish dessert tables and even magical money-pulling cakes are available for any occasion you have in mind. Take your pick from over 500 unique past cake designs or use them as inspiration to customise the cake of your dreams (from S$59.90 for a standard six-inch cake). Besides made-to-order cakes, you can also get your hands on their oozy Molten Lava Cookies or the wildly popular Basque Cheesecake.
Bob the Baker Boy is located at 369 Sembawang Road #01-03, Sembawang Cottage, Singapore 758382. Open 10am – 5pm daily. Place your orders online or contact them at +65 8862 3327. Islandwide delivery starts from $7.90 for orders below S$150, and is free for orders above S$150.
Zee & Elle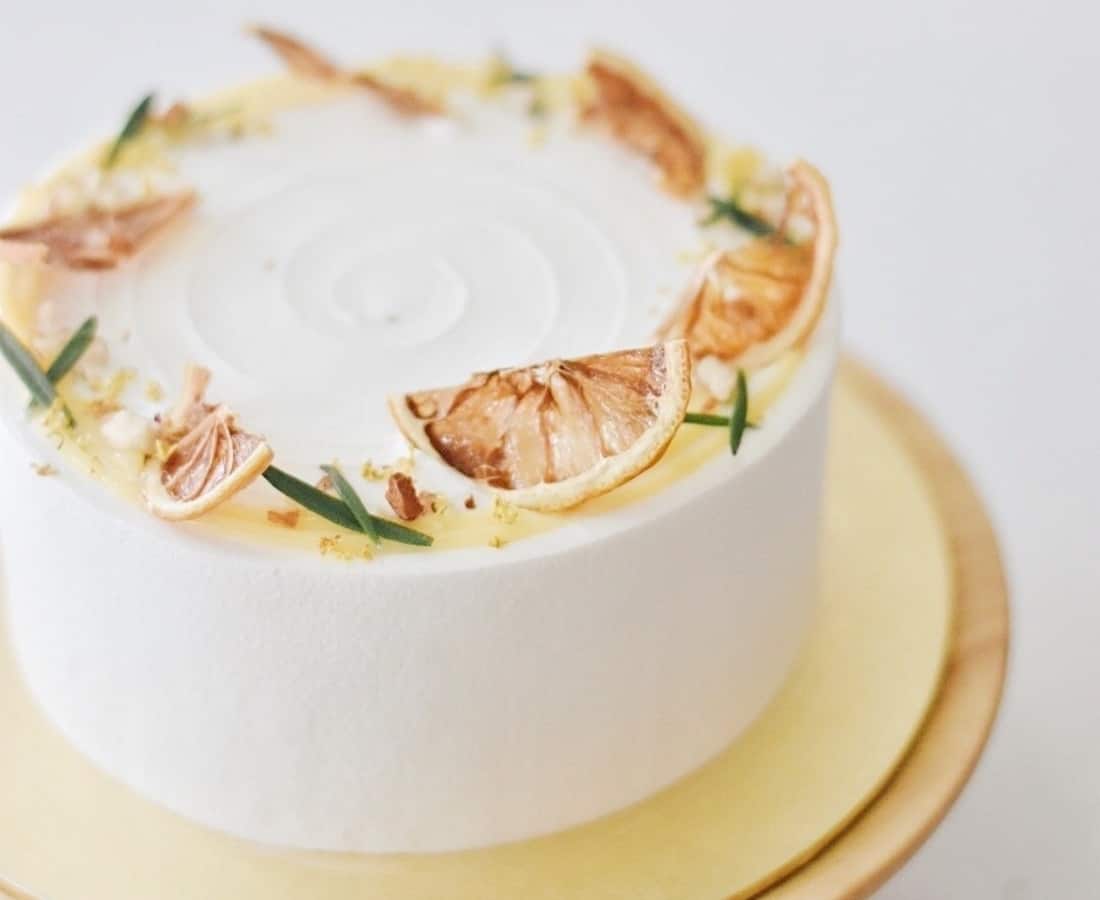 Don't be surprised to find wreaths of leaves and real flowers draped artfully on Zee & Elle's creations – this cake boutique draws inspiration from the trees, the sea, and other natural beauties. With a whimsical colour palette and dreamy designs, you can be sure each cake is a feast for the eyes. Their collection runs the gamut from rustic options such as the Minimalist Leaf Cake, to elegant extravaganzas like the Gold x White Flowers Cake topped with gold-dusted macarons and baby's breath. If you need a customized cake for the flower child or wanderluster in your life, these are the folks to go to.
Zee & Elle is located at 2 Jalan Lokam, #01-18 Kensington Square, Singapore 537846. Place your orders online or contact them at +65 6200 5393.
Butter Studio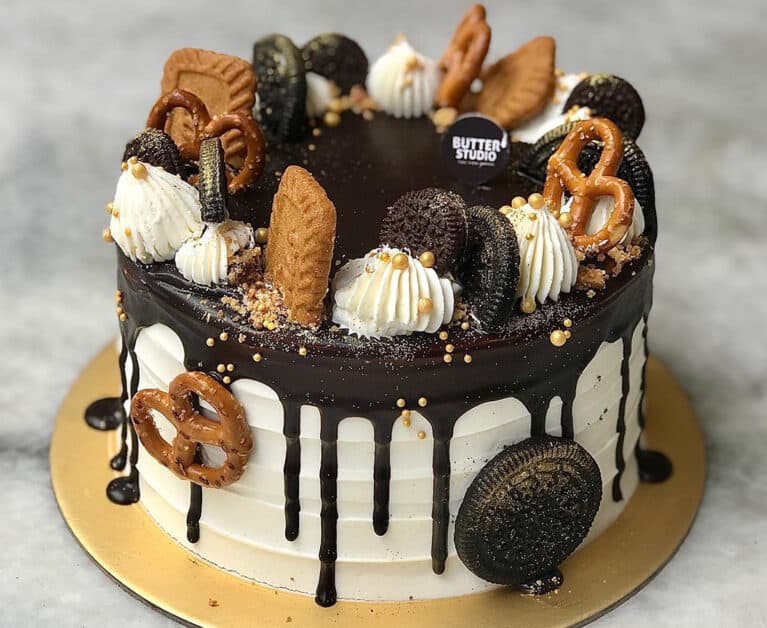 It's not every day you get to enjoy time-tested recipes passed down through the generations, packed into the artisanal handmade spirit of today. Butter Studio – which has a physical shopfront in Jalan Besar and takeout stores in Takashimaya B2 Food Hall and Tampines Mall B1 – is all about fine quality bakes (think farm-fresh eggs, seasonal fruits, and local produce) infused with trendy flavours.
Their collection currently boasts the likes of the award-winning Salted Caramel Red Velvet Cake, petit Donutella cakelets (for two to three pax), and our favourite: the locally-inspired Speculoos Ondeh. You'll be sure to find the perfect cake for any occasion at this celebrated cakery. Need a bespoke design that's unique for your wedding or birthday party? You can bet they'll whip up something magical.
Shop online at order.thebutterstudio.com.
For orders and enquiries, please email to [email protected], call +65 6294 7115, or visit 147 Jalan Besar | Takashimaya B2 Food Hall | Tampines Mall B1
Monice Bakes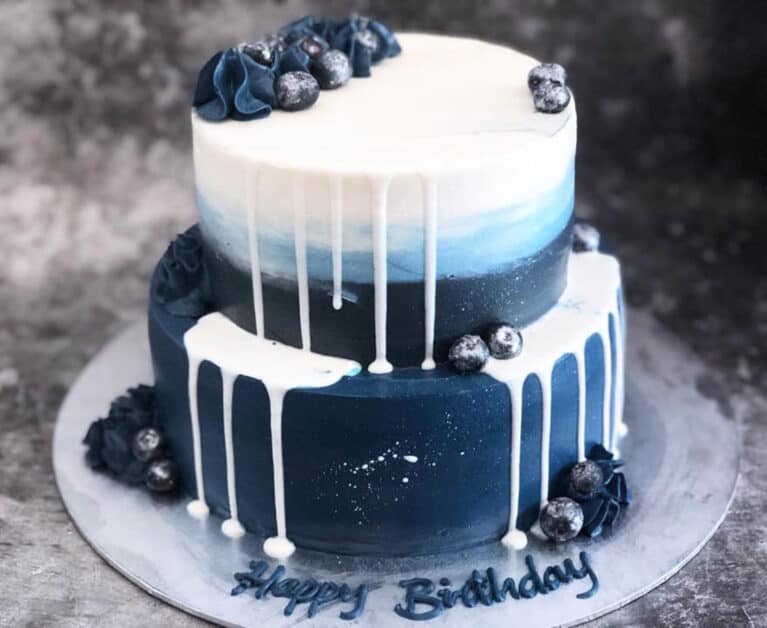 Specialising in highly customisable cakes for birthdays, baby showers, weddings, and corporate functions, the sky's the limit when it comes to Monice Bakes, the online bakery that's been getting plenty of love on social media. From the adorable trio from cartoon series We Bare Bears to edible Flower Baskets and Two-Tier Waterfall Cakes, get them handcrafted to your preferences at surprisingly affordable prices. The quality ingredients and flavourings used are not just restricted to cakes – you can also request for customised cookies, brownies, tarts, and cupcakes (freshly baked, of course) to go with your dessert table. The best part? Everything is less sweet to cater to healthier tastes, while still being absolutely scrumptious.
For orders and enquiries, please email [email protected] or WhatsApp +65 9815 0022. Opt for delivery or self-collection at Bedok Reservoir View, The Clearwater.
Nanatang Bakehouse and Studio

Serena, or nanatang, is a home baker that specialises in combining fresh and delicate buttercream flowers to create realistic floral garden cakes that taste as yummy as they look. Full bloomed, half bloomed, closed, or rose buds – each flower is unique on its own and takes an immense amount of concentration to design and pipe. Now the only question is: how can we eat something so beautiful? Plus, since starting as an online baker in 2013, she's since opened a bakehouse and studio for exciting workshops and dreamy insta-worthy cakes.
Nanatang Baking Studio is located at 41 Kampong Bahru Rd, Singapore 169358. For orders and enquiries, please email [email protected] or call +65 9199 8928.
Winifred Kriste Cake

Winifred Lua's creations are the grande dame of all cakes, combining the art of pastry-making and craft into what can only be described as edible hauté couture. Operating out of a by-appointment-only boutique in Bukit Batok, Winifred Kristé Cake is not cheap, with cake consultations alone priced at $85. What you get in return is professional design advice, cake sketches, and a stunning result made from scratch; handmade sugar flower petals, meticulous hand-painted brush strokes, and all.
Winifred Kristé Cake is located at 271 Bukit Batok East Ave 4, #01-140 Block 271, Singapore 650271. For orders and enquiries, please email [email protected].
Sugarwhim

Eliza Liaw and her deft hands are the ones behind Sugarwhim, the Instagram bakery that's particularly popular for its tall buttercream cakes and also lavish themed ones – think ingeniously decorated Star Wars, Flamingo, or Bourbon cakes that you'll never find at your typical bakeshop. Want a cake decked out in nothing but gold leaf sheets? She can do that too.
For orders and enquiries, please email to [email protected].
Susanne Deco Chiffon
There are relatively cute cakes, and there are cakes that are too cute to eat. Susanne may have a doctorate in Biomedical Engineering, but she's also the brains behind the internet cake sensation Susanne Deco Chiffon, specialing in making patterned, decorated chiffon cakes based on the world's cutest characters such as Gudetama, Pusheen, Totoro, and Hello Kitty. Really though, how can anyone bite into something so adorable?
For orders and enquiries, please email to [email protected].
Ugly Cake Shop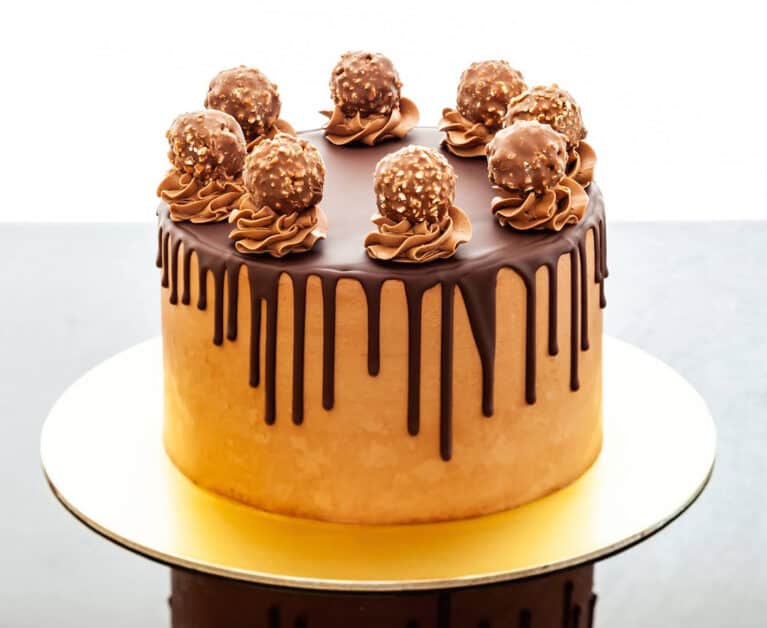 The cakes here are nothing like what its self-deprecating name suggests – though to be fair, it really depends on how good (or bad) your design tastes are. The creations at the Ugly Cake Shop have a sort of quaint homemade look, made with only top-notch ingredients like Valrhona chocolates and Madagascan vanilla beans. Plus, 20% of all their proceeds go to children in Timor-Leste, which gives you another reason to customise your next cake at this store.
The Ugly Cake Shop is located at 535 #01-06 Kallang Bahru, GB Point, Singapore 339351. Open Mon-Sat 10am – 7pm. For orders and enquiries, leave a message here or call +65 8228 8300.
Custom Bakes by Edith Patisserie
Edith Patisserie may not be run out of a home, but you can be certain that each custom work is unique meticulous – a result of the love and hard work by baker-owners Ethel and Shaun, who have previously worked in professional pastry kitchens. Besides original designs, their online store also offers recreations of previous works that the pair have concocted for other clients, including unique flavour pairings such as roasted pistachio sponge with apricot mousse, and banana sponge with peanut butter.
Edith Patisserie is located at 772 North Bridge Rd, Singapore 198740. Open Tue-Sat 10am – 5pm, Sun 10am – 2pm. For orders and enquiries, please email [email protected] or call +65 9060 2494. Free delivery is available for orders above S$100.
Top Image: Bob The Baker Boy