Private Dining Rooms in Singapore for Birthdays, Anniversaries, Corporate Dinners, and More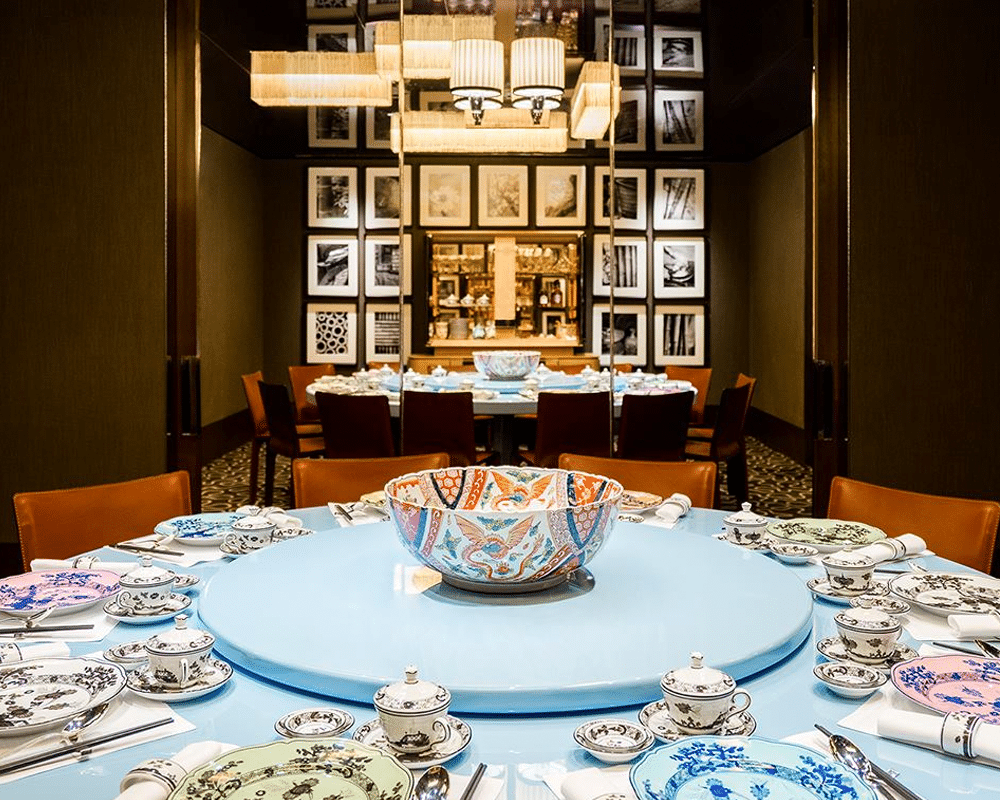 PUBLISHED September 18th, 2017 09:00 am | UPDATED August 8th, 2019 12:29 am
Whether it's your birthday, anniversary, bonding over a business dinner, a boys or girls night out, or a special occasion with family and friends, sometimes you just need a little privacy along with your meal to make things much more special for you and your guests. Well, enter the best restaurant private dining rooms in Singapore that will elevate your experience to the next level with their gorgeous spaces, and even better food.
Summer Pavilion: For artsy Chinese fine-dining

This Michelin-starred contemporary Cantonese restaurant is incredibly exquisite, with an interior that takes inspiration from a Chinese garden, featuring floral motifs throughout the restaurant and six private dining rooms named after oriental plants – Pine, Elm, Wisteria, Plum, Bamboo, and the 30-seater Garden Suite. Each room is complete with black and white ink paintings, sleek linear chandeliers, pastel crockery, and most impressively, a barmoiré equipped with wines, liquors, and spirits. Read our review here.
Minimum spend: $1000++ per 10 persons, $100++ for every additional person
Capacity: Up to 30
Summer Pavilion is located at The Ritz-Carlton Millenia Singapore, 7 Raffles Ave, p. +65 6434 5286. Open daily 11.30am – 2.30pm, 6.30pm – 10.30pm.
Oxwell & Co: For colonial-style British dining

Oxwell & Co, the British gastropub on Ann Siang Hill, is home to one of Singapore's quirkiest private rooms – as attested to by bizarre art pieces, a wooden bull head, intricate club chairs, antler chandeliers, and even taxidermied squirrels crawling up the attractive red walls. As they say, there's nothing like looking at the skins of dead animals as you feast on quality British classics and down glasses of the establishment's signature cocktails on tap. Read our review here.
ChopeDeals: Save 10% off at Oxwell & Co.
Minimum spend: Flexible
Capacity: Between 4 to 20
Oxwell & Co is located at 5 Ann Siang Rd, Singapore 069688, p. +65 6438 3984. Mon 4pm – 12am, Tue-Sun 12pm – 12am.
Fleur de Sel: For stylish corporate entertainment

Taking up residence in an inviting little shophouse, Fleur De Sel is the embodiment of Chef Alexandre Lozachmeur's immense love for fine French cuisine and wine, following years of experience working at the likes of the Spoon restaurants and Alain Ducasse Au Plaza Athénée. Serving delectable and sumptuous yet reasonably priced French cuisine, throw into the mix an elegant yet cosy private dining room to boot, it makes Fleur De Sel a fantastic option for business meetings and client entertainment. Read our review here.
Minimum spend: None
Capacity: Between 10 to 12
Fleur de Sel is located at #01-01 64 Tras St, Singapore 079003, p. +65 6222 6861. Open Mon-Fri 12pm – 2pm, Mon-Sat 6.30pm – 10pm.

The Black Swan: For the gents
There is something very old gentleman's club about Art Deco-inspired The Black Swan, and so it would follow that their private dining room would be a good spot for a bit of a classy-boys get together fuelled by the restaurant's offerings of contemporary dishes. Being a former bank, the private dining room is located in the building's original vault, and so absolutely hidden and very handsome looking with marble table-tops, pendant lights and walnut wood furniture. Read our review here.
Minimum spend: From $1,000++
Capacity: Up to 12
The Black Swan is located at 19 Cecil St, Singapore 049704, p. +65 6438 3757. Open Mon-Fri 11.30am – 2.30pm, Mon-Thu 5pm – 1am, Fri-Sat 5pm – 2am.

Tippling Club: For a fully personalised chef's meal

If Chef Ryan Clift's Tippling Club is known for one thing, it is for having one of Asia's most innovative kitchens and well-stocked bars (think three 100-bottle wine coolers). The space on the second floor, Bin 38, sits 12 guests, and acts as a private dining area with its own state-of-the-art R&D kitchen. Choose from a small or large menu, or even request for Chef Ryan to cook up a storm of his own signature creations for your party.
Minimum spend: Flexible
Capacity: Up to 12
Tippling Club is located at 38 Tanjong Pagar Rd, Singapore 088461, p. +65 6475 2217. Open Mon-Fri 12pm – 3pm, 6pm – late, Sat 6pm – late.
Shisen Hanten: For spice lovers
At Shisen Hanten, relish in the signature flavours of Chef Kentaro's spicy-hot Szechwan cuisine. Can't take your spicy food that well? Adjacent to the restaurant's majestic dining hall is an opulent private space adorned with black and gold partition panels and exquisite Chinese artworks. If you're a spice lover, looking to hold a banquet event, or even an intimate Chinese wedding, the exclusive ambience here makes it all ideal.
Minimum spend: From $100++ per pax
Capacity: Between 8 to 24
Shisen Hanten is located at L35, Mandarin Orchard Singapore, 333 Orchard Rd, Singapore 238867, p. +65 6831 6262. Open Mon-Fri 12pm – 3pm, 6pm – 10pm, Sat-Sun 11am – 12.45pm, 1pm – 2.45pm, 6pm – 10pm.

Gattopardo Ristorante di Mare: For seafood lovers

What better way to gather than over fresh-as-anything seafood dishes along with fellow seafood lovers in your own private room? Headed by Executive Chef Lino Sauro, Gattopardo serves up seasonal and sustainable seafood offerings prepared with a South Italian flair, and houses two chic private dining rooms – one for a smaller gathering and the other for a larger group. Read our review here.
ChopeDeals: Save 10% off at Gattopardo Ristorante di Mare
Minimum spend: $3,000++ from Sundays to Thursdays and $4,000++ from Fridays to Saturdays
Capacity: Up to 5 and 20 to 24
Gattopardo is located at 34 Tras St, Singapore 079026, p. +65 6338 5498. Open daily 12pm – 3pm, 6.30pm – 11pm.

Zafferano – For wine lovers

Perched 240 metres above the ground at the top floor of the Ocean Financial Centre, there are not many private dining rooms in Singapore that boasts such a view. Pair that with Zafferano's contemporary Italian cuisine and you have an unforgettable experience right there. Two rooms are on offer: a Private Dining Room and The Wine Room – both with a private entrance for total exclusivity. Read our review here.
ChopeDeals: Save up to 35% at Zafferano Italian Restaurant & Lounge
Minimum spend: Private Dining Room: from $1,000++ for lunch, $1,500++ for dinner, Wine Room: from $800++ for lunch, $1,500++ for dinner
Capacity: Private Dining Room: 12, Wine Room: 14
Zafferano is located at L43 Ocean Financial Centre, Singapore 049315, p. +65 6509 1488. Open Mon-Fri 11.30am – 11pm, Sat 6pm – 11pm. Closed Sun.
Long Chim – For a casual Thai affair
It's all casual, relaxed fun at Long Chim with Chef David Thompson's fast-and-hot service style, as smells and sizzles spill from the open kitchen into the dining area. Want to dine in private? The gorgeous private dining room is decorated in a blend of traditional and modern and seats anywhere from small groups to large ones. You'll have to order the special set menu though, which consists of five starters, eight main dishes, and three desserts (don't worry, the portions are not huge).
Minimum spend: Flexible
Capacity: Between 8 to 22
Long Chim is located at #02-02 The Shoppes at Marina Bay Sands, 10 Bayfront Ave, Singapore 018956, p. +65 6688 7299. Open Mon-Fri 11.30am – 2.30pm, 5.30pm – 11pm, Sat-Sun 12pm – 4pm, 5.30pm – 11pm.
LeVeL33 – For killer views
Immerse yourself with glistening views of the Marina Bay Skyline in relaxed elegance whilst surrounded by Mouton Rothschild's rich heritage of exceptional vintages and display Jeroboam bottles. Two private rooms are available, and can be combined depending on your requirements. LeVeL33 is headed by Executive Chef James "Jimi" Tegerdine, serving up modern interpretations of classic European fare.
Minimum spend: From $60++ per person for lunch, $160++ for dinner
Capacity: Between 11 to 26
LeVeL33 is located at #33-01, 8 Marina Blvd, Marina Bay Financial Centre Tower 1, Singapore 018981, p. +65 6834 3133. Open Mon-Thu 11.30am – 12am, Fri-Sat 11.30am – 2am, Sun 12pm – 12am.