A Steep Ascent to Alba 1836: Review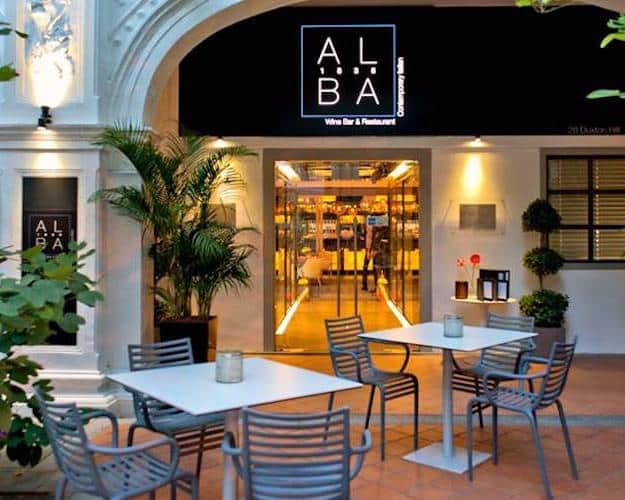 PUBLISHED December 28th, 2014 04:00 pm | UPDATED May 17th, 2016 03:21 pm

Operating anything at Duxton Hill is like playing musical chairs with Heidi Klum – one moment you're in, the next, you're out. In a short span of a few months, a cheekily-named 'The Prawn Star' has emerged, the space once occupied by the Vintage Room has rebranded yet again, and contemporary Saha Signature Indian Restaurant & Bar just about manages to carve out a niche in this psychedelic foodie enclave.
Alba 1836 sits at a lonesome spot at the peak of Duxton Hill. The steep climb is worth it – your breath is taken away by more than just physical exertion.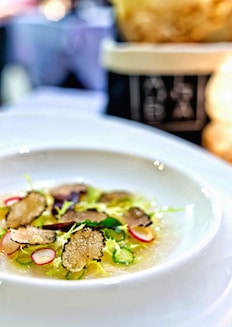 The restaurant's Hokkaido Scallop Carpaccio ($30) is, for one, a stunning start to the evening. Laid on our white table cloth-dressed table by General Manager Michele Zanella, moments after the eagle-eyed Sommelier Andrea Ligas swoops down with tasting glasses, the slivers of scallops are sweet, creamy and achieve a kind of melt-in-your-mouth texture we thought was only possible of gelatos. Beyond an exhibit of bloody good knife skills, the shellfish made sense on the palate with the crunch of asparagus and radish, the bitterness of frisée, and the unmistakable earthiness of black truffle.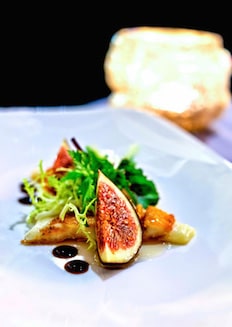 The culinary chops of Chef Alessandro Frau, who has returned to Phuket after a brief consultancy stint at Alba 1836, continues to impress. The Grilled Pecorino Cheese ($22) stealing our hearts and stomachs with a wonderful smoky bite, matched to pitch-perfect judgement with chestnut honey, slightly tart figs and balsamic reduction. The adornment of a few leaves are more an excuse for a lady to order a salad (of essentially cheese), though it must be said that the accompaniment-to-cheese ratio could have been better juggled to prevent death by pecorino.
You begin to ease into a mental journey to Italy, as Squid Ink Risotto ($75) cooked to a sweet spot of clean unctuousness, is presented topped with Sardinian sea urchin and paired with a bright polenta-crusted prawn cooked Milanese-style. The sea urchin is intense but remarkably tamed when spooned with the risotto. The prawn makes you want to break into one of those Il Divo's operatic jives – medium, soft and gently sweet on the inside – but you stop short as you realise the clinical kitchen staff peering at you from the open kitchen, and another banker couple sneaking a jeer during their truffle degustation. The ingredients at Alba 1836 are truly top-notch, as if the distance between Italy and Singapore is merely an MRT stop away.
Even then, occasional missteps cannot be masked. The dish of Octopus Salad ($28) is heavily fishy and the imported Burrata Cheese, stuffed into agnolotti pasta ($35), tasted bland and chewy rather than springy. In fact, at the premier prices that Alba 1836 command, the margin for error can only be olive-small. Pop music cannot be the music of choice, ice creams cannot be factory-bought (even if stunning), and a less teaching restaurant-like set-up is only a reasonable request.
There is no shortage of good, affordable Italian restaurants in Singapore. Whether Alba 1836 will continue its reign is anyone's guess. Consistency, adjustment to customer feedback and staying true to ingredients should allow it to cut through the clutter. Even then, there's no assurance of a guaranteed seat when the music stops.
---
Written by Brandon Ho