Ash & Elm's Semi-Buffet Lunch: A Sumptuous Spread of European Classics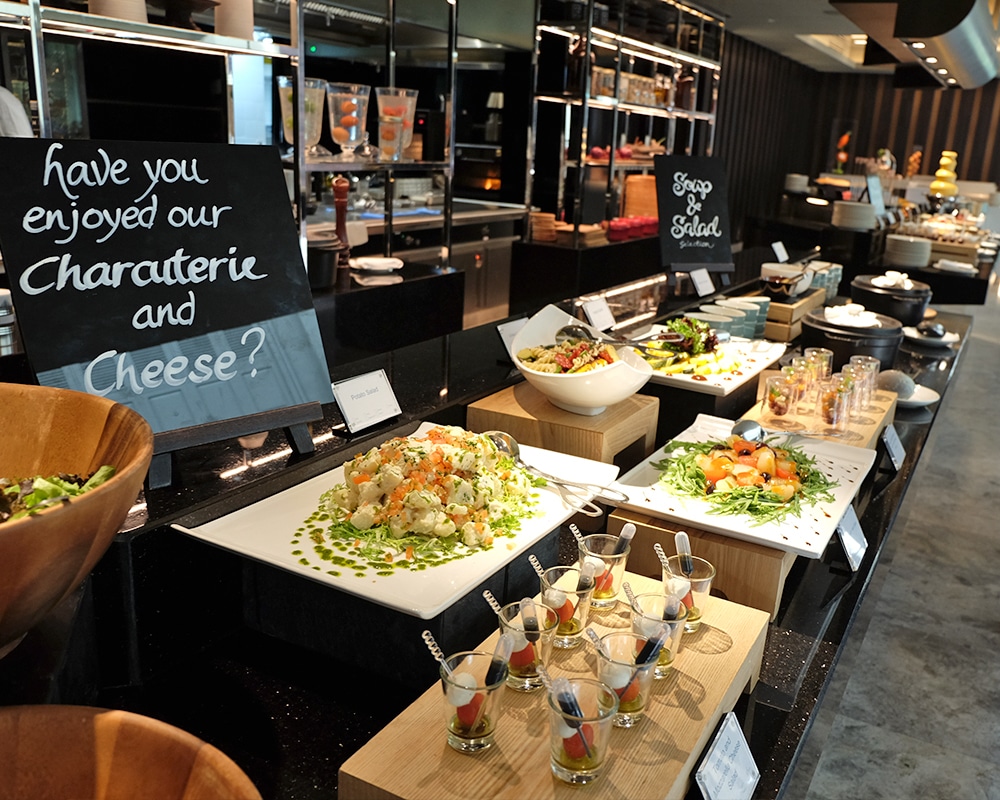 PUBLISHED April 28th, 2016 05:30 pm | UPDATED June 2nd, 2020 03:24 pm
InterContinental Singapore's Ash & Elm recently launched a new Semi-Buffet Lunch – a delectable spread that represents the restaurant's three culinary venues – the Charcuterie & Cheese room, Wood-Fired Oven, and the Charcoal Grill.
The concept is simple: for $38++, enjoy a quick, easy yet bountiful lunch with a vibrant array of salads, appetisers, soups, and desserts. You also have the option of topping up $10++ for a main course from their constantly rotating menu.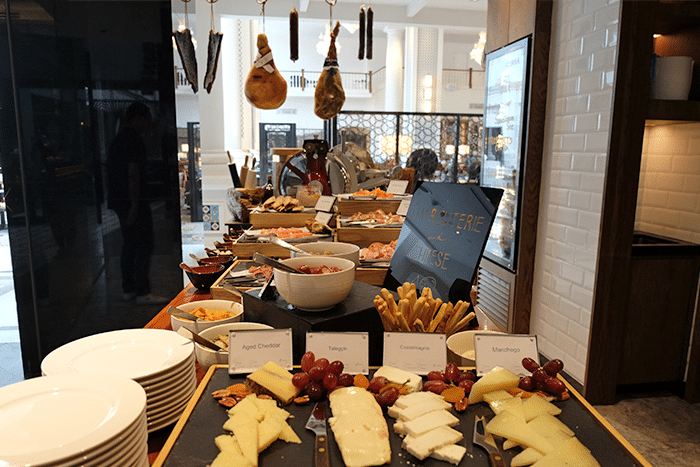 Seemingly designed with the weekday lunch crowd in mind, Ash & Elm's sleek decor and refined ambience (love the pendant chandeliers!) also makes it suitable for executives to hold business meetings.
The food on offer is intrinsically European in all its heartiness and comfort. Diners can access the Charcuterie & Cheese Room, where you'll find a large range of cold cuts, smoked fish, terrine and pâté, as well as a good selection of European cheeses.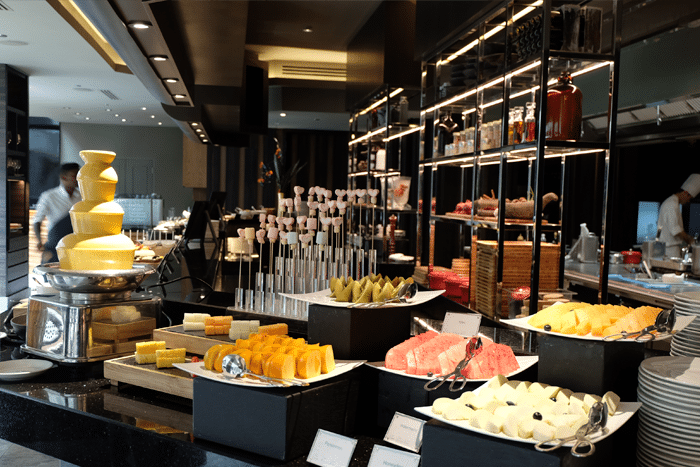 Back at the main buffet line, there is a self-serve Salad station (which is actually a lot of fun) with standard salad fare such as baby spinach, arugula, tomatoes, smoked chicken, chestnuts, and pickles for your DIY pleasure.
Like the main courses, the soups are on daily rotation, with a option of seafood/meat or vegetarian soup, veloute, or consomme. Those with a sweet tooth will love Chef Ben Goh's sweets – from tarts and cakes to tiramisu and pops. A must-have, as at all buffet spreads, is the white chocolate fountain for dipping your fruits, marshmallows, and what not. Plus, a live dessert station will be serving up fresh Crepes topped with ice cream, Chantilly cream and seasonal fruit.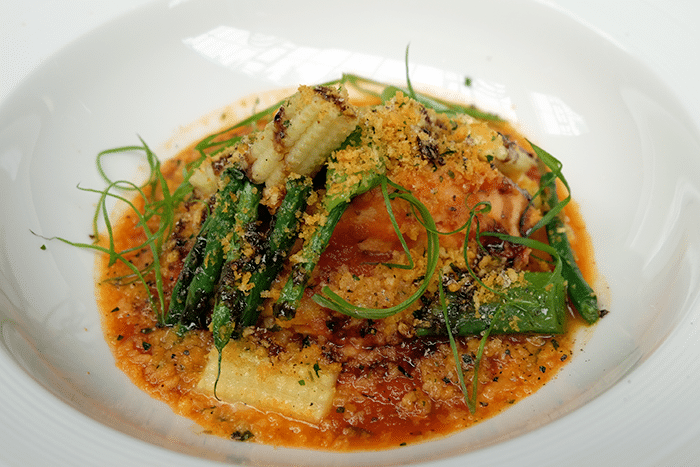 If you opted for a main course, choose from a selection that cleverly caters to people with all sorts of dietary restrictions: think chicken, fish, pasta/risotto, flatbread, and steak options that switch up daily, which is great for frequent customers.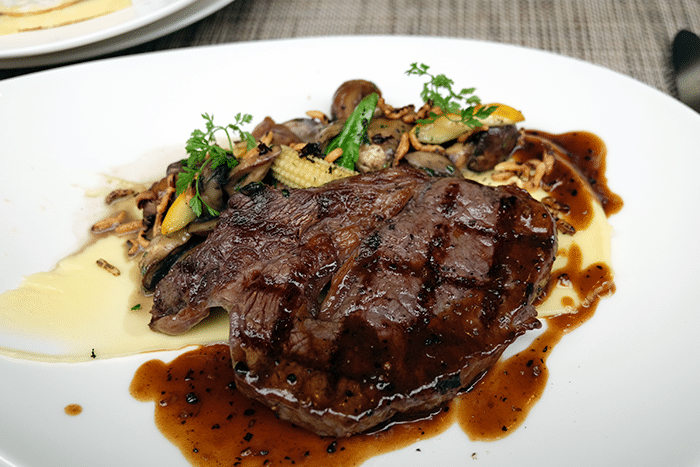 The chicken dish of the day was the Slow-Braised Chicken, but upon returning we've also seen Roasted French Free-Range Chicken and Breadcrumb Paneed Chicken Fillet, each served with accompanying sides of rice, potatoes or seasonal vegetables.
If you prefer seafood, choose between a Scottish Salmon Fillet cooked 'a la plancha', Sea Bass Filet 'a la plancha', Baked Sea Perch Fillet and Grilled Teppanyaki Red Snapper Fillet on its daily menu. The steak option is available for an additional $10 supplement. But unfortunately, it was also the most lacklustre main course of our meal since it arrived medium well instead of the medium rare we requested for.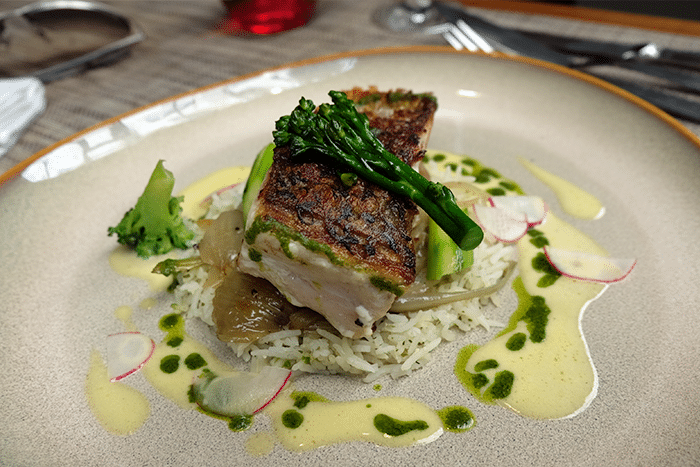 Vegetarian diners will be pleased to know that the pasta and risotto selection can be catered to their diet, such as a Penne Pasta with Mixed Vegetables, Mushrooms and a Pesto Sauce; and Acquerello Risotto with Asparagus and Parmigiano Reggiano.
A wine list of over 100 handpicked labels is available as well for an extra kick, should you find the complimentary offerings of coffee and tea not enough. A medley of classic dishes redefined with fresh touches, we find the Semi-Buffet Lunch to be suitable for ordinary work lunches, though not so much for celebrating a special occasion.
Ash & Elm is located at InterContinental Singapore, 80 Middle Rd, Singapore 188966, p. 68251008. Semi-Buffet Lunch is available from 12pm to 3pm through Monday to Friday.
Read more at NOX Dine in the Dark: Our Experience and Bottomless Brunch of the Month: Sicilian Seafood at Gattopardo