Baybeats Conversations: MONSTER CAT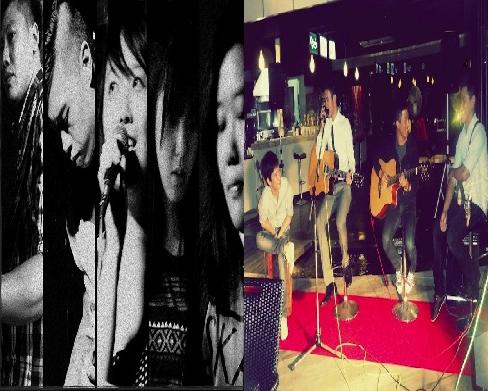 PUBLISHED June 29th, 2012 10:20 am | UPDATED March 28th, 2016 01:53 pm
The last of our Baybeats Conversations brings us to MONSTER CAT, a band we have had our eye on for a long while. Much like Haruki Murakami's novels, there is a mysterious pull in their music, each song a painfully crafted phantasmorgic assimilation of lush guitar riffs and keening vocals that both resonates and evokes through layers of unconsciousness. And much like the cats in Murakami's stories, MONSTER CAT's songs will slink in and out of your mind long after the first listen.
Each song has their story and sonic journey, but it is much more awesome listening to their debut release, Mannequins, as a whole – which is what I have been doing on repeat for the past few months. Such is the power of the bakeneno, a cat in Japanese folklore with supernatural abilities, which MONSTER CAT takes their name and inspiration from. Indeed, like the bakeneno, they will haunt the hollow rooms of our minds, menace sleeping emotions and shapeshift to take over our consciousness.
Unapologetic desires to devour our foetuses aside, MONSTER CAT is serious about their music, and work hard to say what they have to say. Despite the number of press mentions including The Straits Times, The Business Times, NYLON and JUICE, they recognise that having their own strong brand is essential in making music today, creating even their own visuals for their website and album. The labor has certainly paid off, with performances at the recent Music Matters Live (2012), a 10-day tour in Japan of 7 shows (along with an impromptu performance in a park), and an epic 3-day promo feature on The Pirate Bay (read more about it below).
Yet they remain one of the most humble and earnest bunch of musicians we know, and we believe that MONSTER CAT will be able to successfully devour some foetuses in time.
MONSTER CAT
How did MONSTER CAT start?
We came together as we had similar music tastes, the same vision and goal… which was to do music for a living. We saw the job scope as being more than just musicians – we had to be businessmen too. We approach the band as a brand, and apart from managerial help from KittyWu Records, we have been doing everything ourselves since day one. Besides the songwriting and practices, there is the marketing, visual design and so much more to do. Most importantly, we came together as were willing to make the sacrifices to get there. We believe that a band from Singapore can make it anywhere, as long as they keep creating a catalogue of great music and put in the necessary tough work to reach a wider audience.
Was it hard finding people who believe in the same genre of music, in the same direction and style of creation?
Definitely. But it's not necessary to have the same tastes. We have similar musical loves, and we do have varied styles of working (say songwriting). But like in any team, it's all about compromise and understanding to create the best work you can. Luckily, we all have strong chemistry and we do know kind of know what works or not from the get-go. Since "Mannequins", we've been allowing all our influences blend together to grow into something inherently 'collective', something purely MONSTER CAT. Hopefully with the next album, you'll see an even more unique and clearly defined sonic character. It's a intriguing process for us – just to observe each other and how our styles of riffs, lyrics, voicings and stage personas evolve.
How is it like working and creating with these people? How has MONSTER CAT changed over the years?
It's all about trust. We trust each other a lot, and that helps. After seeing each other almost everyday for the past year, you kinda figure out each other's strengths, weaknesses, fuses and creative 'turn-ons'. Yeah, it's not unlike being in a relationship. Only that it's 4 mental dudes and you don't get to have makeup sex. And we definitely don't want to. lol. But seriously, we try to keep these aspects in mind during both the creative and 'business' processes. Tension's inevitable. In fact, it's great. Because if you don't get angry/frustrated over certain things, it means you're not invested in the relationship. We're all in this because we give a shit.
What are some of the music you guys are inspired by, or just enjoy?
It'll take us pages to answer this. Music is always determined by mood, and mood – by currency and circumstance. We're also inspired by much more than music, from novels and poetry to various forms of visual art.
Music-wise, we're currently into Alpines, Black Moth Super Rainbow, the new Silversun Pickups album, Siouxsie and the Banshees, producers like xxyyxx and Daisuke Tanabe. Oh and Die Antwoord.
And how is it like making music in Singapore?
That's an odd question. We've only ever been making music in Singapore so we don't really have anything to compare our experience to. Making music in the sense of staying in one location for the long term; writing, recording and performing. We could say it's easy here, or it's real tough but it's really not of much consequence. At the end of the day, we do what we can to create what we believe in, come hellfire or leprechauns. If we had to give an answer, we'll say making music in Singapore is hot. Really hot. And humid. There's a reason Bjork, Sigur Ros and Stina Nordenstam are so ethereal, vast and dreamy.
Are there personal stories in your music?
Definitely. Especially with "Mannequins", the songs were born from a specific period of personal struggle. They reflected the worries, fears and doubts we had about life, identity and in a sense, the narrow definition of success in our society. On a wider level, you always hope that these deeply private feelings you have can resonate with someone on another side of the world.
Most exciting thing/things about MONSTER CAT?
1 – That musically, there is a lot of space for us to grow. The chemistry with our new drummer, Zen Cat is burgeoning and we can't wait to see what new songs will hatch from our coming incubation. He's a fucking exciting element (in terms of intuition and technicality) in our songwriting molecule and God knows what might happen.
2 – That we approach all matters of the band with a mindset beyond music. We have a shared understanding that to be musicians today, we have to be more than just that.
Most exciting thing/things that MONSTER CAT has done thus far?
Exciting things have been plentiful. There was The People's Party 2012 alongside acts like Metronomy and Bombay Bicycle Club to the recent Music Matters Conference where mega-producer Bob Ezrin (Pink Floyd's The Wall, Kiss' Destroyer, numerous Alice Cooper albums) gave us a shoutout. Japan was a kickass experience too – playing at the small but intense Ruby Room (a staged graced by Aphex Twin and Massive Attack) was mental. But if we had to pick one, it would be The Pirate Bay promo. Having listeners from all over the world give their likes and loves was a huge validation and terribly humbling.
What are the plans in store for MONSTER CAT?
We're hard at work on our full-length album, which will be composed entirely of new songs. We're toiling to take our songwriting and performances to the next level. Tour-wise, we may have a few big ones coming near year's end, so we'll see.
We're also looking to play Germany's Reeperbahn Festival organised by Music Services Asia. It will be a kickass experience so please vote for us! We're running a Twitter contest where you can win an exclusive new merch line if you help us out, just head down to our Facebook page for more. We will run naked around the Berlin wall. Danke.
You can help MONSTER CAT run naked around the Berlin Wall here:
www.facebook.com/musicservicesasia?sk=app_332484066805691
Catch MONSTER CAT at Baybeats on 30 June:
Interview, massage and chin tickle at Observation Deck (5pm)
Performances and tongue action at Concourse (830pm & 10pm)
MONSTER CAT will also be playing at Lepar(r)k! on 21 July:
and at Urban Sensation! on 27 and 28 July:
http://www.goodmanartscentre.sg/urbansensation
---
Written by Tweedlingdum