Bottomless Brunch in Singapore: Beach Road Kitchen's International Buffet Feast at JW Marriott is Worth the Splurge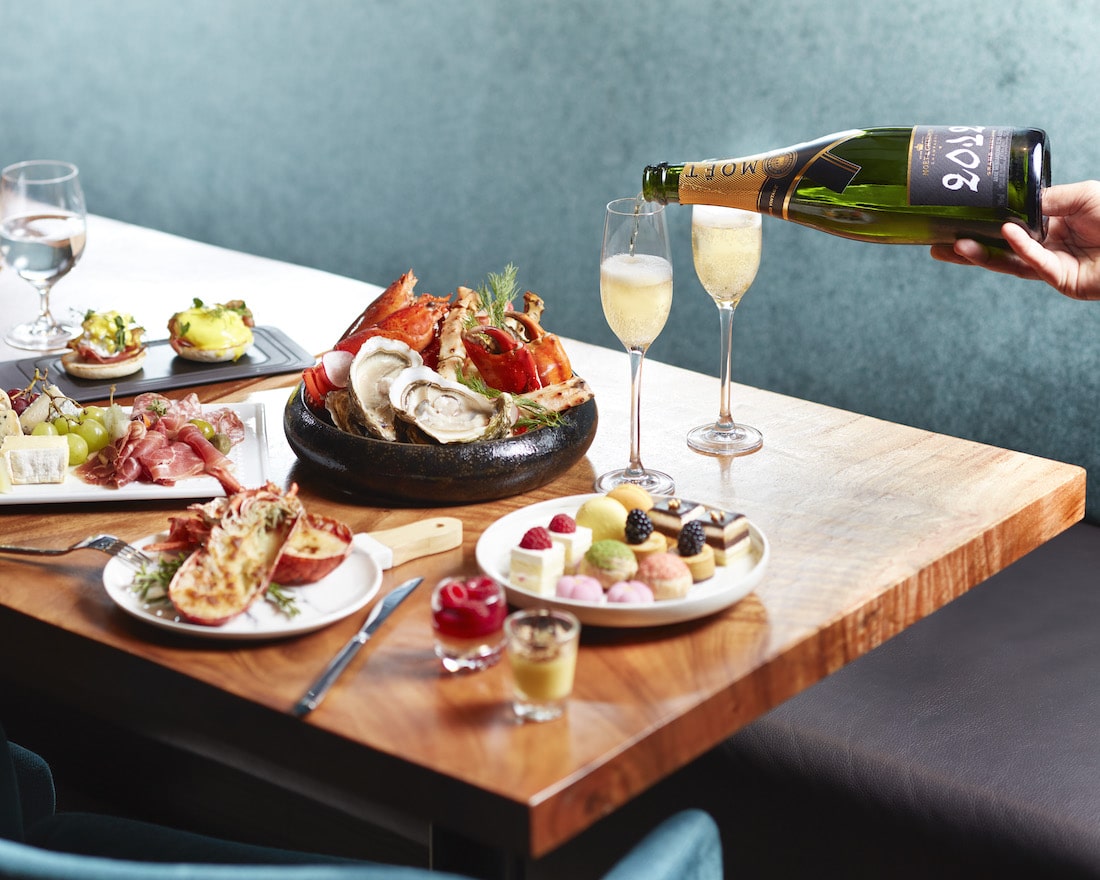 PUBLISHED March 10th, 2020 12:05 am | UPDATED April 7th, 2020 05:44 pm

When you walk down South Beach Avenue in the City Hall vicinity,  you might stumble across a curious bunch of satisfied patrons with puffed out tummies towards the end of the stretch. It's likely that they, like us, recently engaged in feasting at Beach Road Kitchen, the primary dining room at the JW Marriott Hotel.
Beyond the unassuming entrance and tinted glass walls that allow natural lighting to flood in, Beach Road Kitchen might just be the most gorgeous buffet restaurant in the city yet. Rocking an uninhibited elegance with a bold palette of brass, black wood, and white marble, you'll find an equally appealing spread on Sundays, though we reckon it's the same on other days too.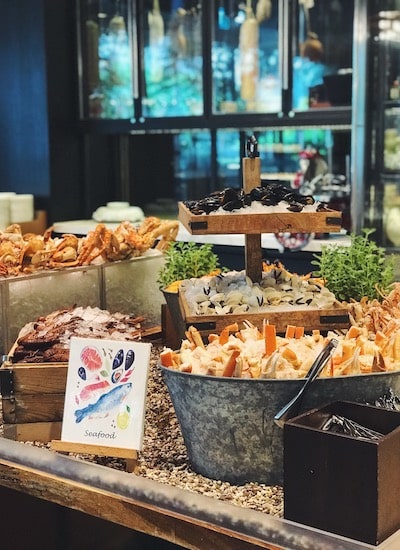 The all-you-can-eat is still priced at S$118++ per person – it hasn't increased since our last official visit two years ago – but there have been some changes that we think are for the better. For one, the dedicated seafood-on-ice bar set up in the middle of the dining space means crustacean lovers have more elbow room to pick out their favourite snow crab legs, lobsters, crayfish, and several types of shellfish. For most part, the seafood at Beach Road Kitchen has plum and juicy flesh that pulls clean out of the shell.
The special temperature controlled room that used to house the seafood now sees the glorious cheese and charcuterie alongside freshly shucked French oysters with 'liquor' still intact, and a huge range of antipasti (including Asian cold plates like Thai spicy seafood salad and century egg with cold tofu). Whether you take your cheese with the savoury or the sweet, you'd appreciate the different types of honey and crackers to go with it.
If you're looking at free flow bubbles, you might spot another difference in its champagne offering. Moët & Chandon's Grand Vintage 2012 replaces the non-vintage Taittinger Brut, and at cheaper coin too, at $50++ additional per person. The boozy package also includes unlimited pours of red and white wines, Peroni on tap, and three brunch cocktails from their Sunday Brunch Mobile Bar, courtesy of the first Chinese bottled craft cocktail brand LAIBA. We like that folks who don't drink are not forgotten, there's a soft beverage package at $20++ per person offering free flow mocktails, premium coffee, and organic soft drinks.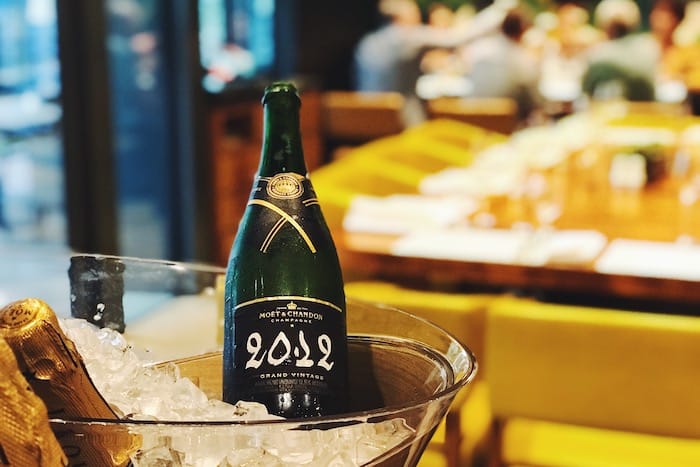 Give in to the seductive aroma of laksa broth (while solid, could use some cockles in it) at the noodle between the cold and hot sections of the spread – our recommendation? Pick yourself some crab meat or lobster from the seafood counter for a more indulgent bowl of lemak.
The full-sized pizza oven at Beach Road Kitchen is, thankfully, not just for show. Our slice of Margarita could see a little more time in the heat, but slightly doughy with a bouncy crust, it's pie that we'd pay for. The same could be said of the charcoal-grilled Iberico pork – nicely charred and flavourful. Have a taste of the firm, salt-baked barramundi next to the pizza oven before moving on to the carvery for mouth-watering meats. The Australian grass fed Tomahawk was cooked perfectly, and offered an opportunity for us to try, for the first time, Viking salt with intense, Nordic, wood-smoke flavours.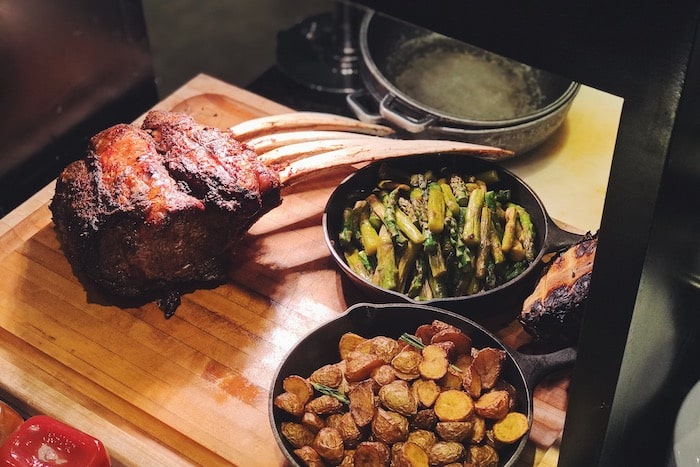 We never really understood the appeal of Lobster Thermidor on buffet spreads until now. Generous chunks of lobster meat, egg yolks, brandy and mushrooms stuffed into a lobster shell – it's finally as tasty as it sounds.
Save carb space for the deep fried buns accompanying the chili crab, which we're happy to report is neither too starchy nor too heavy on the tomato. The unique texture combination makes a good break for the palate. If you haven't lost your appetite for carbs (or crabs) by now, have a large, deeply satisfying piece of deep fried soft shell atop aglio alio pasta prepped a la minute or go for a glass noodle topped oyster in one of the bamboo steamers.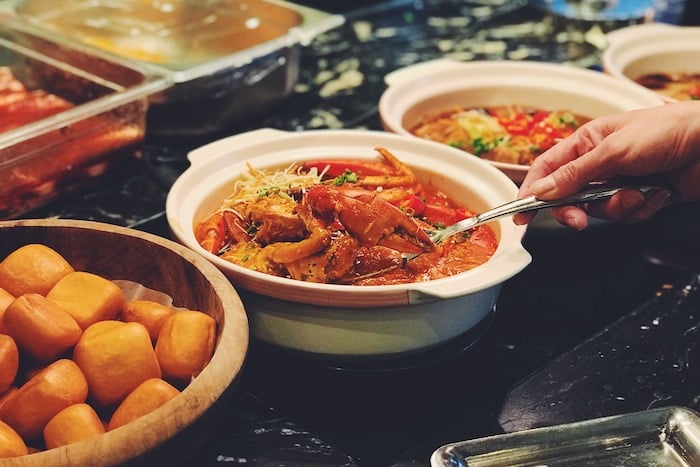 Even the most indifferent person to desserts might feel their jaw drop slightly with Beach Road Kitchen's selection of pies and tarts. From red wine poached pear pie to the usual caramelised apple, our must-eats of the lot are the lemon meringue, pecan pie, and coconut pie. Prefer ice cream? The chocolate soft serve is darker than you'd expect, and really delicious. Plus, if you're planning to host out of town visitors, the Sunday brunch dessert selection include local nonya kueh and nostalgic sweets like gem biscuits, white rabbit candy, haw flakes, and chocolate wafers.

Beach Road Kitchen is located at JW Marriott Hotel Singapore South Beach, 30 Beach Road, Singapore 189763, p. +65 6818 1913. Sunday Brunch is available weekly from 12pm to 3pm.