Restaurant Review: Blu Kouzina – Singapore's best and authentic Greek restaurant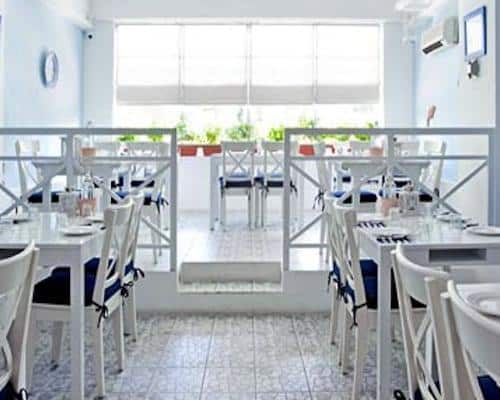 PUBLISHED January 16th, 2012 09:50 pm | UPDATED February 28th, 2021 06:50 am
I first heard about Blu Kouzina over a year ago while shopping at the Dempsey Farmers' Market. Met Effie, the South-African born Greek owner who promotes her authentic Greek olive oils, salts and dips and have her to thank for the introduction to taramosalata; with much hype from a good foodie friend of mine, I made my way to the restaurant in Bukit Timah.
I was impressed to see reasonable prices on the menu, especially the wines, with a good range of Greek and other international bottles between $38-$50. Kudos! The large appetizers range from $8-15 and most mains are $18-25. And I highly recommend sharing so you can try more treats in one sitting. Oh, and the portions are very fair. With my life hanging in the balance as my 3 starving dining companions shoot me death stares, the first courses arrived… the famed Taramosalata (in essence a smooth cod roe pate), Tzatzki (greek yoghurt with herbs dip), Dolmades (stuffed vine leaves) and Grilled Feta (served with kalamata olives).
The table went silent as the first bites were taken….and then we demolished everything in site. The Taramosalata, as I remembered was phenomenal (I actually got some for takeaway…and finished it all by next morning) – creamy, mildly fishy and utterly delicious. On to the Dolmades, served with some Tzatziki as dip..I even closed my eyes trying to amplify my sense of taste to enjoy even more. It was unapologetically authentic. Strong mediterranean flavours of dill and olive oil.
As for Tzatziki, no doubt, the best I have had. In Singapore or internationally. Rich yoghurt with cucumber, dill, garlic and olive oil. We ordered some pita bread to dip and licked the plates clean. The Grilled Feta with Olives, on the other hand, I will just quote my good friend Ben on the night: 'S*%t, I can't believe I've had to come all the way to Singapore from France just to have such good feta'. 'Nuff said really. It's superb. The Olives were also so good we ordered a extra side of them.
Below is the the only dish that was not spectacular ( Kotopoulo psito – marinated chicken with grilled vegetables)…The sad thing is, I would still order it again! Just compared to the heavenly delights of everything else I can't rate it as highly. The chicken was well cooked and succulent and the accompanying vegetables (red pepper, eggplant and zuchini) oozed with flavour.
Next up was a dish so good that we ordered seconds even though we were already pretty full! The Bifteki (2 Beef patties with tomato and onion served on a sizzling hot dish) was one of the best tasting meats I have eaten, period. Perfectly cooked, juicy and full of flavour. The potatoes as well were beautifully done and once again, after 3 mins the 4 of us has cleaned the plate! This is simply a must when coming here. You won't regret it.
Finally up was the Paidaki (lamb chops serve with sweet potato mash – sorry, no photo – Iphone just doesn't even remotely do it justice), and Imam Baildi (Eggplant filled with eggplant/tomato mix). The lamb was spot on medium-rare and the 4 of us were literally fighting over stripping the bones. As for the eggplant, it disappeared within minutes. Moist, flavourful and totally delicious. If you're eggplant fan, try it!
Oh, and you know how I mentioned the wines….well here are the two bottles we ordered! A White blend (Chardonnay w/local Greek Varietal, $42) and a Pinot Noir, both from Greece, and both very good, though must be said I was particularly impressed with the Pinot Noir, especially at only $52, it's astonishingly good value. Even the Frenchie was impressed ;).
In a nutshell, if you're familiar with Greek/Mediterranean food and living in Singapore, do not despair, Blu Kouzina is here.
At this point I would say i'll be returning soon but since my visit last week I've already made a reservation for myself and 15 friends to go there tomorrow night including myself and the intial 3  from the first round.
Needless to say my mouth is already watering in anticipation 🙂 Efharisto (thank you).

---
**This review was written in 2016 and Blu Kouzina has since moved to their new space at Dempsey Road. The new address is 10 Dempsey road, #01-21, Singapore 247700.