Bottomless Brunch in Bangkok: The Dining Room at Grand Hyatt Erawan Bangkok Has Sustainable Seafood and Thai Desserts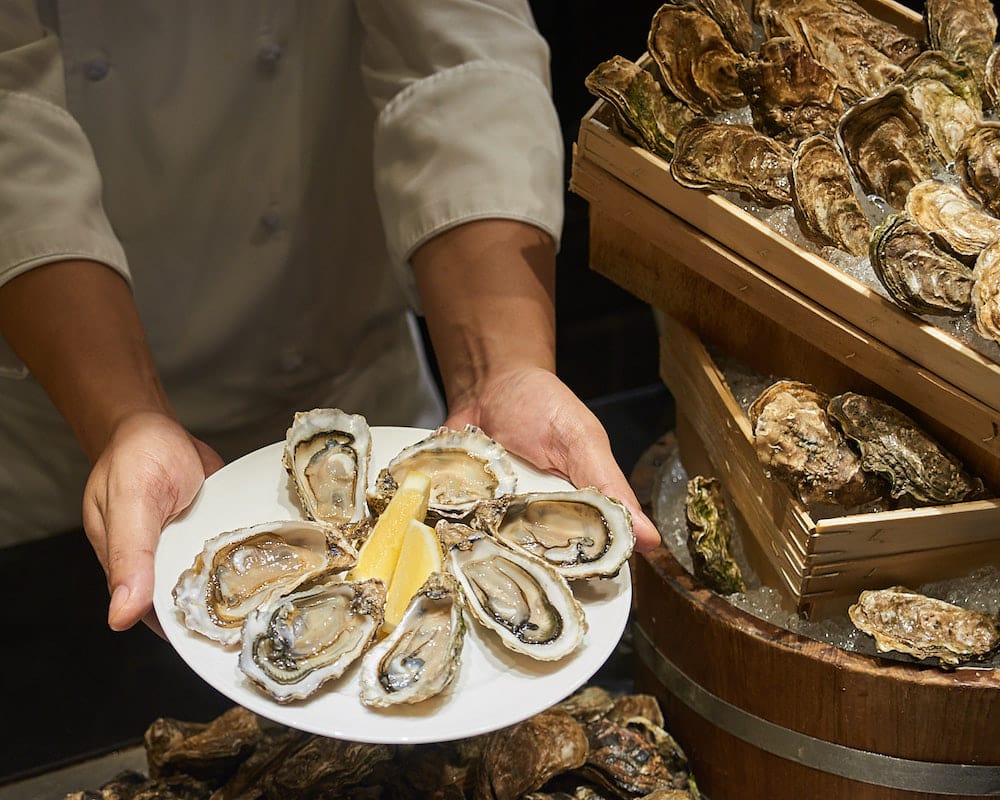 PUBLISHED February 24th, 2020 06:00 am | UPDATED May 18th, 2020 02:52 pm

Grand Hyatt Erawan might be known for its signature afternoon tea at Erawan Tea Room, which overlooks Bangkok's famous Erawan Shrine, but did you know that this five-star luxury hotel has no less than eight food and beverage establishments? And their all-day venue The Dining Room is undoubtedly one of the city's favourite buffet restaurants; they were operating at almost full capacity when we visited recently for their weekly Sunday brunch spread (THB2,200++ per adult).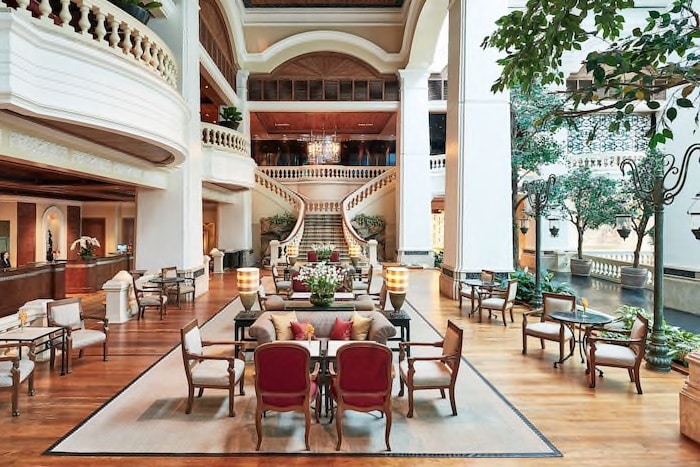 Located on the natural light filled lobby level of the hotel, The Dining Room has a residential ambience amidst a garden setting, and this aesthetics appeal certainly adds to the overall score when folks are shopping around for a free-flow brunch. Beverages included in the base fare includes water, juices, as well as coffee and tea, but at an additional THB1,400++ per person, guests can opt for an alcohol package. With unlimited pours of Singha beer as well as eight labels across Prosecco, red and white wines, the value here also lies in variety.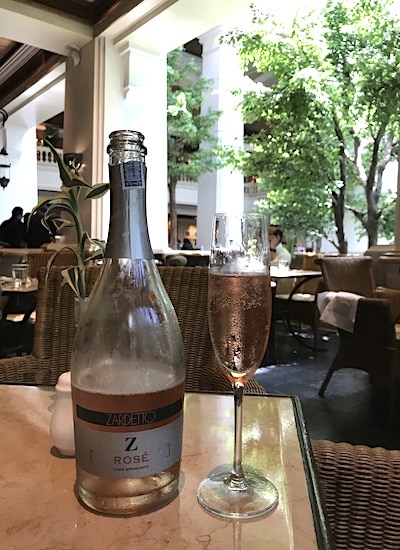 Amongst them, the Zardetto Private Cuvée Brut is straightforward and safe since it goes with most of the food offerings thought we prefer the Zardetto Private Cuvée Rosé for a drier finish amidst the bubbles. The Chilean Sauvignon Blanc and the Cranswick Chardonnay from Southeastern Australia pair well with the seafood and cheese respectively – and have the red meats with the Hugo Casanova's Cabernet Sauvignon.
Fresh seafood on ice is always a good place to start; you'll find chilled Alaskan king crab alongside fresh poached prawns, and various shellfish next to the sushi and sashimi section (think the big three – salmon, yellowtail, and tuna). You'll find the French oysters from Normandy separately; said to be farmed sustainably, they have their own counter and staff – our oysters were shucked to order – along the main buffet line, so complete your seafood plate there.
Our personal favourites sat on the left and the right of the oysters; the first is the oh-so-crispy Peking duck at the Chinese cuisine showcase (also try the drunken chicken). Well-carved with little fat left on the skin with a moreish sauce that's not too sweet, these silvers go quickly so act fast when you see a fresh plate coming up. Typical condiments like cucumbers and crepes are available.
The other, is the roasted Australian Lamb Rack, served from the open display kitchen on the main buffet line. Tender, juicy, and succulent, we feel it quite superior to the beef, which not something we get to say often). Feel to to explore the different types of gravies and salts on the line to go with the more, different proteins on offer, like roasted duck, honey glazed ham, and sustainable salt-baked Nordic salmon. The pan-seared foie gras might look a little dried out on display but retained its bite and texture upon sampling.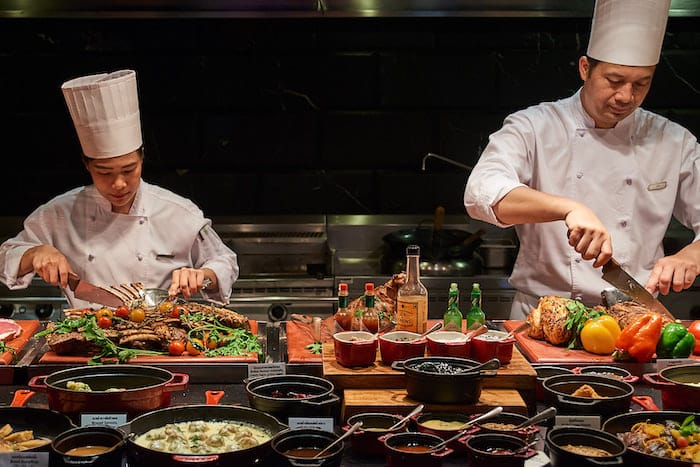 The cheese and charcuterie selection here is by no means large, with about five varieties each, but they're well organized at The Dining Room. In fact, I found their selections of nuts (walnut, pecan, pistachio, and almonds) accompanying the cheese quite impressive, and that there's both honeydew and cantaloupe by the parma ham.
This is one buffet where we moved to desserts relatively quickly, simply because like any self-respecting Bangkok buffet, the sweets selection is huge. Though we forgot to mention the self-serve fresh fruit juices earlier – watermelon, orange, and carrot – we found the ice creams and chocolate fondue adjacent to it. Our recommendation? Have both vanilla bean and coconut ice cream with bread and butter pudding that you'll find at the main dessert table, which is loaded with small cakes and traditional Thai desserts. Do stop by the ice kacang (shaved ice with red bean and other toppings) both for a helping of the quintessential Southeast Asia dessert.

The Dining Room is located at Grand Hyatt Erawan Bangkok, 494 Ratchadamri Road, Lumphini, Pathum Wan District, Bangkok 10330, p. +66 2254 6250. Sunday brunch is available weekly 12pm-3pm.