Bottomless Brunch in Singapore: Brasserie Les Saveurs, St Regis Singapore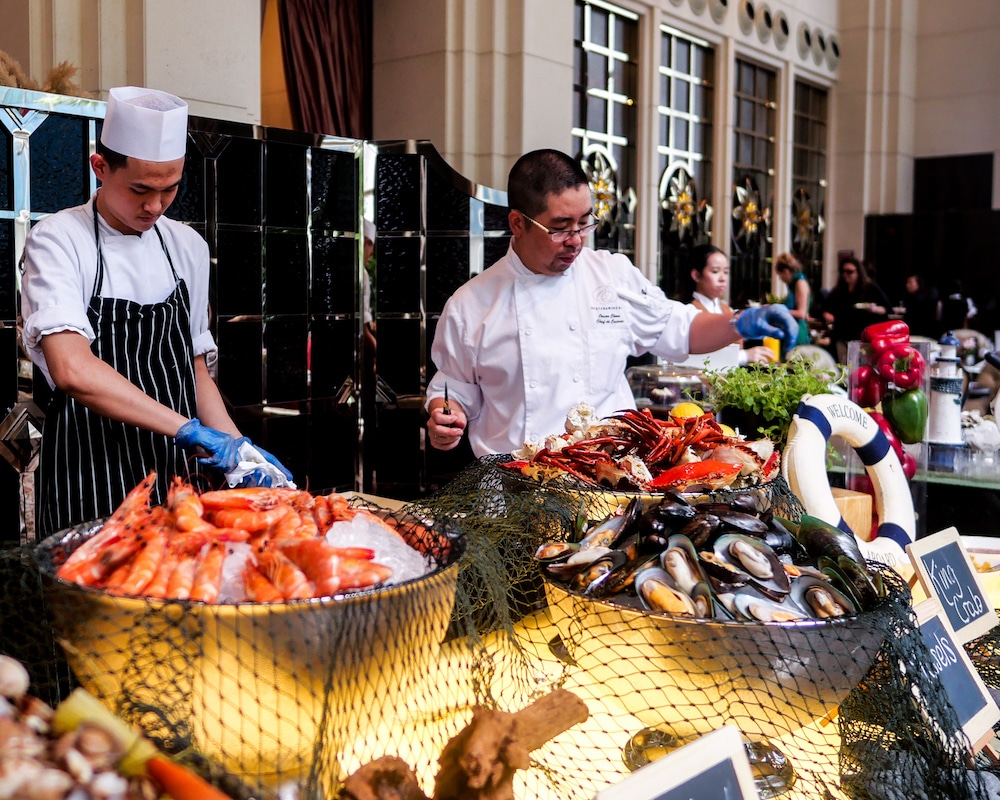 PUBLISHED November 27th, 2019 07:00 am

The St. Regis in Singapore – and around the world, really – is known for its all-round culinary excellence, as it plays host to four restaurants (including the Michelin-starred Shinji by Kanesaka), a lounge, and its trademark Astor Bar. After sampling the dim sum bottomless brunch at their fine Cantonese restaurant Yan Ting, we returned for a refreshed Sunday brunch at Brasserie Les Saveurs, which trades in contemporary French cuisine in a plush and elegant setting. The best part? The new experience starts with an hour of aperitifs and canapés at Astor Bar at 11am, making it a pretty darn good deal despite the standard free-flow 'R' de Ruinart Brut package ringing in at S$198++ per adult.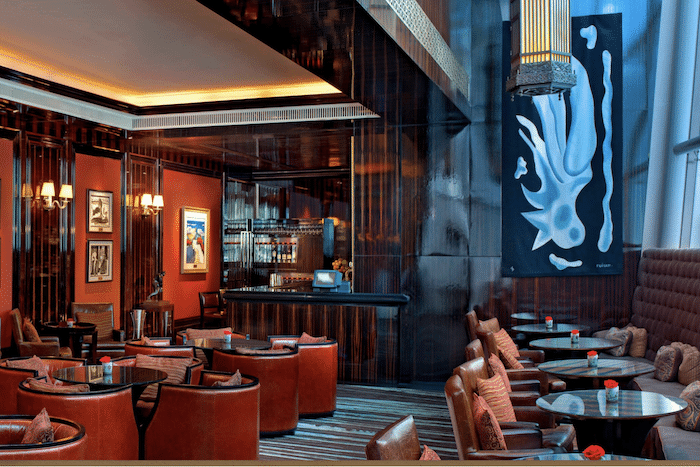 Make it a point to be on time because there's plenty on the drinks menu to keep you entertained at Astor Bar while you get in the mood for food. Their signature Chili Padi Mary is available if you'd like a spicy kick in the head to start your Sunday. For something lighter, you can't go wrong with the bubbly cocktails like the Mimosa (made with fresh orange juice) and Caroline's Spritz featuring strawberry and rosemary infused gin, Prosecco and St. Regis' tea syrup. Watch out for staff circulating snacks like mini bruschetta and quiches to keep the gastric pangs away.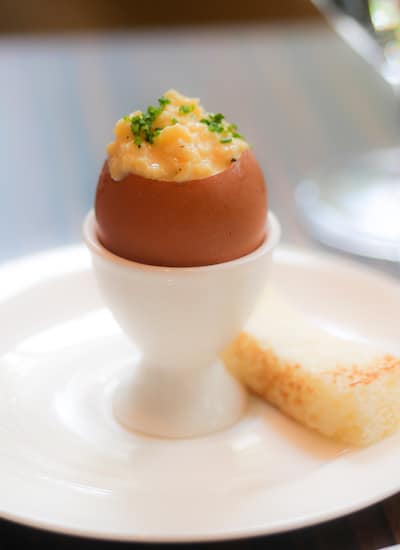 We entered the natural light-drenched dining room of Brasserie Les Saveurs to a lively jazz performance that continued throughout our brunch session. It's easy to get overwhelmed by all the food on the buffet line and the human activity, so take your time to clink glasses and peruse the menu.
Here, you'll find small plates of eggs (think Scrambled Eggs with black truffle and excellently poached 64° egg)  as well as Pan Seared Foie Gras with a lovely grapefruit-port wine reduction that can be had as many times as you want. Don't miss out on your portion of the succulent Grilled Half Maine Lobster either. Doused in an aromatic garlic butter sauce, it's worth the stomach space.
Speaking of lobsters, like most people, the first thing to catch our attention on the buffet line is the Seafood Bar. Boasting Brittany oysters from France and Fanny Bay oysters from Canada, seafood lovers can look forward to fresh bulots (also known as whelks), clams, poached prawns, mussels, and king crab. Love uni? Check out the live station that plates up sea urchin and crab meat with lobster bisque, and topped with caviar.
Other highlights of the spread include the DIY Bloody Mary table that's equipped with recipes for the classic and their chili padi rendition and their impressive range of terrines; there's even one made with cod fish that tastes like a funky fish cake. There's the mandatory sashimi and sushi counter for fresh fish, while meat lovers should definitely head to the live carving station where juicy roast beef and a hefty leg of lamb awaits. We appreciated the selection of salts – lemon, olive, paprika, and squid ink – and mustards (Dijon, pommery, grape, and walnut) that accompany the meats.
On the menu, guests will also find three main courses to choose from – Chateaubriand de Boeuf, Filet Cabillaud Rôti, and Impossible Tomate Farcies. In English and simply put, the options are grilled beef tenderloin, baked cod, and baked tomatoes stuffed with Impossible Meat. We went for the first and the last. If you like more charring on your meats, it might be better to stick with the roast beef as the grilled tenderloin tasted like it went into the sous vide and barely kissed the grill before making our table. The baked tomato fared better regardless of whether or not you eat real meat, but we would have loved actual beef juices intermingling with the flavours of the tomato.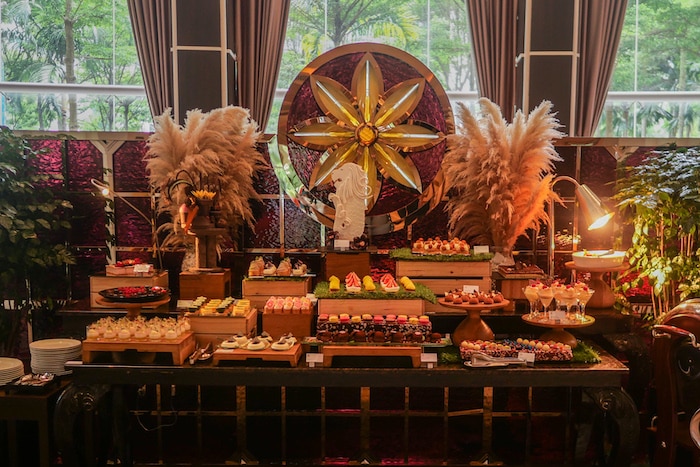 We had very little room for dessert, so we made it count with the Crêpe Suzette – it also made a good show that entertained when most of the dining room was entering a food and booze coma. From the dessert display on the buffet, highlights include the miniature Mont Blanc and their chocolate pralines.

Brasserie Les Saveurs is located at St. Regis Singapore, 29 Tanglin Road, Singapore 247911, p. +65 6506 6860. Champagne brunch is available Sundays 12pm to 3pm, with a complimentary hour of aperitifs served at Astor Bar at 11am to 12 noon.