Restaurant Review: COMO Cuisine Offers A World Of Luxurious Flavours In Dempsey Hill, Singapore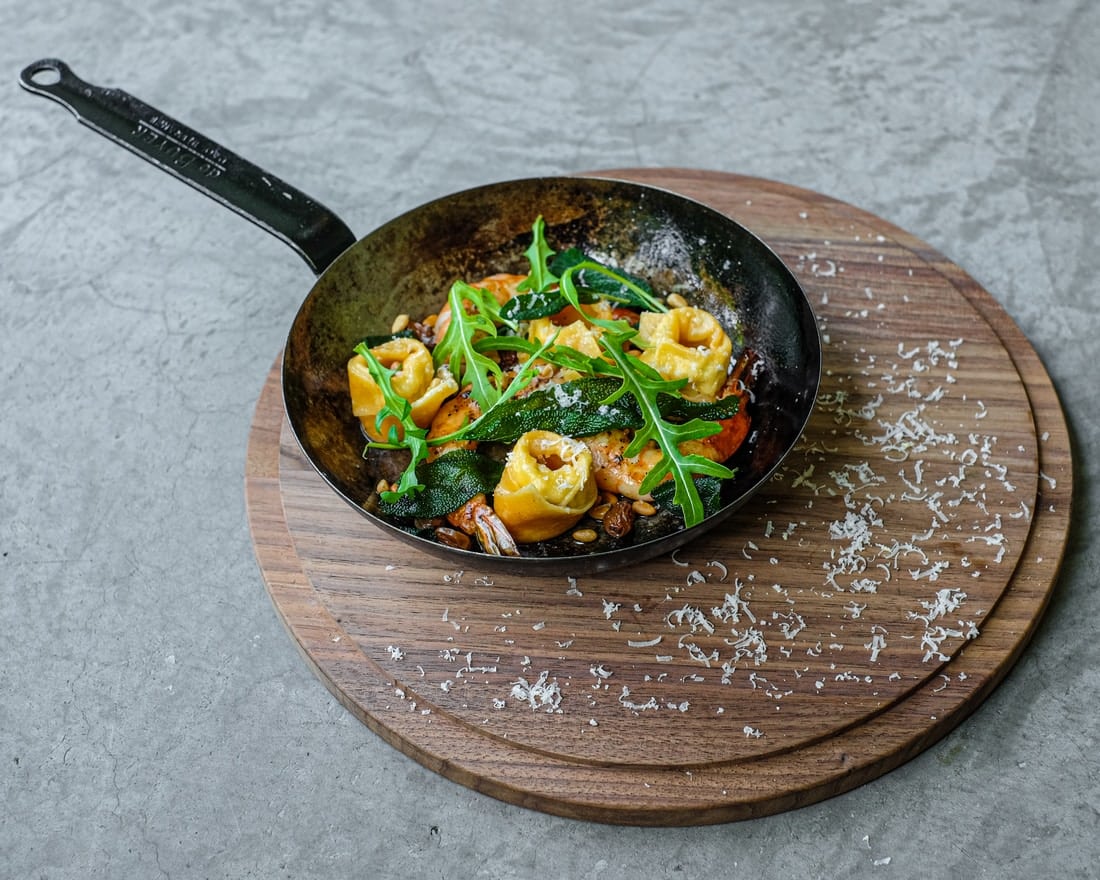 PUBLISHED November 28th, 2019 06:30 am

It's no exaggeration to say that the world is on your plate at COMO Cuisine. Luxury group COMO has spread its sumptuous empire of wellness retreats and resorts across the globe, each boasting a top-notch restaurant – from Bangkok's Michelin-starred nahm with its exquisite Thai fare to Perth's Wildflower and its play on Australian flavours. But you don't need to travel far to taste the cream of this culinary crop, because you'll find them all in one place at COMO Cuisine, a tranquil spot atop Dempsey Hill.
With one foot in wellness, it's no wonder this all-day dining concept has the dreamy calm of a spa resort. The restaurant glows with soft white tones, and the chime of cutlery and buzz of conversation seem to drift upward to the high ceiling (from which willowy plants drip). It's the kind of space that gets you breathing slower and deeper – and a good thing, too, because delicious smells continually waft from the open kitchen.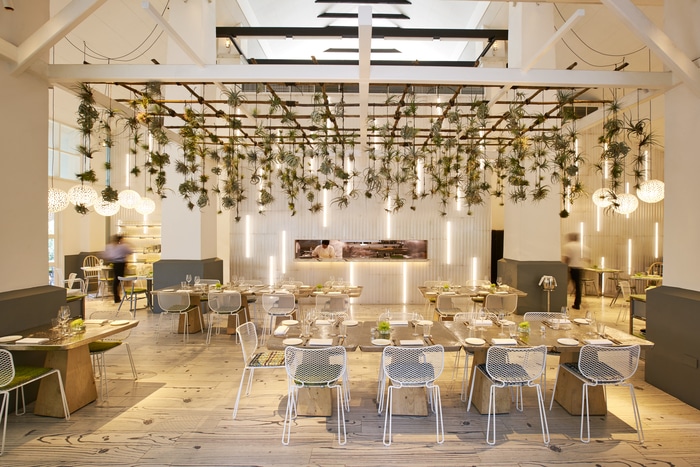 COMO Cuisine recently revamped its menus, with a dynamic new chef taking the helm. A Bhutanese native, Chef Tshering Lhaden brings to COMO her eclectic breadth of experiences in the Maldives, the Caribbean, and her own Himalayan kingdom. The resulting menus – differing from breakfast to brunch, lunch, afternoon, and dinner – are splendidly diverse, recreating COMO's signatures worldwide with in-season and local produce.
COMO may be all about wellness, but make no mistake. Their decadent nosh is as far from austere health fare as they come. A glance at the drinks menu reveals a mix of naughty and nice: there are wellness juices and kombucha, but also some highly tempting cocktails. Since we're there for the evening (aka happy hour time), we compromise with a mocktail, the Lemak Chia (S$12). Pandan-infused and dotted with chia seeds, it's served charmingly in a whole coconut. A sip instantly transports us into tropical paradise.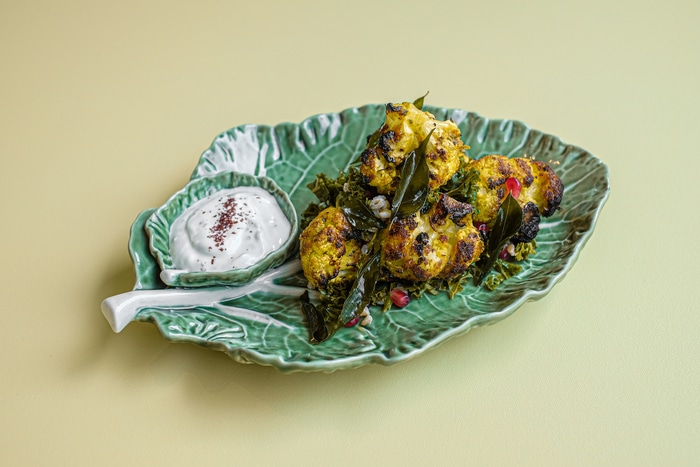 Take it from a staunch Non-Salad Person: the salads here are extraordinary. The Golden Beetroot (S$20) works wonders with the earthy vegetable – beetroot slices are roasted to tender sweetness, then given a tangy zip with white wine and poppy seed vinaigrette. Eaten with a briny dollop of feta cheese, it's almost addictive.
Equally indulgent is the Mangrove Crab Salad (S$24), where sweet crab shreds are tossed with a crunchy medley of green mango, starfruit, fresh coconut, and cashews. It's a refreshing take on Thai som tam, pulled together with an umami-rich drizzle of fish sauce and lime. And on the spicier side of things, the Tandoor Cauliflower (S$22) – a COMO Shambhala signature – was a surprise hit. Marinated in yoghurt, turmeric, and ginger, the florets slide from the tandoor oven crisp and delicately piquant.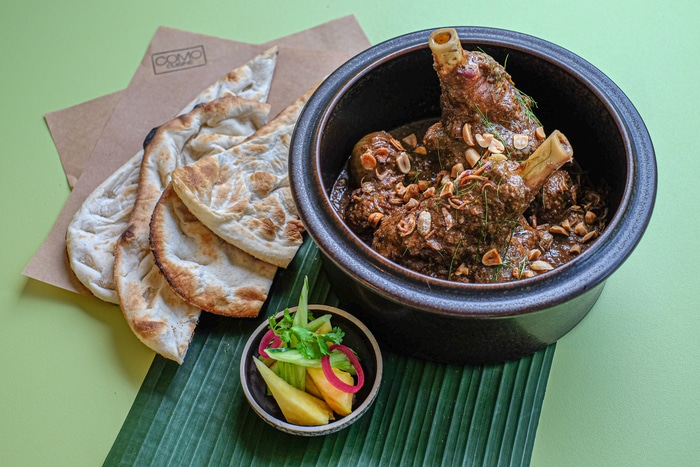 By now you're likely hankering for meaty fare, and the Lamb Shank Massaman (S$45) delivers magnificently. The lamb is braised overnight and practically melts off the bone, a perfect canvas for the luscious, clove-laden curry. Typical of massaman curries, this one is more mellow than spicy – all the better to soak up with the side of pillowy naan. Then there's the rich, silky Pappardelle (S$30), which COMO house-makes fresh daily. Layered robustly with red wine duck ragout and nutty pecorino cheese, we couldn't ask for a more decadent Italian fix.
Hands down the star of the night, though, is the Lobster Biryani (S$48), a spectacular creation of COMO's Maldives properties. This dish appears covered in a naan 'pie' crust, which serves to keep things moist and flavourful within. Slice it open to dig into a fragrant mound of basmati rice – steeped in lobster broth, liberally spiced, then topped with tender chunks of Canadian lobster. It's a beaut of a dish that redefines comfort food.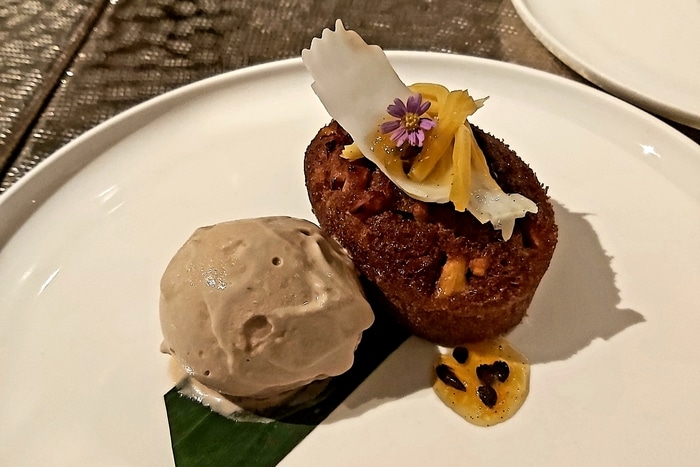 It's absolutely worth finding your dessert stomach for the Jackfruit Pudding (S$14). This tropical twist on the British dessert is studded with zingy ginger and passionfruit, served warm alongside homemade jaggery ice-cream. Like the savouries it's scrumptious, even if we're left as stuffed as if we'd swallowed the world. In a way, we have.

COMO Cuisine is located at 18A Dempsey Rd, Singapore 249677, p. 1800 304 6688. Open Mon-Thu & Sun 8am – 10pm, Fri-Sat 8am – 10.30pm.