Casserole Restaurant – Tis' the Season for Sharing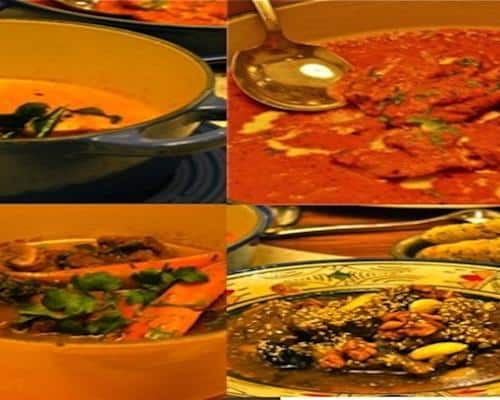 PUBLISHED December 20th, 2011 07:28 pm | UPDATED February 28th, 2021 06:49 am

Tucked away in the far end of Sentosa, far away from the hustle and bustle of the city life, I made another hidden find. Casserole restaurant is under Shangri-La's Rasa Sentosa Resort and is a 247-seat restaurant that offers 4 different cuisines – Indian, Moroccan, South East Asian, and Western. Dishes are served in casserole pots (hence its name), and are recommended to serve 2. Although I would say 1.5 would be more accurate. Its large seating space, wide menu offerings and dishes that come in sharing portions, makes Casserole the perfect place for family or large group gatherings.
The Food
All the dishes had their own character and charm, and with everyone having different taste preferences, each had their own favourite.
Western:
Beef Bourguignon beef slow-cooked in red wine sauce and flavoured with garlic, pearl onions and mushroom ($26)
The beef was slow-cooked to perfection – it was so tender that it offered absolutely no resistance to the teeth. I thought it needed a little more seasoning but it was an absolute hit with the beef lovers anyhow.
Baked Seabasswith broad beans, onions and saffron potatoes ($28)
As much a seafood lover as I am, I thought the seabass was just alright. Not that it wasn't nice, it just wasn't anything special. Maybe it was overshadowed by the other dishes, but you're better off ordering something else.
Moroccan:
Atlas Lamb Tagine slow-cooked lamb with honey cinnamon, ras el-hanout and saffron sauce ($28)
Despite being a tad too sweet and the lamb being quite fatty, I declared this my favourite. The meat, fork-tender, soaked with honey-spiced sauce, covered in sesame seeds, dates and walnuts – heavenly.
Indian:
Murg Makhani boneless chicken with tomatoes, cashew nut cream and fenugreek leaves ($26)
Another hot favourite – the sauce was a winner. Beautiful orangey red, creamy with a slight tang, it acted almost like a lubricant for the slightly dry chicken. Everyone mopped it up with the Moroccan bread, drenched it on the pulao rice.  Yum.
Goan Fish Curry tender pieces of fish with tomatoes, garlic, onions and fresh coriander ($26)
Another disappointing fish dish. The fish was either not too fresh, or was slightly overcooked. But the sauce however, was its saving grace. Rich and velvety, with a touch of coconut cream and turmeric. I don't usually like the smell of coconut cream but this was not bad.
Sides:
All casseroles come with a side of salad and carbs (pulao rice/Moroccan bread/Moroccan couscous/steamed rice/mashed potato). You can pick any one you liked and the service staff were more than happy to provide refills as well.
Moroccan Bread –
Beautifully fluffy bread and fragrant rice were both fantastic. These received immense praise all round the table.
Dessert:
Baklava with Moroccan Mint Tea filo pastry filled with chopped nuts and sweetened with honey, served with a pot of hot Moroccan mint tea  ($9)
Portion seemed tiny at first but even so we had trouble finishing it. It was a good baklava but the honey was just too cloyingly sweet. The hot mint tea was a relief and a perfect way to end a satisfying meal.
The Service
Great food aside, what made the experience extremely memorable was the fantastic service. Polite, warm and eager to please; service staff are definitely well trained to make their customers happy.
With Christmas just around the corner, Casserole restaurant is a great place for a party with friends or family. They are having a Christmas Eve and New Year's Eve buffet promotion of over 100 dishes with six live cooking stations with food from the three restaurants under the hotel. For more information, you can call their reservation hotline and ask for their manager. I'm sure he will be more than happy to help.