Dim sum treats and other divine eats at Royal Pavillion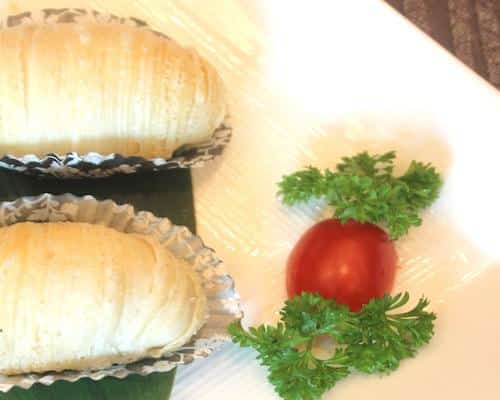 PUBLISHED April 17th, 2014 12:30 am | UPDATED May 22nd, 2017 05:21 pm
There's decent dim sum…and then there's great dim sum. We have plenty of the former in Singapore, but not much of the latter – in my opinion. Dim sum that goes the extra mile in terms of flavour, texture and aesthetic. I'm so happy that I've now found somewhere new to add to my 'great' dim sum list: Royal Pavillion.
This newly opened, elegant and rather lavish looking contemporary Chinese dining establishment has flung its doors open at the Park Regis, a stone's throw away from Clarke Quay, and makes an excellent dining option for family meals and dim sum dates.
Usually when I go for dim sum, there are a few stand out dishes, but more often than not, others that bring the game down. At Royal Pavillion, every single one held the banner high. The tone was set with the Steamed Shrimp Crystal Dumpling ($4.80) with the plumpest, juiciest and most generous of prawns encased in a translucent parcel of yumminess. The Steamed Prawn Dumpling 'Ha Kau' ($5.80) was equally impressive and a veritable umami bomb.
An absolute must order here is the above pictured Crispy Shredded Radish Pastry Roll ($4.50). With its light batter casing and beautifully moist and flavoursome radish filling, this playful combination of textures and delicious flavour elevated this dim sum above the rest.
Other shining stars within an already high calibre of dim sum roll call were the Carrot Cake with 'Lao Gan Die' Chili Sauce ($8.80) which is given a special spin with the use of Chef's secret special recipe  'Lao Gan Die'; and the Baked Swiss BBQ Snow Bun ($4.50).
To complement the dim sum, it's well worth selecting some items from the mains, particularly the ever so tender Royal Smoked Duck ($35 for half-portion, $68 for full-portion) with its woody and lychee aromas and divine plum dipping sauce. Equally good are the seafood offerings like the succulent Sauteed Seafood Duo Skewer ($14) which brings together a juicy scallop and prawn in happy marriage through a crunchy asparagus under a blanket of crab meat and roe; and not forgetting the come-hither Lobster in "Lao Gan Die" Sauce ($28) which had us licking our chops at the sight of this tasty, fleshy seafood lover's delight.
Royal Pavillion expertly injects a breath of fresh dynamism into the air of the Cantonese dining scene in Singapore with its delicious dim sum, contemporary creations, spot-on service and elegant surrounds. If its aim was to raise the appreciation of Cantonese fine dining in Singapore, we say they are headed down the right path.
---
Written by Ms Demeanour
On this occasion the meal was compliments of Royal Pavillion
Read more at Wholesome Chinese Tapas and Cheeky Cocktails at Sum Yi Tai: Review and Lokkee Review: Chinese Take-Out at TungLok's Hip New Restaurant