Wholesome Chinese Tapas and Cheeky Cocktails at Sum Yi Tai: Review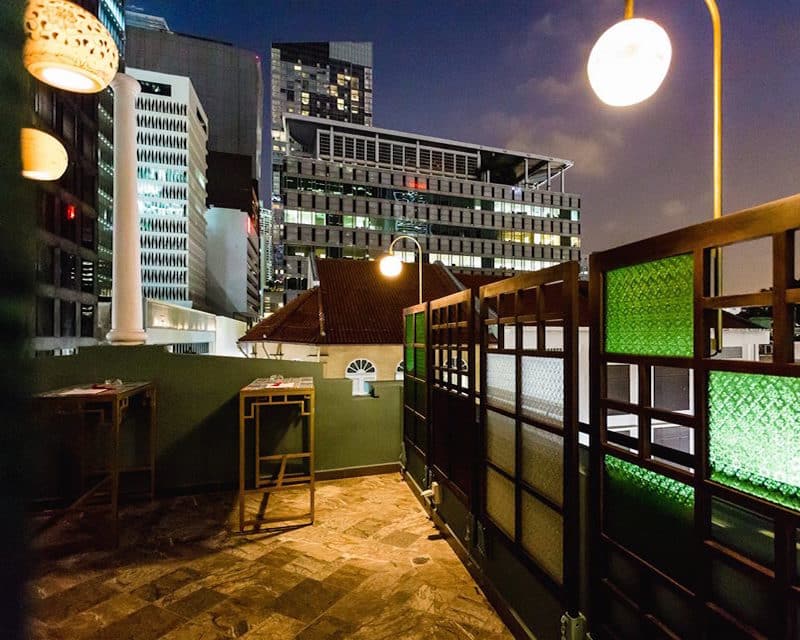 PUBLISHED July 3rd, 2015 02:02 am | UPDATED May 18th, 2020 04:29 pm
Pursuants of the 'eat less, drink more' principle can finally apply their night-out policy when it comes to Chinese food (hurrah!).
Literally 'Third Wife' in Cantonese, Sum Yi Tai is a kitschy new restaurant and bar in trendy Telok Ayer offering tapas sized servings of Cantonese favourites and cocktails. From its neon-lit sign at the entrance to the mahjong tiled walls, this glitzy four-storey complex is all about the romanticism of 1980's gangster-rife Hong Kong,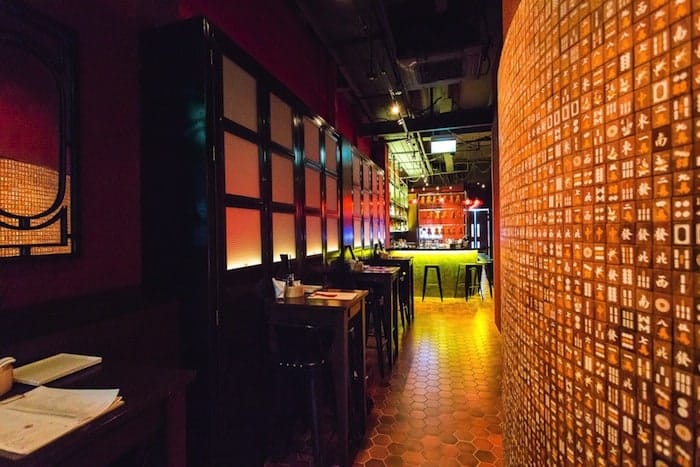 First level of Sum Yi Tai
Resembling a butcher shop, the ground level is dimly lit with red lighting reminiscent of a triad den and a rack of Cantopop albums; we foresee this being a great spot for after work drinks. The second floor is a more formal dining space – private dining room and separate menu for fancy functions included.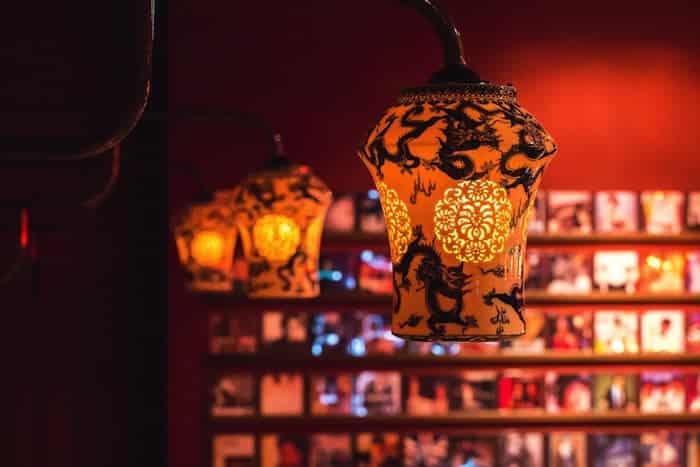 Gangland vibe at Sum Yi Tai
The private rooftop, however, stole the limelight from the other two floors. Propped up between skyscrapers and shophouses in the CBD, the invite/reservation-only rooftop is grungy, yet undeniably classy at the same time. Plus, we were digging the dreamy canto-pop classics humming in the background. Do note that DJs spinning upbeat Hip Hop mixes take over the audio system from 9pm on Thursdays and Fridays.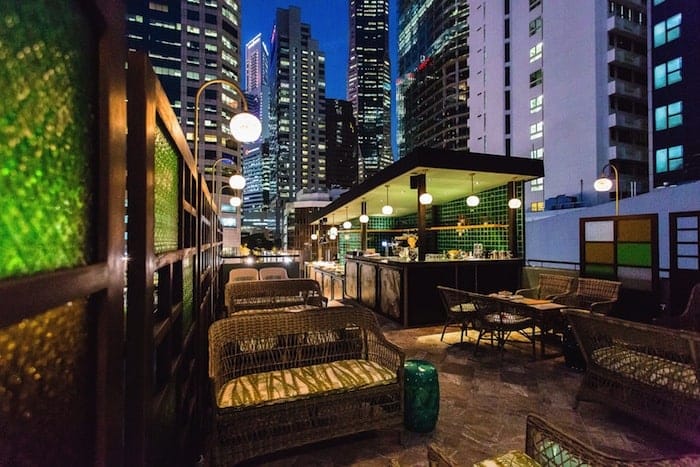 Sum Yi Tai's rooftop setting
As writers ourselves, we love the way the drinks menu is presented. Delightfully short stories describe each cheekily-named cocktail, and we had fun reading every single one of them. The cocktail creations themselves are equally impressive in terms of presentation and execution.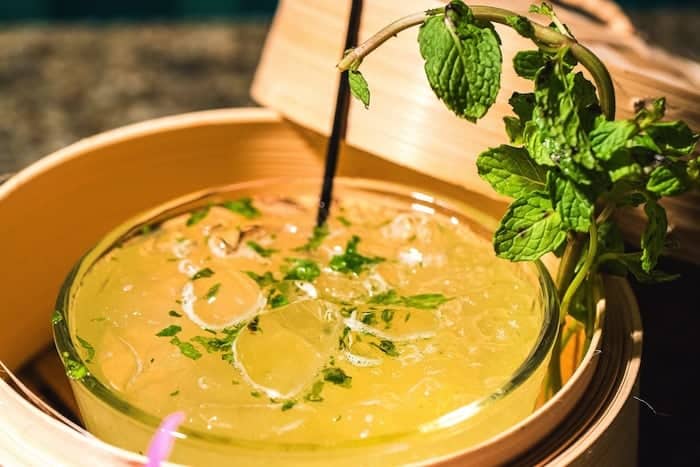 Sum Yi Tai's Chinese Mojito
Date A Gangster ($21), was a concoction of whisky, Drambuie (a Scotch whisky liqueur), Triple Sec, lemon, and dates, while the 'Chinese Mojito' ($21) was a sweet blend of chrysanthemum infused rum, lemon, mint, and soda. The latter definitely tastes like boozy chrysanthemum tea to us!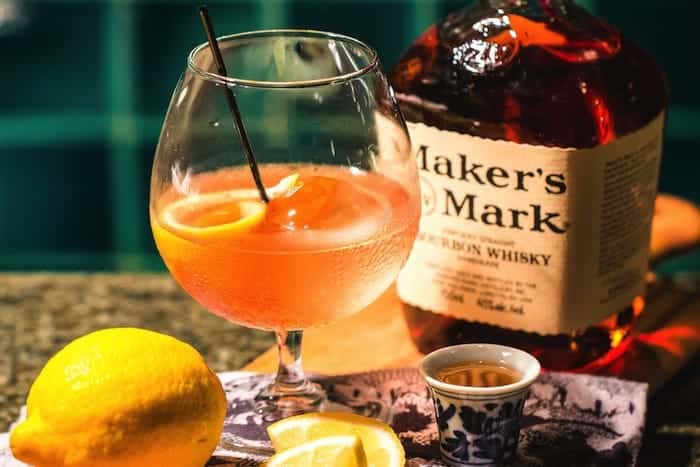 Sum Yi Tai's Dai Lou
If you're after something more potent, a Dai Lou (aka 'Big Brother' in Cantonese, $28) will serve you well. Think bourbon, elderflower liqueur, cherries, and oranges & bitters, and an additional shot of bourbon on the side for that extra kick.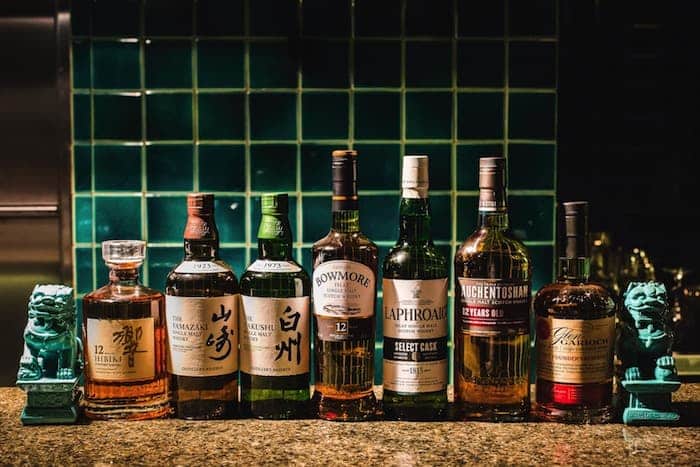 Sum Yi Tai's whisky list
Whisky enthusiasts can also indulge in Sum Yi Tai's cracking whisky list, with a range that includes small batch whiskeys and "white dogs" (white whiskeys). All whiskeys can be ordered by the glass, so you can slowly work your way through their menu. Our personal favourites were the Glen Garioch Vintage 1999 ($20/358), Big Smoke 46 ($20/328), Buffalo Trace ($14/198), and the Hazelburn 12 Years ($20/328).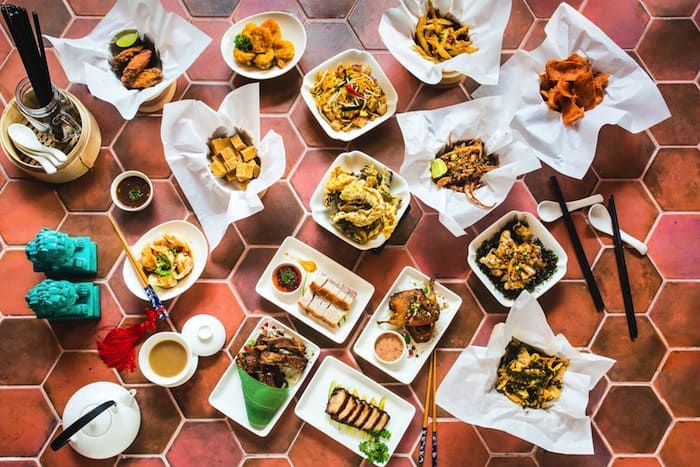 Sum Yi Tai's range of tapas-sized Chinese food
The food menu – it's the same on the rooftop and the ground level – is an excellent example of how Sum Yi Tai has managed to authenticate the dining experience without veering towards Western ingredients like truffle or foie gras to modernise the dishes. Luncheon meat chips (or spam fries) are probably the best snacks you can ever have with drinks, and we're glad to say we love Sum Yi Tai's addictive rendition ($9).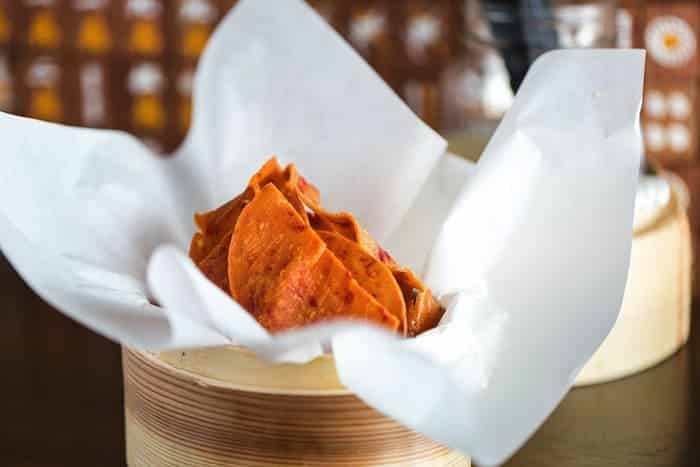 Sum Yi Tai's Luncheon Meat Chips
The Signature XO Carrot Cake ($12), and the Whole Roast Quail with Five Spices ($18) are also good options in our book, except that on a return visit, the bite of the carrot cake was a little soft and lacklustre. Less impressive however, was the Maple Honey Glazed Char Siew ($12). We liked the seasoning, but if you're not a huge fan of char siew, feel free to skip this dish altogether.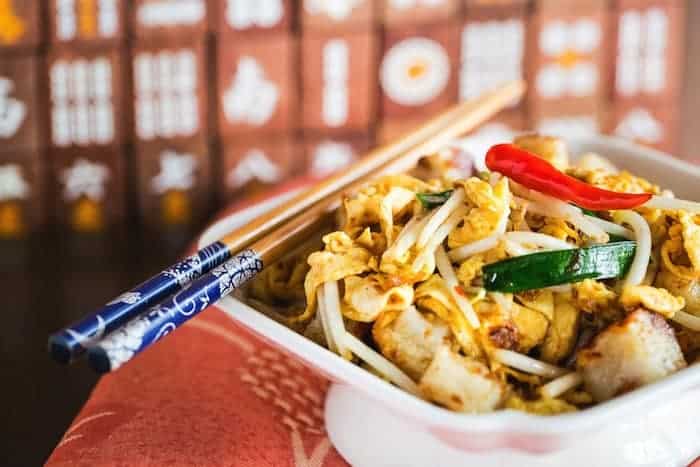 Sum Yi Tai's Signature XO Carrot Cake
Sum Yi Tai stands out for its originality, wit, and respect for tradition. The ambience alone is good enough for any occasion, whilst the food is decent and the drinks well above average. If there's anything to go by from this experience, it is that Sum Yi Tai is definitely headed in the right direction.
Read more about Raise the Loof for the Newly Revamped Mamashop and Restaurant Ember: Modern European Dining with an Asian Twist