Eye Candy: We Speak to Justin Dry, Founder of Australian Wine E-Retailer Vinomofo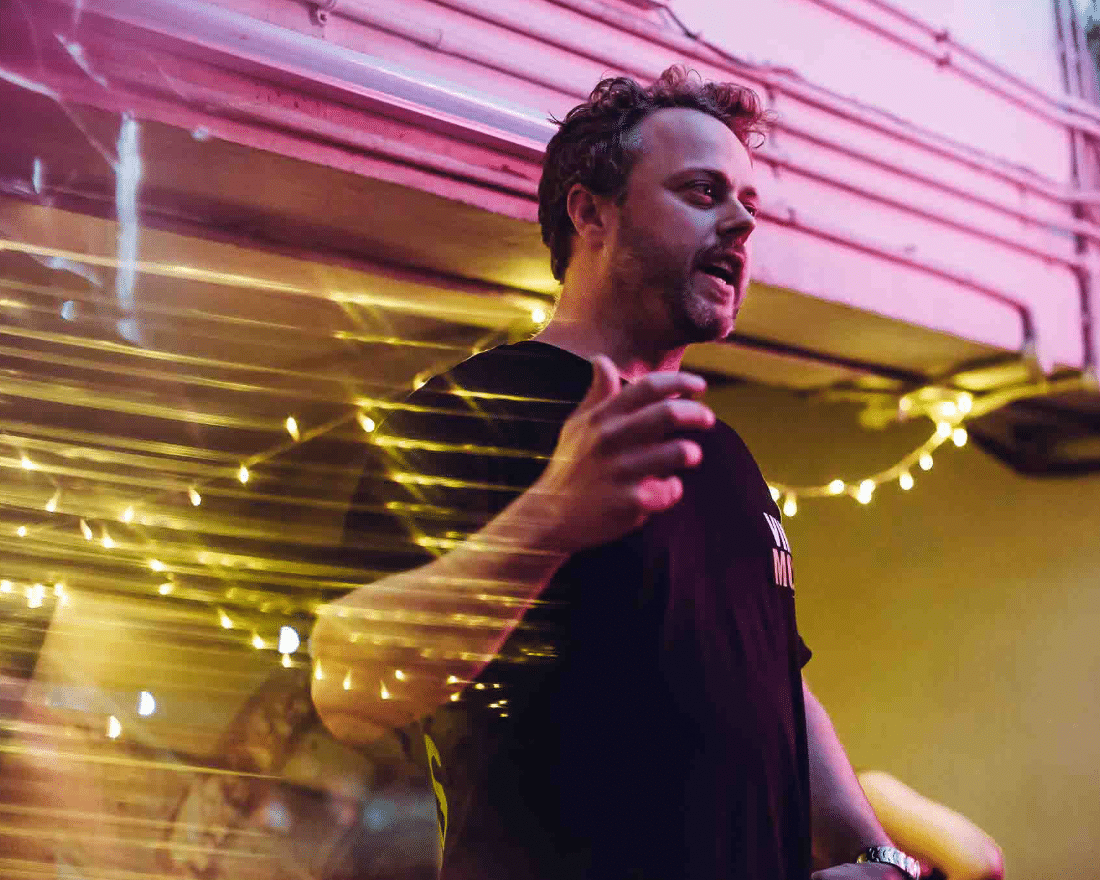 PUBLISHED November 17th, 2017 05:00 am
Rome wasn't built in a day, and if everything goes according to plan, Justin Dry will soon be sitting on top of a kingdom on his own – a wine kingdom, that is. This month's Eye Candy – a serial entrepreneur and a self-confessed wine nerd – is the co-founder of Vinomofo, one of Australia's fastest-growing companies, which has won everything from Fastest Growing Company at the Deloitte Tech Fast 50 Awards 2013 to Online Retailer of the Year 2015 at ORIAS.
How does he do it? We speak to the looker about his perfect meal experience, his go-to wines, and his rise to the top.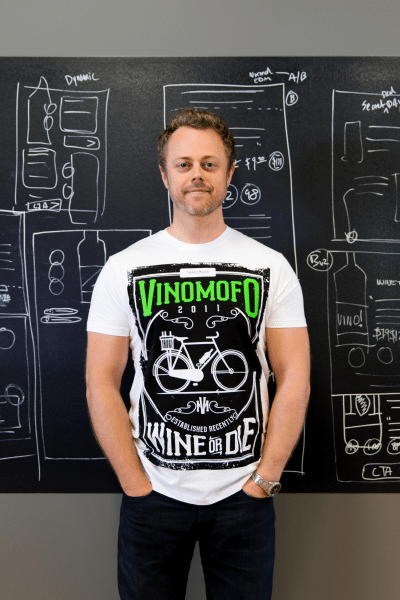 Hi Justin, thanks for agreeing to this! First, can you describe your perfect meal experience? There's wine, of course.
Of course. I like meal and wine experiences that offer something different. One of my favourite experiences so far has been in a little wine bar in Auckland called Jervois Road Wine Bar where we tried tens of really stand out wines that were all sorts of funky and delicious, hosted by an incredible sommelier named Ben. Or my most recent experience at Restaurant Nouri in Amoy Street – I have to admit, I was a little skeptical of going here but it was recommended by a dear friend – and the experience was mind-blowing. The team there are doing really authentic, interesting, and different things.
What's your background like?
I studied wine and marketing at university while working in the industry. After years of questioning if it was a profession or passion, I decided to study finance, and moved into stockbroking, focusing on the tech space. But wine is in my DNA, with some of my ancestors planting some of the first vines in the Barossa Valley, so I had a feeling I would always come back to it one day.
We hear you've had that entrepreneurial spark since childhood. Tell us about that.
As a kid, I wasn't content simply playing games or being little athletes like my friends were. I kicked off my first lawn mowing business when I was eight. People probably felt sorry for me. So sorry for me, that I ended up having a lot of regular clients with a regular database. Quickly, I realised I was getting really busy and I needed help. So, I asked my cousin to come and help and I'd give him a percentage of the profit. But, it was my first lesson in hiring people, because my cousin Ben will forever be known as lazy Ben. My next business was selling Christmas trees at petrol stations, before this was a regular thing at petrol stations. I sourced some of the ugliest, saddest looking Christmas Trees you've ever seen, but managed to sell out within a couple of hours.
It sounds like you can sell anything, why go back into wine?
I'm crazy in love with wine. One of my uncles is a well-known wine-maker, so throughout my teenage years he would host regular tasting sessions and quiz me on my knowledge of the industry. It was with his help that I really fell in love with wine. For my 18th birthday, instead of having a party like everyone else does, I asked my parents to buy me a bottle of Penfolds Grange from my birth year, 1977, as my gift. I spent hours and hours decanting and tasting this one over an evening, and it was extraordinary to see how the wine evolved over the evening.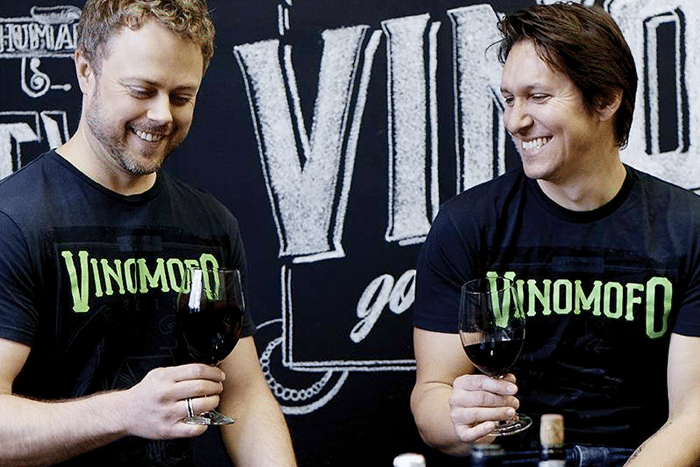 What kind of person is the typical 'mofo'? To put it simply, who is Vinomofo for?
For a lot of people, choosing the right wine is hard. There's a lot to take in – variety, region, vintage, style, age, and it's such a personal experience. What you like, someone else may hate. There is a lot of elitism around this area of the industry so it's no wonder people get confused and intimidated.
Vinomofo is for people who love wine, but don't want the snobbery that quite often comes along with it. Our mofos are adventurous with their palate – they give anything a go at least once, passionate about their wine but have fun with what they're drinking.
How long did Vinomofo take to build?
We had many businesses before Vinomofo – our first being Qwoff in 2006, a social networking site that connected wine lovers and producers together. We then pivoted our business model into a 'TV show' called Road To Vino, where we basically travelled around the wine regions in a combi and surfing a hell of a lot.
And while we had built a loyal audience who loved what we did, our business model was non-existent. Andre and I went back to our philosophy – we love wine, we love the rockstar winemakers who are doing cool shit in the industry and wanted people to feel connected to wine. But what we were certain of is that we didn't want to sell out, but we needed to make money.
In 2011, we finally pivoted into what is now known as Vinomofo. Back then though, it was a deal of the day site with one wine offer, a certain number of cases had to be secured to make the deal go live. We had no idea if it was going to work, but thankfully the first deal sold out within minutes, and then the second, and so on. We were seeing 100% growth month on month, which for two guys who had been broke for years and years before, it was a pretty damn good feeling.
Surely there were times where things seem to be going south. What do you tell yourself in those instances?
For several years, Andre and I had our backs against the wall because things were extremely tight in making ends meet. We had been struggling to make a profit out of Qwoff and Road To Vino, and it significantly impacted our families.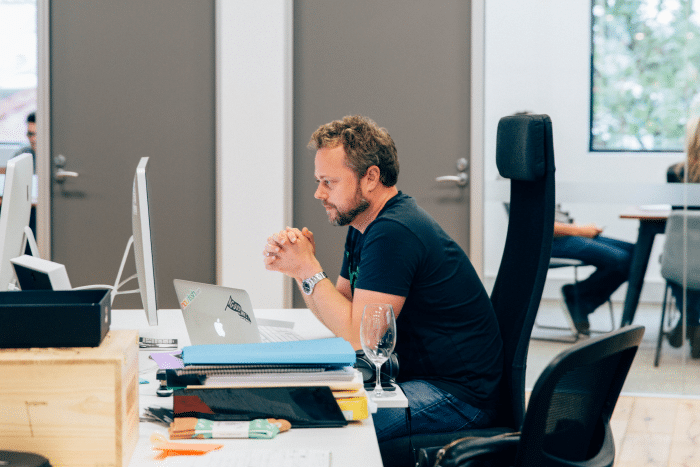 My sister would regularly take me aside, asking if things are going to get any better because at that point Andre and her had two young children. I could only tell her to stick it out with us. We'd tell her a date in the future, and if things hadn't turned around by that date, we would go out and get a regular job. Then that date would come, and we'd ask for another date, and then another. It's not an easy path, and came close to quitting several times but I knew I wouldn't ever be happy working in a regular job. I needed to be creative, disruptive, and building something that was mine.
Which bottles do you always have stocked in your home?
My go-to at home is our Mimi Flamingo Chardonnay. It's made with Oakridge in the Yarra Valley and is a premium chardonnay that just goes well with just about everything. But, if I'm entertaining, I like to pull out Jura, a beautiful cool-climate French wine.
So, you've been travelling all round for business a lot. Which city has your heart?
Ha, it's funny as each one offers something different! Singapore has this cool vibe about it – I love it every time I get to come here. You guys appreciate really good wine, know how to have a good time, and are just a bunch of ridiculously cool people.
What's the next big thing for the brand?
1,000,000 happy mofos – this is our mission. We want a global tribe of 1,000,000 mofos who are enjoying our wine each and every month. This means mass expansion globally and our next stop is looking like it's going to be a big market such as China, the US, or the UK.
Want to be a mofo yourself? Shop Vinomofo here.